Chocolate Pumpkin Almond Flour Muffins! These muffins are Paleo, dairy-free and lightly sweetened with maple syrup. A great gluten free snack anytime of day! Paleo + Gluten Free + Low Calorie
I'm going to pretend it's fall today and post another pumpkin recipe (did you see the Pumpkin Spice Waffles over the weekend?). Gosh, it's still 90-100 in Phoenix. I'm over here eating fresh veggies, corn on the cob and grilled chicken while the rest of the world is enjoying fall everything. Pumpkin, soups and more!
The thing is, these Chocolate Pumpkin Almond Flour Muffins are just too good not to share. Immediately! We've been eating them nightly as a dessert and my boyfriend had no idea they had pumpkin in them. He still doesn't know so, let's keep this secret between you and me. Mmk?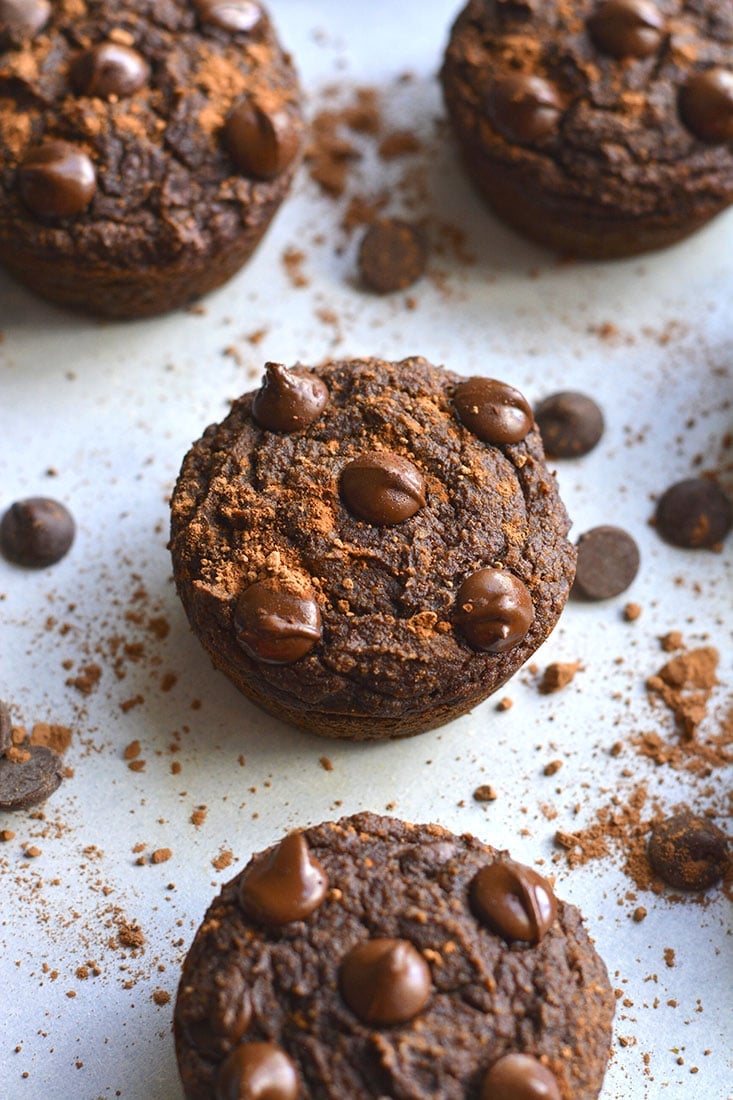 You see, lately I've been trying to encourage him to make better choices. He loves his carbs. Breads, pizza, ice cream, chips, candy and everything chocolate. I even had to hide tortilla chips from him recently because he's gotten into a horrible habit of skipping lunch and showing up at my house and eating a bag of chips and salsa.
He's making progress and trying to be more conscious of what he eats. It's a real challenge for me, but also a good one for me to remember how hard it is to make those gradual changes. When he gobbled up a Chocolate Pumpkin Almond Flour Muffin for a late night snack my heart literally sang!
One – because he didn't know it had pumpkin in it. If he did, he never would have eaten it. So let's just keep this secret between you and me. Ok?
Two – it's healthy and trying to get him to even try something of mine that's healthy is like trying to get a two year old to sit still for 5 minutes.
The best part about him eating these Chocolate Pumpkin Almond Flour Muffins? He taught me a trick to turn them into a dessert which I'm going to share with you. Microwave them for 15-30 seconds on high. They get real soft and the chocolate melts just a bit. A great single serve dessert that's healthy, balanced and made with real food ingredients! Who knew?
If you're a meal plan subscriber, they will be coming to your meal plan soon!
More Pumpkin Muffins!
Pumpkin Blueberry Chocolate Chip Cashew Muffins
Molasses Pumpkin Chocolate Chip Muffins
3 Smart Strategies To Stop Cravings
Chocolate Pumpkin Almond Flour Muffins
Chocolate Pumpkin Almond Flour Muffins! These muffins are Paleo, dairy-free and lightly sweetened with maple syrup. A great gluten free snack anytime of day!
Prep Time 10 minutes
Cook Time 23 minutes
Total Time 33 minutes
Servings 15 muffins
Calories 169 kcal
Instructions
Preheat oven to 350 F. Grease a muffin tin or line with muffin liners.

Place all ingredients (except mini chocolate chips) into a food processor or blender. Blend on high until thick and smooth.

Add the batter to a mixing bowl and fold the chocolate chips into the batter.

Transfer the batter into the muffin cavities by spooning it into each cavity, filling about 3/4 of the way full. Top each muffin with a few chocolate chips on top.

Bake at 350 22-24 minutes or until muffins are set on top. A toothpick should remove clean from the center of the muffins.

Let the muffins set 7-10 minutes in the pan after removing from the oven. Then transfer to a wire baking rack to set another 10 minutes before enjoying. Store muffins in the refrigerator up to 10 days or in the freezer up to 60 days.
Recipe Notes
My shop has more products similar to those used for this recipe and that recommend to my nutrition clients.
Course Breakfast, Muffins, Snack
Keyword almond flour, chocolate, flax meal, gluten free, low calorie, muffin, Paleo, pumpkin
Nutrition facts per serving (1muffin)
Calories 169 kcal
Fat 12 g
Saturated Fat 3 g
Cholesterol 25 mg
Sodium 100 mg
Potassium 91 mg
Carbohydrates 12 g
Fiber 3 g
Sugar 7 g
Protein 4 g
Vitamin A 2585 %
Vitamin C 0.7 %
Calcium 60 %
Iron 1.2 %
Custom Meal Plans
Work with Megan to develop a custom macro or standard meal plan to reach your goals.
Learn More
What I Used For The Recipe