Whole Grain Pumpkin Spice Waffles! Freezer friendly, made with simple real food ingredients, perfect for breakfast meal prep or weekend brunch. Made dairy and gluten free with minimal added sugar. Gluten Free + Low Calorie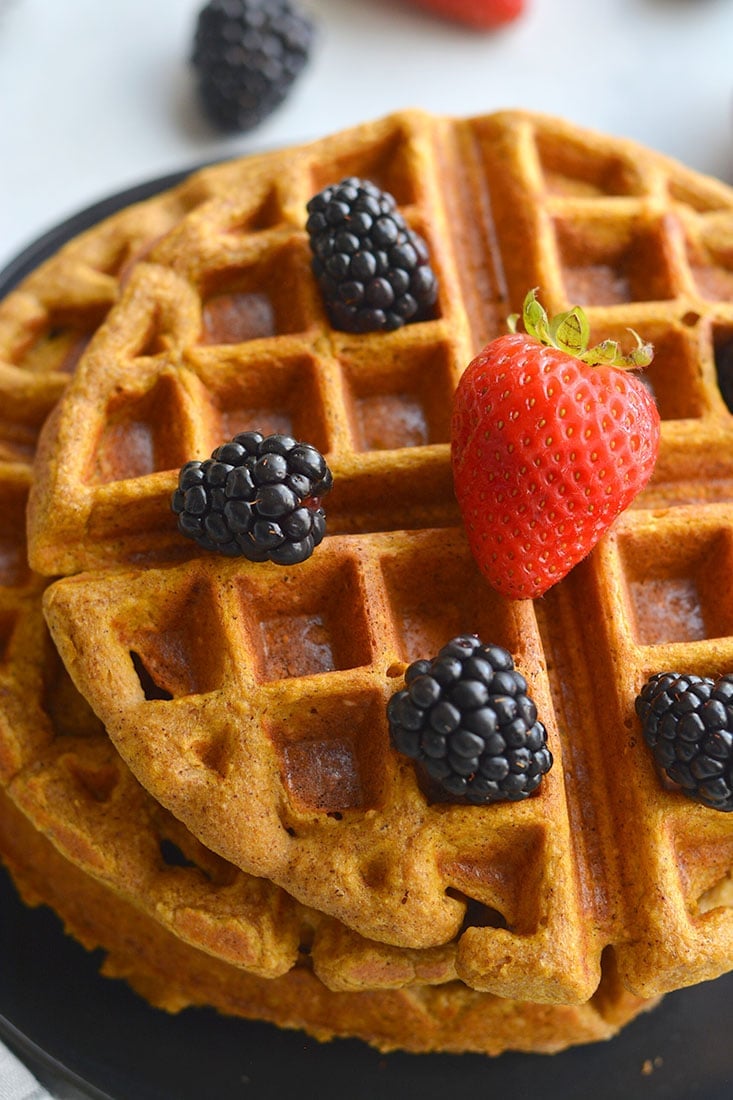 Last week I was at a client's house. I've been working with her 16 year old daughter on developing better habits and making better, balanced food choices for a few months.
It must be so hard as a teenager now. I think back to when I was growing up and while there was a ton of packaged food, there definitely wasn't the amount there is not. Especially, the kind of food that has a million health claims "healthy" "paleo" "GMO" "gluten-free" etc. The sad news is while those claims may be accurate, the food itself isn't generally healthy unless the ingredients are clean.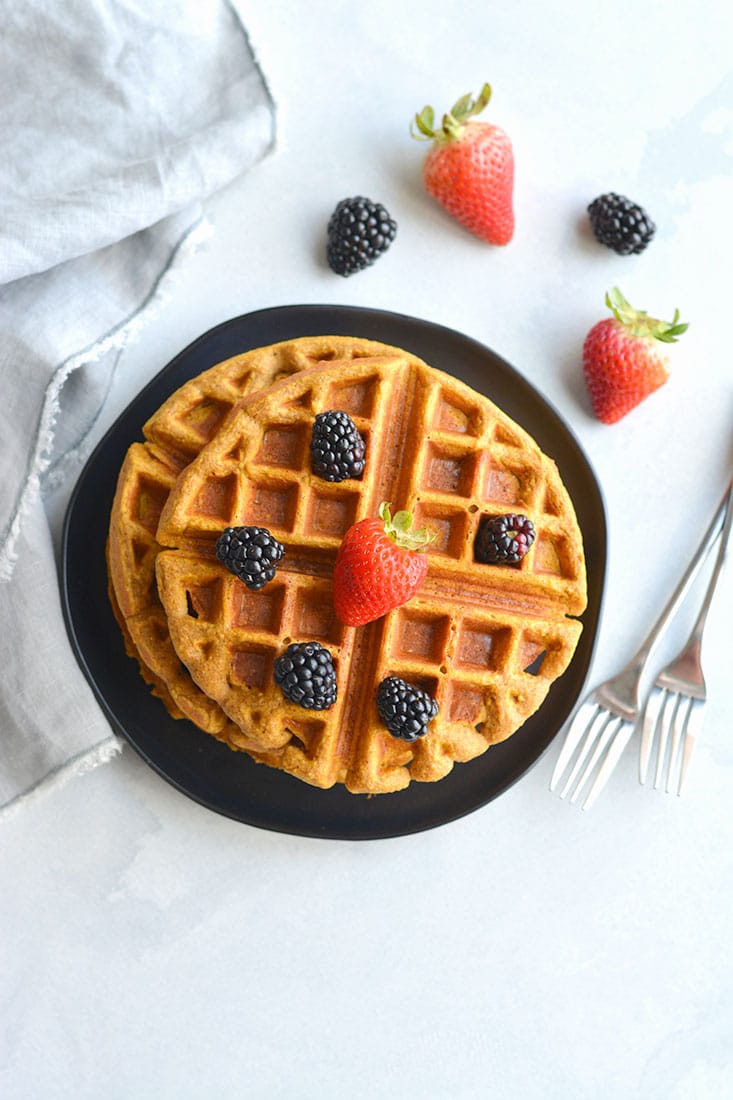 That's where people mess up most is with the ingredients. They don't read them or they don't understand them. If you don't read them, then you should be. If you don't understand them, then it's not something you should be eating.
This is something I teach in the 14 day sugar reset challenge. Teaching people not only avoid added sugar, but also avoid unknown ingredients that can damage hormones, cause low energy, weight gain and develop into more serious health problems long-term. Add yourself to the waitlist if you're interested in joining the challenge!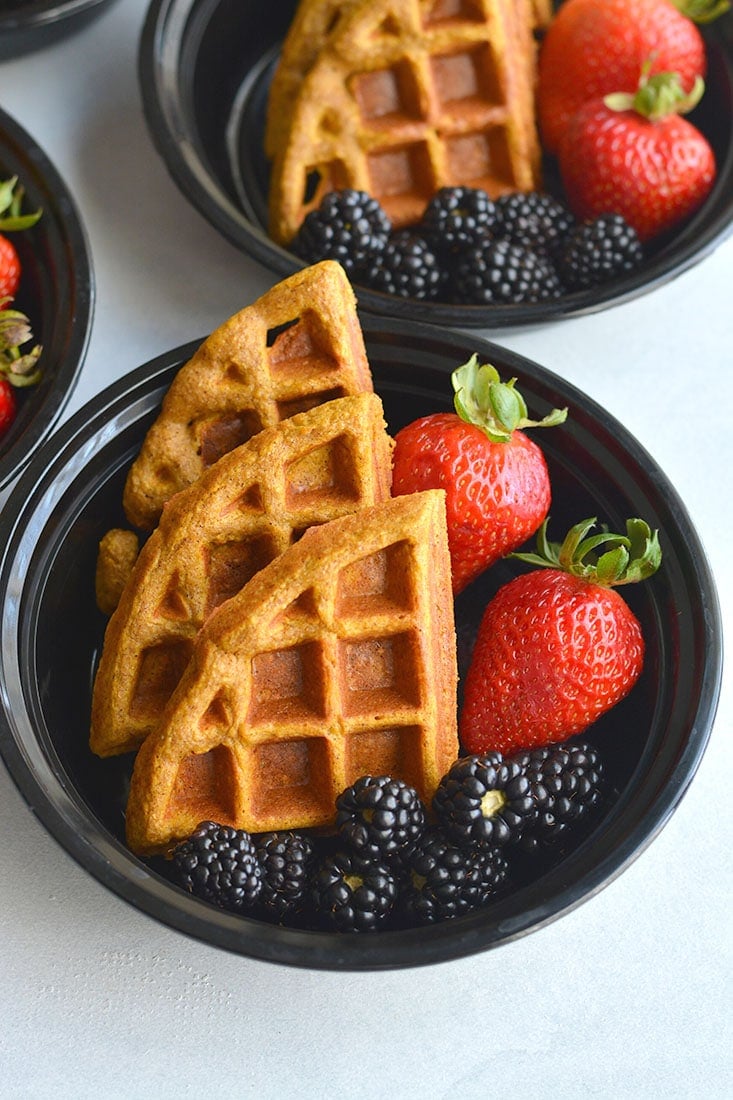 So… the teenage girl I'm working with with loves Eggo waffles for a quick breakfast in the morning. When we looked at the box, we saw over 20 ingredients which led us to brainstorming healthier, quick alternatives. That included Whole Grain Pumpkin Spice Waffles!
Most people don't realize they can make a batch of homemade waffles in under 20 minutes and FREEZE them.
A great meal prep hack for breakfast! Believe me, you will praising those 20 minutes you spent making over the weekend making them when you're in a hurry running out the door during the week.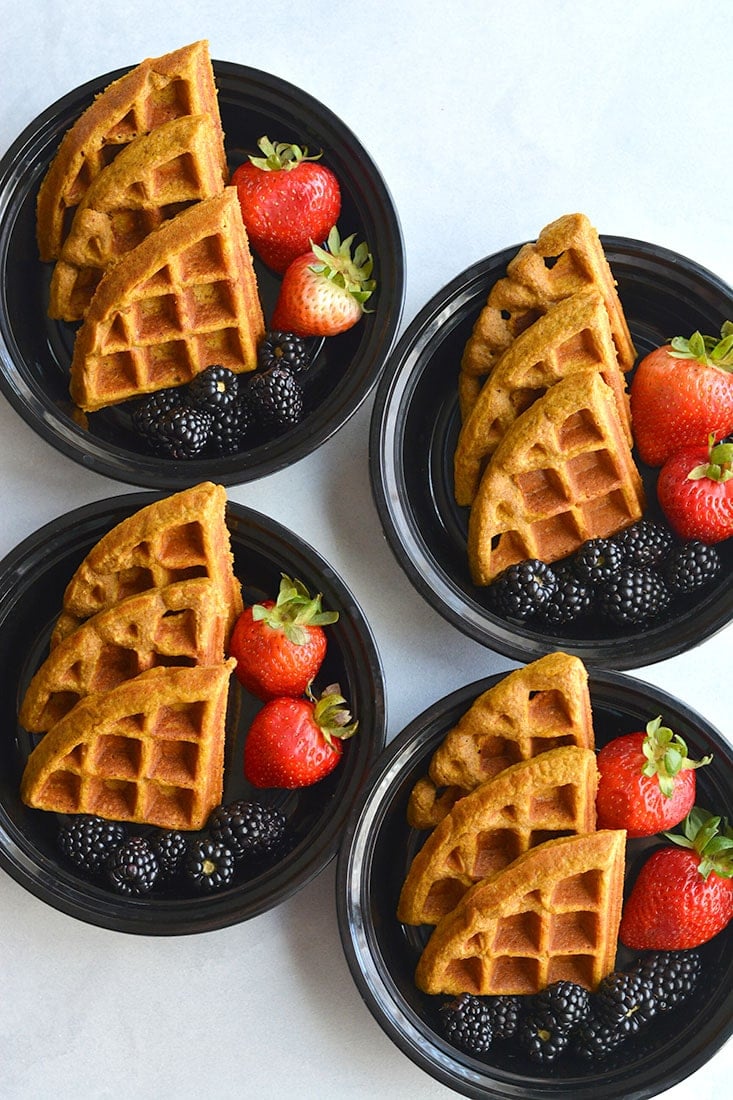 Not only that, these Whole Grain Pumpkin Spice Waffles are healthier and made with real food ingredients! The pumpkin flavor is mild so even picky eaters will like them. That's one of the reasons I love pumpkin. Easy to sneak into food without people detecting it.
A few tips on making your waffles. Use a timer to bake them. 3 minutes on one side and 3 minutes on the other. I set the timer on my phone and it works perfect. My waffles turn out perfect every time. This is the waffler maker I use.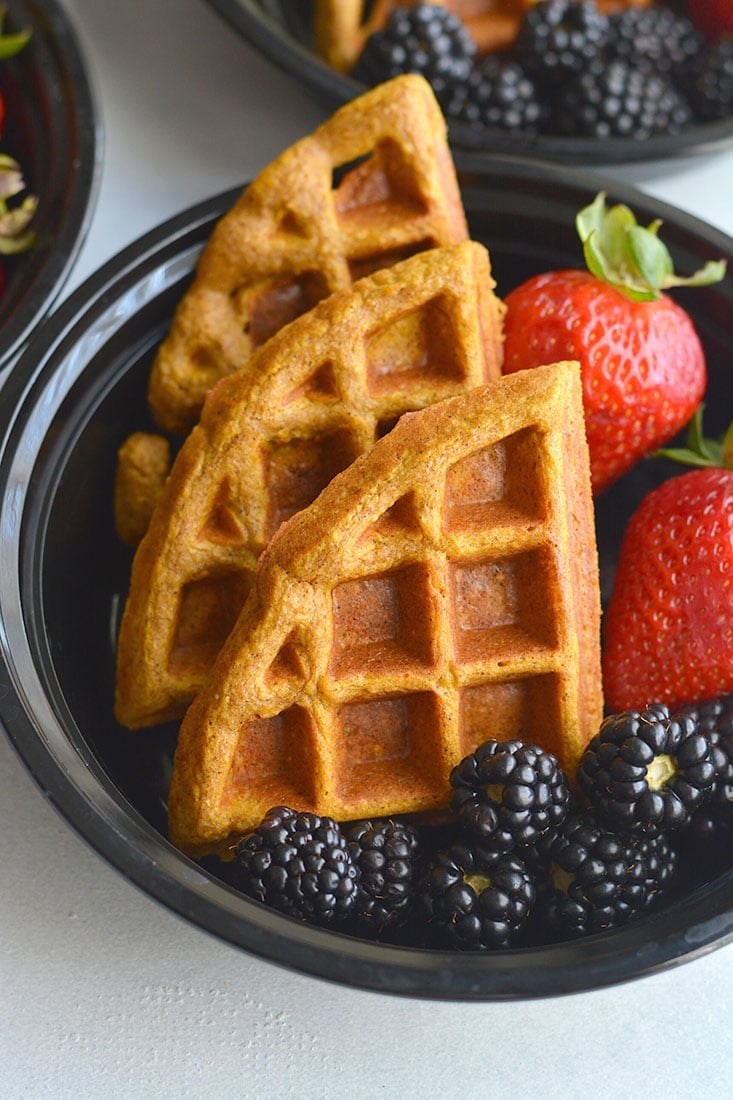 As for the pumpkin spice, if you don't like a strong flavor omit the allspice and only use cinnamon, ginger and nutmeg. The flavor will be milder, but just as good!
Delicious, hearty and low in sugar. These Whole Grain Pumpkin Spice Waffles are perfect for an easy, meal prep breakfast or weekend brunch. If you're a meal plan subscriber, these will be on my October meal plan.
More Waffles to Try!
Chocolate Almond Flour Waffles
Whole Grain Pumpkin Spice Waffles
Whole Grain Pumpkin Spice Waffles! Freezer friendly, made with simple real food ingredients, perfect for breakfast meal prep or weekend brunch. Made dairy and gluten free with minimal added sugar.
Prep Time 5 minutes
Cook Time 10 minutes
Total Time 15 minutes
Servings 8 servings
Calories 292 kcal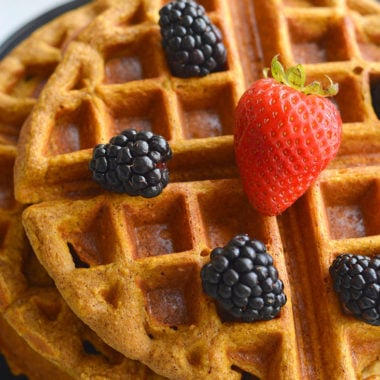 Instructions
Preheat a waffle iron and grease liberally with cooking spray or coconut oil.

Place all the ingredients in a blender or food processor. Process on high until smooth. If the batter is runny, let it sit for 5 minutes to allow the oat flour to absorb the liquid.

Pour the batter into the waffle iron (mine comes with a measuring cup that I use to measure mine). Cook 3 minutes then flip and cook another 3 minutes until golden brown.

Pop the waffle out of the iron, grease and repeat until you have 4 large waffles. Divide the waffles into meal prep containers for breakfast.
Recipe Notes
Makes 4 large waffles. 1 serving equals 1/2 of a waffle.
My Amazon shop has more products similar to those used for this recipe and that I recommend to my nutrition clients.
Course Breakfast, Meal Prep
Cuisine American
Keyword breakfast, gluten free, healthy, low calorie, low calorie meal prep, low sugar, oat, oat flour, pumpkin, waffle, whole grain
Nutrition facts per serving (1serving)
Calories 292 kcal
Fat 18 g
Saturated Fat 12 g
Cholesterol 69 mg
Sodium 62 mg
Potassium 331 mg
Carbohydrates 25 g
Fiber 2 g
Sugar 3 g
Protein 7 g
Vitamin A 2485 %
Vitamin C 0.7 %
Calcium 130 %
Iron 1.9 %
Custom Meal Plans
Work with Megan to develop a custom macro or standard meal plan to reach your goals.
Learn More
What I Used For The Recipe