This post contains affiliate links. As an Amazon associate I earn qualifying purchases. Click here for more about this policy.
Apple Peanut Butter Cookies made with flax, chia and oats. A low calorie, gluten-free and vegan friendly snack that's easy to make and a nutritious treat! Gluten Free + Vegan + Low Calorie
Just letting you know, this Apple Peanut Butter Cookies recipe was originally published October 2015. I retested, rephotographed and updated the content for you. Hope you enjoy it!
It all starts with a cookie. You see one of the healthy habits I started when I was losing weight was eating an apple and a healthy, low calorie cookie every day with my lunch. I'm a big believer in everything in moderation. If I completely eliminated certain food groups or told myself certain foods were off limits, I would have never lost 80 pounds or kept it off for this many years.
All that walking I did to lose weight, wouldn't have helped either because I have a sweet tooth. A big one! Sooner or later I would have fallen back on old habits had I not made a lifestyle change and found ways to eat what I love in moderation.
That lifestyle change meant looking for alternative ways to satisfy my sweet tooth while still eating healthy. That can be a tricky balance to keep sugar cravings under control, but that's why I'm here. To help you make healthy changes that will stick for life!
After years of sticking to those habits, you need to find ways to keep things fresh so they don't get boring and you don't stray away from them. That's why I'm always experiment with food. To keep things interesting and fresh for my belly.
Like, I was saying, it all started with a cookie. Well, and an apple. Why not combine my two healthy habits I started many years ago into one delicious warm apple cinnamon cookie? These cookies are made with gluten free oats and brown rice flour making them chewy and dense.
No sugar added. A touch of maple syrup to keep the sugar real and low. To make the cookies even more delicious, I added a peanut butter swirl with powdered peanut butter and chia.
Powdered peanut butter is a great way to get healthy fat with fewer calories, but you do need to watch the kind you buy. Many of them have hidden sugar lurking in them! This is the one I recommend.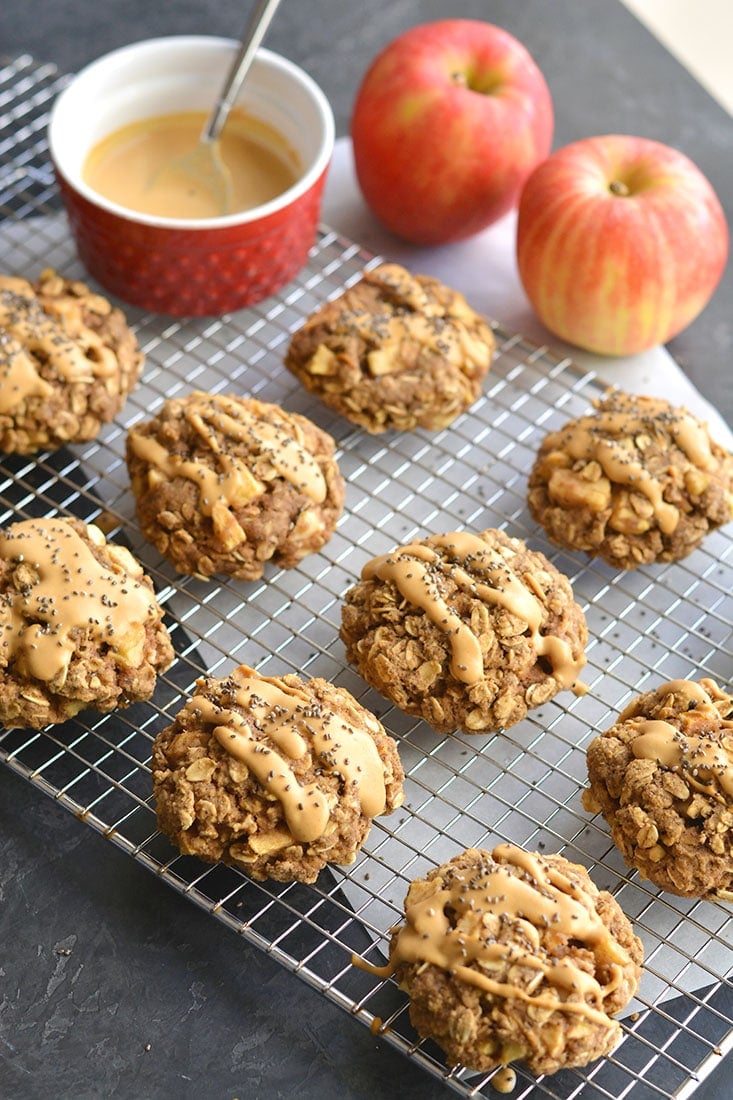 All you need to do is add water to the powder and you have yourself creamy peanut butter goodness. Drizzle it over the cookies and add a sprinkle of chia seeds, and you have yourself one amazing cookie for 135 calories. Now tell me you can't stick to a cookie eating habit for life!
Apple Peanut Butter Cookies With Flax and Chia
Apple Peanut Butter Cookies made with flax, chia and oats. A low calorie, gluten-free and vegan friendly snack that's easy to make and a nutritious treat! 
Instructions
Preheat oven to 350 F. Prepare a large

baking sheet

with parchment paper. Prepare a flax egg by stirring together the flax and water in a small ramekin.

Using a hand or standing mixer, mix together flax egg, coconut oil, almond extract, maple syrup and mix until smooth.

Fold in diced apples, spices, oats and flour and combine until everything is combined.

To the prepared baking sheet, add 1 heaping tablespoon of batter to form a cookie.

The batter will be loose and you may need to form it a bit with your hands, but they will harden nicely when they bake. Wetting your hands periodically helps to stick the dough together. 

Bake at 350 F for 15 minutes until edges are slightly browned.

Remove from the oven and transfer to a wire cooling rack to cool.

In a small ramekin mix the drizzle together, you may need a little more water or powdered peanut butter to get the desired consistency.

Using a 1/4 tsp, pour drizzle on top of cookies and sprinkle with chia seeds as desired.

Enjoy warm or cold. Keep in the refrigerator up to a week or in the freezer up to 30 days.
Nutrition
Serving: 1cookieCalories: 135kcalCarbohydrates: 24.5gProtein: 2.6gFat: 2.9gSaturated Fat: 1.8gSodium: 115.1mgFiber: 1.9gSugar: 9.5g
What I Used For The Recipe