This post contains affiliate links. As an Amazon associate I earn qualifying purchases. Click here for more about this policy.
Thanksgiving is my favorite day of the year! The smell of the turkey cooking in the oven, aromas of pumpkin and apple, Macy's Day parade and being with family just make me feel all warm and cozy inside.
But with the smorgasbord of food available, this day can be particularly tricky for me when it comes to eating and watching my waistline. It's easy to pack on several pounds. I have to pay close attention to what I'm eating this time of year to ward off the reverse 6 pack so I'm not beating myself up come January.
The good news is you can have the comforting flavors of Thanksgiving and satisfy your belly by making healthier and lighter versions of the things you love. Today I'm sharing 15 Healthy Thanksgiving Day recipes that easy, gluten free, low calorie & packed with traditional flavors so you can leave the Thanksgiving table full and guilt free!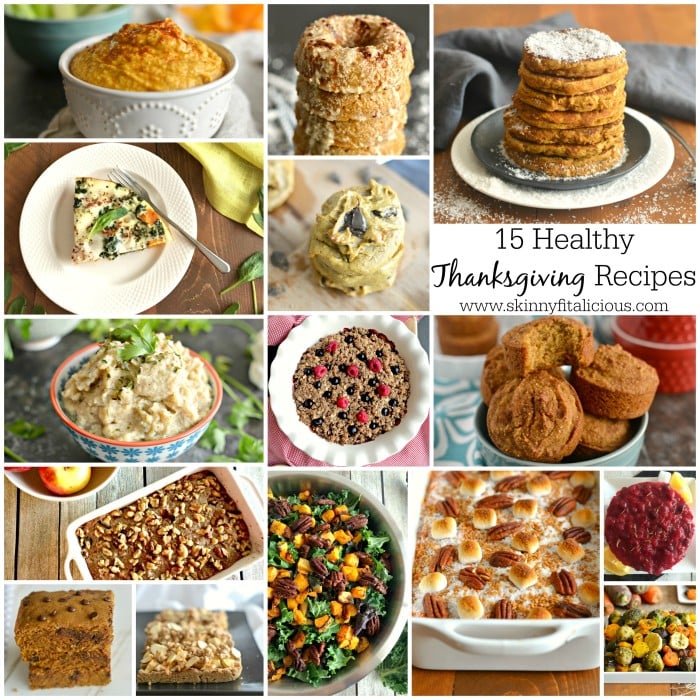 My favorite winter breakfast this easy bake is loaded with healthy spinach and roasted squash to make a deliciously filling meal. A warm start to a cold morning. If you like pizza, you will love this!
Because Thanksgiving wouldn't be complete without a treat! Made with brown rice flour, coconut and pumpkin this is one treat you can eat guilt free.
If donuts aren't your thing, whip up a batch of flourless pumpkin coconut pancakes. These pancakes are silky, creamy, filling and melt in your mouth! A sure way to hold you over until Thanksgiving dinner.
A healthy appetizer to start your Thanksgiving feast, this dip is made with zucchini instead of chickpeas and is just as creamy & delicious as traditional hummus. Perfect with a side of raw veggies to munch on while the turkey is baking.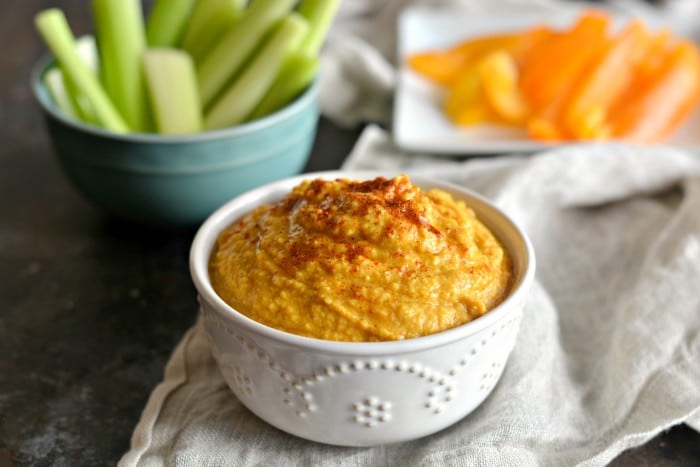 Move over mashed potatoes and make way for roasted garlic cauliflower mash! With the taste and texture just like mashed potatoes this low carb dish will fool the best of them!
Dressed in a low-calorie dressing & accessorized with candied pecans this Winter Kale Butternut Squash Salad will warm you up with health! A low calorie side to add to your menu that everyone will love! Make an extra batch of the candied pecans for everyone to munch on before dinner.
Infused with citrus and rosemary, this no sugar added cranberry sauce is a healthy side to add to your Thanksgiving day menu. Top leftover turkey on a sandwich with this sauce for a delicious post Thanksgiving meal!
Creamy and filling, this sweet potato casserole is made with flaxseed, pecans, unsweetened coconut, pecans and vegan marshmallows. A dish sure to satisfy anyone's taste buds for less sugar and less fat!
A mix of carrots, parsnips and brussels sprouts seasoned with thyme, oregano, basil & rosemary, this perfect mix of vegetables is a warm and flavorful addition to any meal!
Skip the bread roll and pass the cornbread! These gluten free, vegan friendly muffins are moist and chewy thanks to its hidden pumpkin ingredient. With no taste of pumpkin, this delicious side will have everyone asking for the recipe.
Almond Walnut Apple Crisp
Made grain free with sugary, warm apples, cinnamon and topped with toasted toasted walnuts, serve up a slice of this healthy Almond Walnut Apple Crisp with frozen yogurt. This healthy dessert is sure to win over your apple lovers!
No pie lovers? Try a batch of pumpkin peanut butter chocolate chip cookies. These low calorie, flourless cookies are smooth like silk and will satisfy any chocolate lover!
Move over pie! We're having healthy berry quinoa crumble. Made with oats, quinoa and berries, this protein packed dessert will save you big calories without sacrificing flavor. Swap out the raspberries for cranberries to give it Thanksgiving day flavors!
Cookie meets brownie in these skinny Pumpkin Chocolate Chip Bars. These make a delicious low calorie, gluten free snack everyone can snack on throughout the day.
Have portion control issues? Make mini pies with these decadent apple cinnamon crumb bars. Made flourless and low in sugar, this dessert is crazy delicious. You can make this one the night before, warm in the microwave on Thanksgiving, top with Reddi-wip and enjoy!