Get your pumpkin and chocolate fix with a creamy, melt-in-your-mouth Healthy Pumpkin Peanut Butter Chocolate Chip Cookies. Low Calorie, Gluten Free and Vegan with a Paleo substitute!
Well, things are back to pseudo normal around here and by that I mean driving Miss Daisy (I'm Miss Daisy) and wearing my pants inside out. While it's nice having Mom around to help, I think she's playing tricks on me.
This must be the four or fifth time I've worth my gym pants inside out at the gym and haven't noticed until I got home. I want to die of embarrassment. I can only imagine what people are thinking. The gimpy girl on crutches is wearing her pants inside out again "poor girl." No wonder I can't pick up a decent guy.
I texted one of my friends who I was talking to the day I wore them inside out. Thankfully she says she never noticed. She told me she once wore her shorts inside out to spin class and no one told her. Now that would be embarrassing especially with the lined underwear sticking out and all. Eek!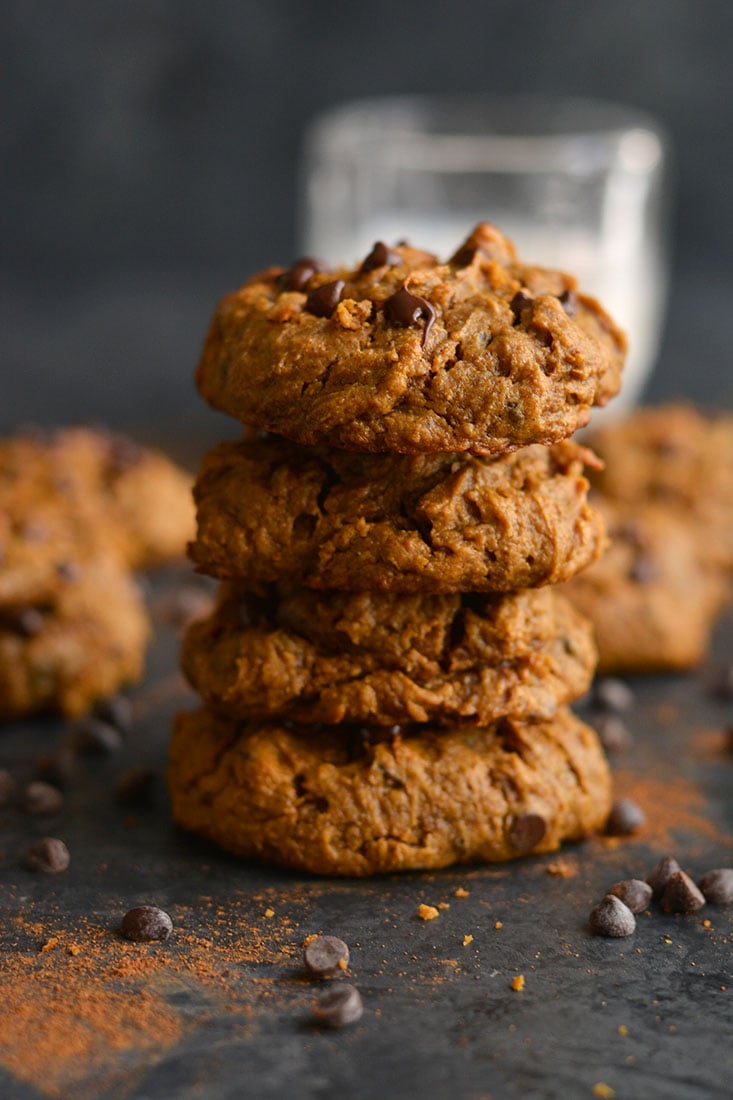 Mom told me I must be turning my pants inside out when I put them in the wash, but I never do that. I think because the seam is on the outside of many of my Lulu pants she flips them on accident thinking the seam goes on the inside.
Either that or it's an evil trick she's playing on me which I wouldn't put past her. I'm going with evil trick as I found two shirts inside out this week. She's sneaky! Remind me to tell you about the time she unwrapped all her Christmas presents. I'm onto her.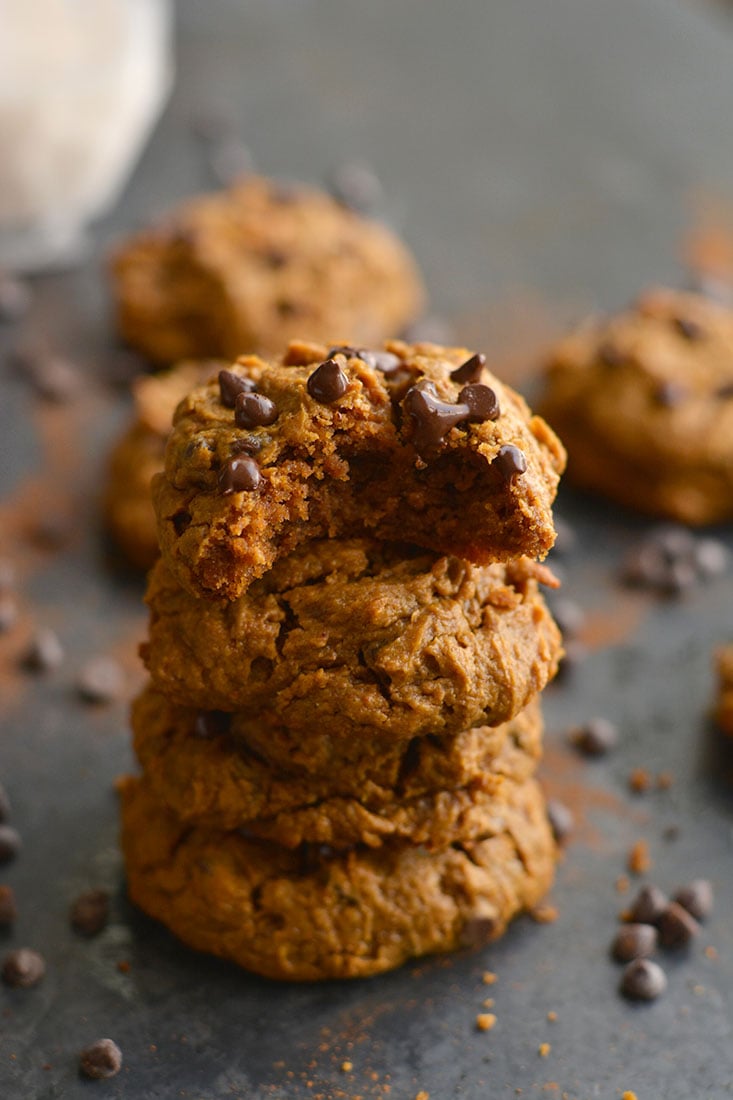 Speaking of Christmas, I'll be making a lot of cookies this year for Christmas presents and these Pumpkin Peanut Butter Chocolate Chip Cookies are definitely ones to wrap in a bow or you could just make them for yourself. They're soft, creamy and melt-in-your-mouth.
Like all my pumpkin recipes, these gems don't have a pumpkin-y flavor which is a win if you're trying to eat more vegetables or just don't love pumpkin. In fact, these taste like a regular peanut butter cookie with chocolate-y goodness. You'll fool everyone with them! Happy baking!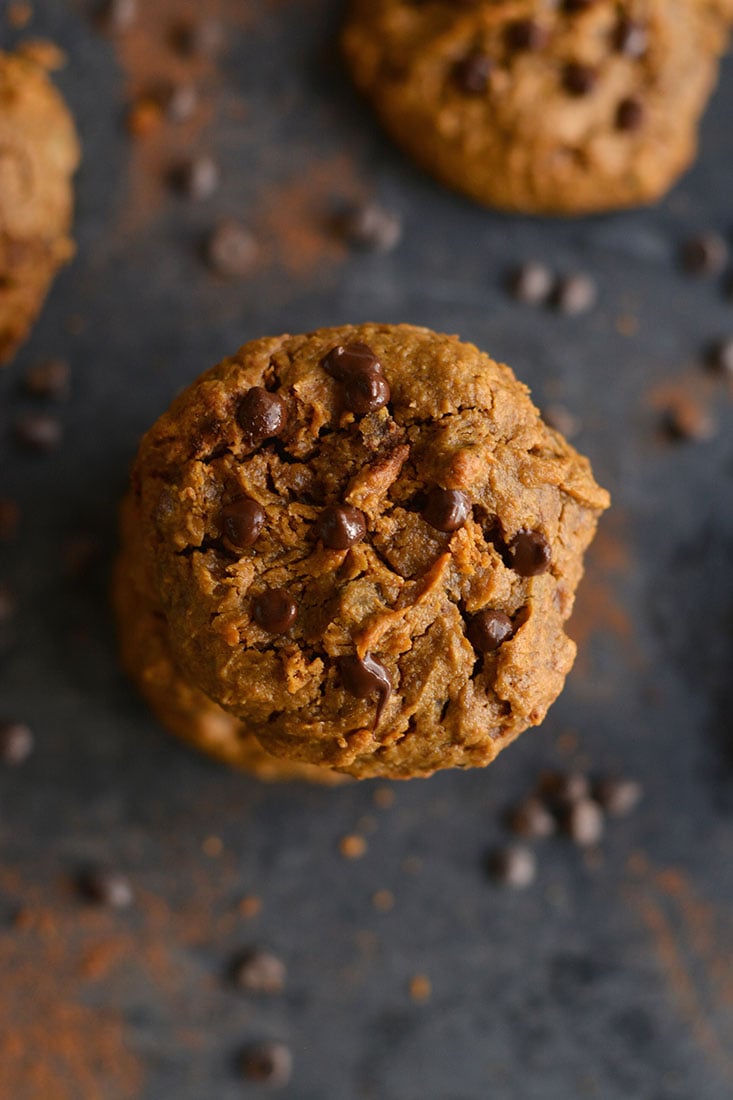 Pumpkin Peanut Butter Chocolate Chip Cookies
Get your pumpkin & chocolate fix with a creamy, melt-in-your-mouth Pumpkin Peanut Butter Chocolate Chip Cookie. They're paleo, gluten free and vegan!
Instructions
Preheat oven to 350 F. While the oven is heating, place a baking sheet for the cookies in the oven.

In a standing mixer or large bowl for a hand mixer, add all ingredients except chocolate chips. Mix to combine batter until smooth then add chips and fold into batter by hand.

Remove the baking sheet from the oven and line with parchment paper. Place 2-3 tablespoons full of batter onto a preheated baking sheet.

Bake at 350 F for 12-15 minutes until edges are slightly brown.

Remove from the oven and the allow cookies to cool 5 minutes on baking sheet before removing with a spatula. They will continue cooking for those 5 minutes.

After 5 minutes, carefully transfer to a wire rack to cool completely.

If desired, sprinkle tops of the cookies with more pumpkin pie spice and chocolate chips.

Store in a container in the refrigerator up to one week.
Nutrition
Serving: 1cookieCalories: 156kcalCarbohydrates: 10.8gProtein: 4.4gFat: 10.6gSaturated Fat: 2.3gSodium: 61.4mgFiber: 1.7gSugar: 6.3g
What I Used For The Recipe