This post contains affiliate links. As an Amazon associate I earn qualifying purchases. Click here for more about this policy.
Healthy Greek Yogurt Cake made low calorie and gluten free. Made higher in protein with yogurt and less sugar, this cake is better balanced in nutrition and tastes delicious! Gluten Free + Low Calorie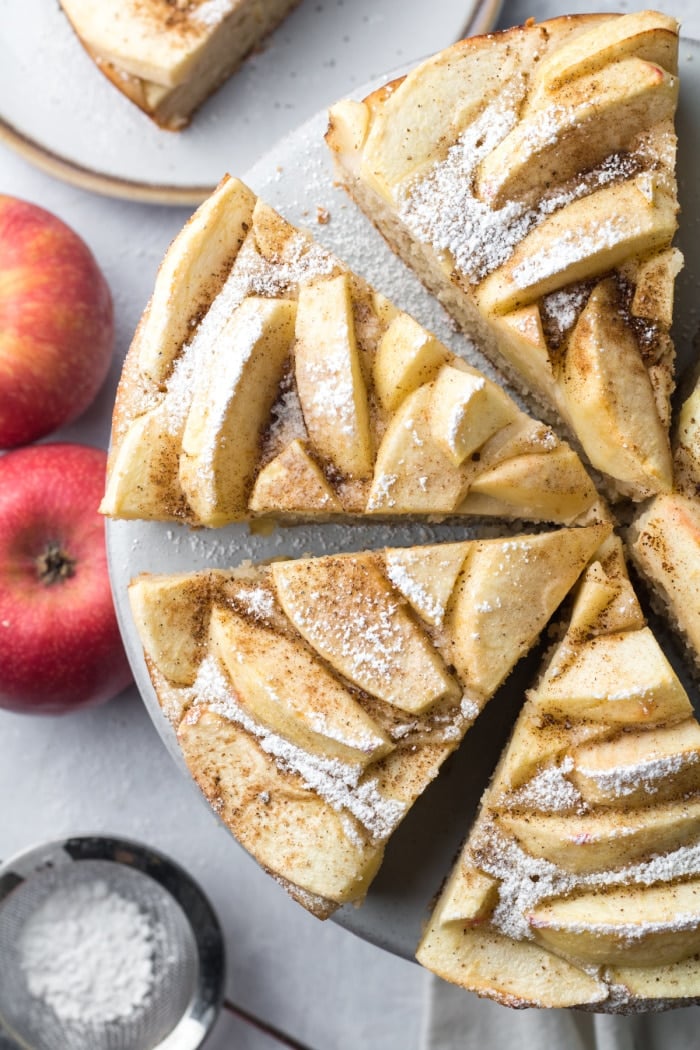 Holidays always put me in the baking mood. I'm honestly not much of a sweets person and don't crave sweets that much anymore since losing 80 pounds, but holiday baking is my therapy. Like walking, it relaxes me and there's something so satisfying about making a cake that's better for you!
This healthy yogurt cake is a recipe you can make year round that's tasty, delicious and the cake is moist from the creamy yogurt. It was a big hit at my house and I can't wait for you to try it!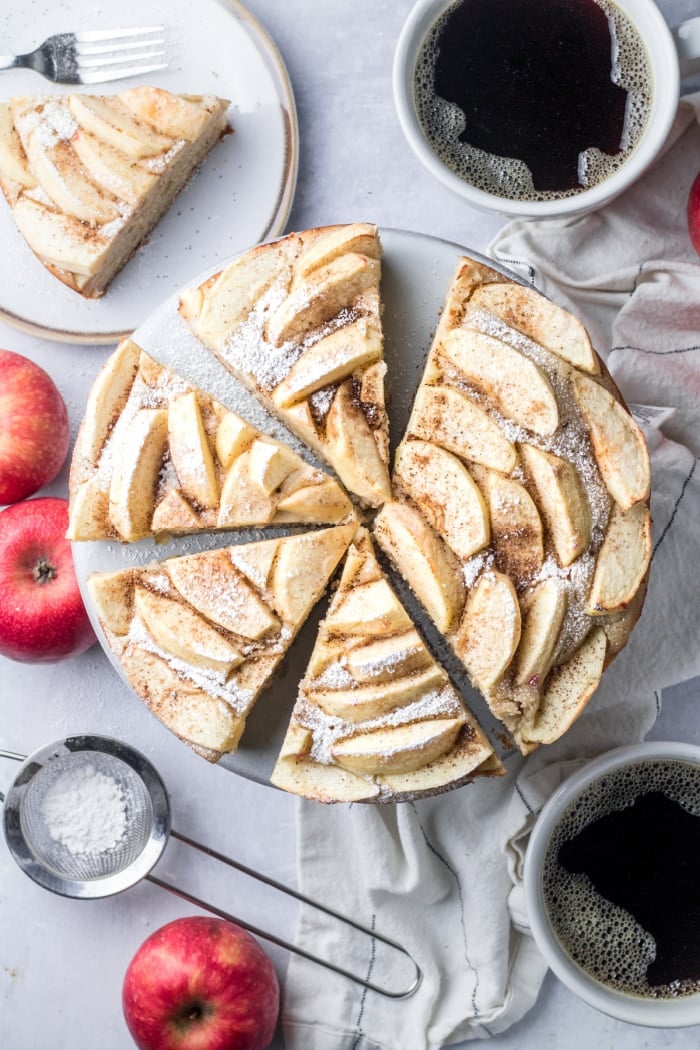 Healthy Greek Yogurt Cake
Not only is this cake recipe lower in calories, it's made higher in protein, gluten free but it's also easy. And of course, has delicious flavor from the naturally sweet apples! Here's a few more reasons why I love this.
Low Calorie - A traditional slice of cake is generally 350-500 calories. This cake is 263 calories per slice which is awesome for a cake recipe. The calories don't matter as much as the nutrition that makes up those calories and this recipe does have balanced nutrition.
Higher Protein - The Greek yogurt boosts the protein to 7 grams per slice which is a high amount for a dessert recipe. It also makes the cake creamy.
Higher Fiber - 6 grams of fiber per slice which is awesome! This is coming primarily from the apples. Only 31 total carbs per slice which is really low for a cake recipe. Fiber is really important for weight loss and something I talk about in my free class.
Lower Fat - Total fat is 11 grams, 2 of which comes from saturated fat (less optimal fat). The rest is coming from healthy fat. Eleven grams is very low for a dessert recipe.
Gluten Free - All ingredients used for the recipe are gluten free.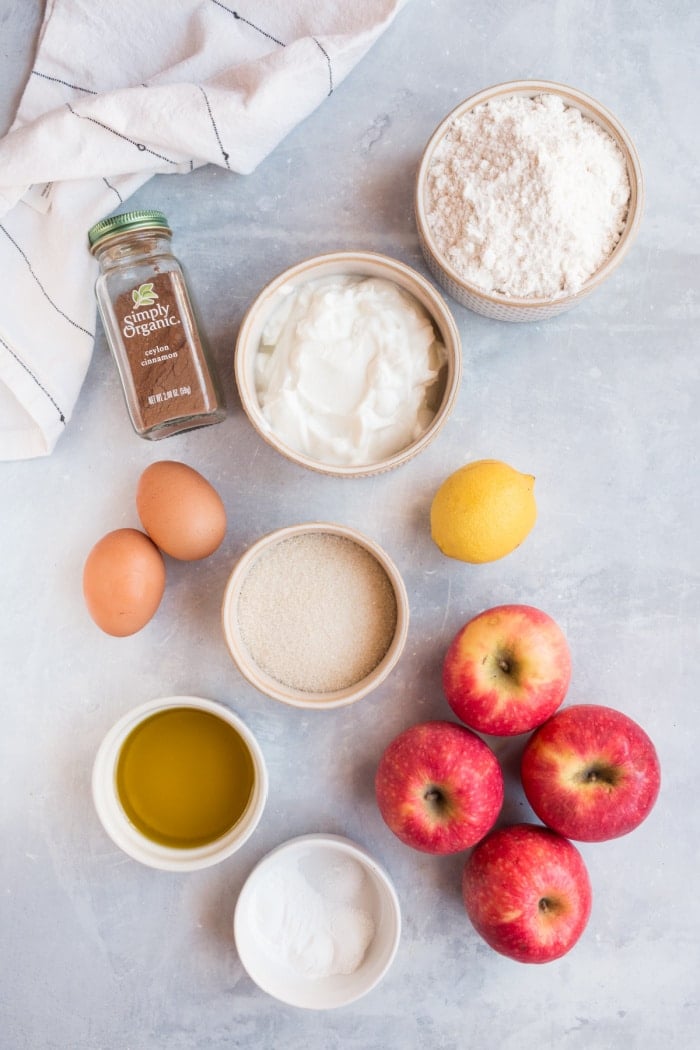 Ingredients For Greek Yogurt Cake
Here's what you need to make this yogurt cake! I used gluten free flour to keep make the cake gluten free, but you can always use other flours. See the substitutions section below for suggestions. You will also need a 9-inch round cake pan and mixing bowl to make this recipe.
Greek yogurt, low fat
Eggs
Olive Oil
Gluten Free Baking Flour
Baking Powder
Cinnamon, Salt
Lemon Juice
Apples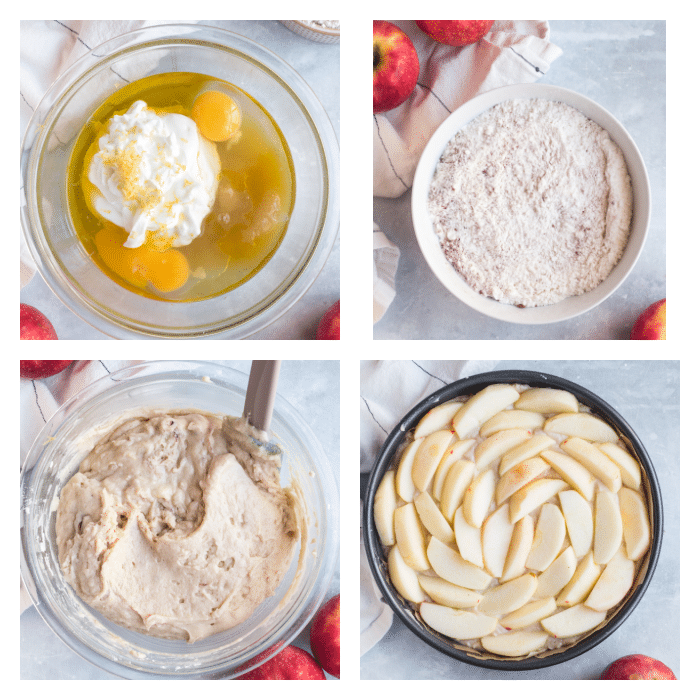 How To Make A Cake With Greek Yogurt
Here's the steps to making a low calorie cake with yogurt. The first step is to peel and slice the apples then place in a bowl with the lemon juice and cinnamon. The apples should be room temperature before starting along with the eggs and yogurt.
Next prepare the batter by mixing together the eggs, olive oil and yogurt until smooth then fold in the flour, salt and baking powder. Do not over mix. I recommend mixing the flour, salt and baking powder together first. The eggs and yogurt should be room temperature before mixing.
Pour the batter into the cake pan. I recommend lining the cake pan with parchment paper for easy removal and to prevent sticking. Place the apple slices around the cake, layering them in a concentric circle. Add a little more cinnamon on top then bake!
Remove the cake from the oven and allow it to cool 30-minutes before slicing and enjoying! You can optionally add lemon jam to the top of the cake. It gives the cake a nice shiny glaze for serving.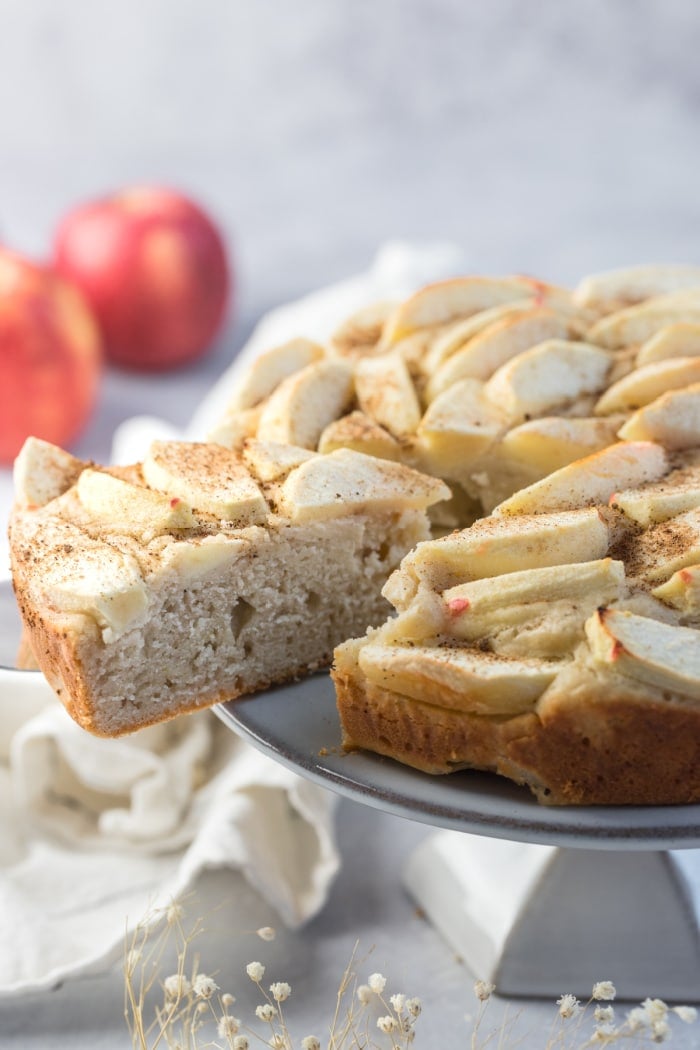 How To Store A Greek Yogurt Cake
If you're wondering how to store a yogurt cake and how long it lasts, here's the answer! The cake itself will last up to 5 days and should be stored in the refrigerator. Most cakes are stored at room temperature, but because this cake is made with yogurt it should be refrigerated.
Can you freeze a yogurt cake? Yes, you can freeze this yogurt cake up to one month. I recommend wrapping in plastic wrap and storing it in a container in the freezer to maintain as much freshness as possible.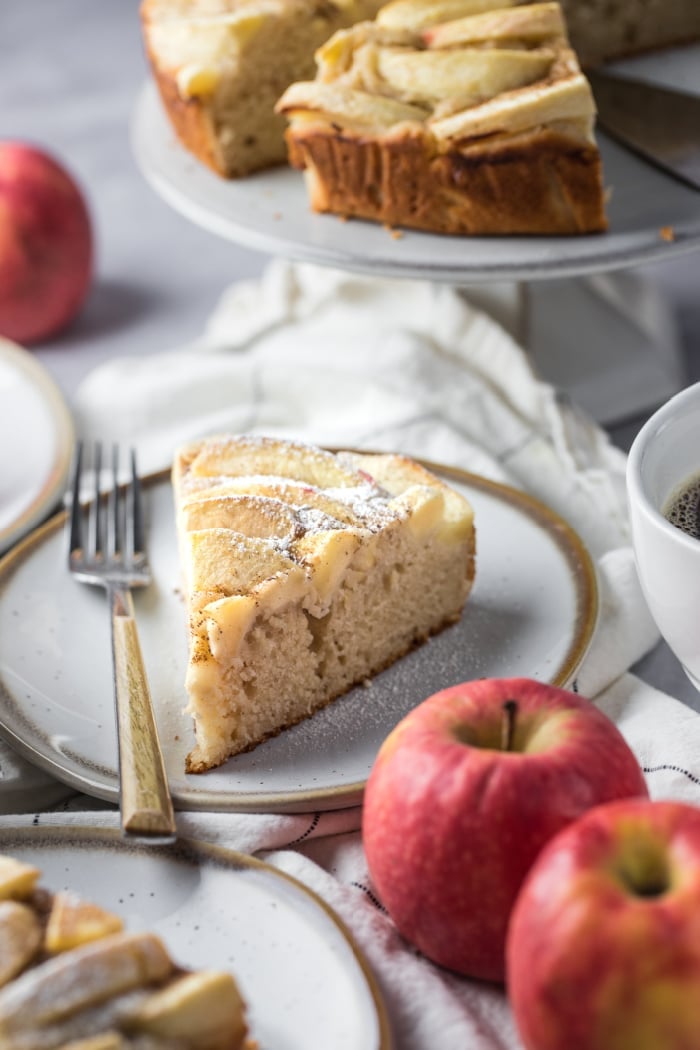 Substitutions For Yogurt Cake
Here are the substitutions I recommend for this gluten free yogurt cake! Please remember that substitutions or swaps you make will change the nutrition data from what you see in the recipe card below.
Gluten Free Baking Flour - Oat flour can be substituted instead and it doesn't have to be gluten free. Coconut flour will not work and almond flour could work with a smaller quantity. I haven't tested the exact quantity so I would recommend trying 1/4 to 1/3 less than the recipe. I never bake with white or whole wheat flour due to my allergy so I cannot say how those would work.
Greek Yogurt - Dairy free yogurt may be subbed if you are dairy free. The dairy free yogurts tend to be much lower in protein and higher in calories from the higher fat content. Something to be aware of if you're making this swap!
Eggs - I have not made this recipe without the eggs yet, but you could try an egg replacer like this one. If you try this, please let me know in the comments how it works for you!
Olive Oil - Olive oil can be used in baking in temperatures 350 F and below. Avocado oil is what I would recommend instead. Coconut oil could also be subbed, but it will alter the flavor.
Monkfruit - You can substitute coconut sugar or another granular sugar of choice. The monkfruit adds sweetness without adding calories. If you do swap for another sugar, it will increase the calories.
Apples - You could definitely swap other fruits in this recipe. Berries, pears or cranberries would be wonderful!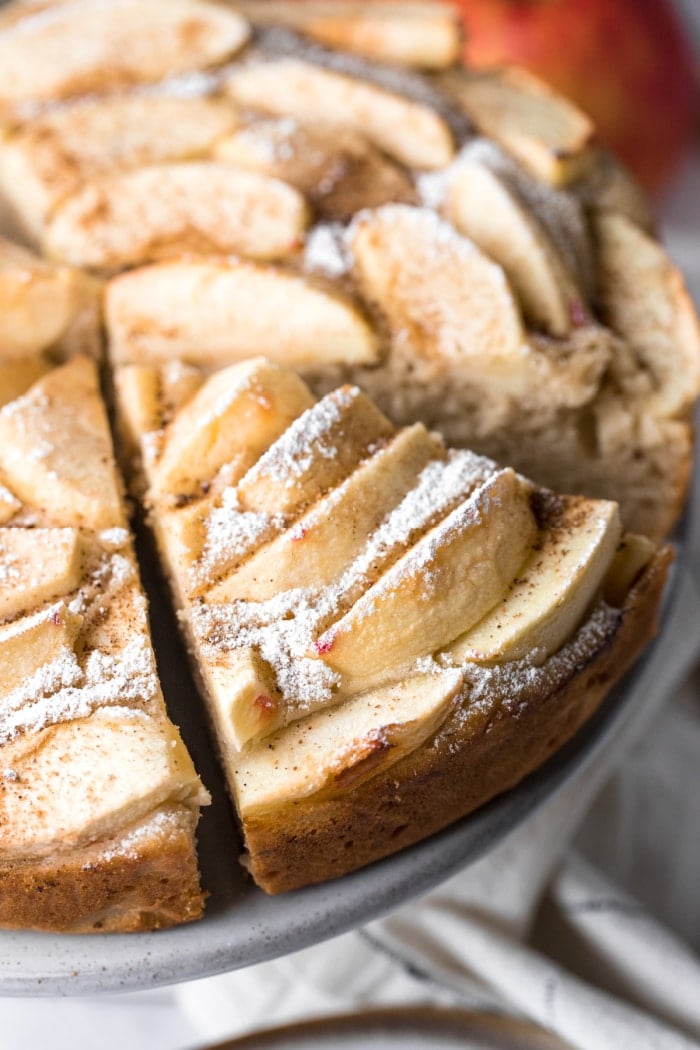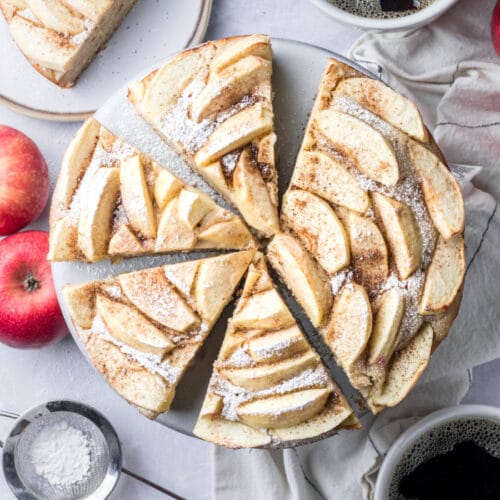 Healthy Greek Yogurt Cake
Healthy Greek Yogurt Cake made low calorie and gluten free. Made higher in protein with yogurt and less sugar, this cake is better balanced in nutrition and tastes delicious!
Instructions
Preheat the oven to 350 F.

Peel, core and slice the apples into 1/2" slices. Place in a bowl, add 1/2 tsp of the cinnamon on top and squeeze the lemon juice over them. Set aside.

Place parchment paper in a round baking dish (mine was 9-inches) and spray the sides with cooking spray. 

Mix the eggs, sugar, oil, yogurt and lemon zest together in a mixing bowl.

In a separate bowl, mix the flour, remaining cinnamon, baking powder and salt until combined.

Bake at 35-40 minutes or until a toothpick can be inserted clean from the center.

Remove from the oven and cool 20-30 minutes. Optionally add lemon jam on top for a fun glaze.

Store the yogurt cake in the refrigerator up to 5 days or in the freezer up to 30 days.
Nutrition
Serving: 1sliceCalories: 263kcalCarbohydrates: 37gProtein: 7gFat: 11gSaturated Fat: 2gPolyunsaturated Fat: 1gMonounsaturated Fat: 7gTrans Fat: 1gCholesterol: 42mgSodium: 100mgPotassium: 270mgFiber: 6gSugar: 12gVitamin A: 114IUVitamin C: 11mgCalcium: 111mgIron: 2mg