This post contains affiliate links. As an Amazon associate I earn qualifying purchases. Click here for more about this policy.
Healthy Sweet Potato Casserole is a low calorie, gluten free and Paleo dish that's made dairy free and with less added sugar. Topped with pecans, flaxseed and vegan marshmallows for a yummy dish anyone will love! Gluten Free + Low Calorie + Paleo + Vegan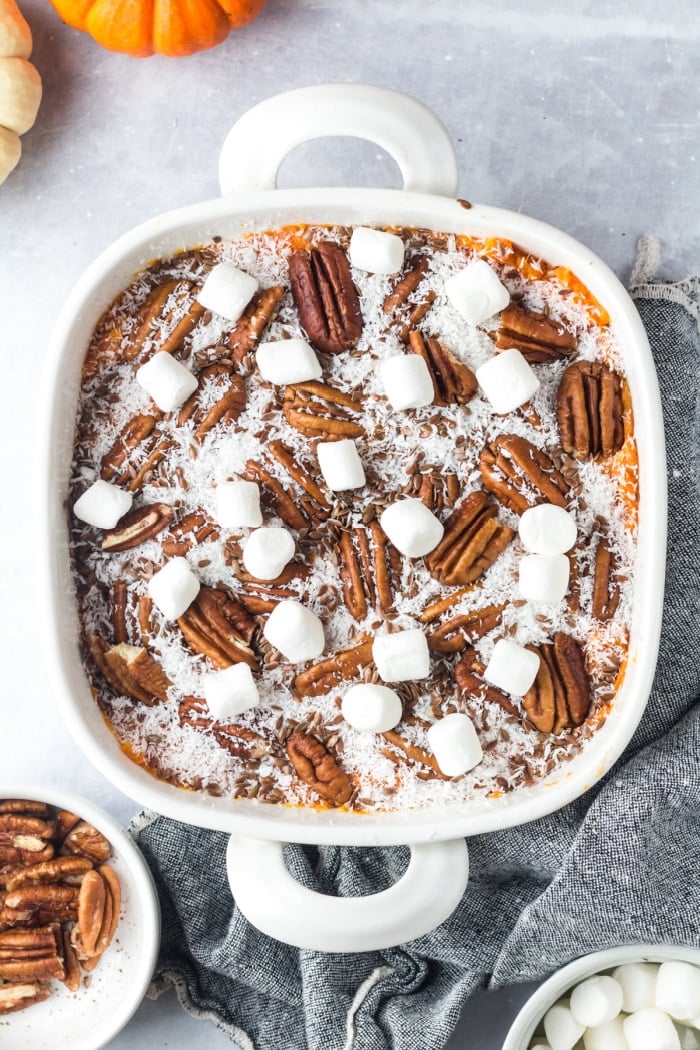 This Healthy Sweet Potato Casserole is a holiday favorite in my house! In fact, several years ago my Mom roasted sweet potatoes and blended them in a food processor with a little maple syrup to make mashed sweet potatoes. She raved to me how good they were.
I reminded her of the healthy sweet potato casserole I made over Thanksgiving and how it was the same recipe only served in a casserole dish.
I think we often forget how simple foods like sweet potatoes can be easy, delicious and healthy! This recipe is a good example of that and how you can tweak a traditional holiday recipe to make it better for you and your family.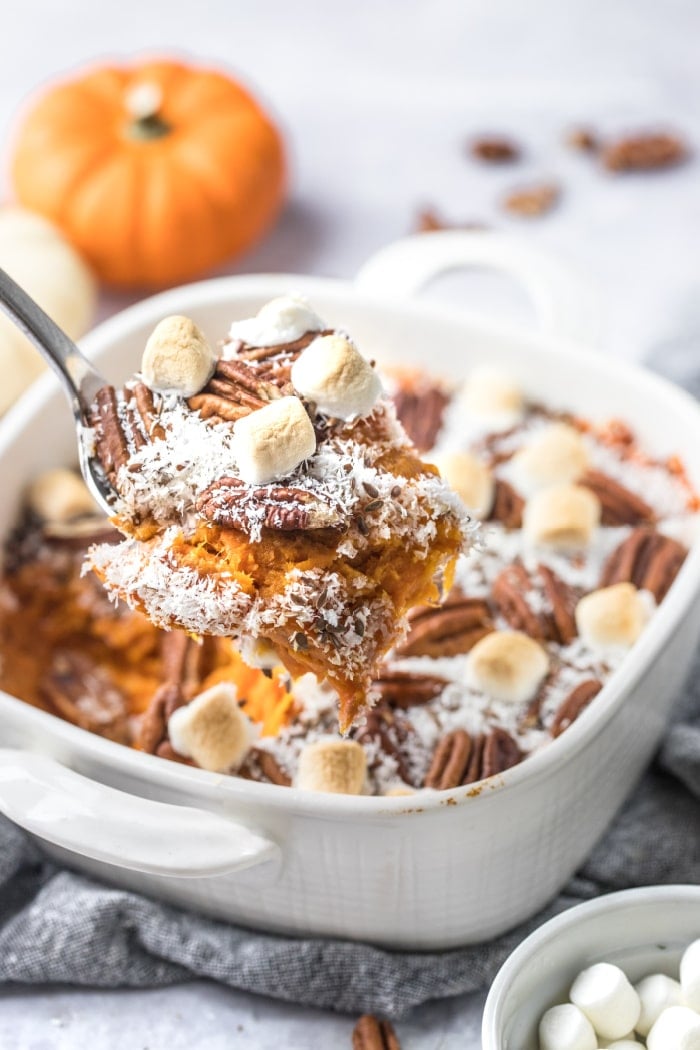 What Makes This Sweet Potato Casserole Healthy
Most sweet potato casseroles are loaded with ADDED sugar. Now there is a difference between the natural sugar from sweet potatoes and sugar that's been added to a recipe. Natural sugar from sweet potatoes is high in fiber and has nutrients the body loves!
Added sugar is what you want to be aware of with recipes on Pinterest and the internet. This is what causes inflammation, weight gain, insulin resistance and other health problems. This recipe has minimal added sugar so I've already done the work for you!
Low Sugar - Only one tablespoon of added sugar from maple syrup is put into this sweet potato casserole. The remaining comes from natural sources as well as cinnamon and vanilla extract.
High Fiber - One of the reasons potatoes are so good for a healthy diet is they're high in fiber (a really important weight loss nutrient I talk about in this free class) and it's high on the satiety index.
Low Saturated Fat - The majority of the fat in this recipe is healthy - monounsaturated and polyunsaturated. Only 3 grams come from saturated, or less optimal fat.
Gluten Free - All ingredients are naturally gluten free.
Low Calorie - Because this recipe uses very little added sugar, the calories are much lower than other sweet potato casserole recipes. You can make the calories even lower with a sugar substitute like stevia or monkfruit.
Dairy Free / Vegan - This recipe is dairy free.
Paleo - This recipe is Paleo friendly.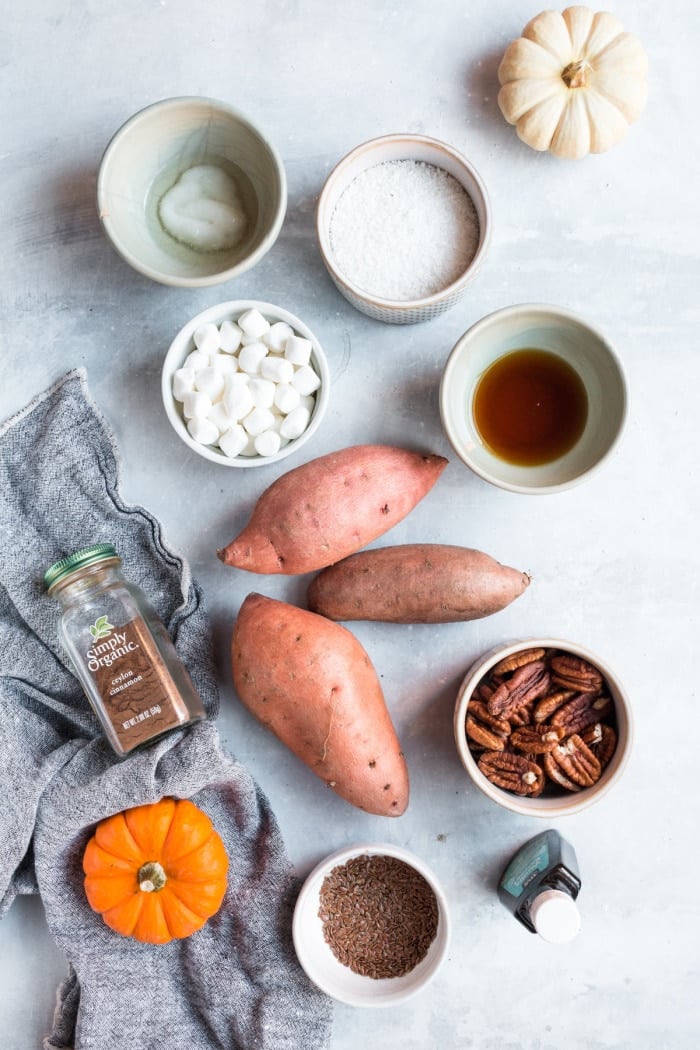 Ingredients To Make Low Calorie Sweet Potato Casserole
Here's the ingredients you need to make sweet potato gluten free and low calorie! You will also need a baking sheet for roasting the potatoes, a food processor or hand mixer, and an 8-inch by 8-inch casserole dish that's oven safe.
Sweet Potatoes (yams or any variety of sweet potato)
Maple Syrup
Cinnamon
Pecans
Ground Flaxseed
Unsweetened Coconut Flakes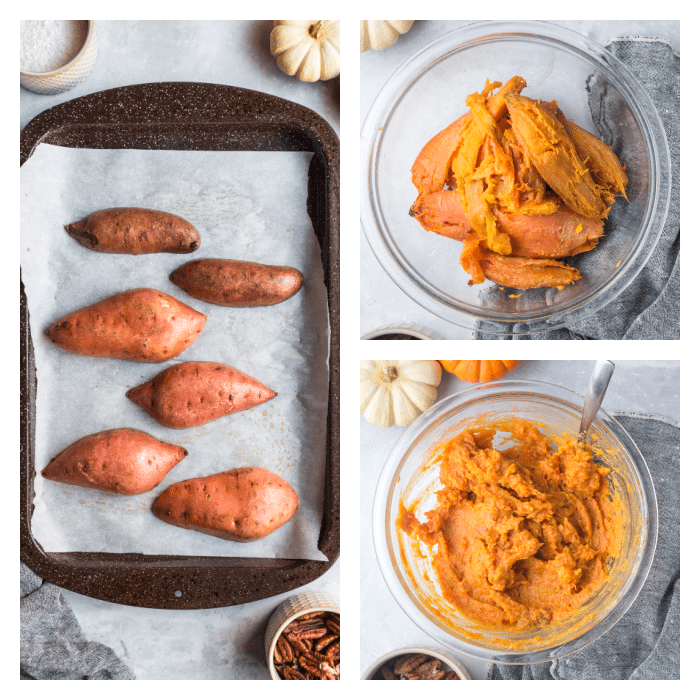 How To Make Sweet Potato Casserole Gluten Free
Here are the steps to making this sweet potato casserole. Don't worry it's easy and you can make it ahead of time too, which I'll share with you below.
To start, clean and peel the sweet potatoes. Slice in half lengthwise then place on a prepared baking dish. Spray lightly with cooking spray and sprinkle with cinnamon before placing in the oven to roast. As a side note, you can roast potatoes in an air fryer too.
Once the potatoes are roasted, place in a food processor or in a mixing bowl and mix until smooth. Add the maple syrup, olive oil, salt and vanilla extract and blend until smooth. Transfer the mixture into a casserole dish. Top with the optional toppings and bake about 10-minutes in the oven to set the toppings.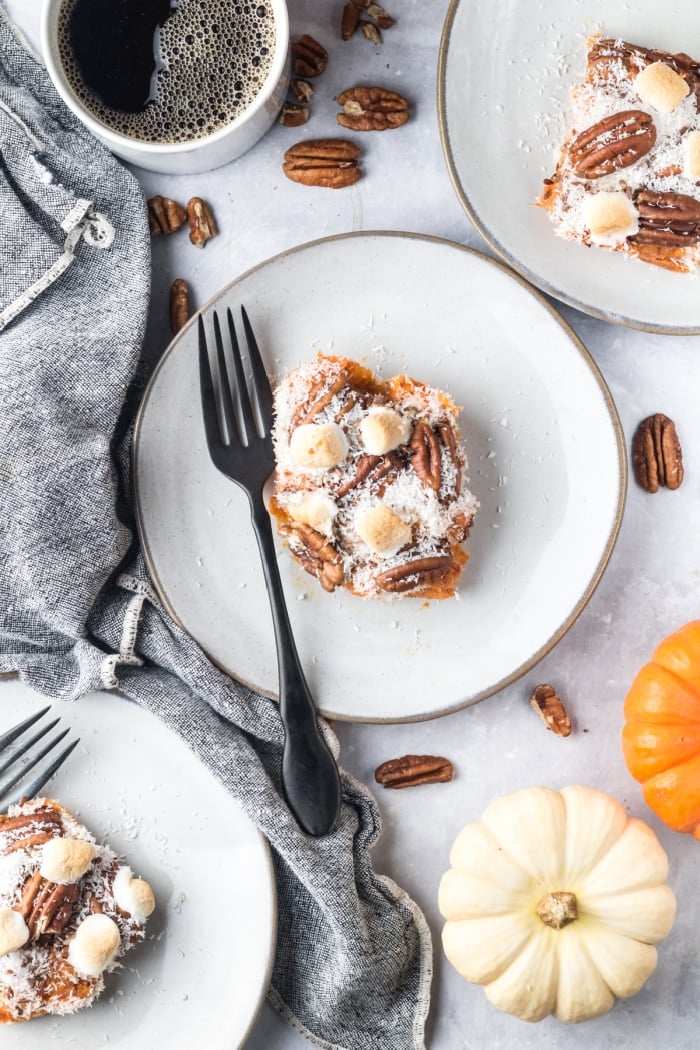 Can You Make Sweet Potato Casserole Ahead Of Time
If you're wondering if you can make sweet potato casserole in advance, the answer is yes. In fact, this is what I do during the holidays. I like to make as much as possible ahead of time so I can actually enjoy the holidays.
If you want to make sweet potato casserole ahead of time, I recommend you complete all the steps up to the point of topping with the optional ingredients baking in the oven (step 6 in the instructions below) with the toppings. Cover the casserole dish with foil and place in the refrigerator. You can do this up to 3 days ahead of time.
To heat, remove the sweet potato casserole from the refrigerator and bring to room temperature. Add the optional toppings and warm in the oven at 325 F 30-minutes.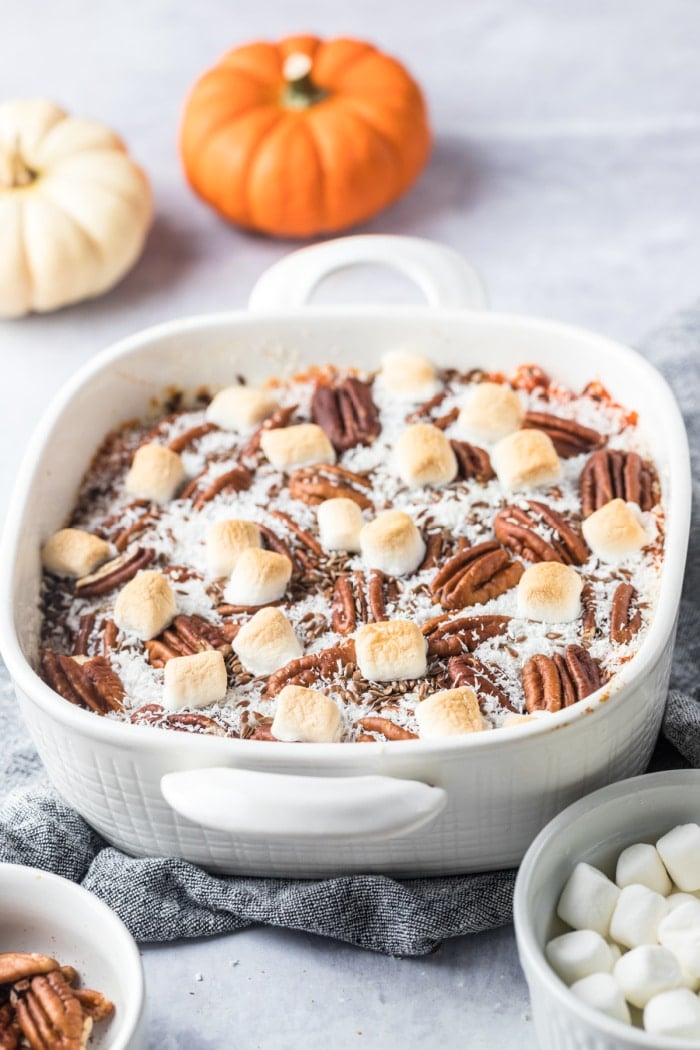 Substitutions For Sweet Potato Casserole
Here's the substitutions I recommend you could make for this healthy recipe. Please remember when you substitute ingredients or add ingredients it will change the nutrition values from what you see in the recipe card below.
Sweet Potatoes - I use yams for this recipe, but any sweet potato variety will work in this recipe. If you use white sweet potatoes, the recipe may not be as sweet as yams or purple sweet potatoes.
Maple Syrup - Honey, stevia, monkruit could be substituted. Please note that I do not like foods overly sweet. I recommend you test the batter while making to ensure it has the right level of sweetness for you.
Cinnamon - Nutmeg could be substituted or pumpkin pie spice.
Extra Virgin Olive Oil - Avocado oil or coconut oil can be substituted.
Vanilla Extract - May be omitted or you could swap for almond extract.
Pecans - Any nut or seed may be substituted, or you can omit the nuts.
Coconut Flakes - You can omit this if you do not like coconut.
Ground Flax - If you have an aversion to flax, then I recommend you omit it.
Marshmallows - I use dairy free, vegan friendly marshmallows from Sprouts. You can use any marshmallow variety that works for you or omit them.
Healthy Sweet Potato Casserole
Healthy Sweet Potato Casserole is a low calorie, gluten free and Paleo dish that's made dairy free and with less added sugar.
Instructions
Preheat oven to 425 F. Prepare a baking sheet with parchment paper.

Peel and slice the sweet potatoes in half. Add sliced sweet potatoes to the baking sheet. Spray lightly with cooking spray and sprinkle cinnamon on potatoes.

Roast potatoes 35-40 minutes just until the edges begin to brown. Remove sweet potatoes from the oven and add them to a food processor (you can use a hand mixer as well).

Turn the oven down to 325 F.

To the sweet potatoes, add the olive oil, cinnamon, maple syrup, sea salt and vanilla and mix ingredients well until smooth.

Pour the sweet potatoe mixture into a 8-inch by 8-inch baking dish. Sprinkle with ground flax, coconut, pecans and marshmallows on top.

Bake 8-10 minutes just until marshmallows begin to brown. Remove from the oven and enjoy!
Nutrition
Serving: 1servingCalories: 194kcalCarbohydrates: 29gProtein: 3gFat: 8gSaturated Fat: 3gPolyunsaturated Fat: 2gMonounsaturated Fat: 4gSodium: 163mgPotassium: 437mgFiber: 5gSugar: 8gVitamin A: 16035IUVitamin C: 3mgCalcium: 48mgIron: 1mg