Gluten Free Banana Carrot Cake Bread is a healthier, refined sugar free bread the whole family will love! A one bowl recipe with a few simple ingredients. A wholesome bread for snacking that doubles as a healthier dessert. Gluten Free + Low Calorie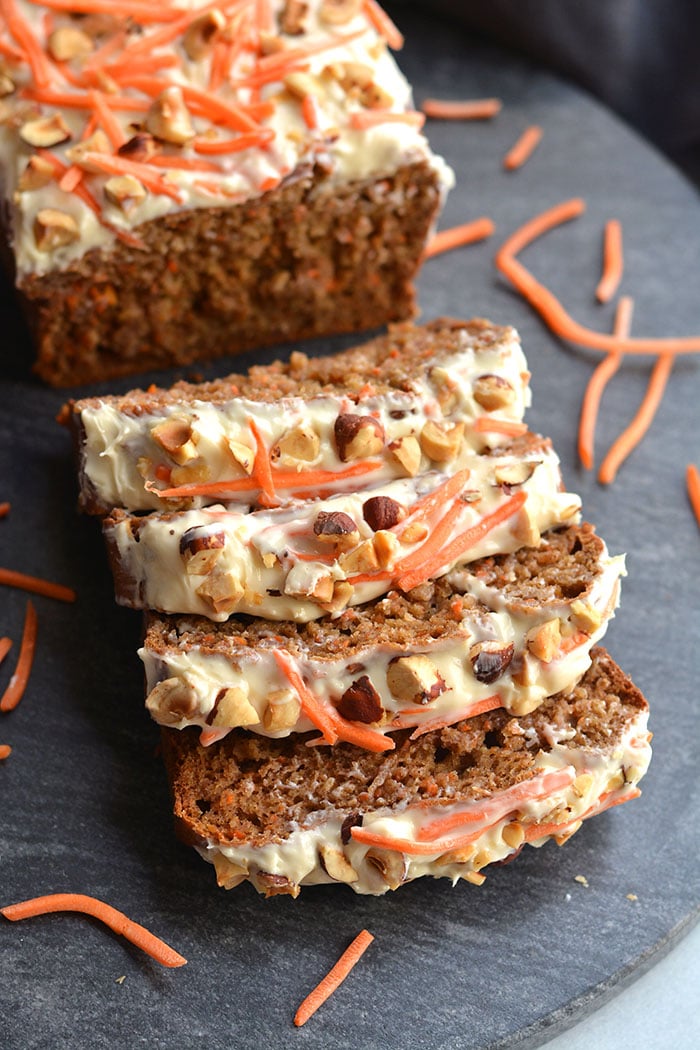 Confession. Carrot cake is my first love. If you ask me what cake I want whether it's my birthday, 4th of July, Christmas, Easter you name it, it's always carrot cake.
No matter what time of year or holiday. My most popular raw vegan carrot cake is by far one of my favorite recipes I've ever created and I will always have a fond heart for it as well as my Paleo Vegan almond flour carrot cake.
But still…I felt there was a carrot cake void. I wanted a real gluten free version with oats, gluten free flour and eggs. A bread with a REAL cream cheese frosting (don't worry there's a Vegan version below), not a knock-off to take it's place.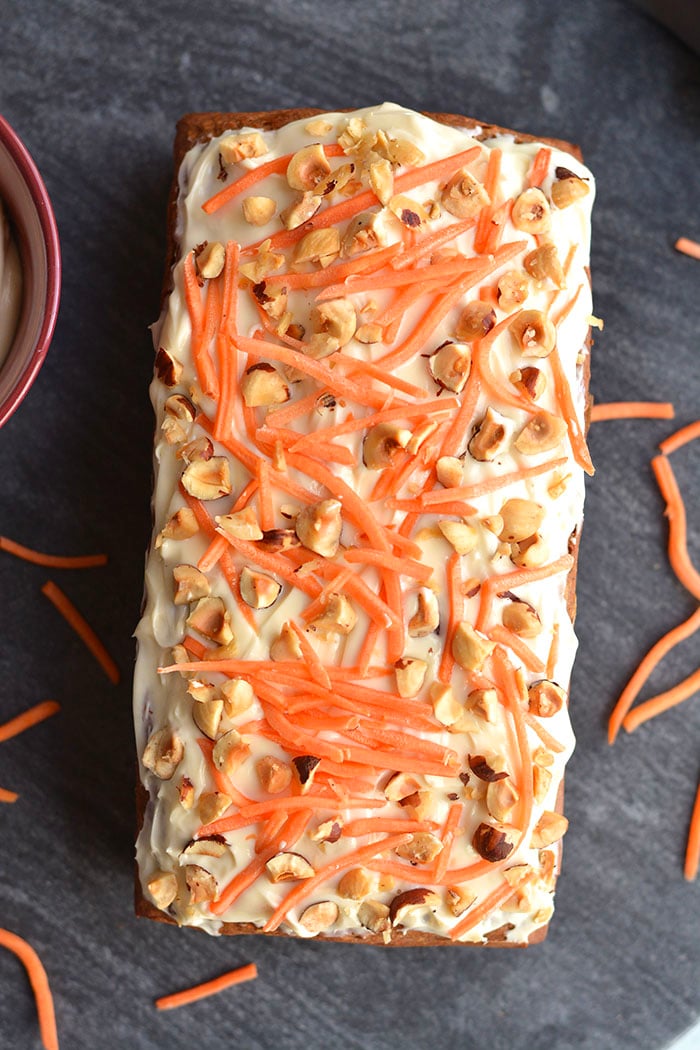 While I realize many people have food allergies, I also feel in this space of healthy eating we forget all the normal people out there who don't want a Vegan cashew frosting.
They want the real deal with real cream cheese and that's what I wanted for this recipe. For it to be real!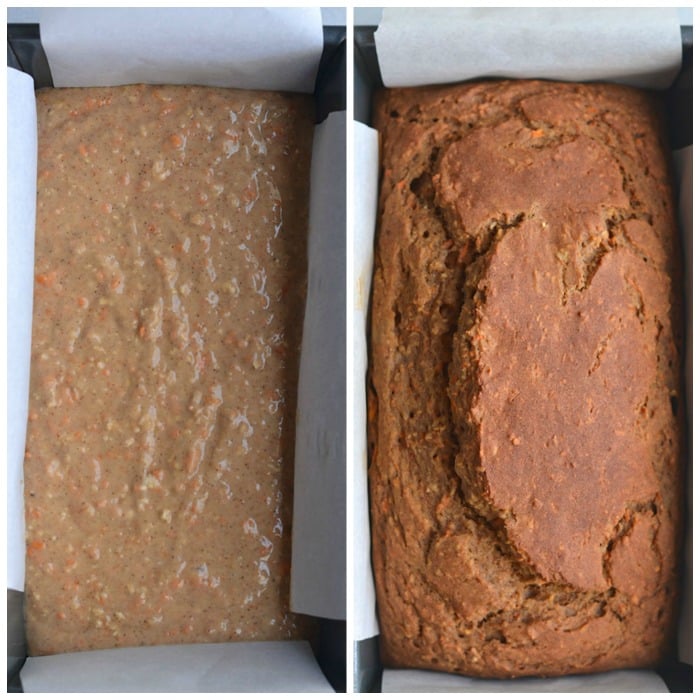 Gluten Free Banana Carrot Cake Bread
That's how Gluten Free Banana Carrot Cake Bread came to be! Get ready to sink your teeth into the BEST creamy, delicious bread. Are you ready? Because this is everything your gluten free banana carrot cake bread dreams are made of.
The best part? This bread's only 100 calories a slice, has no oil and is lower in sugar. You know I'm all about reducing sugar due to its inflammatory nature and impact on weight hormones.
Greek yogurt adds healthy protein to this bread. Otherwise…well this would be carb overload and overeating one macronutrient is never a good thing. Probably why I will never be a Vegan. Too many carbs! But if you are…hey do what works for you. I'm not judging!
All foodies are welcome to bake this carrot cake bread so let's do this!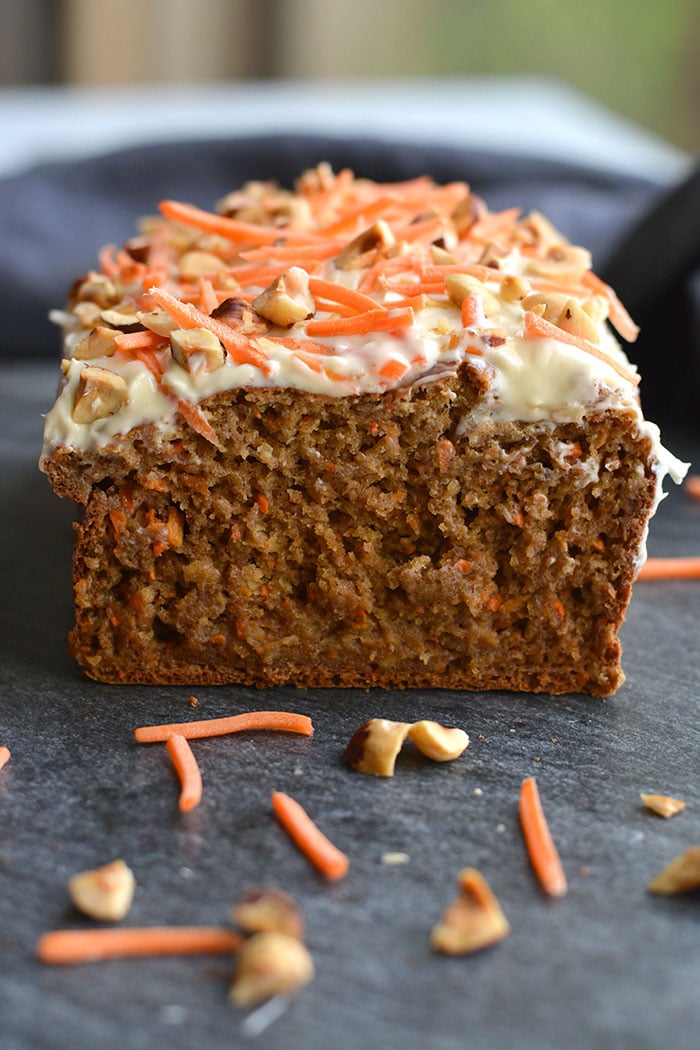 What You Need
Eggs
Greek Yogurt
Banana, Carrots
Gluten Free Flour
Gluten Free Oats
Maple Syrup
Vanilla Extract
Cinnamon, Nutmeg
Macadamia Nuts
Maple Syrup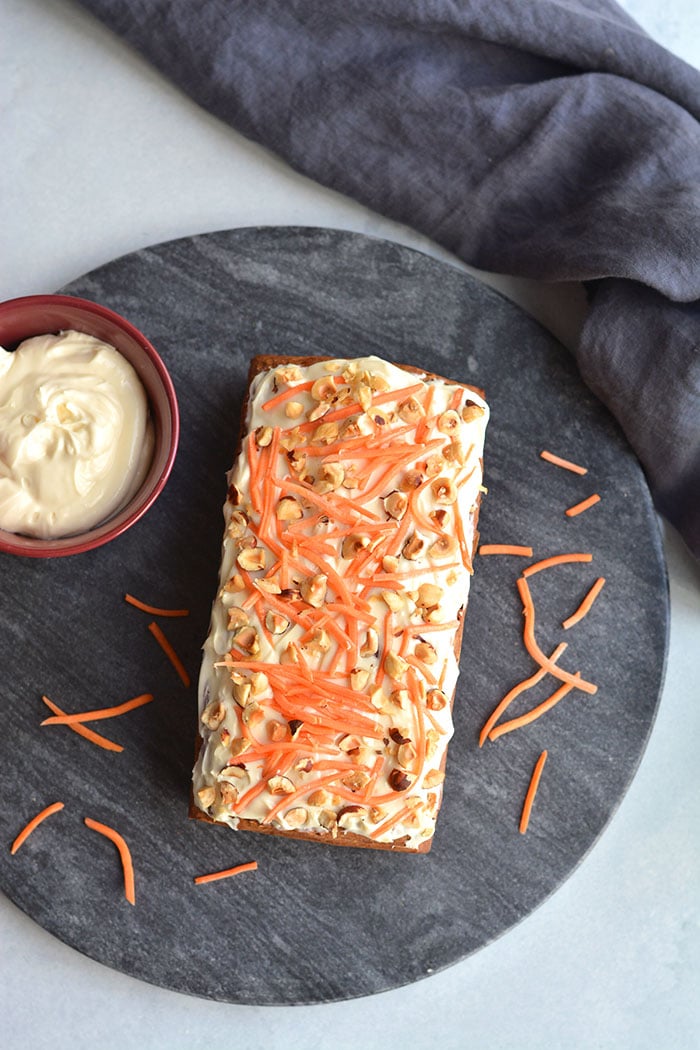 Helpful Tips
As with all bread's, you want it to sit for 1 hour before slicing and diving into it. The inside will be slightly mushy, but it will continue cooking a bit after you remove it from the oven and transfer to a wire baking race. This is also important if you're making the optional cream cheese frosting.
If your bread's too hot the cream cheese will melt everywhere and it won't be pretty. After you frost it, put it in the refrigerator 1-2 hours before slicing. This way it will harden making slicing nice and smooth.
As for substitutions, you can swap Greek yogurt with coconut or almond yogurt (look for one with no added sugar). I haven't tested other flours with this recipe, but I imagine whole wheat would work. If you use something else, PLEASE tell me in the comments so I can update the recipe card for others.
Remember to tag SkinnyFitalicious on Instagram and Facebook if you make the recipe so I can share your creation!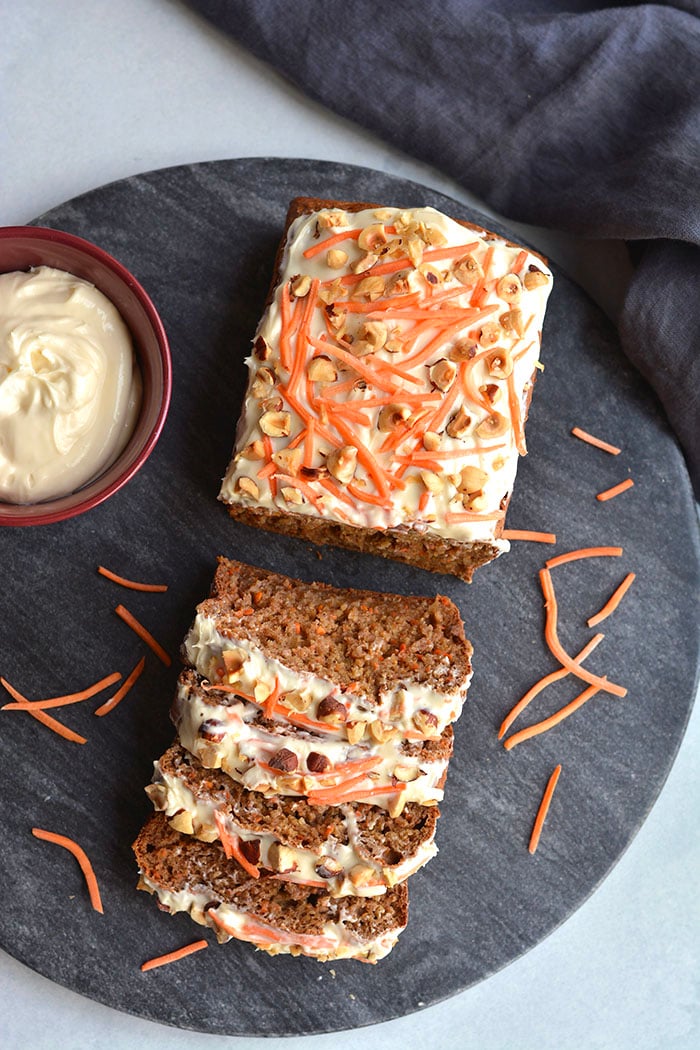 Gluten Free Banana Carrot Cake Bread
Gluten Free Banana Carrot Cake Bread is a healthier, refined sugar free bread the whole family will love! A one bowl recipe with a few simple ingredients. A wholesome bread for snacking that doubles as a healthier dessert. Gluten Free + Low Calorie
Prep Time 20 minutes
Cook Time 50 minutes
Resting Time 1 hour
Total Time 1 hour 10 minutes
Servings 12 slices
Calories 112 kcal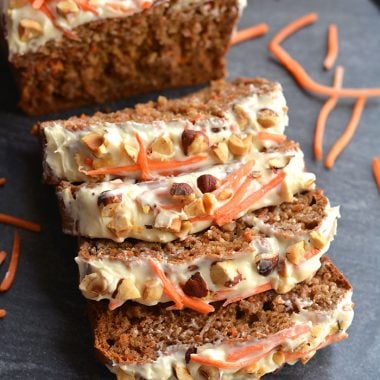 Instructions
Preheat the oven to 350 F. Prepare a loaf pan with parchment paper or grease well with coconut oil.

To a food processor, add the bananas, egg and vanilla extract. Process until smooth than add the maple syrup, Greek yogurt, cinnamon, nutmeg and carrots.

Process again until smooth then add the oats, Gluten Free flour and baking soda. Mix until smooth.

Pour the batter into the loaf pan and smooth with a spatula.

Bake at 350 F for 45-50 minutes or until a toothpick can be inserted into the center clean.

Cool in the pan 1 hour before transferring to a wire baking rack to cool more. If lining the pan with parchment paper, you can remove from the pan after 10 minutes and finish cooling on a wire baking rack.

After the bread cools, prepare the optional frosting by blending the cream cheese with maple syrup until smooth.

Frost the bread with the cream cheese and top with roughly chopped macadamias or nut of choice. Add additional shredded carrots as desired.
Recipe Notes
My Amazon shop has more products similar to those used for this recipe and that I recommend to my nutrition clients.
Nutritional values do not reflect the frosting. Add this into a food tracker to calculate if using.
Measure the flour properly so the bread does not turn out dry.
Other flours have not been tested with this recipe.
Any nuts may be using on top of the frosting or they may be omitted.
For a diary free frosting, use the frosting from this Vegan Carrot Cake recipe.
Course Breads, Dessert
Cuisine American
Keyword banana, bread, carrot cake, gluten free, greek yogurt, healthy, low calorie, low sugar, oat, refined sugar free
Nutrition facts per serving (1slice)
Calories 112 kcal
Fat 1 g
Saturated Fat 0 g
Cholesterol 14 mg
Sodium 121 mg
Potassium 134 mg
Carbohydrates 22 g
Fiber 2 g
Sugar 8 g
Protein 3 g
Vitamin A 1810 %
Vitamin C 1.7 %
Calcium 38 %
Iron 0.8 %
Meal Plans
Get a meal plan designed to meet your weight loss goals.
Learn More
What I Used For The Recipe