This post contains affiliate links. As an Amazon associate I earn qualifying purchases. Click here for more about this policy.
Health is more than food and fitness. I didn't really understand this until last year when I had a health scare with a cyst discovered in a breast lymph node during a routine mammogram.
In fact, they're still watching it, but it scared me that I immediately switched my deodorant to a non-toxic one and began swapping my personal care and makeup for healthier options too.
I remembered the doctor teaching our personal care and environmental courses preaching to us the importance of using clean products. Every day products on the shelf at any store are showing links to autoimmune disease, endocrine and thyroid problems, metabolic syndrome, early puberty, early menopause, cancer and more and with my Hashimoto's disease and previous issues with my period I realized this was a change I could no longer put off.
Change is hard, and often we put it off until we're faced with a health crisis.

Health Is More Than Food And Fitness
While we're getting smarter about what food we eat, reading labels, avoiding added sugar and what workouts we do, I've realized coaching my clients that food and fitness aren't the only ingredients to a healthy life, losing weight and keeping it off. There's more to the equation!
Surprisingly, I've coached clients who've been unable to lose weight for toxicity problems.
They were doing everything right on their plate and with their workouts, but they fell short with what they were putting on their bodies not realizing the impact to their endocrine system and metabolism.
Our Skin Is Our Biggest Organ And It Absorbs What You Put On It
Most people don't realize their skin is an organ. In fact, it's the largest organ you have and anything you put on your skin gets absorbed into your bloodstream.
When you absorb chemicals and heavy metals from personal care products, your liver has to do the heavy lifting of filtering and re-moving them.
That's on top of the tough work the liver already does removing hormones, processing cholesterol, maintaining glucagon (blood sugar) with the pancreas and filtering every day environmental toxins from the air we breathe and water we drink.
For someone like me living with Hashimoto's disease, chemicals are problematic for the immune system.
Many of these chemicals mimic hormones or disrupt them. The immune system goes crazy attacking them and well, my immune system's already taxed enough.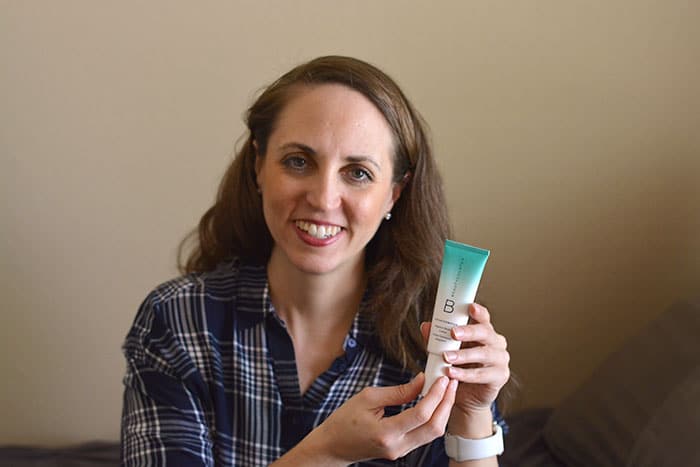 There Are Harmful Chemicals In Every Day Products We Buy
Here's the scary stuff. Over 80,000 personal care chemicals are on the market today and only 10% of them have been tested for safety. Many of these chemicals do not have safety data.
The FDA has the authority to regulate cosmetics and personal care products, but they only exercise their authority when there's been enough complaints to warrant an investigation.
Only AFTER a product has demonstrated harm, has been misbranded or adulterated, the FDA takes action.
That means products hit store shelves everyday UNTESTED, with no safety information and WITHOUT ANY APPROVAL FROM ANY AGENCY.
Personal Care Products Require No Approval Prior To Being Sold
What's worse, the FDA has made manufacturers responsible for ensuring the safety of their own products they produce and personal care manufactures are not required to share the tests that reportedly demonstrate the safety of those products with any federal agency or the public.
Personally, I'm not surprised by this. It's very similar to how the FDA handles chemicals and added sugar in food. To say a change is needed is an understatement!
What Does This Mean For A Health Conscious Person?
The average woman uses 12 personal care products daily containing 168 chemicals. When you use body lotion, deodorant, shampoo, makeup, face lotion, lipstick and nail polish, you are likely applying harmful chemicals to your body, even if the product claims to nontoxic and safe.
Until there's more control over the the chemicals used in skincare and makeup, safety testing and regulations that protect consumers, you need to read the label on every personal care and cosmetic product you purchase. Here's a list you can also download with chemicals to avoid.
Start Making Simple Swaps
A friend had reached out to me last year about trying Beautycounter and of course, I procrastinated for weeks about trying it. I thought was going to be another health trend.
Then I found out about the cyst in my breast and my perspective immediately changed. I knew I had to at the very least try Beautycounter.
In full transparency, I'm a minimalist when it comes to skincare and makeup.
I use lotion morning and night, a retinol (which I've recently swapped for this), mascara, lipstick, sunscreen, foundation and blush, eye shadow and a face mask on occasion. I'm NOT a girl who uses a million things.
For as long as I can remember, I've been allergic to skincare products breaking out into rashes.
My poor mother was always switching products when I was younger because everything irritated me. I'm the same way with clothes. It makes sense because clothes are sprayed with chemicals too.
When I tried beautycounter, my expectations were very low because based on previous experience, I was expecting an allergic reaction. But to my surprise, the exact opposite happened!
Not only did the products easily fit into my lifestyle, they made my skin BETTER, SMOOTHER and more VIBRANT.
Beautycounter Facts
The NEVER LIST. Beautycounter has a never list of 1,500 harmful ingredients that they state will never appear in their products. About 30 of those 1,500 are required by U.S. law to be banned from personal care products. Beautycounter goes above and beyond to ensure you're using safe products. They don't simply say they're natural or organic. We all know how deceiving those terms can be!
Lack of Transparency. There's been no regulation on skincare products since 1938! Beautycounter has lobbyists working in Washington D.C. to change this.
Start Making Simple Swaps
If changing your beauty routine is as worrisome and overwhelming as it was for me, start by making simple swaps. Swap out your lipstick or lip gloss then slowly add new things.
You can also get samples by working with a consultant like me or any beautycounter consultant. It's a great way to try a product without fully committing!
Investing in healthier and safer beauty products is an investment. Just like signing up for a new food or exercise program, buying organic, grass-fed or no added sugar.
Beautycounter products are high concentrated so they do last a long time. My favorite skin lotion from beautycounter is going on 6 months. The previous one I was using I was buying every 3 months.
Beautycounter Products To Start With
If you're wanting to try a few products, here's what I recommend you start with…
Sign Up To Learn More
On a final note, Skinny Fitalicious will always serve you delicious food and nutrition tips. But I was always be transparent and share with you products I discover and love that you can add to your healthy life.
If you want to learn more about Beautycounter and stay in the loop on promotions and discounts, sign up here.
I'll send you a safer beauty guide with the chemicals to avoid when you sign up!