This post contains affiliate links. As an Amazon associate I earn qualifying purchases. Click here for more about this policy.
Savory Pumpkin Zucchini Sundried Tomato Biscuits made with pumpkin seeds and flax meal. An omega-3 Paleo and Gluten Free bread that can be served as a healthy side or snack.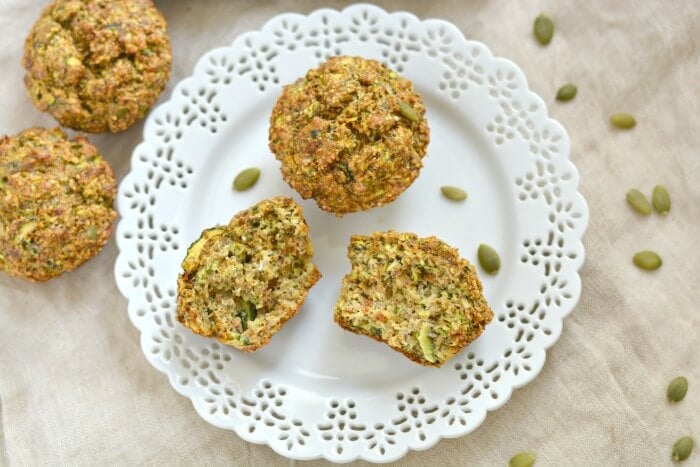 It may be September, but that doesn't mean zucchini season is over! In fact, that couldn't be farther from the truth. I'll probably be eating my way through the squash family from now until spring and zucchini is never an exception to cool weather.
I don't discriminate when it comes to squash. It's by far my favorite vegetable, in case you haven't noticed!
Now that pumpkin is apparently in season (is it just me or does that happen sooner and sooner every year?), there's only one thing to do. Put zucchini and pumpkin together! And what better than a healthy, chewy Pumpkin Zucchini Sundried Tomato Biscuit?!?
These savory Pumpkin Zucchini Sundried Tomato Biscuits are packed with so much goodness. Where to start? Where to start?
For starters, they're made with pumpkin but not the pumpkin puree kind of pumpkin that most recipes have. Instead I ground pumpkin seeds in my food processor to use as a seedy flour base mixed with tapioca flour and flax meal.
Then I added a zucchini for moisture and sundried tomatoes for an extra tangy, savory flavor.
Now get ready for some nerdy nutrition! Pumpkin seeds are such a great source of nutrition and often an overlooked one.
High in protein, high in good fat with nearly a 1:1 omega 3:6 ratio, high in various minerals and vitamins including iron and vitamin K. They contain antioxidants which have been shown to reduce inflammation.
Pumpkin seeds are also high in magnesium. About 79% of Americans are estimated to be deficient in magnesium. Magnesium controls blood pressure, stabilizes blood sugar levels, reduces risk for heart disease and keeps bones healthy.
I've made these Pumpkin Zucchini Sundried Tomato Biscuits a couple times over the last few months because I just could not decide between a muffin or a biscuit. Decisions! Decisions!
Eventually, I decided I like them both so I'll let it to you get to decide when making them. The recipe works both ways. Either way, you're guaranteed a light, airy bread that's loaded with healthy ingredients. A light bread to serve as a side with dinner or savory snack to take with you anywhere!
So muffins or biscuits, what will it be?
Pumpkin Zucchini Sundried Tomato Biscuits
Savory Pumpkin Zucchini Sundried Tomato Biscuits made with pumpkin seeds & flax. An omega-3 Paleo and Gluten Free bread that can be served as a healthy side or snack.
Instructions
Preheat oven 350 F. Prepare a baking sheet with parchment paper or a muffin tin with muffin liners. Either works, it depends if you want a muffin type biscuit or flatter biscuit.

In a mixing bowl, whisk together the eggs with garlic powder, onion and salt. Then add the sundried tomatoes and shredded zucchini.

In a smaller separate bowl, sift together the ground pumpkin seeds with flax meal, tapioca flour and baking powder.

Next fold the dry ingredients into the wet ingredients. The batter will be thick and wet.

Divide the batter among 5 muffin cavities or create 5 biscuits on a baking sheet by scooping 2 large tablespoons of batter to form each biscuit.

Bake 350 F 30-35 minutes or until a toothpick can be removed clean.

Remove from the oven and transfer to a wire baking rack to cool completely before serving.
Nutrition
Serving: 1muffinCalories: 122kcalCarbohydrates: 15.4gProtein: 7.1gFat: 6.3gSaturated Fat: 2.4gCholesterol: 74.8mgSodium: 641mgFiber: 6.7gSugar: 3g