While January is recognized most for being the time of year to start a new routine, fall is actually the best time of year to fall into your health routine. With back to school, everyone is adjusting to a new schedule so making your health a part of that is a natural transition.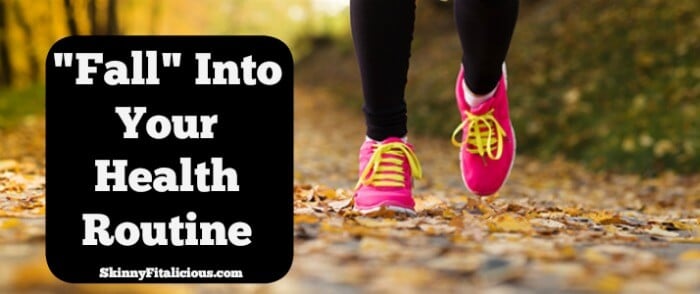 Setting a fall health routine will lay the foundation for you to follow into the holiday season. That way when the holidays roll around, you aren't wildly thrown off by comfort food and holiday entertaining. Not to mention, come January you won't feel the need to jump on the New Year's resolution band wagon because you're already in your groove.
Think of September as your new January and fall into your health routine by doing these simple things.
Reset Resolutions
Review the resolutions you set for yourself at the beginning of the year. Are you where you want to be? Why or why not? What barriers got in your way the last 8 months? Are those real barriers or perceived barriers? Ask yourself what things you can do to remove those barriers so you can be successful.
Remember you are in control of your choices and time more than you realize. Once you've thought about these things, decide what goals you are willing to commit to and do it.
Have a Kitchen Clean Out
Over the summer, it's natural to collect various foods and drinks from outings, parties and travel. Take a day to clean out the pantry and refrigerator, and remove the things that are getting in the way of your health goals. Read nutrition labels and toss processed foods and drinks made with too much sugar, additives or chemicals. Also, remove anything that's too tempting for you to be around.
Replace those items with healthier ones like veggie packed soups you can freeze for a quick meal one day.
Plan
Planning is key to meeting any health goal. Doing this one thing, can make the world of difference in meeting your goals. Health requires minimal planning too. All you need to do is make a calendar of family appointments, schedules and events then plan your meals and exercise around them. That way you're never caught off guard and you always have a backup plan.
You plan when you go to the doctor, when you go to work, when you go to a basketball game, you even plan for your financial future so why wouldn't you plan for your health?
Meal Prep
Meal prepping is a win all around. It reduces the stress of figuring out what to cook. It reduces the cost of food because you're not swinging by a drive-thru on a whim every night or another unhealthy choice. The biggest win you get from meal prepping though is that you're more likely to make healthier choices when you have food prepped and ready to go.
Schedule Exercise
Exercising consistently is usually a problem for most people and this comes down to lack of scheduling it. Plan for exercise the same as you plan for meals and anything else you schedule into your day. You plan to change the oil on your car. Why would you treat your car better than you treat yourself?
Write it down and set out your workout clothes out the night before so you're ready to go. Exercise doesn't have to be what you think it should be either. It can be as simple as a brisk 20 minute walk. Remember something is always better than nothing.
Hydrate
As weather cools, our tendency is to drink less water so it becomes more important to consciously hydrate, and hydration plays an important role in meeting any health goal, not to mention keeping your body operating properly and keeping you alert. Sometimes you may think you need an extra cup of coffee when in fact, what your body really needs is an extra bottle of water.
Rest
As activities build up and days become shorter, we tend to power through days and skimp on sleep. Sleep is when the body recovers, renews and restores. Intentionally plan days when you'll go to bed early, take a nap or let yourself sleep in. Not resting properly places added stress on the body and can negatively impact your goals especially when it becomes chronic. Never underestimate the value of good rest.
How are you going to fall into your health routine?