With the heavy focus on running, the average person doing a non-running activity is forgotten about a lot and replacing gym shoes is often overlooked. So When Should You Replace Your Fitness Shoes if you're not a runner? This is a question I got from a fellow swimmer a few weeks ago. She began walking and set a goal to walk a 5k. But then I looked at her shoes.
I knew they were at least a decade old. As it turns out, they were sixteen years old and they had a huge crack in the arch! "You're not planning to wear those for the 5k?" I asked to which she responded "yes, I'm only walking."
Having been through foot and ankle injuries myself the last two years, I know how important it is to have two healthy feet. In your 30's, your arches begin to fall making you prone to balance issues, loss of ankle strength and hip &/or glute instability which can result in plantar fasciitis, tendonitis or stress fractures.
Whether you're walking, hiking, running or cross training, you need a good pair of shoes! Look at it this way, a new pair of shoes will cost you far less than an injury. So when should you replace your fitness shoes? Here's a few tips to consider.

[Tweet "A New Pair Of Shoes Will Cost You Less Than An Injury #FitFluential #Fitness"]
Age
If you wear your shoes regularly and are moderately active, then replace them yearly. You can extend the life of your shoes by owning two or three different pairs and rotating wearing them (this is what I do). It also forces your feet to adjust to different support. Similar to how our bodies adapt to exercise, they adapt to footwear too. Different shoes are a good workout for your feet.
Activity
When it comes to activity, consider the what, when & how.
What type of activity are you doing? If you're doing low impact like lifting weights or elliptical, then you may be able to replace your shoes less frequent. If you're walking on the treadmill everyday or doing high intensity workouts, then you need to do it more frequently like a runner does.
Where do you workout? Are you outdoors or indoors? Shoes will take a heavier beating from concrete and rocky trails and should be replaced more often than someone who's working out indoors at a gym.
How long and how often do you workout? If every workout is a two hour one and you workout every day, then the cushion will wear a lot faster than someone who workouts only 30 minutes or someone that works out only 3 days a week.
Tread Wear
Inspect the bottom of shoes regularly for cracks and tread wear. If you own a newer pair of shoes, it's easy to see wear by comparing the shoes. You may also notice you wear the tread harder in certain spots. As an example, my left midsole is my hot spot because I supinate to compensate for my right hip. Once that spot is worn on my left shoe, I know it's time to replace my shoes.
[AdSense-A]
Cushion Test
To determine if your shoes are compressed and not providing cushioning, do a simple cushion test. Using your thumb, push the outsole upward into the midsole. With new shoes, the midsole will show lines and wrinkles that are easy to see. In a worn shoe, the midsole compresses less with the same amount of pressure. When the midsole shows minimal compression, there's little cushioning left. Time to replace!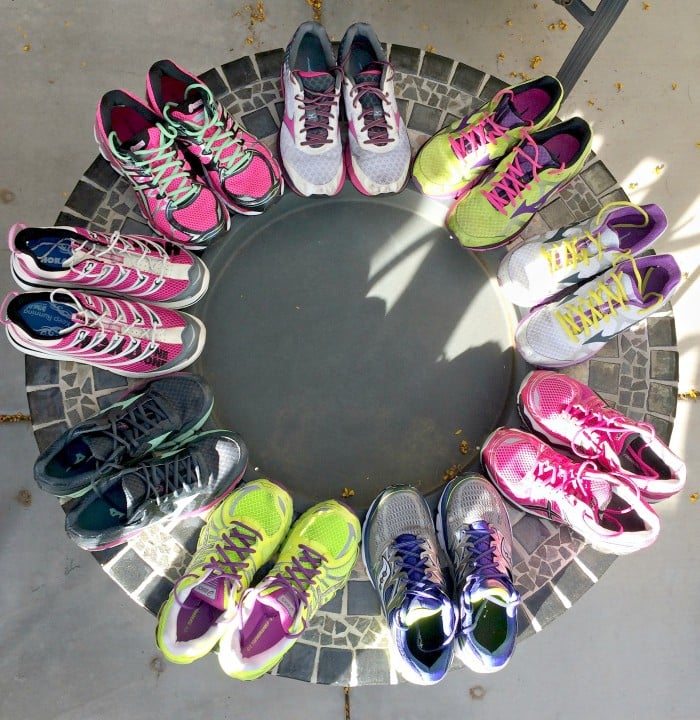 If you notice abnormal aches or pains in your feet, legs, knees, hips or back after a workout it could be a sign you need a new pair of shoes. You may also get friction or blisters in weird places. This could mean the shoes have stretched and your feet are sliding. Your body will tell you when it's time so its important to pay attention to the signs.
How often do you replace your shoes? How many shoes do you have now? I have 12! I can't bear to part with any of them!
[Tweet "When Should You Replace Your Fitness Shoes? #FitFluential #Fitness"]