Healthy Pumpkin Oat Chocolate Donuts! Made gluten free and oil-free, this low-calorie baked donut recipe is easy to make and a sweet treat that is healthier!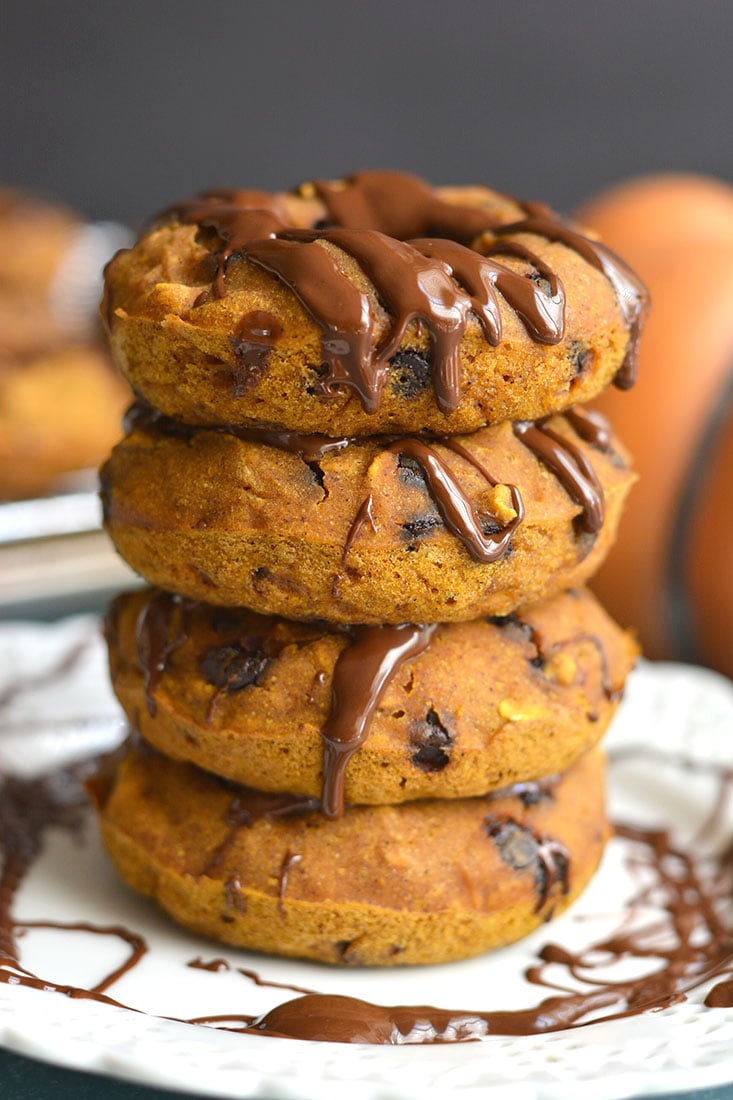 Happy Monday and hello caffeine! This weekend was a whirlwind going to Mexico. We left Friday and came home late last night. It was a long drive there and back, but the beach time was so worth it!
Not to mention time with my best friend who I rarely see, her hubby and of course, my man. Needless to say the bags under my eyes today are totally worth it!
I even got a sub for my early morning spin class today so I could sleep in. That, and just in case we got stuck at the border for some reason. It's happened before. A story for another day!
In my head, I just wanted to be on vacation an extra day and I'm rolling with that because I'm 40 and old and can say and do whatever I want. Okay, maybe not really! Is 40 old? I kind of feel like it's not.
However, you do get to an age when sleep is more important than anything else. I could've pushed myself to get up at 4am to workout this morning, however, I know myself (and my Hashimoto's disease) well enough to know I'll pay for it in a day or two.
This month's extra crazy too with appointments and trainings so I'm savoring in vacation mode and having a fiesta in my head as long as I can!
So in honor of 40, let's cheers to healthy Pumpkin Chocolate Oat Donuts! Delicious, thick, oven-baked donuts made with lighter ingredients but with every bit of chocolatey goodness you would expect out of a donut recipe.
These are almost too good to be true. In fact, if I ever do have that dream cafe of mine these are sure to be on the menu.
Pumpkin Oat Chocolate Donuts
Healthy Pumpkin Oat Chocolate Donuts! Made gluten free with no oil, these bakery style baked donuts are easy to make, great for kids, a sweet breakfast or to snack on! Gluten Free + Low Calorie
Instructions
Preheat oven to 350 F. Prepare a donut pan by spraying lightly with nonstick cooking spray.

Using a standing mixer or hand mixer, beat together the eggs, peanut butter, coconut sugar, pumpkin puree and milk.

In a separate bowl, combine the oat flour, oats, cinnamon, baking soda and sea salt. Then add the flour mixture to the wet mixture. Process to combine the two.

Transfer the batter into the muffin cavities by stopping it in with a spoon, filling the cavities to the top. This will yield large, thick donuts.

Bake at 350 F for 12-15 minutes or until the donuts are cooked.

Remove from the oven and cool in the donut pan 5 minutes before flipping over a wire baking rack to pop the donuts out and cool.

Drizzle melted dark chocolate over the top as desired.

Serve immediately. Keep donuts in the refrigerator up to 1 week or freeze up to 1 month.
Nutrition
Serving: 1donutCalories: 284kcalCarbohydrates: 31.3gProtein: 3.5gFat: 12.2gSodium: 26mgFiber: 1.6gSugar: 9.5g