This post contains affiliate links. As an Amazon associate I earn qualifying purchases. Click here for more about this policy.
Healthy Protein Overnight Oats is a low calorie breakfast recipe that's simple to make for a delicious protein breakfast on the go! Easy to customize to your liking and perfect for a well-balanced breakfast with the right amount of protein. Low Calorie + Gluten Free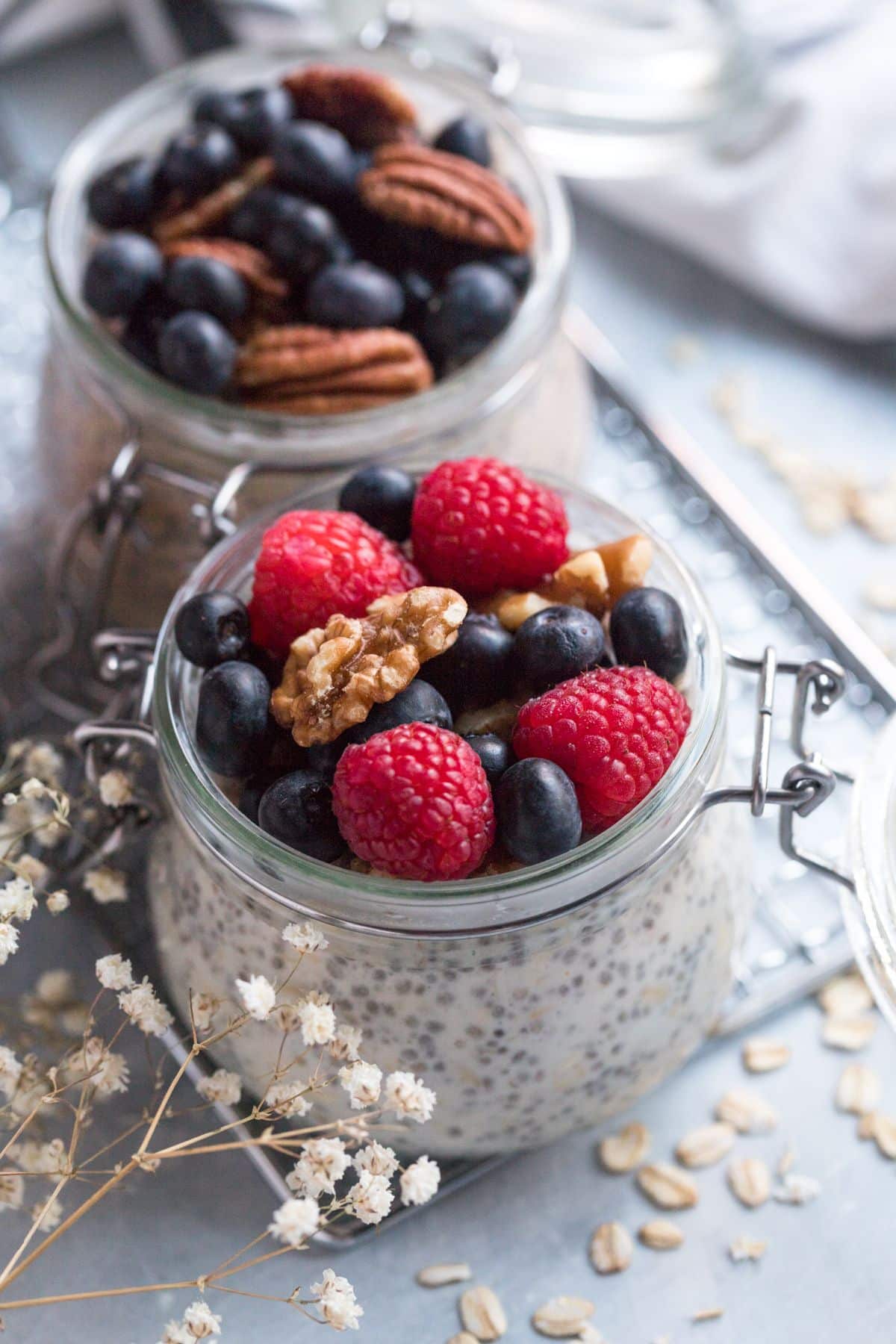 Why You Always Need Protein With Oatmeal
One of the biggest mistakes I see my clients making is not consuming the right amount of protein. They are DEFICIENT in protein making them hungrier and craving more snacks throughout the day.
While foods like oatmeal and overnight oats are healthy, they do lack protein. All meals need to include protein and the common mistake women make is eating oatmeal without protein or thinking healthy fats like chia seeds, nut butters, nuts and seeds are proteins.
They are not protein, they are considered healthy fats with a small amount of protein anthem.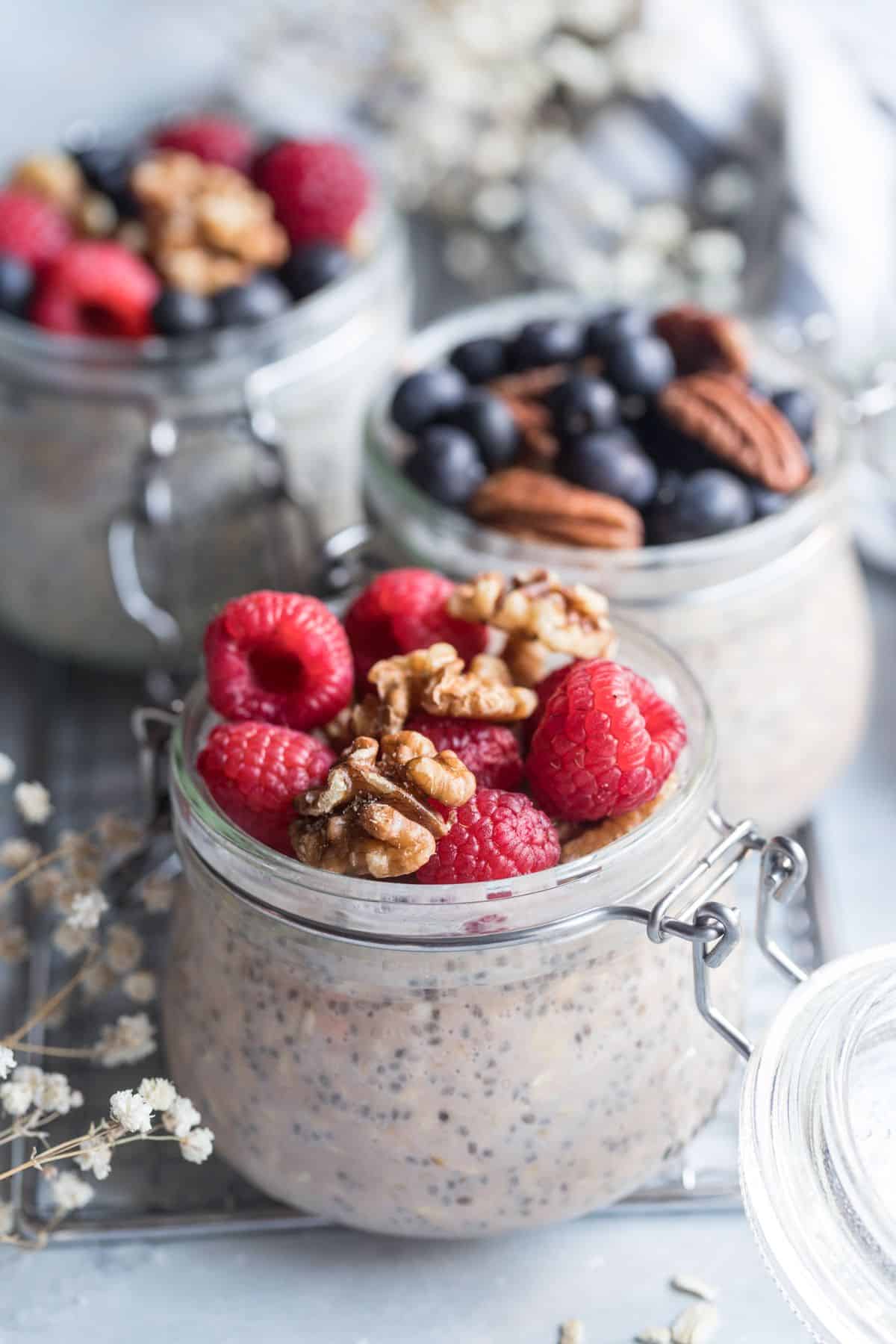 Why Are Protein Overnight Oats Healthier
Your meals should be balanced with all three food groups - protein, fat and carbohydrates. Oatmeal is a carbohydrate and carbohydrates should have fat and protein included in them.
I share more about the importance of a high protein breakfast and the science behind this in my free weight loss class if you want to know more. Here's a few more reasons why I love this recipe!
Low Calorie - Calories are not everything when it comes to weight loss (hormones matter too!), but the reality is calories are an important part of the equation. This recipe is low calorie with healthy ingredients that are BALANCED. I can't express how important having macronutrient balanced meals is especially when eating something high carbohydrate like oatmeal. The calories are higher than traditional oatmeal in this recipe because of the added protein. A healthy breakfast for average statured individuals is between 350-500 calories. This breakfast is actually less than that with the added protein. I mention this because I'm sure some will comment that this is too many calories. That mindset is terrible. Food is more than calories. The balance of what makes up the calories is what's important for great health, weight loss and hormones.
Gluten Free - This recipe is made with gluten free oats making it gluten free friendly.
Right Amount of Protein - Most women are not eating the right amount of protein at breakfast. This recipe has the right amount of protein recommended for women.
High Fiber - Oatmeal is a good source of fiber which is important for hormone balancing and weight loss. I talk about the science of fiber in this free weight loss class.
Low Fat - Total fat is 11 grams with one gram coming from saturated (less optimal) fat, the remaining comes from healthy fat.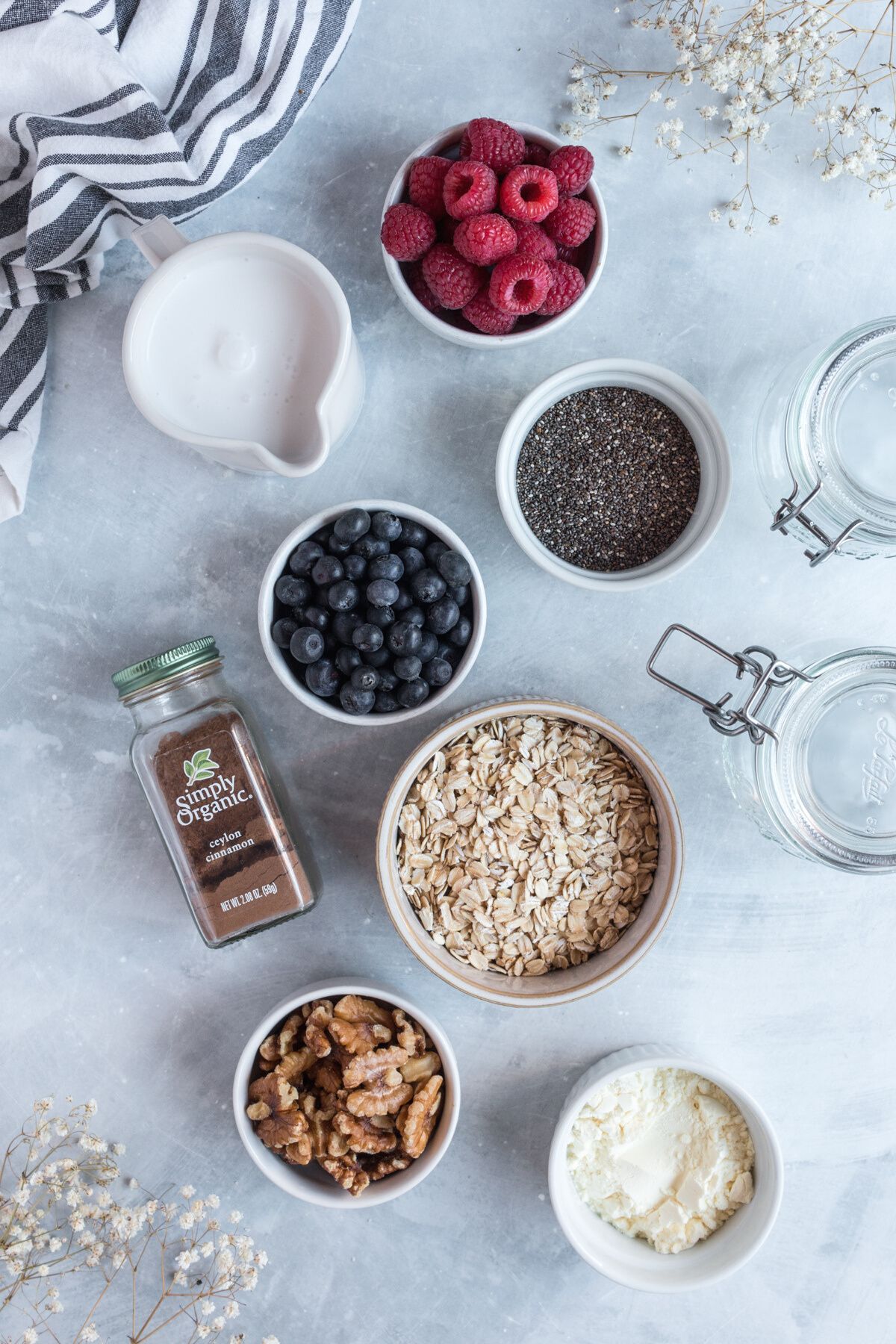 Protein Overnight Oats Ingredients
Here's the ingredients for protein overnight oats. It's a super simple to make this protein breakfast and you can customize it to your liking too! You will also need small 8-ounce glass jars like these.
Gluten Free Oats
Cinnamon
Protein Powder
Milk
Fruit (optional)
Sweetener (optional)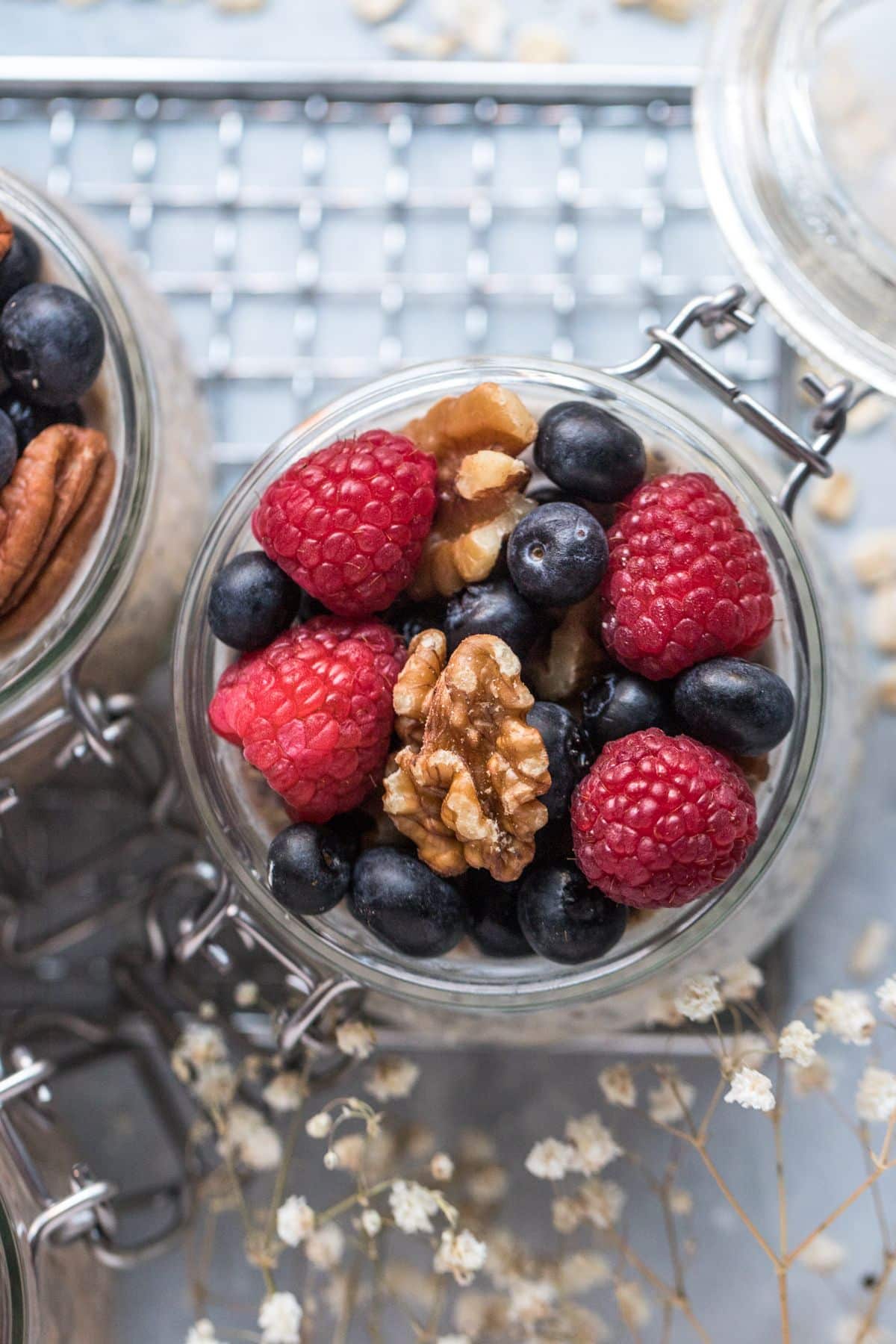 What's the Best Protein Powder For Overnight Oats
Any protein powder will work with overnight oats. The consistencies will vary depending on the protein powder you choose and the amount of milk will vary too based on your protein powder's consistency.
I highly recommend using a protein powder you would eat or drink on its own to ensure you like your protein overnight oats and they taste great!
Here's the the protein powder I used for this recipe. It's unflavored and plant-based as I do not tolerate whey protein. Some people find plant-based protein powders taste grainy. I have no problem with this texture.
It's really about finding what works best for you. You may need to experiment to find the right protein powder!
Protein powders I recommend are: Garden of Life Plant-Based, Garden of Life Whey, Orgain, Active Stacks, Collagen, Legion Whey, Legion Plant-Based, Nuzest Clean Lean
Powdered peanut butter is not considered a protein. It's considered a healthy fat. You can powdered peanut butter (or any nut butter) to this recipe, but it not a good source of protein so you would still need to add a protein.
How Many Grams of Protein For Overnight Oats
Your protein powder should have a minimum of 20 grams of protein to get sufficient protein for your breakfast. If your protein powder is less than that, you may need to add an additional scoop or half scoop to get there.
How To Make Overnight Oats With Protein
This protein overnight oats recipe uses protein powder. You may be wondering if you can use something other than protein powder. The answer is yes. I share alternative protein options in the section below.
To make protein overnight oats, add the ingredients to a bowl and stir to combine. I recommend 3/4 cup of milk using plant-based protein powder. Protein powders have different consistencies and you may need to add more milk depending on the protein powder you choose.
Transfer the mixture to an 8-ounce glass jar like these. Top with fruit and any optional toppings, cover and store in the refrigerator until you are ready to eat. You may need to add more milk in the morning, again depending on the consistency of your protein powder and how it absorbs the milk.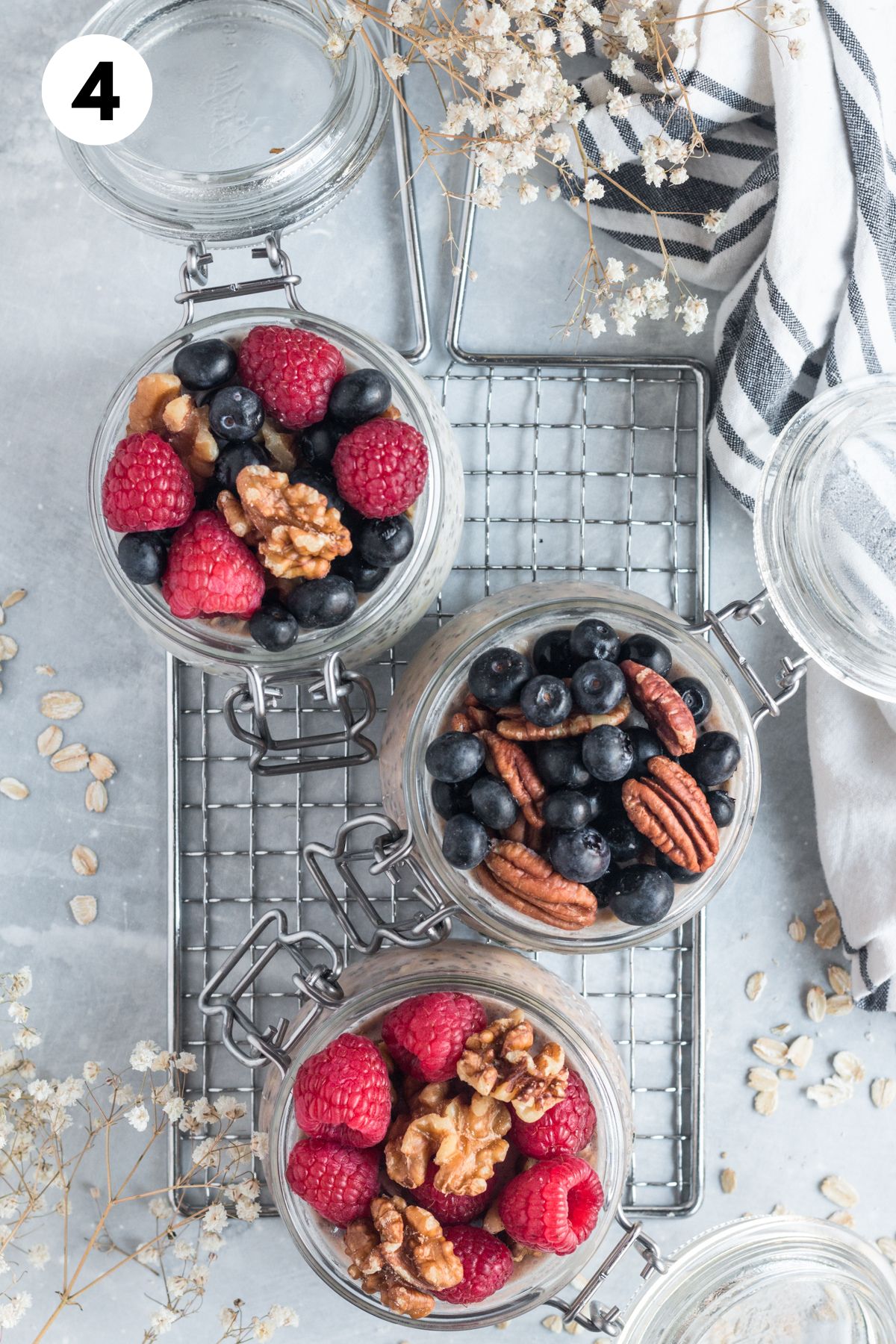 Alternative Options To Protein Powder
If you don't want to use protein powder for overnight oats, you can alternatively use cottage cheese or yogurt as your protein. The cottage cheese recipe is here.
The protein grams is a little less than 20 grams in that recipe so you would want to add more protein on the side.
If you use yogurt as your protein for overnight oats, I recommend starting with a 1/2 cup of yogurt and testing the consistency to see what you like. You can always add more yogurt and thin it out with milk.
As with the cottage cheese, you will likely be short of the 20 grams of protein and will need to eat more protein on the side.
Recipe Substitutions For Protein Overnight Oats
Here are the substitutions I recommend for this recipe. As always, any substitutions you make will change the calories and macronutrients (protein, fat and carbohydrate grams) you see in the nutrition data facts in the recipe card below.
Rolled Oats - You can use steel cut oats instead. You can use regular oats instead of gluten free too.
Protein Powder - Any protein powder will work with this oatmeal recipe. I recommend one that has 20-30 grams of protein per serving. See the section above that talks about the protein powders I recommend.
Non Protein Powder Options - Greek Yogurt or cottage cheese can be added instead. Remember you need 20-30 grams of yogurt or cottage cheese to get the same amount of protein as this recipe. If you cannot do dairy, then I recommend adding egg whites (20 grams) or another protein source on the side. Remember whole eggs have fat and two whole eggs would not have 20 grams of protein. You need LEAN protein!
Milk - Any milk you enjoy can be used in this recipe.
Cinnamon - You can replace with nutmeg or pumpkin pie spice or omit it if you like.
Monkfruit - You can add any sweetener you like. Just note that using full calorie sweeteners will increase the calories and carbohydrates. The reason I used monkfruit was to keep the carbohydrates better balanced.
Optional Additions - Fruit, nuts or nut butters can easily be added to this recipe. They are not included in the nutrition data facts.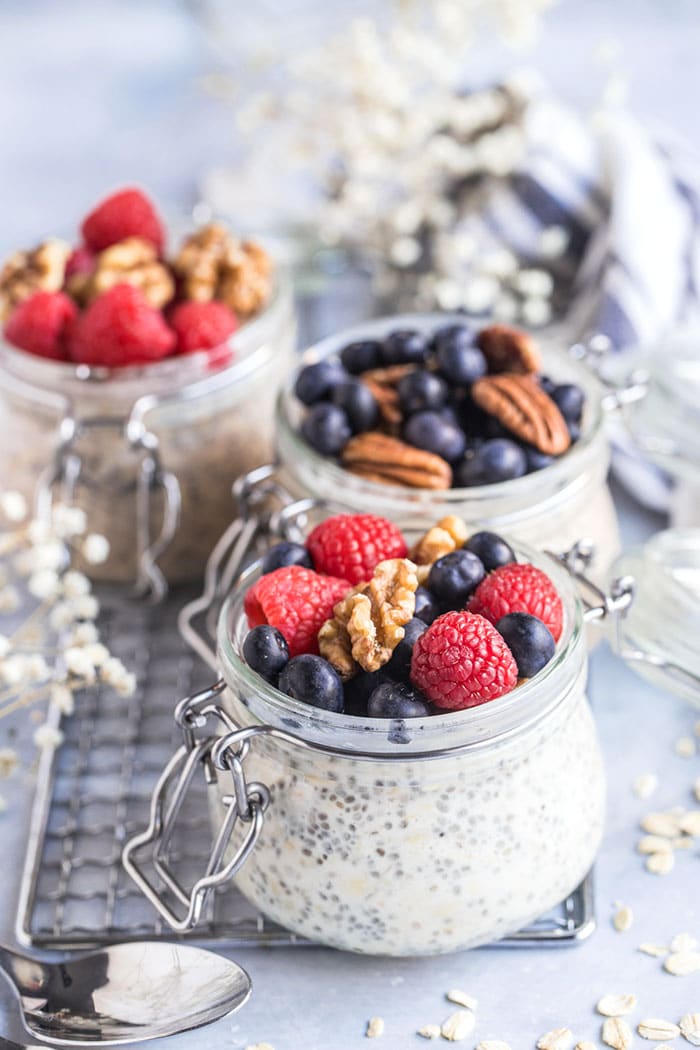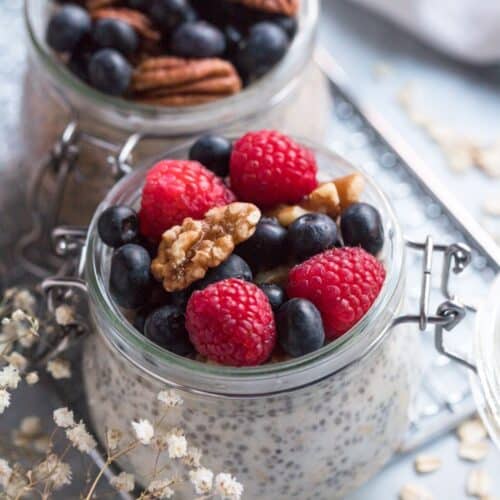 Healthy Protein Overnight Oats
Healthy Protein Overnight Oats is a low calorie breakfast recipe that's simple to make for a delicious protein breakfast on the go!
Instructions
Add all the ingredients into a mixing bowl or add them to a mason jar or individual sized container.

Stir the ingredients together. Assess if you need to more milk. You can always add more in the morning too.

Transfer the ingredients to a mason jar or individual sized container and add optional toppings if you like. Place in the refrigerator overnight. Enjoy in the morning!

Protein overnight oats can be made ahead of time as an easy on-the-go breakfast!
Nutrition
Serving: 1servingCalories: 363kcalCarbohydrates: 38gProtein: 33gFat: 11gSaturated Fat: 1gPolyunsaturated Fat: 5gMonounsaturated Fat: 2gTrans Fat: 1gCholesterol: 50mgSodium: 293mgPotassium: 294mgFiber: 10gSugar: 3gVitamin A: 92IUVitamin C: 1mgCalcium: 440mgIron: 5mg