Thick, chewy, Gluten Free Pistachio Chocolate Oatmeal Cookies! A healthier Christmas treat for 100 calories that's even healthy for breakfast. Only 10 minutes to make! Gluten Free + Low Calorie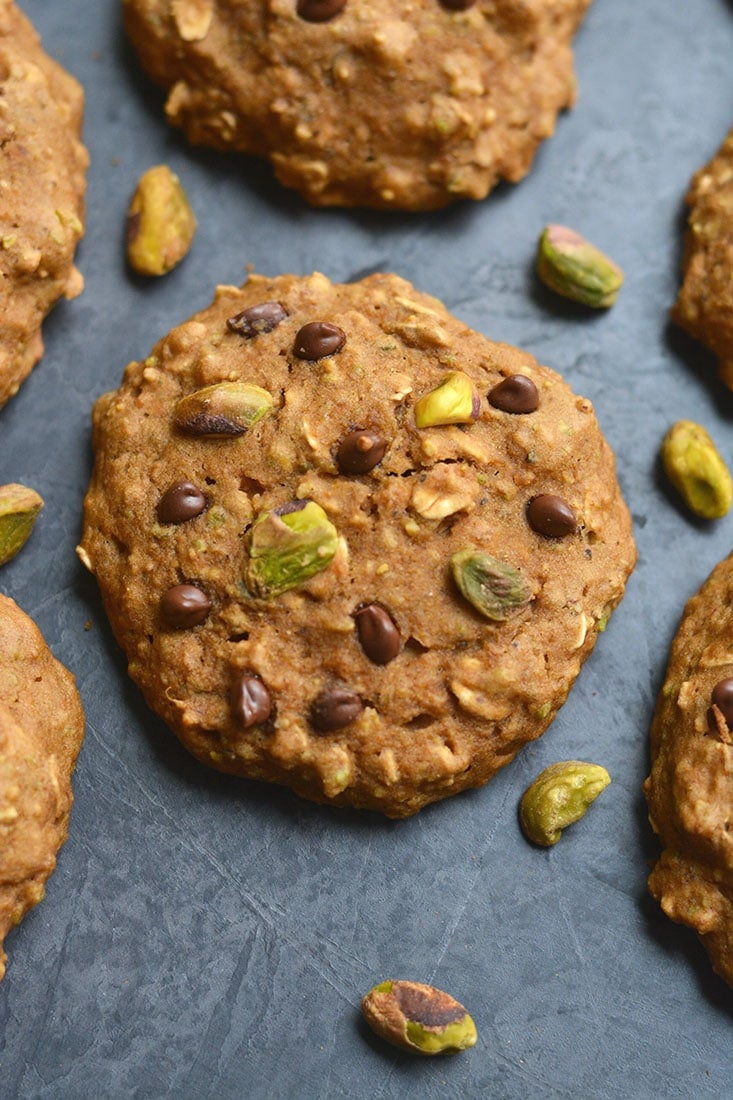 I know, I know! I'm late on the cookie train this month. I've been sticking to my healthy eating this holiday season and avoiding holiday baking because otherwise I just want to eat everything. The struggle is REAL.
The truth is, I've been slacking on the holiday baking because I've been working my *glutes* off for months on getting my meal planning business up and running in time for the new year, and it's FINALLY HERE! Who needs cookies when you can have someone give you a healthy food plan and all you have to do is buy the food, make it and eat it?
Some days I wish someone would tell me what to eat everyday and then I would never have to track it in an app or write a grocery list. Don't worry! I'm making myself my own calorie based meal plan after I write this post. Seriously, I'm so excited about the meal plans. Everything is online so there's no emailing or paperwork which makes everything SOOOO easy, and personally, I'm looking forward to saving serious grocery dollars (and pounds) with these meal plans.
Now that I've got the meal planning stuff up and running, I FINALLY had time for some healthy baking. These Pistachio Chocolate Oatmeal Cookies are made gluten free and with applesauce so they're lower in sugar yet sweet enough to satisfy a sugar craving.
I'm giving myself a virtual pat on the back with these cookies because they were so EASY to make and healthy. Now I know you're being bombarded with a thousand websites and pins that say this cookie and that cookie are healthy, but buyer beware. Many of them are sugar bombs and loaded with fat or worse, sugar substitutes. Even though it is healthy fat in many cases, and unrefined sugar it's still easy to go overboard on them.
What I love about these Pistachio Chocolate Oatmeal Cookies is that they have raw pistachios blended into the flour. It gives the texture a mysterious feel. Not to mention they're light enough to eat anytime of day. Breakfast, lunch, dinner, snack. Anytime of year. Whenever you want!
Pistachio Chocolate Oatmeal Cookies
Thick, chewy, Gluten Free Pistachio Chocolate Oatmeal Cookies! A healthier Christmas treat for 100 calories that's even healthy for breakfast. Only 10 minutes to make!
Prep Time 10 minutes
Cook Time 10 minutes
Total Time 20 minutes
Servings 10 cookies
Calories 109 kcal
Instructions
Preheat the oven 350 F. Prepare a baking sheet with parchment paper.

In a large mixing bowl or standing mixer, combine the salt, coconut sugar, applesauce and egg until smooth.

Process the 1/3 cup of raw pistachios in a food processor or blend until a course flour forms.

Add the crushed pistachios, flour, oats, baking soda and baking powder to the egg mixture to combine.

Scoop the batter onto the prepared baking sheet to form 10 cookies.

Divide the 2 tablespoons of pistachios and mini chocolate chips among the cookies and press them into the tops of the cookies.

Bake at 350 F 8-10 minutes or until lightly browned around the outside.

Remove from the oven and let side 3-5 minutes on the baking sheet before transferring to a wire baking rack to cool.

Store cookies in the refrigerator up to 2 weeks or in the freezer 12 weeks.
Recipe Notes
My shop has more products similar to those used for this recipe and that recommend to my nutrition clients.
Course Cookie
Keyword chocolate, cookie, gluten free, low calorie, oatmeal, pistachio
Nutrition facts per serving (1cookie)
Calories 109 kcal
Fat 16.7 g
Saturated Fat 2.3 g
Cholesterol 0 mg
Sodium 81.8 mg
Potassium 0 mg
Carbohydrates 26.2 g
Fiber 4.9 g
Sugar 9.1 g
Protein 9.1 g
Vitamin A 0 %
Vitamin C 0 %
Calcium 0 %
Iron 0 %
What I Used For The Recipe