This post contains affiliate links. As an Amazon associate I earn qualifying purchases. Click here for more about this policy.
Meal Prep Chicken Philly Cheesesteak! This low carb recipe makes juicy and flavorful shredded chicken in an Instant Pot in 30 minutes and broils it in bell peppers with a touch of cheese on top! An easy, lunch or dinner to make ahead. Low Carb + Gluten Free + Low Calorie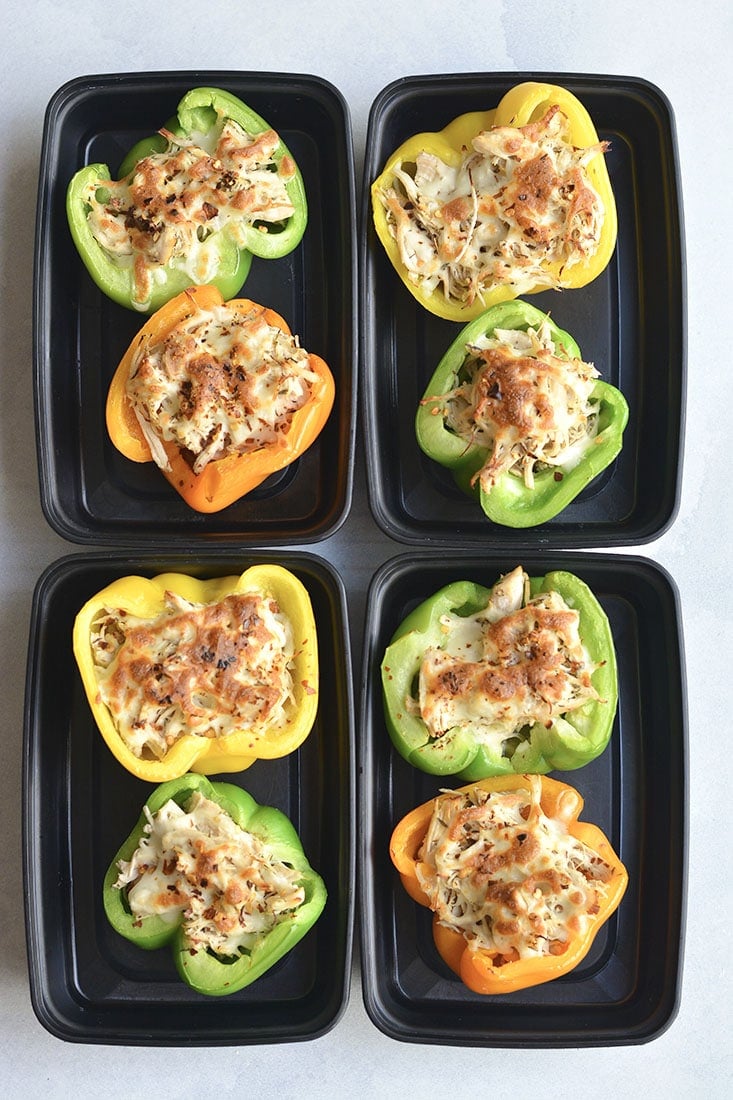 Philly Cheesesteak! In a quick and INSTA healthy way! You see, a Philly cheesesteak made the right way is insanely delicious. But at the same time, it's typically made with not so Skinny Fitalicious ingredients. Steak (not a red meat eater – hate the taste of it), a lot of oil, cheese and soggy, gluten filled bread.
My boyfriend eats Philly cheesesteaks all the time so, naturally I was inclined to lighten up the recipe in a healthier way! As a side note, I have no issue with a good gluten free bread as long as it fits into your macros and is balanced by plenty of lean protein and vegetables.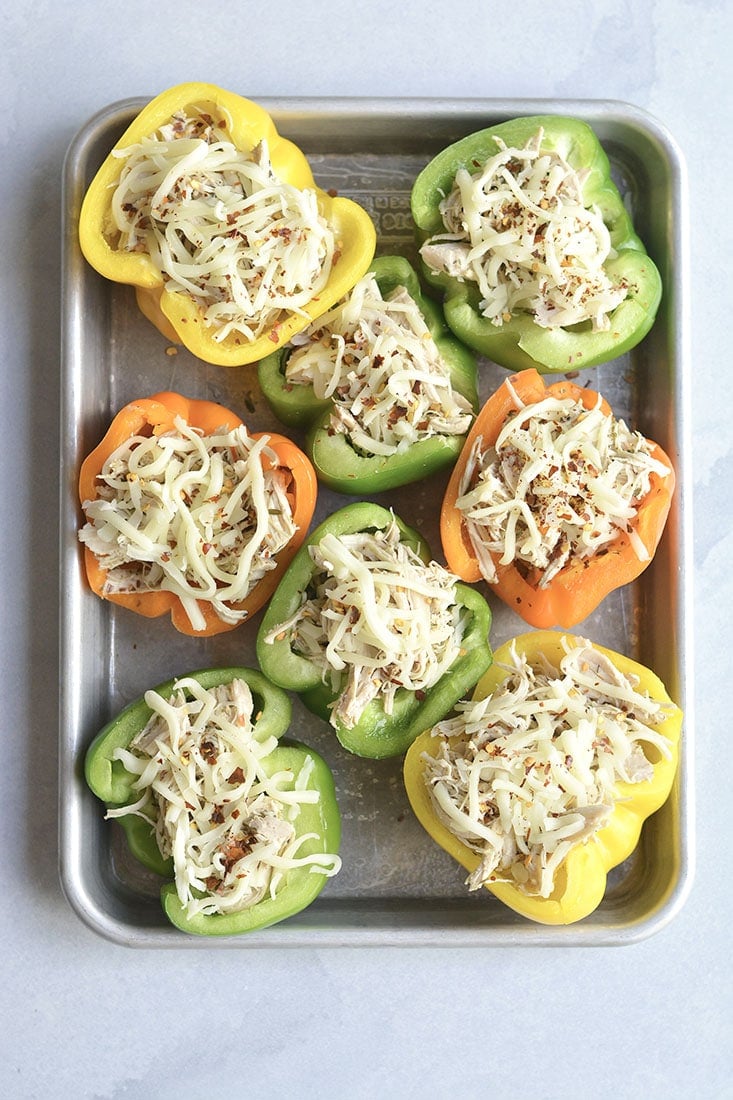 This is another Instant Pot recipe! Last year I was skeptical about getting one. I thought it was just another food trend that would die. But then I got one as a gift and I was in love. The majority of the food I make is now either in my Instant Pot or Crockpot. They are my must have kitchen tools!
For this recipe, I used my Instant Pot Shredded Chicken recipe as the base. It shreds chicken beautifully in 30 minutes. Great for meal prepping because you do so much with it to make it a new meal.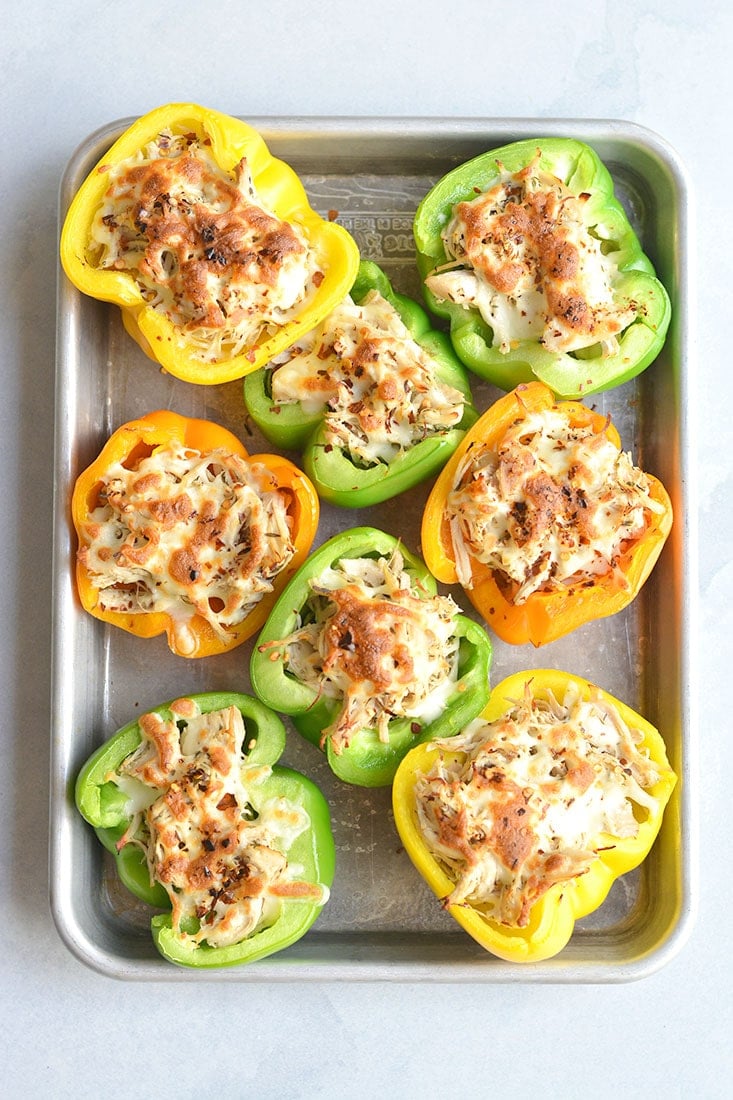 After shredding the chicken in the Instant Pot with seasonings, I loaded up some bell peppers with the chicken, topped it just a touch of cheese, and popped it under the broiler. Dinner done! Or, in this case, this was my lunch for the week. So easy, so delicious!
That said, go turn on your Instant Pot and make this Meal Prep Chicken Philly Cheesesteak. Everyone at your work will be jealous when you show up with this good looking meal.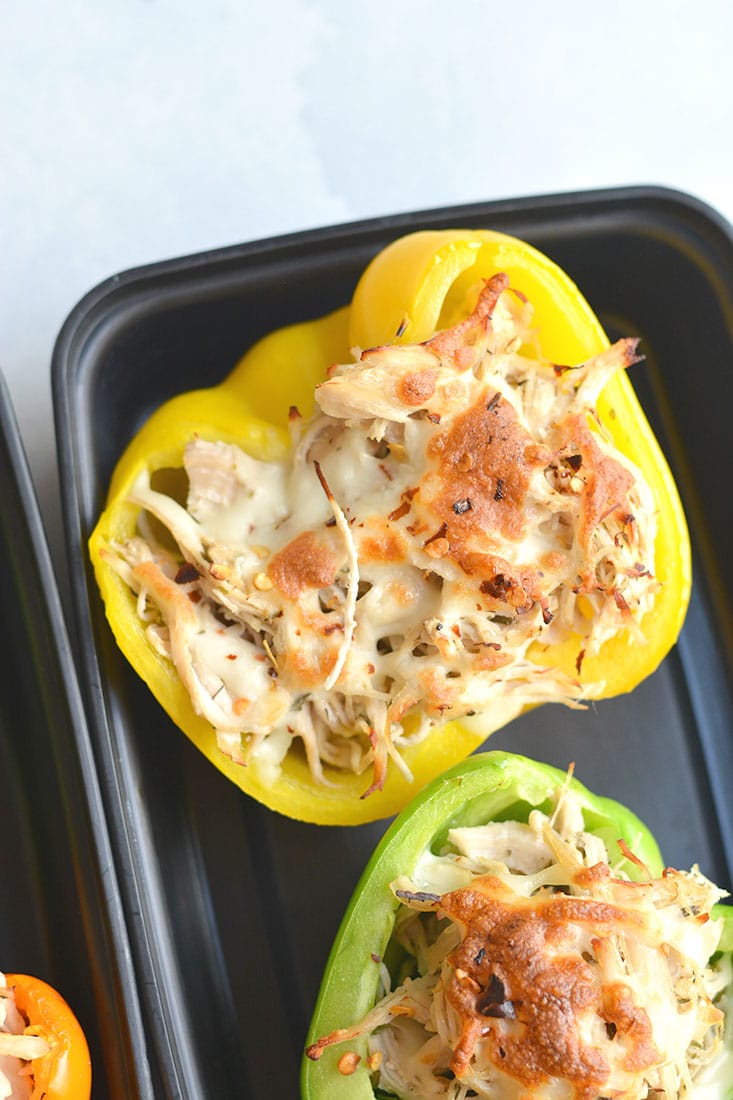 Meal Prep Chicken Philly Cheesesteak
Prep Time 10 minutes
Cook Time 40 minutes
Total Time 50 minutes
Servings 4 servings
Calories 294 kcal
Instructions
Drizzle the bottom on an Instant Pot with olive oil then place chicken breast in it with broth, salt, pepper, thyme and garlic powder.

Place the cover on the Instant Pot then set the valve to sealing and set to steam for 30 minutes. See notes for making in slower cooker instead.

After 30 minutes, carefully set the valve to release. Once all the steam has released, remove the lid.

Using two forks, shred the chicken. It should shred easily from the steam and liquid in the pot.

Turn the oven on to broil (or 425 F) then place parchment paper on a large baking sheet.

Slice the bell peppers in half, remove the seeds and place on the baking sheet. Add about 1/2 cup shredded chicken into the peppers then top with 2 tbsp shredded mozzarella.

Bake 10 minutes then remove from the oven and place 2 bell peppers in each meal prep container.
Recipe Notes
If you do not have an Instant Pot, you can also make the chicken in a Crockpot setting it on low for 6-8 hours or high 3-5 hours. In a pinch a rotisserie chicken works too!
1 serving or meal prep is what you see in a meal prep container here.
My Amazon shop has more products similar to those used for this recipe and that I recommend to my nutrition clients.
Course Dinner, Lunch, Meal Prep
Cuisine American
Keyword bell peper, chicken, gluten free, high protein, low calorie, low carb, meal prep, philly cheesesteak, shredded chicken
Nutrition facts per serving (1serving)
Calories 294 kcal
Fat 12 g
Saturated Fat 4 g
Cholesterol 88 mg
Sodium 383 mg
Potassium 745 mg
Carbohydrates 10 g
Fiber 3 g
Sugar 5 g
Protein 33 g
Vitamin A 4105 %
Vitamin C 160 %
Calcium 244 %
Iron 1.7 %
What I Used For The Recipe