This post contains affiliate links. As an Amazon associate I earn qualifying purchases. Click here for more about this policy.
Low Carb Breakfast Cauliflower Fried Rice is an easy breakfast meal prep perfect for a healthy breakfast. Freezer friendly, easy to make and delicious! Vegetarian + GF + Low Carb + Paleo + Low Calories + Soy Free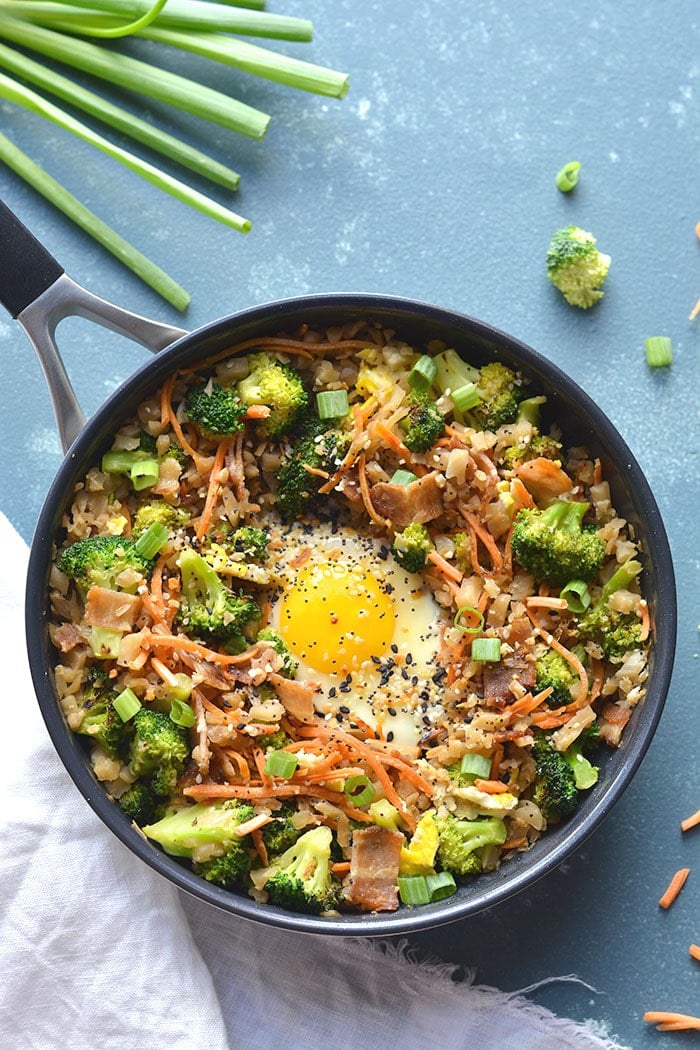 Need a new morning routine? I've got you covered today with this low carb breakfast goodie! 
Most people think a healthy breakfast has to be eggs, yogurt or oatmeal. In my opinion, that's a sure way to make breakfast boring. Admittedly, when I come across a good recipe, I love to make it over and over again but I challenge you to re-think what you eat for breakfast.
Breakfast doesn't have to be traditional breakfast foods we think of… cereals, breads, bagels, oatmeal, eggs. In fact, before Kellogg's introduced cereal the "normal" breakfast for humans was last night's dinner. Crazy how food manufacturing has influenced so greatly what we believe breakfast should be.
What Is A Healthier Breakfast
When I coach my weight loss clients, I discuss with them the importance of filling their breakfast with veggies. This is especially important or fat loss. If you're training your body to lose weight, you have to teach it to burn it's own fat.
Carb heavy and sugar loaded foods like cereals, bagels, breads don't do that. The "normal" foods for breakfast are a big contributor to the obesity epidemic and growing number of health problems. 
Low Carb Breakfast Cauliflower Fried Rice
I challenge you start your day in a different (and delicious!) kind of way! Starting with this Low Carb Breakfast Cauliflower Fried Rice. VEGGIE packed, bursting with Asian flavors, this filling and tasty meal is easy and delicious enough for lunch or brinner!
What You Need
Cauliflower Rice
Broccoli Florets
Shredded Carrots
Avocado Oil
Ginger
Green Onion
Eggs
Everything Bagel Seasoning
Helpful Tips
Buy the cauliflower already riced. It's a HUGE timesaver! I buy mine frozen then thaw it before making the recipe. There's many varieties frozen varieties and it's reasonably priced too. In fact, it's generally cheaper to buy it frozen than freshly riced which you can also find in the produce sectin. 
Make this low carb breakfast cauliflower fried rice freezer friendly! Simply omit the egg and egg whites while cooking the veggies. Store in the freezer then when you're ready to eat, thaw the veggies, cook with the eggs and your meal is done! 
Want more protein? Add bacon, ham, turkey bacon, ground chicken, turkey or pork to your recipe! Toss your meat in the frying pan when you add the cauliflower rice and cook until it's heated through. Enjoy!
More Cauliflower Rice Recipes
Low Carb Breakfast Cauliflower Fried Rice
Low Carb Breakfast Cauliflower Fried Rice is an easy breakfast meal prep perfect for a healthy breakfast. Freezer friendly, easy to make and delicious! Vegetarian + GF + Low Carb + Paleo + Low Calories + Soy Free
Prep Time 10 minutes
Cook Time 15 minutes
Total Time 25 minutes
Servings 2 servings
Calories 250 kcal
Instructions
Heat a frying pan with the avocado oil and shallot. Add the broccoli florets and shredded carrots to the pan. Cover and cook 5 minutes, stirring occasionally until broccoli is tender.

While the broccoli cooks, add the egg white to a separate frying pan. Fry the egg white 3-5 minutes. It will look like a pancake when finished. Remove from the pan and transfer to a cutting board to cool.

Remove the cover from the broccoli, add the cauliflower rice, ginger and coconut aminos. Stir to combine, coating the cauliflower rice with the coconut aminos.

Roughly chop the egg white then add to the frying pan. Stir again.

Once the cauliflower rice has softened, make a well in the center of the frying pan. Crack the whole egg in the well. Cover and cook 3-4 minutes more until the egg sets up.

Remove the cover, sprinkle with everything bagel seasoning, add sliced green onions on top and serve immediately.
Recipe Notes
My Amazon shop has more products similar to those used for this recipe and that I recommend to my weight loss clients.

If you enjoyed this recipe, check out my cookbook for more delicious recipes!

For freezer, omit the eggs, freeze then cook the eggs and mix with the thawed veggies when ready to eat.
Course Breakfast, Dinner, Lunch
Cuisine Asian
Keyword breakast, cauliflower rice, coconut aminos, fried rice, gluten free, healthy, low calorie, low carb, Paleo, soy free, vegetable, vegetarian
Nutrition facts per serving (1serving)
Calories 250 kcal
Fat 17 g
Saturated Fat 2 g
Cholesterol 82 mg
Sodium 491 mg
Potassium 641 mg
Carbohydrates 17 g
Fiber 5 g
Sugar 6 g
Protein 10 g
Vitamin A 7590 %
Vitamin C 83.8 %
Calcium 65 %
Iron 1.3 %
What I Used For The Recipe