I've partnered with Dole Packaged Foods to bring you this post. All opinions expressed are my own.
Pineapple Chicken Cauliflower Fried Rice! A simple to make meal packed with delicious flavors the whole family will love. Whole30 compliant, Paleo and incredibly filling! Whole30, Paleo, Gluten Free
Admittedly, I don't love cauliflower rice. But you know what I DO love? Pineapple! And Dole pineapple and cauliflower rice make an amazing pair in this savory dish. I've finally found a way to love cauliflower rice like never before!
I know cauliflower rice, ground chicken and pineapple sound like a strange combination. But let me tell you, this combination works! I've been meal prepping it on and off for weeks then shared it with the ladies in my membership program. They loved it! They (and their families) are the ultimate test of my creations.
Pineapple Chicken Cauliflower Fried Rice
This pineapple chicken cauliflower fried rice is filled with remarkable flavor. I wish I could share it with you through the screen. A little sweet from the juicy, pineapple tidbits…a little savory from the veggies and chicken.
An incredibly filling meal from the veggies, protein and fruit. You wouldn't know this dish had cauliflower rice instead of regular rice. It doesn't taste like cauliflower and the cauliflower blends in so well with the ground chicken, you can't spot it.
What You Need
Ground Chicken
Shredded Carrots
Pimentos or Sliced Red Pepper
Cauliflower Rice
Eggs
Coconut Aminos
Ginger, Paprika, Chipotle Seasoning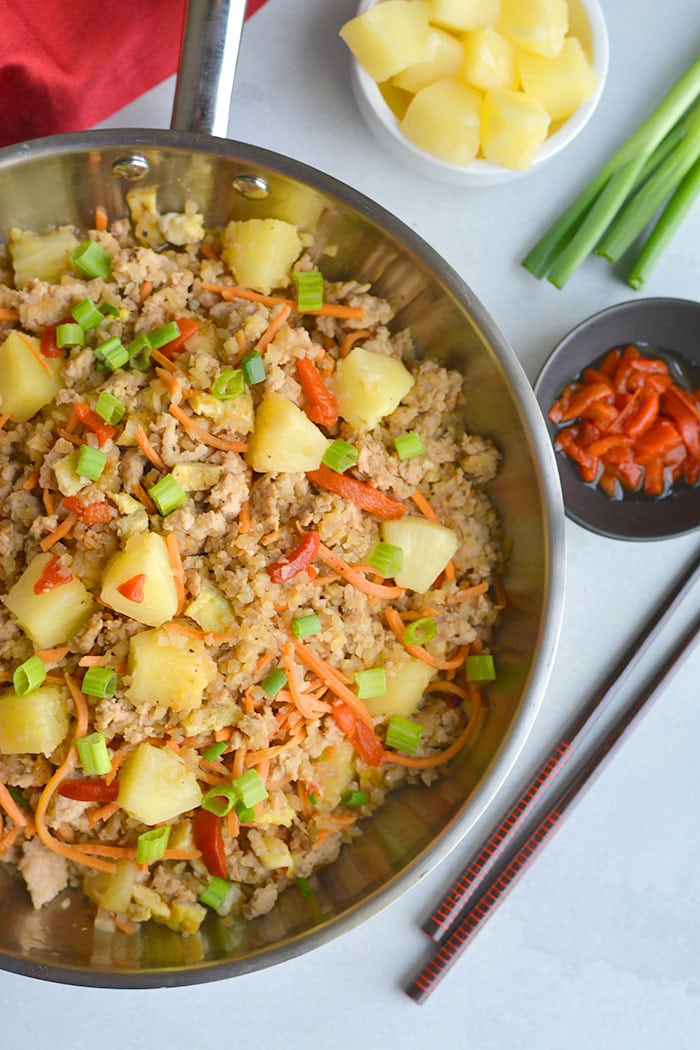 Helpful Tips
My biggest tip is to buy cauliflower rice already riced. It's a huge time savor and makes cooking this meal a breeze in under 30 minutes. Hey, you gotta take shortcuts where you can! I'm convinced shortcuts make healthy eating more manageable which helps YOU stay consistent.
Don't forget to save the pineapple juice when you drain the chunks from the can. It's perfect for washing down this delicious meal!
Receive a Sugar Free Meal Plan
When you join the Skinny Fitalicious Email List
Pineapple Chicken Cauliflower Fried Rice
Pineapple Chicken Cauliflower Fried Rice! A simple to make meal packed with delicious flavors the whole family will love. Whole30 compliant, Paleo and incredibly filling! Whole30, Paleo, Gluten Free
Prep Time 10 minutes
Cook Time 30 minutes
Total Time 40 minutes
Servings 4 servings
Calories 369 kcal
Ingredients
1 lb ground chicken
1 cup pineapple chunks liquid drained
3 cups cauliflower rice
2/3 cup shredded carrots
2 tbsp shallot
2 tbsp garlic minced
1 egg white
1 whole egg
1 tbsp avocado oil
1 tsp apple cider vinegar
1/4 cup coconut aminos
1/4 cup pimentos or sliced roasted red peppers
1 tsp ground ginger
1 tsp paprika
1/2 tsp chipotle seasoning
salt and pepper to taste
2 green onions for serving
Instructions
Preheat a small skillet to medium heat with cooking spray. Whisk together the egg white and whole egg in a bowl then add to the skillet.

Cook the eggs to form an omelet in the skillet 2-3 minutes on one side then flip and cook on the other side another 2-3 minutes. Remove from the pan and set aside to cool.

Heat a large skillet with the avocado oil to medium heat. Add the shallot, garlic and shredded carrots. Cook 3 minutes until shallots are tender then add the ground chicken.

Break up the ground chicken with a wooden spoon and stir it frequently as it cooks.

While the chicken browns, stir together the coconut aminos, apple cider vinegar, ground ginger, paprika, chipotle seasoning, salt and pepper in a bowl.

Once the chicken has browned, add the cauliflower rice, sliced egg and coconut amino mixture to the skillet. Stir to combine and cook 3-5 minutes until cauliflower rice is tender.

Stir in the pineapple and pimentos and turn off the heat.

Serve immediately with sliced green onions on top.
Course Dinner, Lunch, Meal Prep
Cuisine Asian
Keyword cauliflower rice, ground chicken, low calorie meal prep, low carb, Paleo, pimentos, pineapple, Whole30
Nutrition facts per serving (1serving)
Calories 369 kcal
Fat 14 g
Saturated Fat 3 g
Cholesterol 138 mg
Sodium 491 mg
Potassium 1303 mg
Carbohydrates 37 g
Fiber 5 g
Sugar 24 g
Protein 25 g
Vitamin A 87.1 %
Vitamin C 103.5 %
Calcium 8.1 %
Iron 15.1 %
Custom Meal Plans
Work with Megan to develop a custom macro or standard meal plan to reach your goals.
Learn More