This post contains affiliate links. As an Amazon associate I earn qualifying purchases. Click here for more about this policy.
Hi Guys!
The Super Bowl's this weekend! I'm so bummed my Packers lost to Seattle and won't be coming to Phoenix. So sad. 🙁 The stadium's within walking distance of my house and it would've been incredible to have the Packers in my backyard. I must admit though it's still exciting to see preparations coming together and the energy growing in my own neighborhood. Last weekend I walked around the stadium to check things. They've been working around the clock to get things ready. Hopefully you have something fun planned for game day. I plan on staying close to home because security and traffic will be a nightmare.
I'm not sure what game day eats and treats I'll be making, but they're sure to be good and healthy. Whatever your plans are, I hope you make them healthy too. Today I'm giving you a few healthy options to inspire your Super Bowl festivities. Enjoy!
Winter Kale Butternut Squash Salad with Spiced Pecans the spiced pecans are pure candy
Cauliflower Fritter Pancakes a sneaky veggie snack
Vegetarian Black Bean Chili you can never go wrong with chili on the Super Bowl, you can always add chicken, turkey or pork too
Sweet Potato Mexican Mash another super easy crockpot dish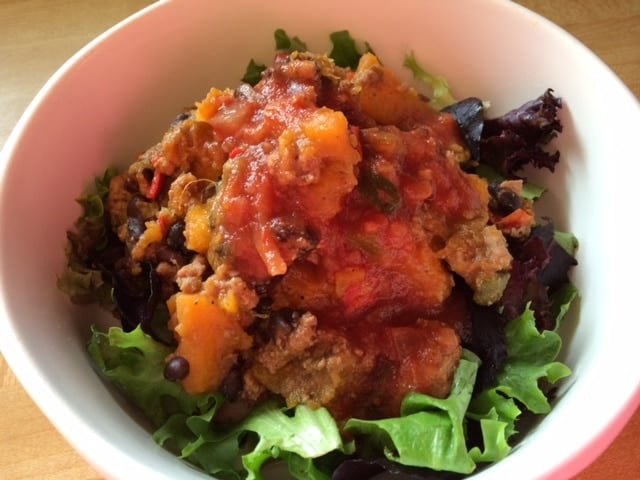 Roasted Carrot Fries delicious with plain greek yogurt & burgers
Zucchini Parmasean Bites they melt in your mouth
Spicy Plantain Chips perfect chip with salsa
Homemade Salsa so good with tortilla or plantain chips
Avocado Hummus the creamiest hummus ever so good with broccoli & cauliflower
Sun Dried Tomato Red Pepper No Bean Hummus raw peppers & carrots are my favs with this, recipe coming this Friday
Chocolate Avocado Pudding so yum with apple & pear slices
Easy Antioxidant Trail Mix perfect to fill little jars with around the house
Chocolate Almond Energy Bites warning these are so good you'll need at least 2 batches
Zucchini Espresso Bites every party needs a brownie so why not make it a healthy one
Chocolate Chickpea Blondies and while you're at it make these too
100 Calorie Chocolate Chip Greek Muffins because you always need a muffin or two 🙂
What team do you think will win this year? What are you making on game day? I need some inspiration from you! Enter your links in the comments below.
Lots of Health, Food & Love,

Facebook | Twitter | Pinterest |Instagram
[Tweet "Healthy Super Bowl Eats & Treats #fitfluential #SuperBowlXLIX #healthysnacks"]