This post contains affiliate links. As an Amazon associate I earn qualifying purchases. Click here for more about this policy.
Hello Monday!
Let's jump start the week with a little pancake action, shall we? 
For months, I've been wanting to create a vegetable pancake of sorts. The usual suspects came to mind – spinach, broccoli, zucchini. They all seemed a bit meh. Been there, done that. Why not something unsuspecting then like cauliflower?
It really is amazing what can be created with one beautiful head of cauliflower. Have you been on Pinterest lately? It's blowing up with cauliflower food porn. Truthfully I haven't that spent much time on Pinterest lately except when I pin recipes to my page. When I loaded this recipe, I was sucked in by all the recipes out there.
Cauliflower pizza (which I've made before sort of successfully), cauliflower sauce, cauliflower tots, cauliflower casserole, cauliflower dip, cauliflower rice, cauliflower mac 'n' cheese, cauliflower mash, cauliflower tortillas. You get the idea. A lot of cauliflower recipes to explore and here I thought I had an original idea…
For a healthy cauliflower pancake. 
These pancakes are thick and savory. They taste just like a potato pancake. Perfect for breakfast, lunch, dinner or even a snack topped with greek yogurt they're a sneaky way to eat your vegetables and have your pancakes too. Enjoy!
Cauliflower Fritters
Healthy Cauliflower Fritters made low calorie are perfect for a savory breakfast, side dish or snack. Dairy free, freezable and delicious! Gluten Free + Low Calorie
Prep Time 10 minutes
Cook Time 20 minutes
Total Time 30 minutes
Servings 8 servings
Calories 50 kcal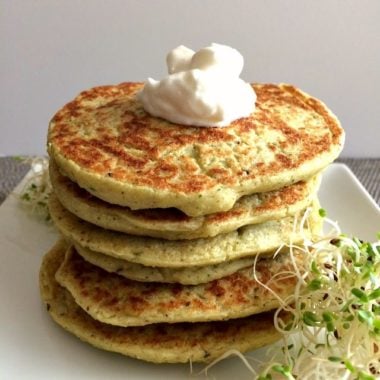 Instructions
Bring a medium pot of water to a boil. Clean and roughly chop the cauliflower and add to the boiling water. Simmer the cauliflower 8-10 minutes until tender then strain the cauliflower.

Add the onion and cauliflower to a food processor or blender and process until a liquid forms. Add the remaining ingredients to a food processor and combine until smooth.

Heat a skillet to medium heat and add avocado oil spray. Scoop 1/4 of the batter and place on the preheated skillet. Cook 5 minutes until brown then flip and cook another 3-4 minutes.

Remove from the skillet and transfer to a wire baking rack to cool while you cook the remaining batter.

Serve with sprouts and nonfat greek yogurt or whatever you like!

Store cauliflower fritters in the refrigerator up to 7 days or in the freezer up to 60 days.
Course Breakfast, Side
Cuisine American
Keyword breakfast, cauliflower, fritter, gluten free, healthy, low calorie, low carb, pancake, savory, side dish
Nutrition facts per serving (1fritter)
Calories 50 kcal
Fat 1 g
Saturated Fat 1 g
Cholesterol 0 mg
Sodium 87 mg
Potassium 251 mg
Carbohydrates 9 g
Fiber 2 g
Sugar 2 g
Protein 3 g
Vitamin A 0 %
Vitamin C 36 %
Calcium 26 %
Iron 1 %