This post contains affiliate links. As an Amazon associate I earn qualifying purchases. Click here for more about this policy.
I'm frequently asked what are the best healthy lunches for weight loss. This post will give you a framework for building a healthy lunch for losing weight. It's meant to guide you to making healthier choices that promote fat loss.
Once you read this framework, you can also download this free ebook with easy, healthy lunch recipes for weight loss!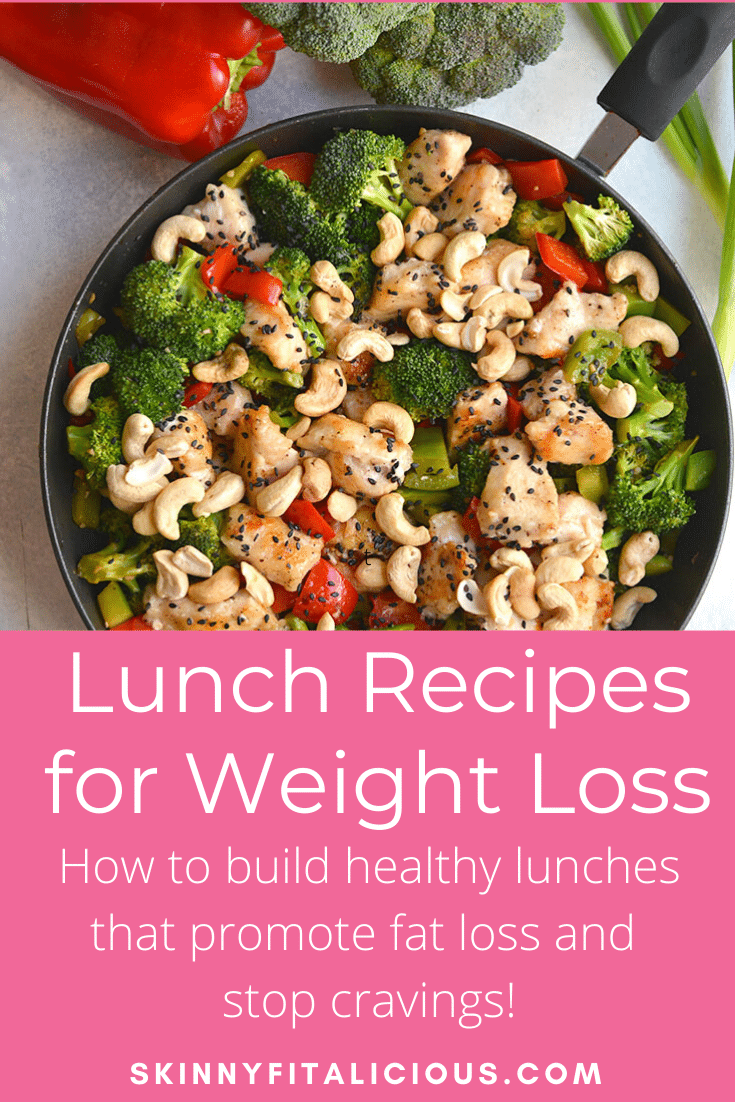 Healthy Lunches for Weight Loss
Healthy lunches for weight loss should include one of the four items from the list below. This is a general rule of thumb I give all my clients. For some of you this list may feel uncomfortable because it doesn't tell you exactly what to eat to lose weight.
I suspect if you're reading this, you've done a million diets and followed someone else's way of eating your whole life. That was me before I lost 80 pounds in 2009!
It wasn't until I discovered how to create a lifestyle that worked for me, that I lost the weight and I was able to successfully keep it off for good. And, now coach women to lose weight, create a life they love and keep the weight off for good!
#1 PICK A LEAN PROTEIN
Pick one lean protein. A standard serving of protein is about the size of your palm. For fat loss, you want a little more protein than your palm. About 1/2 serving more. This doesn't h
Good sources of protein are eggs, chicken, turkey, jerky, turkey bacon, fish, nitrate- free lunchmeat, turkey bacon, grass-fed beef or pork, Greek yogurt, cottage cheese or beans for vegetarians.
Here's more easy ideas for protein sources for weight loss too!
#2 PICK GREEN VEGETABLES
Add two to three (or more!) non-starchy vegetables. Green vegetables include, but aren't limited to lettuce, kale, mixed greens, carrots, celery, broccoli, bell peppers, green beans, cauliflower, zucchini, cucumber, tomatoes, eggplant, onion, garlic, Brussels sprouts etc. Anything that isn't a starchy vegetable I consider a green vegetable.
When it comes to non-starchy veggies, keep it simple – don't overthink it! You'll never over eat a bag of carrots.
#3 PICK HEALTHY FAT
Add one to two servings of a healthy fat. This is where it gets tricky because most people will slather dressing on a salad not realizing it's loaded with fat. Oil, dressing, nut butter, raw nuts, seeds, hummus, avocado, guacamole are considered healthy fats, but you must read the label and portion it out according to the serving size.
#4 PICK AN EXTRA
Pick one extra to go with your lunch. Some ideas on what an extra may look like is a starchy vegetable (peas, corn, potatoes), a grain (pasta, rice, quinoa, lentils, beans), a Gluten-Free wrap, half a bun or a smaller bun, dark chocolate, fruit, a no sugar added smoothie.
For the extra, you pick one of the recommendations and stick to the serving size. The extras are where the calories add up. I don't recommend cutting carbs or eating too few calories as that messes with fat loss and hunger hormones.
Simple Weight Loss Lunch Ideas
Here's a few easy lunch ideas for weight loss to get you started and thinking!
Idea 1: Canned tuna, canned salmon or a tuna pack with mustard or Whole30 mayo with celery, mixed greens, handful of almonds and lentils.
Idea 2: Lunchmeat with avocado/guacamole (or omit and use mustard or Whole30 mayo) on half a bun with mixed greens, tomatoes with carrots and
Idea 3: Turkey breast with salsa with brown rice, green beans, celery and hummus.
Idea 4: Rotisserie chicken breast (skin removed) over large bowl of kale or mixed greens with balsamic olive oil dressing, broccoli, cucumber, cauliflower and quinoa.
How To Meal Prep Lunches for Weight Loss
Once you have your picks, it's time to get prepping! I like using these glass meal prep containers to store my healthy lunches in. They're perfect size to take with you on the go!
Some people like meal prepping all their meals on Sunday or over the weekend so they never have to think about what to eat during the week. I actually don't recommend this because your meals won't taste as good later in the week and it takes so much of your precious time over the weekend to do this.
Instead, I recommend doing a small meal prep over the weekend for two or three days then doing another one mid-week. Over the weekend you can prep the ingredients for meals (chop veggies, prep proteins, make grains etc.) so meals are quicker and easier to make during a busy work week. This is how I split up the meal prep for my meal planners.
Splitting up the work, won't make you feel as overwhelmed with healthy eating and take so much of your time every weekend. You also won't feel like you're on diet when you're eating food that's fresher and made within a day or two.
Free Lunch Recipes for Weight Loss
For more lunch recipe ideas for weight loss, download this free ebook!