This post contains affiliate links. As an Amazon associate I earn qualifying purchases. Click here for more about this policy.
I'm always asked what are the best protein sources for losing weight so I'm breaking it down for you today. If you're new here and don't know me, welcome! I'm Megan, nutrition practitioner.
I help women over 35 lose 20 to 50 pounds or more and keep it off. I've transformed hundreds of women to lose weight and a common question I get from them and readers is what type of protein to eat to lose weight.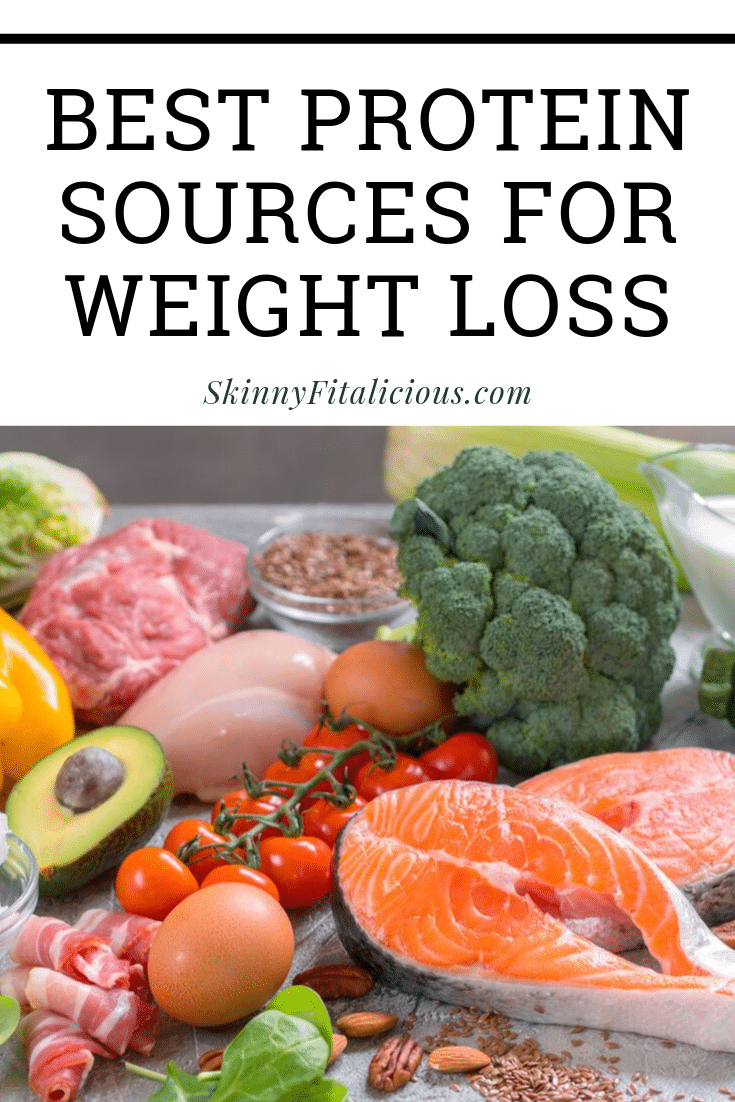 Why Protein Is Important For Weight Loss
To Preserve Muscle Mass In A Calorie Deficit
We know from research that in order to achieve fat loss, you must create a slight calorie deficit. MORE protein is required during that slight calorie deficit in order to preserve precious muscle. The body's primal instinct is to preserve fat so it will always want to breakdown muscle before it burns fat. Muscle stimulates a higher metabolism than fat, and we preserve that increasing protein.
*Slight* is the key word in calorie deficit. Most women go on crazy 1200 calorie diets or less that send stress responses to the body and slow metabolism. While you may initially lose weight, you will eventually plateau and struggle to lose weight. Low calorie diets damage hormones over time. It's really important the calorie deficit is small.
To Keep Cravings Away
How many times have you tried to lose weight and always felt hungry? Eating enough protein is shown to keep energy levels stable and satiety higher than any other foods, meaning your blood sugar won't dip and fall throughout the day when you're eating the right amount of protein.
Keeping your blood sugar stables means you'll crave less sugar and junk food. Most people struggle with cravings when trying to lose weight and it's because they're not eating the right combination of foods to keep blood sugar stable.
To Support Working Out
When you exercise, muscle protein is broken down to build bigger, stronger muscles. Protein is an important nutrient to replenish after a workout regardless of whether or not you're trying to lose weight to preserve muscle mass and recover.
Protein Induced Thermogenesis
When you eat protein, you actually burn a small amount of calories. It's more difficult for the body to breakdown protein into amino acids than other nutrients so it requires more energy (aka calories) in order to do that. This is also referred to as diet induced thermogenesis and is recognized as one of the three components of daily energy expenditure. [Source]
Best Protein Sources For Losing Weight
Animal Sources
Greek yogurt, cottage cheese, eggs, chicken, grass finished beef, turkey, chicken, pork, fish, tuna packs, jerky.
I get jerky from Chomps. I love it because you can take it with you on the go and you don't need to refrigerate it. Code SkinnyFit gets you a discount if you want to try it!
To make my life easier, I order fish from Sizzlefish so it's in my freezer for meals whenever I haven't planned a meal or need to make something quick.
Plant Sources
Yes! Vegetables have protein. These vegetables have the highest amount of protein.
Edamame, broccoli, Brussels sprouts, kale, mixed greens, asparagus, spinach, watercress, bok choy, cabbage, mustard greens, collard greens, alfalfa, cauliflower
Nuts and seeds are a source of protein, but it's important to note they come with a much larger amount of fat and carbs than vegetables based sources.
Collagen
Collagen is one of many proteins in the body. It plays an extremely important role in vital organ systems such as elasticity and strength to skin, nails, blood vessels, skeletal muscle, and smooth muscle. Bones are made of a mixture of collagen and minerals which give it strength and flexibility.
Like any protein, your body will breakdown collagen into amino acids. Collagen has a different amino acid profile from other proteins so the belief is that by providing your body with amino acids with collagen will boost your natural collagen production.
Research in the area of collagen is limited, but adding collagen to your daily routine is an easy way to increase your protein intake. They also make individual packs of it that you can take with you on the go or if you're traveling.
Add collagen to coffee, tea, smoothies, yogurts or use it to thicken dinner sauces.
Myself and my clients also like the collagen waters with no added sugar. Another easy protein source to take with you on the go!
Protein Powders
The best source of protein is always real food, but I know many will ask the question about protein powders. I'm not a big proponent of relying on protein powders and supplements for protein. Most of them have heavy metals, chemicals and added sugars in them.
The protein powders I recommend are Garden of Life, Terrasoul and Purium MVP Sport.