This post contains affiliate links. As an Amazon associate I earn qualifying purchases. Click here for more about this policy.
Healthy Crockpot Pot Roast! The BEST slow cooked pot roast you will ever eat. Perfectly tender, juicy and delicious! Served with carrots and potatoes for an easy meal. Gluten Free + Low Calorie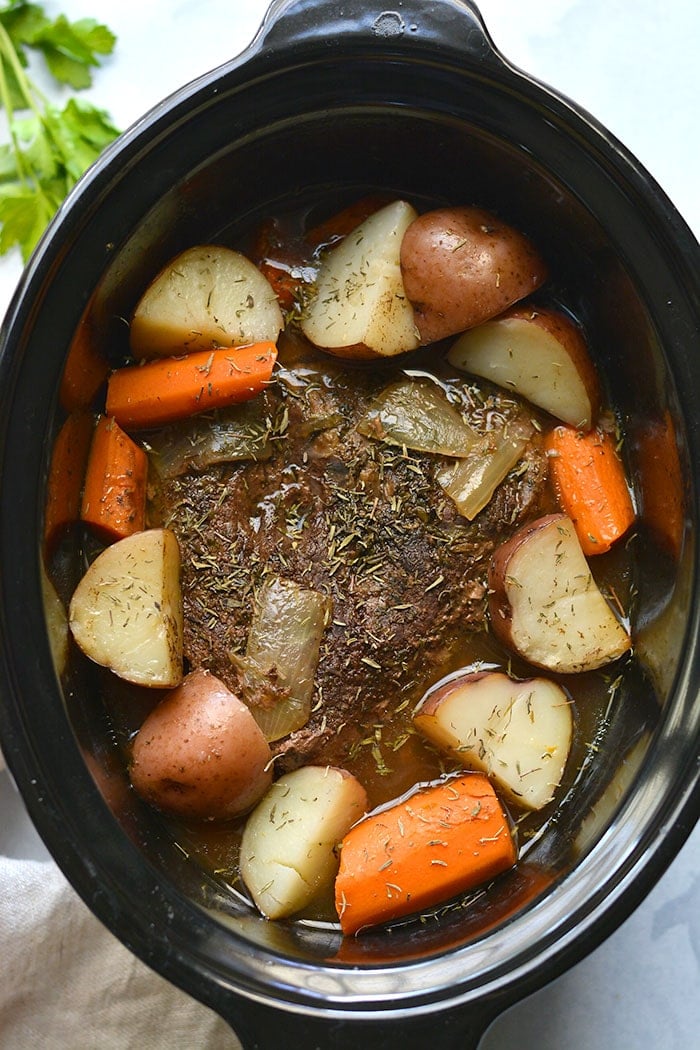 I've been getting more and more requests for beef and pork recipes from clients and readers. As some of you already know, I haven't been a beef eater in decades. Not because it's unhealthy or can't fit into a healthy diet. Beef can certainly fit into a weight loss lifestyle!
It's that restrictive mentality that makes weight loss feel impossible. No food is off limits! Eat the things you enjoy in moderation and figure out ways to make things lighter and slightly lower in calories, which I'll show you how to do with this lighter pot roast recipe in a minute!
Click here to pin this recipe!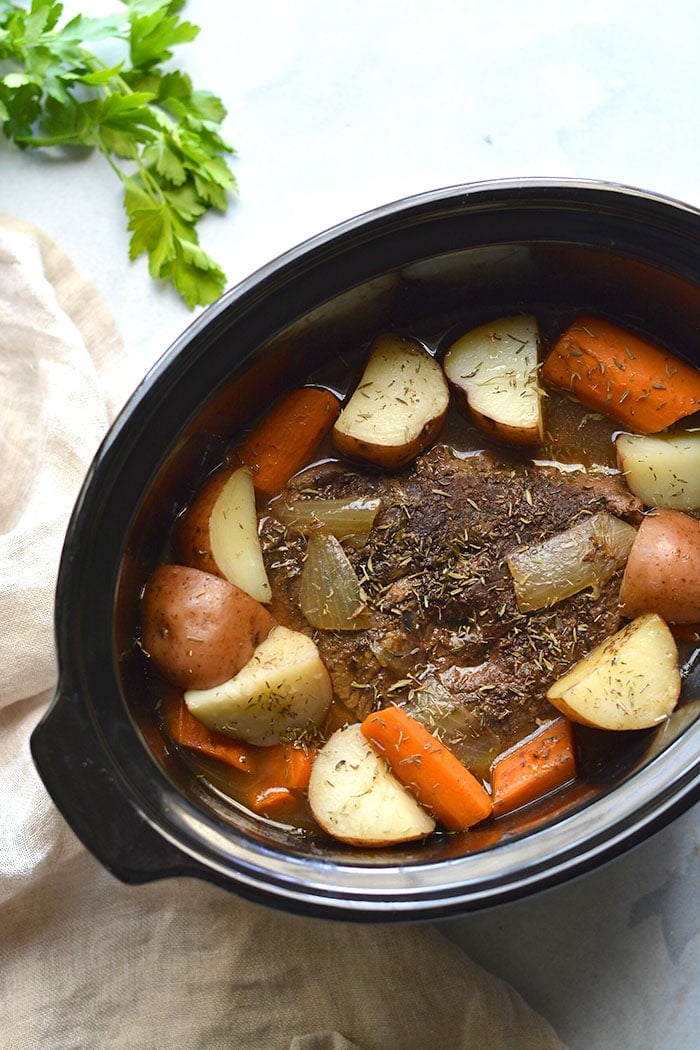 Healthy Crockpot Pot Roast
I'll have you know the guy ate this entire pot roast by himself and he's an extremely picky eater. If he loves it, I know you will too!
This healthy pot roast is rubbed in spices then slow cooked for hours making it incredibly tender and juicy. It's served with carrots, onions and potatoes that are cooked with the roast. A traditional, hearty family recipe with a few lightened up twists!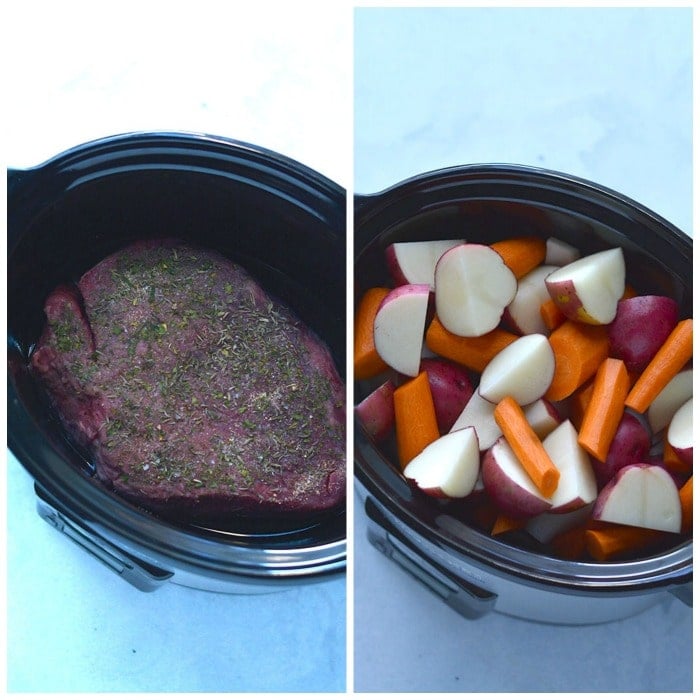 What You Need
Extra Lean Eye of Round Beef Roast
White Onion
Carrots
Worcestershire sauce (gluten free if needed)
Vegetable Broth
Onion Powder, Garlic Powder
Dried Thyme, Parsley
Salt & Pepper
Arrowroot Powder or Cornstarch (for gravy)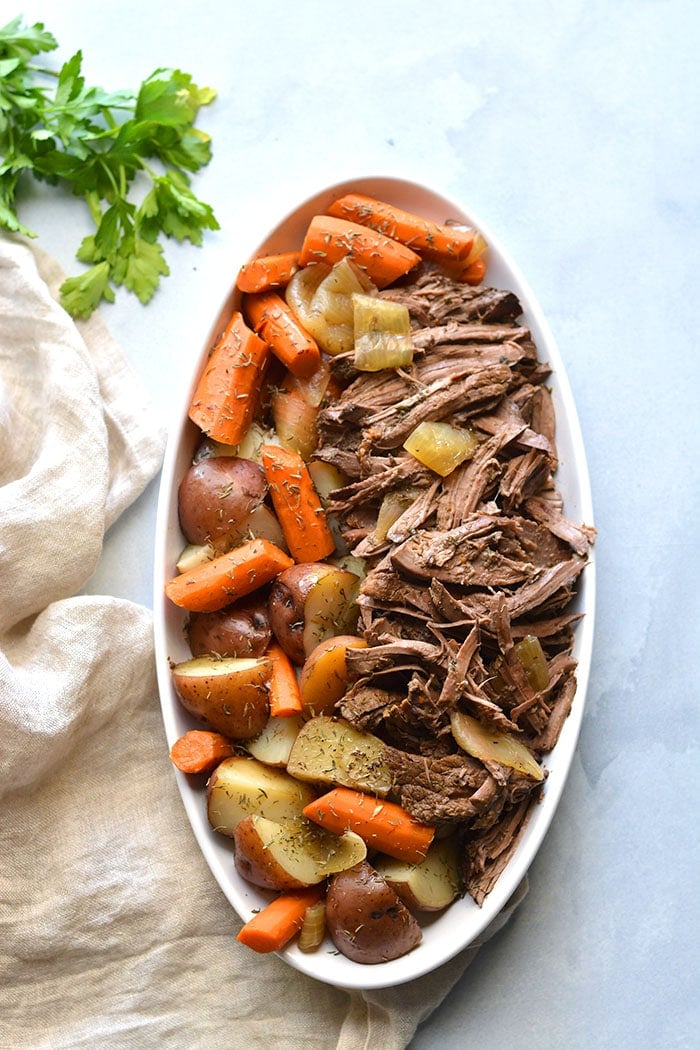 How to make pot roast lighter
This may seem obvious, but buying a smaller roast like a 2 pound one, means less meat per servings. This recipe uses a 2 pound roast which makes four servings. That yields a half pound of meat per serving which is plenty!
Portion is everything when it comes to losing weight. If you can't find a smaller roast, then I recommend cutting a larger one in half and storing in the freezer for a rainy day or increasing the serving size and being mindful of portions to keep the calories and fat slightly lower.
I also recommend buying a lean roast. You may need to ask the meat department are your store to specifically give you a leaner one. If that's not an option, look for one with less fat and do your best to cut some off when you unpackaged it. You want some fat on the roast to give it it's juicy flavor so, don't take it all off!
Last tip for lighting up pot roast - omit the wine! Now listen....if you want to lose weight it's about balance and that means you have to look at a recipe sometimes and determine how to better balance it to make it healthy.
Cooking a higher fat meat like pot roast in high sugar wine isn't great balance. There's already plenty of natural sugar from the vegetables and you want to keep that in check. Save the wine for another day when you're having a lower fat meal!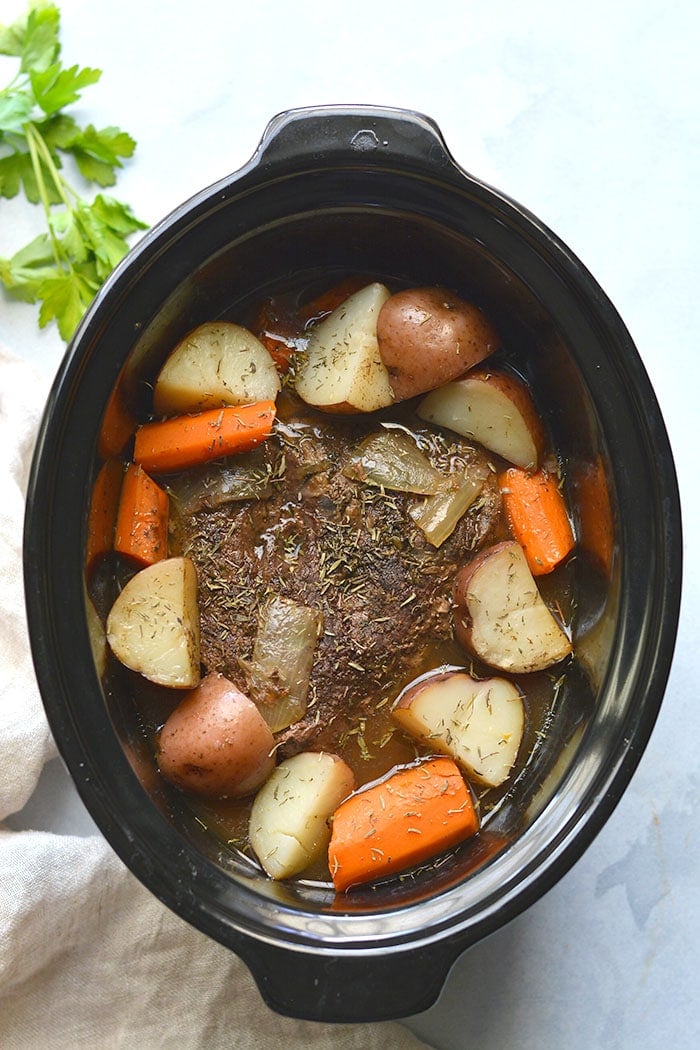 How to make pot roast in a slow cooker
Making pot roast in a slow cooker is so easy! First step is to mix the spices together then rub it all over the pot roast with your hands. You want to be sure to get it in every part of the roast. This is what gives it so much flavor!
Add the broth to your slow cooker then the pot roast and pour Worcestershire sauce over the top. Place the veggies over the top of the roast, cover and cook on low 8 hours (or high 4-5 hours). The longer you cook the roast the more tender it will be!
Once there roast is cooked, remove it and the veggies from the slow cooker and set aside on a plate. Add the arrowroot powder to the remaining liquid to make the gravy, whisk together continuously for a few minutes to thicken then transfer to a bowl.
Next shred the pot roast using a fork. It will pull apart with minimal effort. Serve your pot roast with veggies and gravy!
That's all there is to it! Hope you love this simple crockpot pot roast recipe friends!
Click here to pin this recipe!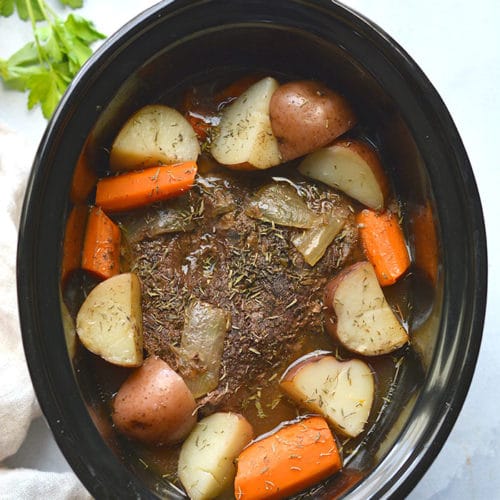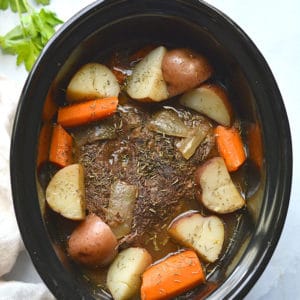 Healthy Crockpot Pot Roast
Healthy Crockpot Pot Roast! The BEST slow cooked pot roast you will ever eat. Perfectly tender, juicy and delicious! Served with carrots and potatoes for an easy meal. Gluten Free + Low Calorie
Instructions
Mix the onion powder, garlic powder, thyme, parsley, salt and pepper together in a bowl. Rub the seasoning mix into the pot roast really well, covering the entire thing.

Add the broth to the slow cooker then place the pot roast in it. Add the Worcestershire sauce then place the onion, carrots and potatoes around and over the top. Cover and cook on low 6-8 hours.

Remove the pot roast and veggies from the slow cooker once finished and set aside on a plate.

If making the gravy, use the leftover liquid in the slow cooker by adding the arrowroot powder (or cornstarch). Whisk continuously until the flour disolves and the water thickens. This should take less than 5 minutes. You can also pour the liquid in a saucepan and heat to thicken.

Shred the pot roast with a fork and serve with gravy and veggies.
Notes
My Amazon shop has more products similar to those used for this recipe and that I recommend to my weight loss clients.
If you love this recipe, check out my low calorie cookbook for more delicious recipes and weight loss tips!
To buy a lean roast, I recommend asking for it specifically from the meat department at your store. If you use a regular roast, you can cut off the fat or note the calories and fat content will be higher.
For Paleo, omit the Worcestershire sauce and replace with balsamic vinegar.
Nutrition
Serving: 1servingCalories: 417kcalCarbohydrates: 23gProtein: 52gFat: 12gSaturated Fat: 4gCholesterol: 141mgSodium: 499mgPotassium: 1296mgFiber: 4gSugar: 7gVitamin A: 10841IUVitamin C: 12mgCalcium: 91mgIron: 6mg
What I Used For The Recipe