This post contains affiliate links. As an Amazon associate I earn qualifying purchases. Click here for more about this policy.
Healthy Crockpot Ragu is loaded with veggies and protein. A cozy meal that's incredibly hearty and delicious, gluten free, low calorie and Paleo friendly! Perfect for meal prepping ahead of time or for a weeknight meal that's virtually effortless. Gluten Free + Paleo + Whole30 + Low Calorie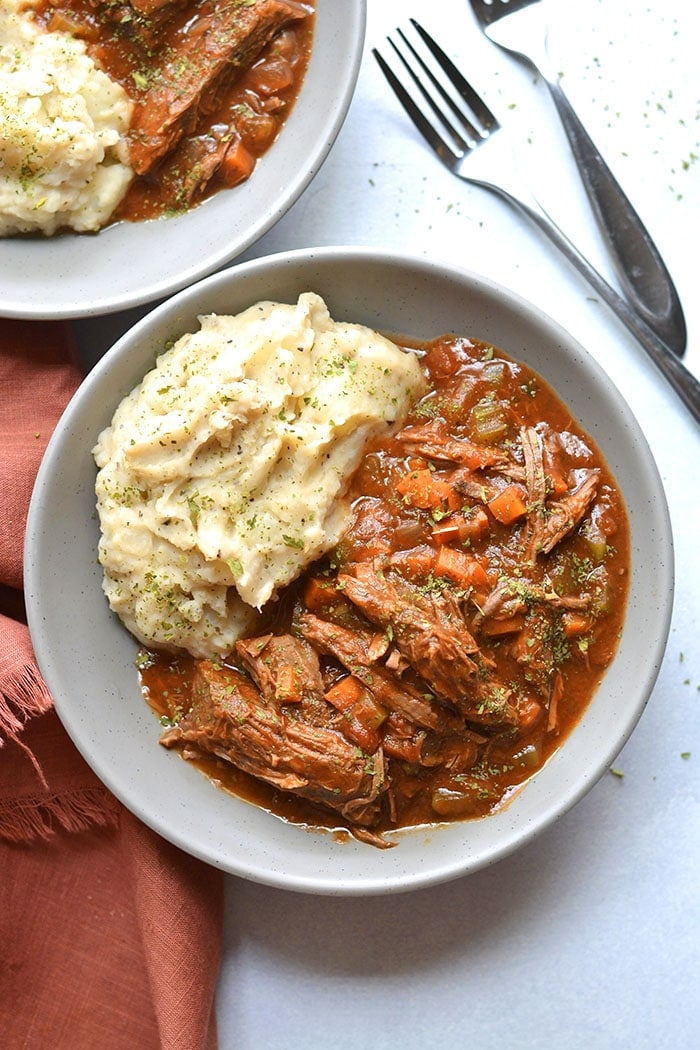 There's nothing better than the smells of a deliciously, slow cooked meal! I use my slow cooker year round because it's one of the simplest ways to make a healthy meal without little effort, and I'm all about making healthy eating with as little effort as possible!
This Healthy Crockpot Ragu is based on a really old family recipe that my mother used to make. I made a few tweaks to the recipe to make it just as delicious, but lower in calories and higher in nutrition!
Click here to pin this recipe!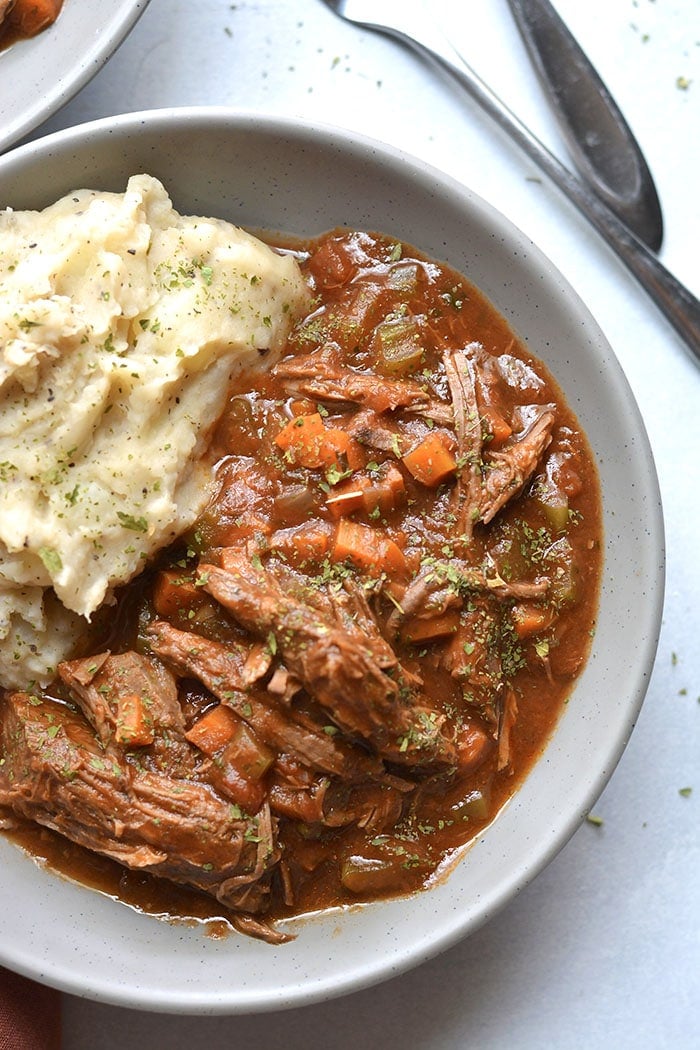 Healthy Crockpot Ragu
This easy beef ragu recipe is also gluten free, Paleo and Whole30 friendly. Here's a few more nutritional reasons why I love it!
Low Calorie - The recipe is calorie conscious with a few simple tweaks I made. Calories are important for weight management and feeling your best. As always, calories are not as important as what nutrition makes up those calories. This recipe is 342 calories per serving.
High Protein - 32 grams of protein per serving in this recipe which is fantastic. Protein keeps hunger away and makes you feel fuller. You even burn a small number of calories when you eat protein. Protein is something all my weight loss clients are deficient in and it really is important not only for weight loss, but overall health.
Lower Carb - Being carb conscious is something I talk about in my podcast and with my clients over 35. The carbs in this recipe are only 16 grams per serving and that is coming from all the veggies!
Higher Fiber - Each serving is 3 grams of fiber. Fiber is very important for weight loss and hormones. The fiber in this recipe again, is coming from all those yummy veggies.
Gluten Free - All ingredients are gluten friendly.
Paleo / Whole30 - All ingredients are dairy-free and grain-free.
Healthy Slow Cooker Ragu Recipe Ingredients
You don't need any fancy ingredients to make this Healthy Beef Ragu recipe. This is a wine free version making it Paleo and Whole30 friendly. The cranberry juice (or pomegranate juice) is the ingredient that makes this recipe super flavorful and delicious so, don't skip it! Check the substitutions section below for more options. Here's what you need to make this comforting dinner recipe in a slow cooker!
Beef Chuck Roast (I got mine from Butcherbox)
Cranberry Juice or Pomegranate Juice
Dairy Free Milk
Vegetable Broth
Carrots
Celery
Onion
Garlic
Diced Tomatoes
Tomato Paste
Dried Parsley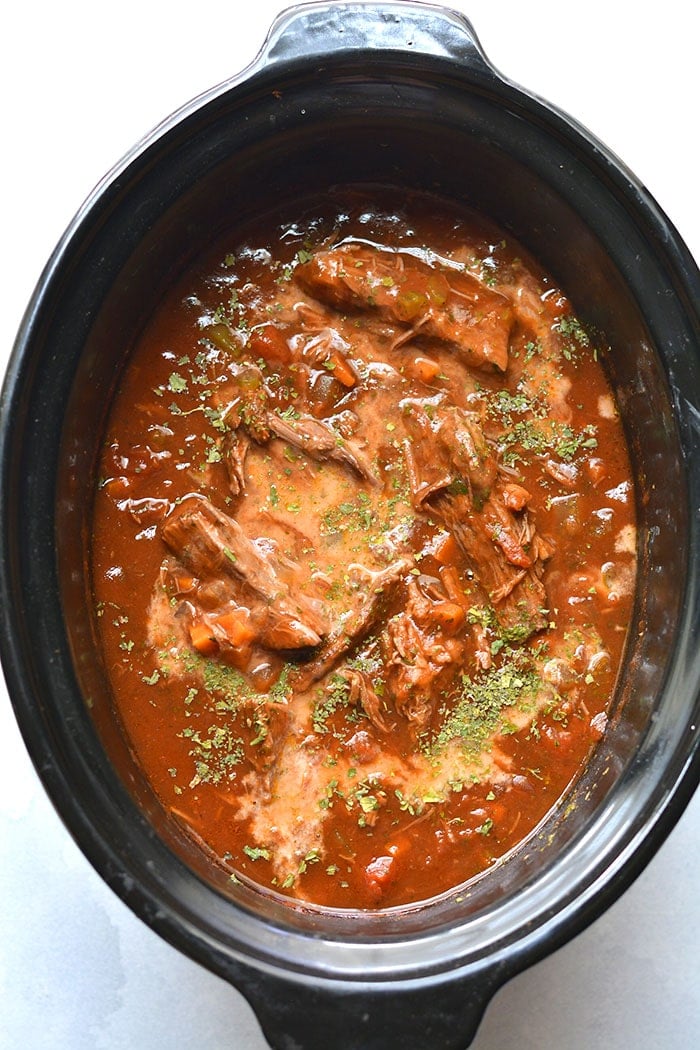 How To Make Beef Ragu In a Crockpot
Making this gluten free beef ragu recipe is super simple! All you have to do is add the ingredients to a crockpot and let it cook! The only prep required is chopping the veggies.
I roughly chop the onions, celery and carrots then pulse in a food processor to make the prep faster and easier. I always prep my veggies the day before so I can simply add all the ingredients to the slow cooker in the morning.
Some people prefer to sear the beef chuck roast in a sauté pan prior to slow cooking, but I've never done that. I find the roast to be tender and perfect simply from slow cooking.
You will know your roast is done cooking when you can shred the beef easily. If you're in a hurry, you can use a kitchen scissors to cut the beef into smaller chunks. I also recommend you thicken the sauce at the end with an arrowroot powder mixture. This is optional, but highly recommended!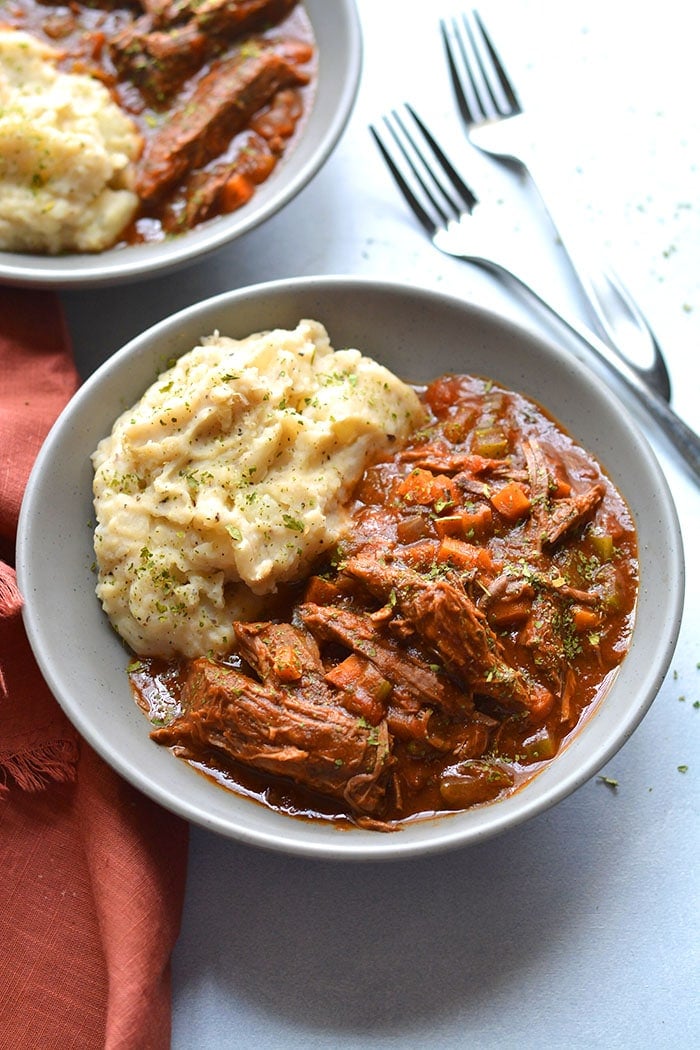 What To Serve With Beef Ragu
I serve my healthy ragu with cauliflower mash. Because beef ragu is higher in fat content, I like to balance the nutrition with a side that is lower in carbohydrates. This helps to control the overall amount of calories you consume. Very important when trying to lose weight!
Zucchini noodles, cauliflower rice, plant-based pasta like lentil or chickpea, healthier mashed potatoes or another vegetable noodle like butternut squash noodles would all be excellent with this recipe!
Substitutions For Healthy Crockpot Ragu
Here are substitutions you can make with this recipe. Remember that when you make substitutions, this will change the nutrition data which means it will be different from what you see below.
Beef Chuck Roast - Chicken breast, whole chicken, turkey tenderloin or another cut of beef may be substituted.
Almond Milk - Any milk may be used. To keep it Whole30 and Paleo friendly, a dairy-free milk should be used.
Juice - I used a sugar-free cranberry juice sweetened with stevia. You can also use pomegranate juice - this keeps it Paleo and Whole30. Red wine may be used in place too.
Diced Tomatoes - Fresh tomatoes or whole peeled tomatoes can be used.
Tomato Paste - Tomato sauce and tomato puree can be substituted.
Parsley - I used dry, but you can use fresh too. Basil, oregano, chervil and arugula may also be added or substituted.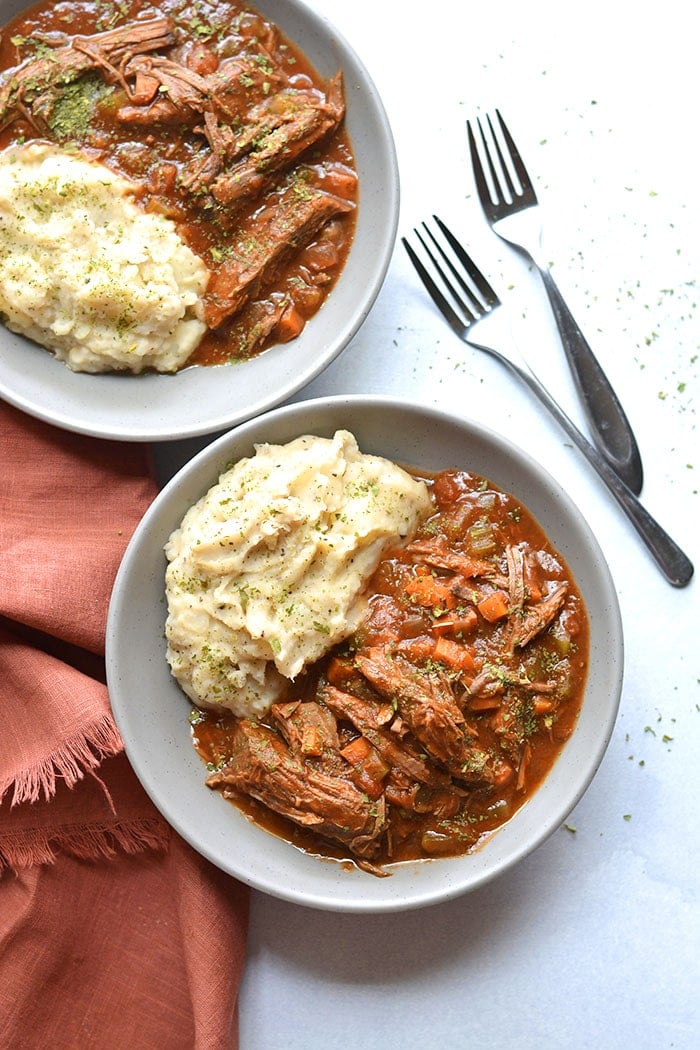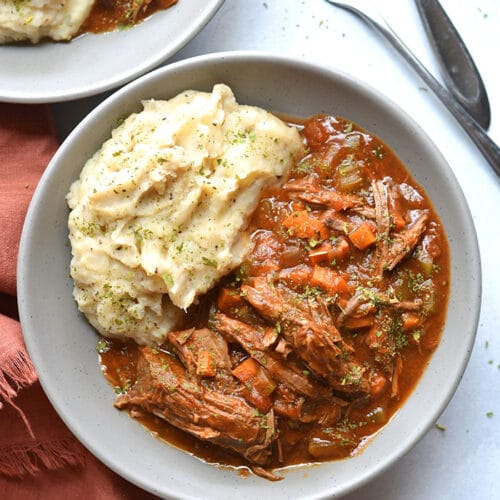 Healthy Crockpot Ragu
Healthy Crockpot Ragu is loaded with veggies and protein. A cozy meal that's incredibly hearty and delicious, gluten free, low calorie and Paleo friendly! Perfect for meal prepping ahead of time or for a weeknight meal that's virtually effortless. Gluten Free + Paleo + Whole30 + Low Calorie
Instructions
Place the beef chuck roast in the slow cooker along with the other ingredients. I recommend slicing off any excess fat from the roast before placing in the slow cooker. Mix the ingredients together.

Cover and cook on low for 8 hours or high for 4 hours. The beef should shred easily when it's finished. If it does not shred, it needs to cook longer or you can cut with a kitchen scissors.

Store in the refrigerator up to 7 days or in the freezer up to 60 days.
Nutrition
Serving: 1servingCalories: 342kcalCarbohydrates: 16gProtein: 32gFat: 18gSaturated Fat: 8gPolyunsaturated Fat: 2gMonounsaturated Fat: 9gTrans Fat: 1gCholesterol: 104mgSodium: 410mgPotassium: 1086mgFiber: 3gSugar: 10gVitamin A: 4182IUVitamin C: 18mgCalcium: 104mgIron: 5mg