This post contains affiliate links. As an Amazon associate I earn qualifying purchases. Click here for more about this policy.
Bring on the healthy casserole recipes! The winter season is my favorite for cooking hearty meals. Soups, casseroles and hearty slow cooker meals are my idea of pure comfort food!
Most people associate cold weather with comfort food. I sure do! The perfect cold weather meal to me is one packed with protein, vegetables and a complex carb or grain. Nutritious, warm, nourishing and filling ingredients.
Many of my clients think comfort food is pizza, hamburgers and fries and while there is a time and place for eating those things, nutritious meals can be comforting and delicious. I'll show you how with these easy and healthy casserole recipes!
Do you have a favorite casserole recipe or one you would like me to re-create? Drop in the comments and let me know!
Healthy Casserole Recipes
Chicken Enchilada Quinoa Casserole! A wholesome, low sugar casserole packed with protein and incredible flavor. Super easy to make ahead of time and family approved! Gluten Free + Low Calorie
Creamy Chicken Potato Casserole! A comforting meal with potatoes, chicken and a dairy-free cream sauce. A simple, wholesome Paleo dinner that's easy to make and Whole30 friendly. Paleo + Gluten Free + Low Calorie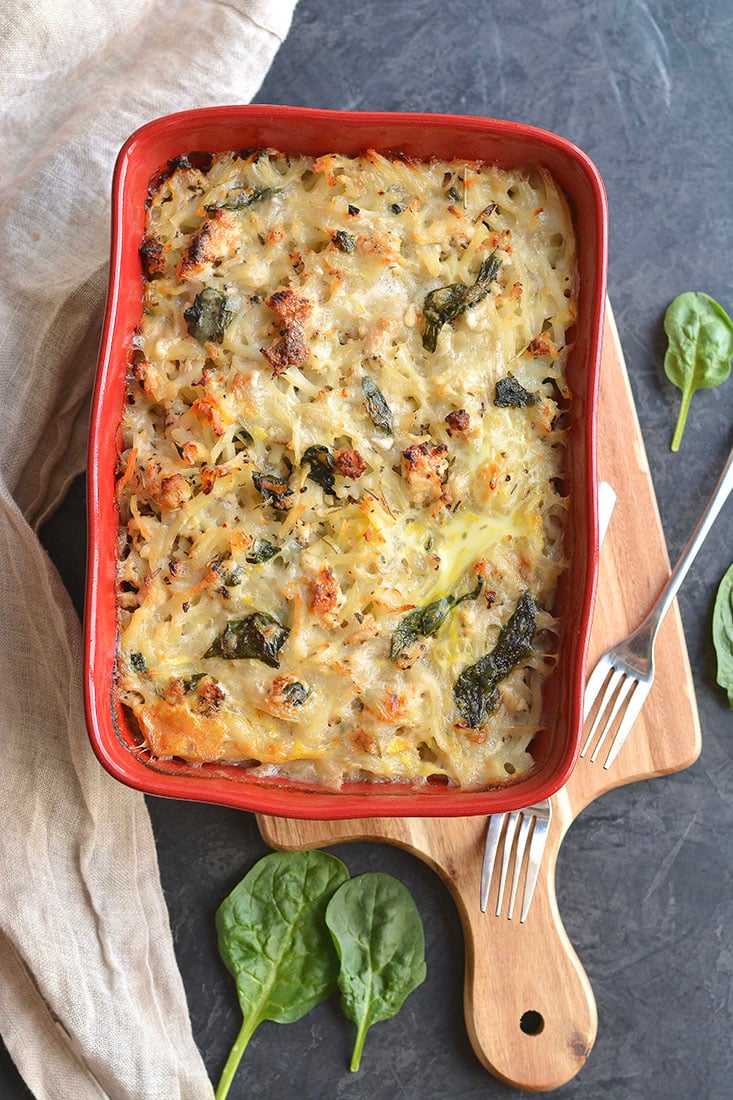 Paleo Spaghetti Squash Lasagna! A healthy casserole perfect for a make ahead meal. Easy to make, packed with protein, feeds a crowd and is freezer friendly! Gluten Free + Paleo + Low Calorie
Low Calorie Italian Casserole made with zucchini, brown rice and artichokes is an easy, make ahead freezer casserole. A nourishing, healthy dinner that's filling and bursting with Italian flavorings. Gluten Free + Low Calorie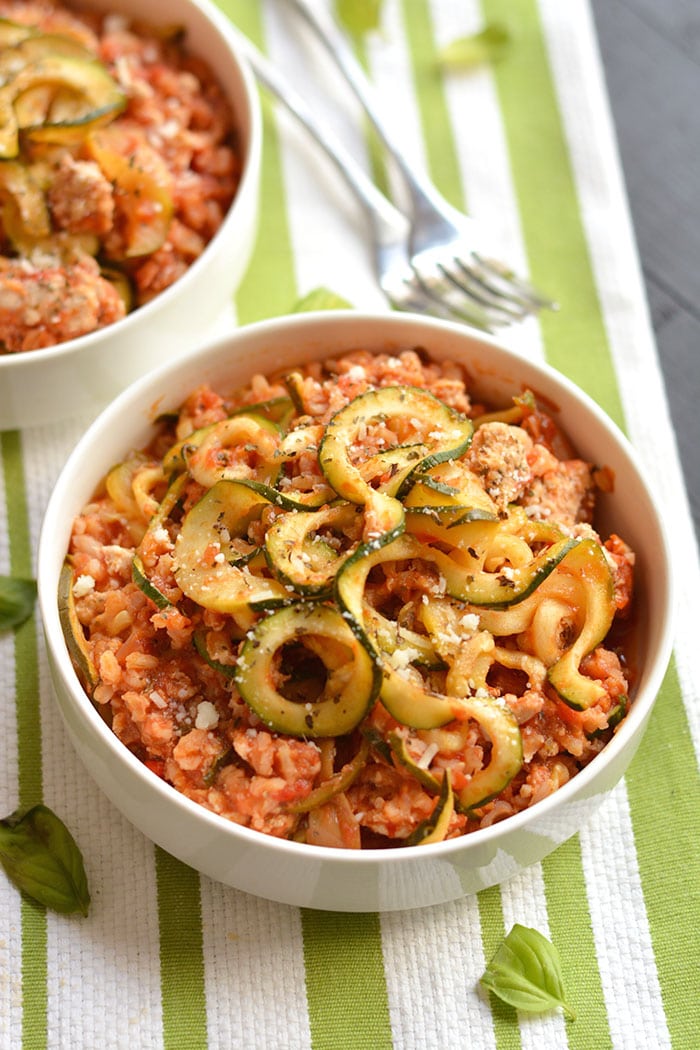 Meal Prep Sausage Pepper Pizza Casserole! Quick veggie-protein loaded casserole with a touch of cheesy goodness on top. A filling and flavorful low carb meal for lunch or dinner! Gluten Free + Low Calorie + Low Carb
Low Carb Taco Salsa Casserole is a wholesome, protein packed meal with a kick! Super easy to make ahead, delicious and family approved! Low Carb + Paleo + Low Calorie + Gluten Free
Easy and healthy Mexican Quinoa Casserole! Made with black beans, chicken and array of vegetables, this is tasty dish is one the entire family will love! Gluten Free + Low Calorie!
Paleo Turkey Sweet Potato Casserole layered with eggplant, tomato, bright herbs and a nutty sauce. A protein packed dinner that's super easy to make!
Pork Chops Wild Rice Casserole recipe that's quick to make with a few simple ingredients! A healthy meal that's naturally gluten free, light and packed with flavor. Gluten Free + Low Calorie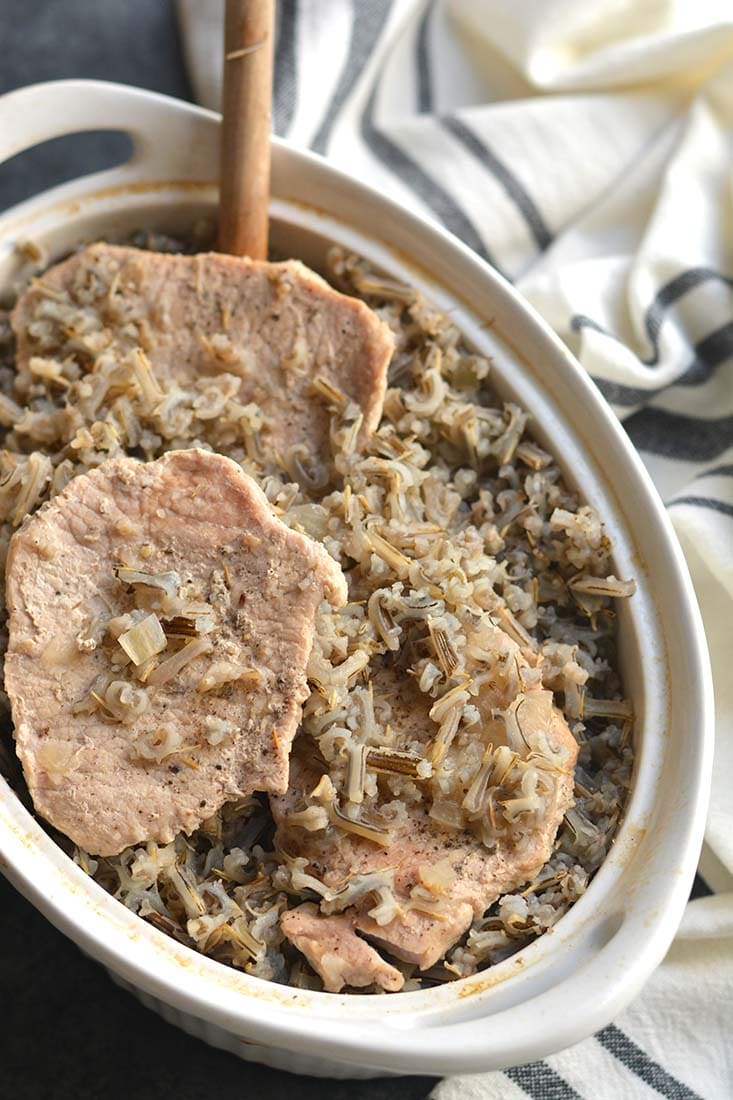 This Cashew Chicken Bake is a simple, one dish dinner packed with protein and vegetables. A healthy gluten free, low calorie meal the whole family will love! Gluten Free + Low Calorie