My whole life I've always asked myself "Why do I have to be different? Why can't I just be like everyone else?" Why I am faced with this chronic illness, avascular necrosis that has held me back physically from so many things I know my body is capable of?
Why I am a 38-year old who isn't married? Why do I have to be different from my friends and not have a husband to lean on when I desperately need that support and why do I feel so much shame for being single?
Why was I in a car accident last year that turned my world upside down and forced me to make major changes in my lifestyle and career? Why was I faced with the burden of suffering hormone imbalances and being diagnosed with an autoimmune disease on top of everything I was already dealing with?
Why? Why? Why? Why me? Why do I have to be different?
I just want to be normal. I don't want to have weird things happen to me that set me apart from others and open me up to challenge, scrutiny and judgement, and believe me, a fair amount of that judgement comes from myself. Either way, I'm tired of having to fight harder than the average person to live a healthy life.
I just want to be like everyone else, not someone who's different.
I just want a day where I don't have to think about how to modify a workout around my crappy leg, a day when I can get in and out of car in less than 5 minutes without my hip jolting out of place or have someone ask me why I limp. I want a day where I can run free in the mountains, do burpees until I turn blue. Okay, so maybe not those.
Why do I have to be different?
Everyone is prescribed their own dose of challenge in life and people say you're not given more than you can handle, but I can safely say I'm at my limit. The challenges I've been faced with are beyond what one should be expected to endure in a lifetime and I'm tired. Tired of being faced with many physical challenges. Tired of being judged. Tired of fighting for my health. Tired of feeling alone in this journey. I'm just tired.
Then I remember.
I remember the extraordinary places I've been and seen in 38 years of life.
Completing more than a dozen half marathons with a cruddy hip.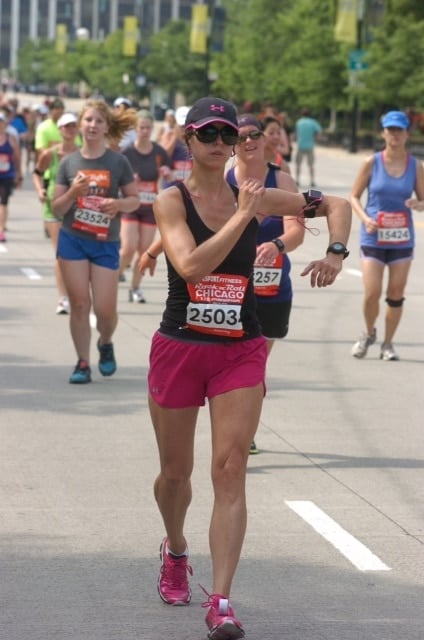 Losing 80 pounds walking on the beach.
Teaching a kid to swim and having them tell me how much they love me.
Teaching a spin class and having everyone in the class tell me what an awesome instructor I am.
Being blessed by connecting with inspirational people every day all over the world doing something I love.
Why do I have to be different?
So I can remember. Because sometimes when you're trying to escape the messy cobwebs of life, you forget. You forget how many remarkable things you've been blessed with.
What have you been blessed with? Do you feel like you're different?
[Tweet "Never forget the remarkable things you're blessed with #selfcare"]