Sour Cream Blueberry Muffins! Made lighter with sour cream, applesauce, dairy-free milk, and gluten free flour, these delicious low calorie muffins are perfect for starting your day. Gluten Free + Low Calorie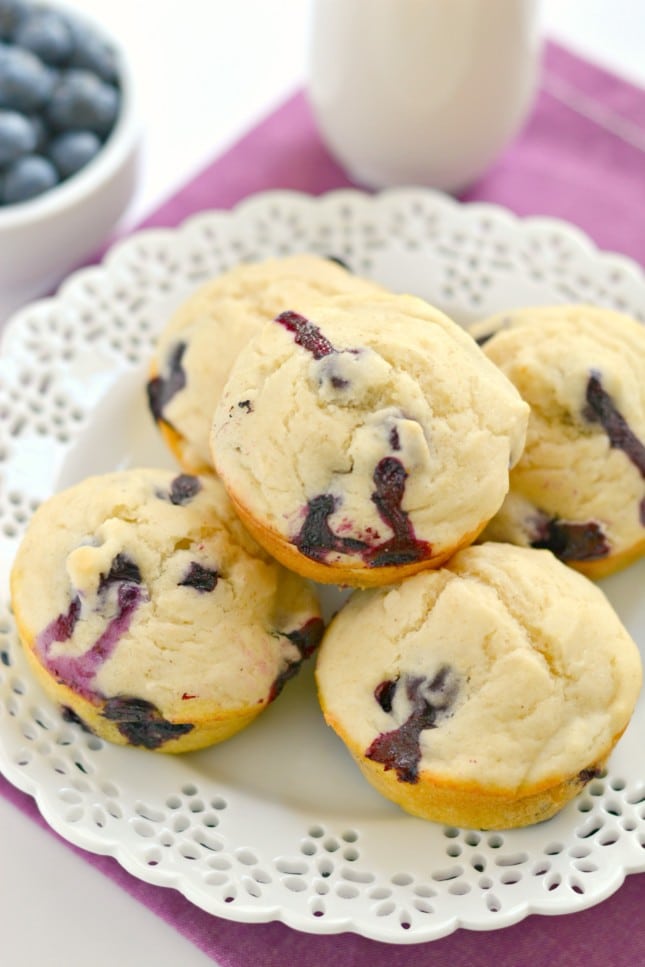 Hi Guys! Hope you had a nice long weekend. It was a low key staycation for me. I wasn't feeling well and spent more time resting than I expected. Back to the grind today. Thankfully long weekend means short work week. I thought I'd save the usual Monday recipe for today since most of you were off having fun yesterday and this is one you sure don't want to miss!
I have to tell you it was wonderful having the entire weekend to myself. I didn't quite get through all my sticky notes over the weekend, but that's ok. I wasn't feeling great and I've been feeling unmotivated lately. I can't quite put my finger on it. I'm tired and just unfocused all around.
I've been finding it difficult to write. Sometimes you get into funks, but this is abnormal for me. I stared at 10 different recipes last weekend trying to figure out which one to post today. Procrastination at it's finest! I find when I have too many options staring me in the face I have no decision making capability whatsoever.
The only thing that snaps me out of it is working out or cooking. So that's exactly what I did. I worked out then I made a bunch of food and somehow the words came to me. There was just one problem
I couldn't decide on the pictures! You know when you go to the eye doctor and they swivel the lenses asking you "option 1 or option 2 or option 2 or option 3?" You're thinking to yourself how alike they are yet somehow different? That's exactly how I feel about pictures. They're similar yet subtly different. It can drive a person crazy and on top of it I'm a perfectionist. I wish I could disconnect that quality of mine sometimes.
Something I could never do is be one of those bloggers who post the "day of" aka write a post the same day you publish it. I know some who do this and truthfully, they are my heroes. I realize some don't have a full time job in addition to blogging, but even still I could never imagine blogging under that pressure. It's hard to get the words out sometimes! They're either jumbled in your head or not there at all.
Then when you consider the recipe aspect of blogging, there's just no way a same day post would happen. Now that fancy pants and I are getting along, I'm spending more time on my shoots and getting pickier about them too. This means 50-100 shots for one recipe to review to find the 3 or 4 photos I'll actually use then edit & draft in post.
I usually save the photo reviewing for late in the evening when writing has no possibility of happening. Weird how we are wired to do certain things at certain times of the day. Something I can do any time of day is cook. It could be 2 in the morning or 10 at night and I could cook. Ok, maybe not late at night because I'm an old lady and I go to bed at 9.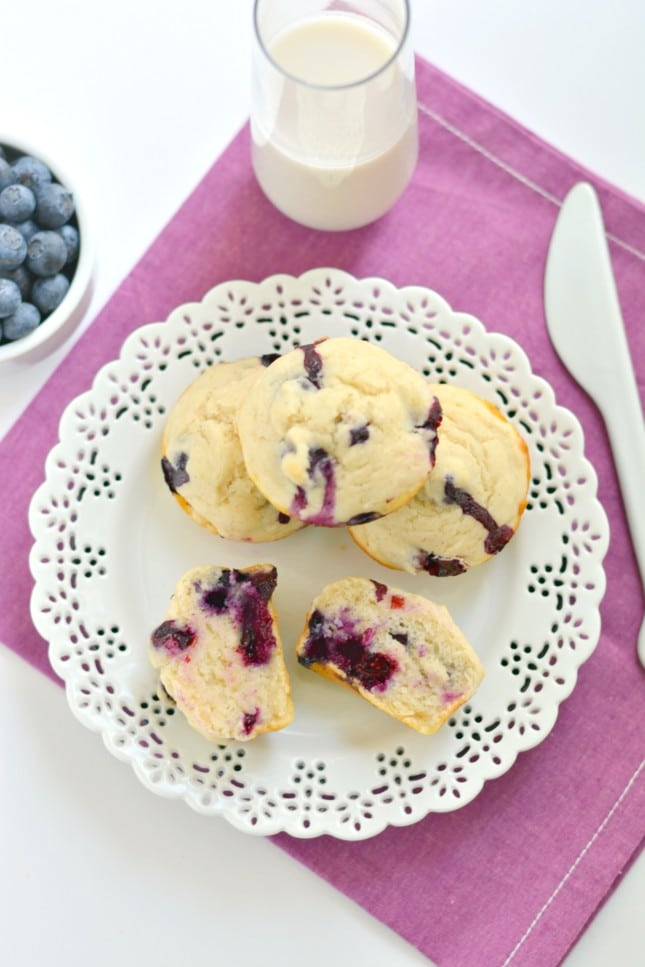 Now for these muffin. They're not dairy free, gluten free, paleo or even vegan. They're just regular old muffins lightened up with light sour cream that happen to be delicious. Who would think sour cream would make such an amazing treat? Hope you love them!
Sour Cream Blueberry Muffins
Sour Cream Blueberry Muffins! Made lighter with sour cream, applesauce, dairy-free milk, and gluten free flour, these delicious low calorie muffins are perfect for starting your day. Gluten Free + Low Calorie
Prep Time 10 minutes
Cook Time 20 minutes
Total Time 30 minutes
Servings 12 muffins
Calories 99 kcal
Instructions
Preheat oven 400 F. Prepare a muffin tin with nonstick cooking spray or muffin liners.

In a small bowl, combine applesauce, egg white, sour cream, applesauce and vanilla.

In a larger bowl, sift the flour together (measured properly) with sugar, salt and baking powder. Add wet ingredients slowly to dry ingredients and combine well. Fold blueberries gently into the batter.

Add the batter to muffin cavities filling ¾ of the way full.

Bake 18 minutes or until a toothpick can be inserted clean. Remove from the oven and place on a rack to cool.
Course Breakfast, Snacks
Cuisine American
Keyword blueberry, blueberry muffin, gluten free, gluten free flour, healthy, low calorie, muffin, sour cream
Nutrition facts per serving (1muffin)
Calories 99 kcal
Fat 1 g
Saturated Fat 0 g
Cholesterol 3 mg
Sodium 82 mg
Potassium 123 mg
Carbohydrates 20 g
Fiber 1 g
Sugar 6 g
Protein 2 g
Vitamin A 40 %
Vitamin C 1.3 %
Calcium 68 %
Iron 0.7 %
Meal Plans
Get a meal plan designed to meet your weight loss goals.
Learn More