This post contains affiliate links. As an Amazon associate I earn qualifying purchases. Click here for more about this policy.
Because I've had so many stress fractures over the past 3 years and was recently diagnosed with another one, it's easy for me to forget how hard dealing with a stress fracture can be for those who've never dealt with one before. That's where this post is coming from today to share with you how to recover from a stress fracture. Before jumping into the how, here's a recap of how I got here.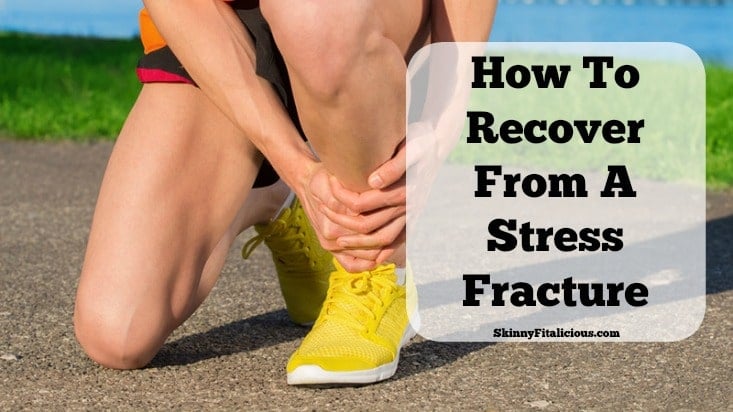 Since 2014, I've battled numerous stress fractures. I've seen MANY doctors with no definitive answer. They all assume it's been due to osteopenia, avascular necrosis and having amenorrhea. As a side note, I had amenorrhea for 2 years caused by psychological stress and being on birth control since I was 16 (certain birth control pills cause menstruation to stop in some women). In 2015, my hormones improved and I was able to get my period back naturally.
Now that you understand my history with stress fractures, here are some things I do to recover from stress fractures. Please note that while I am a nutrition practitioner and certified health coach, I am not your doctor. What works for me, may not work for everyone. 
How To Recover From A Stress Fracture
Take Collagen
I've talked countless times how much I love Vital Proteins collagen. What's collagen? A protein found in animal tissue that supports joint, bone, skin, hair and hormone health. I put it in my coffee everyday. It's an easy way to increase your lean protein which is so important for bone remodeling!
Take Vitamin C
One invaluable thing I learned in nutrition school these past 18 months was the value of vitamin C in healing the body. All my courses are taught by physicians, and this is something we spoke of extensively in many of my classes. I also read a lot about it in this book. This is the best book I've ever seen on supplements and it discusses the conditions they should be used for in depth. I consider it my PDR (physician's desktop reference) when coaching my clients.
Rebalance Macronutrients
One of the first things I do when I'm injured is rebalance my macronutrients to increase lean protein intake. Lean protein supports the body in rebuilding bone tissue. When you're injured, the challenge is eating enough protein for bone remodeling and less carbohydrates to prevent weight gain because you're normally not working out. I like this Clean Vega Protein to get more plant based protein!
[AdSense-A]
This time I asked Kelli to calculate my macronutrients. While I could have done it myself as a nutritionist, having someone else do it for me keeps me accountable and more likely to follow through with it then if I were to do it myself. I firmly believe every good coach, needs a coach and that includes me!
Evaluate Nutrition
Whenever I'm injured, I reflect on how I have been eating in recent months. The months leading up to my new injury, I was stressed with school and snacking a lot instead of eating real meals. Being injured, helped me identify that I needed to get back to eating three balanced meals a day and cut out the less nutrient dense foods. I look at an injury as an excuse to spring clean my diet! I also check to ensure I'm getting enough calcium, magnesium and vitamin D and not taking it with things that cause it to absorb less.
Reduce Processed Food Intake
While I don't consume a lot of processed food, I always take an injury as an opportunity to check my sugar intake. Consuming too much refined sugar, chemical preservatives, artificial sweeteners and processed foods can cause chemical imbalances in the body (source). This may cause the body to leech calcium from bones to restore balance. While my body is healing, I try to avoid chocolate and sweets to prevent calcium loss. Anything I can do to help my body heal faster!
[AdSense-A]
Physical Therapy
An injury is a good time to see a physical therapist to get evaluated for imbalances. Often injuries are from overuse, but can be from muscular or skeletal imbalances. For myself, many of my injuries stemmed from my bad hip and other parts of my body accommodating for those imbalances. Over time, those other parts of the body give out. It's good to have someone evaluate and make you aware of them so you can correct the behavior and prevent the injury rom re-occuring.
Rest
I know this is one you don't want to hear, but rest is the best way to recover from a stress fracture. In the past, I always tried fighting my stress fractures by working around them with whatever form of exercise I could tolerate.
This time when I felt the stress fracture pain come on, I immediately stopped doing all cardio except swimming. I even put myself on crutches until I could see the orthopedic. Doing those two things, I prevented the injury from progressing from a stress reaction to a stress fracture which meant I was able to shorten my recovery from 6 to 3 weeks. That's a huge!
For many, I know rest is difficult so here's a few tips.
If you're scared about losing fitness, do other forms of fitness. Swimming is non-weight bearing and the water helps with healing. Pilates and barre floor work are other great options too depending on the type of injury.
If you're scared about gaining weight, flip your mindset and tell yourself by not working out you're de-conditioining your body. I know this sounds weird, but hear me out. The body is highly adaptable to exercise so if you've been doing the same thing for a long time, chances are you've hit a plateau. Taking a break is a good thing because once you start working out again you'll be able to easily drop weight and/or get the fitness results you've been trying to achieve.
If you're scared about gaining weight, work with a nutritionist on your nutrition. Your food choices influence how your body looks more than your workouts. Now is a good time to rebalance macronutrients to help your body recover and prevent weight gain!
3 Smart Strategies To Stop Cravings
[Tweet "Dealing with a stress fracture? Here's a few tips to recover! #injury"]