Light vegan, gluten free Raspberry Chocoholic Buckwheat Pancakes filled with warm raspberries & bursting with chocolate that's grain & dairy free. A breakfast delight that will trick any chocoholic into eating healthy. Gluten Free + Vegan + Low Calorie Healthy Recipe
Hope you had a refreshing weekend! Mine was a wet one here. Rainy and cold (cold for Phoenix standards). Not a great weekend for the Super Bowl festivities around town, but it gave me a guilt-free excuse to stay in, relax and eat all the comfort food. I'm trying to keep my food act clean. The weekend mood didn't help, but I don't feel that guilty because I'm eating real, whole foods and giving my body nutrients it needs to heal.
I'm happy to report my ankle is on the mends. It's feeling good and been able to tolerate little cardio I've been adding to my workouts. I've been wearing the boot half days for two weeks to gradually get it used to weight bearing again. Last week I was out of it completely 3 days and it felt good. By the 3rd night, it began to swell a little though. It was gone the next day, but scared the crap out of me. The orthopedic warned me ankle injuries can be pesky. I wonder how long it will be until I'm not scared of hurting myself again.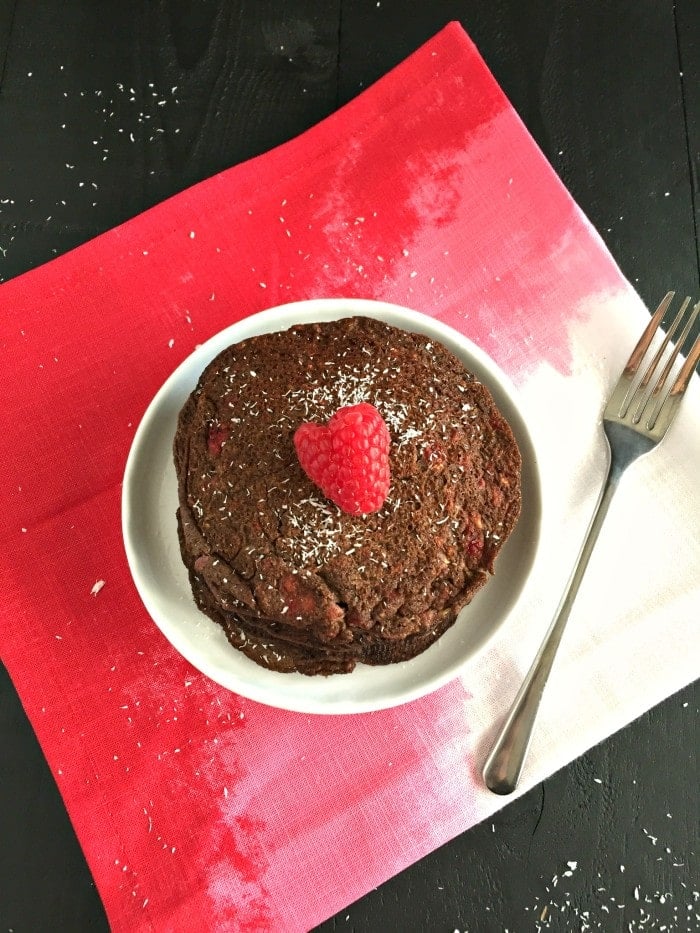 I just pray this heals and doesn't go on repeat. Wearing the boot is causing other issues with my femur, hip, back, calf and plantar fascia. The whole thing is a mess. I get a lot of cramping whenever I sit too long like at work, in the car, blogging, etc.
When this was finally diagnosed in December, Sunday became my new rest day. No working out, no strength training, no stretching, no nada. But that backfired on me. I noticed two weeks ago during my Monday workouts my joints were very stiff. Even stretching hurt. My therapist noticed it too when I tried to get out of a chair. She told me I have stay active as I'm transitioning out of the air cast.
The good news is everything feels really strong. I can tell a huge difference between this injury and the last one. Part of me suspects the ankle was weakened by my foot injury last year. The foot was weak and it put too much pressure on the ankle as the foot healed.
Things feel so much more normal now vs then. I never felt quite right last year when I was told my foot injury was healed. I couldn't put my finger on it, but nothing felt like it should. I can't help but look back now and think this ankle thing was brewing for months. A lot longer than when I realized something was wrong in October, but couldn't find a doctor who would help. After Valentine's Day, I should be in the clear with the ankle. Crossing my fingers the swelling last weekend was just a fluke.
In other injury news, that elbow continues to be a pain in the you know what. Last week my therapist told me I need to see a specialist. I gave her a huge sigh and crazy face too. Certain motions are vomit worthy (like when she works on it) and it burns certain weight bearing activities. For example, I can lift triceps, back, chest and shoulders but forget biceps. Not happening.
The joint is constantly swollen. I wouldn't be surprised if it were another stress fracture with how fragile my body is. I haven't made an appointment yet, but I guess I need to. Can you really blame me? I never get answers when I do see doctors. I promise I'll make one if you promise to make these pancakes for Valentines Day. Deal?
Now that the Super Bowl's over, we can focus on Valentine's Day which is quickly sneaking up on us. I highly recommend you make these light buckwheat pancakes for your loved one. Buckwheat is a very fine grain that's naturally gluten free, has tons of fiber and is a good source of calcium and protein. It has a unique, nutty flavor.
So if you're not into nuts, no big deal you can substitute this with any flour and they'd be just as delicious. I made these for Mom & I a few Sundays back and she loved them. So go make yourself some Mom approved pancakes. After all, it's Meatless and it's Monday!  <3
3 Smart Strategies To Stop Cravings
Raspberry Chocoholic Buckwheat Pancakes
Light vegan pancake filled with warm raspberries and bursting with chocolate that's grain and dairy free. A breakfast delight that will trick any chocoholic into eating healthy.
Prep Time 10 minutes
Cook Time 20 minutes
Total Time 30 minutes
Servings 8 pancakes
Calories 96 kcal
Ingredients
1 small banana very ripe
3/4 cup coconut milk unsweetened
2 flax eggs to make -> 2 tbsp flax meal & 6 tbsp water
1/2 cup buckwheat flour
1 tsp baking powder
2 tbsp cocoa powder unsweetened
1/2 cup raspberries fresh
Optional Toppings: 2 tbsp unsweetened shredded coconut mini chocolate chips (I use Enjoy Life) raspberries & bananas
Instructions
In a ramekin or small bowl, make flax egg. Set in refrigerator 30 minutes until it becomes an egg-like consistency.

Using a standing or hand mixer, combine banana, flax egg, almond extract & coconut milk until banana is mashed & combined well.

To the mixture, add buckwheat flour, baking powder & cacao powder to banana & combine thoroughly.

Add raspberries to the mixture smashing slightly by hand until broken up into bits throughout the batter.

Heat a frying pan over medium heat & spray with cooking spray.

Using a 1/4 cup measuring cup, scoop mixture onto pan & cook 3-4 minutes before until pancakes begin to bubble. Flip carefully (buckwheat flour is light, I found 2 spatulas helped with flipping)

Cook another 1-2 minutes on the other side then remove and cool on a rack briefly to allow pancakes to fully set.
Course Breakfast
Keyword buckwheat, chocolate, gluten free pancake, low calorie pancake, pancakes, raspberry
Nutrition facts per serving (1pancake)
Calories 96 kcal
Fat 6 g
Saturated Fat 4 g
Cholesterol 0 mg
Sodium 5 mg
Potassium 241 mg
Carbohydrates 10 g
Fiber 2 g
Sugar 1 g
Protein 2 g
Vitamin A 5 %
Vitamin C 3.1 %
Calcium 44 %
Iron 1.5 %
Custom Meal Plans
Work with Megan to develop a custom macro or standard meal plan to reach your goals.
Learn More
What I Used For The Recipe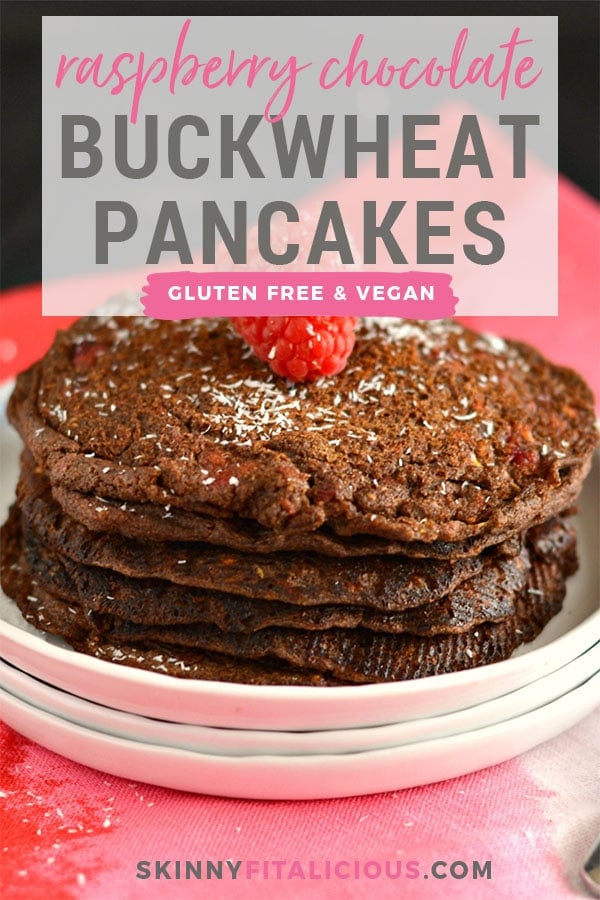 [shareaholic app="share_buttons" id="27416563"] [shareaholic app="recommendations" id="27416571"]