This post contains affiliate links. As an Amazon associate I earn qualifying purchases. Click here for more about this policy.
A simple Paleo Granola made of almonds, seeds, shredded coconut and lathered in coconut oil and honey. A nutty and seedy homemade snack that's irresistible and seriously addicting! Gluten Free + Paleo
I really need to start writing down my recipes. I'm usually good about jotting them down in my notes app while I'm making them or updating them in an excel file I use for drafting recipes BUT lately that really hasn't been happening.
Actually not so much lately, more like a bad habit I picked up around the holidays when life was crazy and I was still recovering from a fractured tibia.
Now two months later, I go to post this Paleo Granola thinking the recipe's already there waiting for me in my drafts with the photos.
However, I'm left scratching my head wondering where I wrote down the recipe and looking at the photos knowing I could do this delectable Paleo Granola a lot more justice! I swear if I didn't have a blog I'd have no idea what's in anything.
SOOOOOO friends that meant I had to make this Paleo Granola not one, but three more times to make sure I got everything just right and to get the very best shots too. Not that I really minded though. This grain free granola is ridiculously delicious!
The truth is I had to make it so many times because I kept sneaking bites here and there while I was shooting. That's one of the hazards of food blogging by the way. Then Mom had been sneaking see too and suddenly there was nothing left to shoot. It's THAT addicting!
But who am I kidding? I didn't mind! In fact, I'd gladly make this mouthwatering granola a thousand times over if it meant getting another bite of this crunchy, honey lathered, nutty, seedy granola because this grain free Paleo Granola is simply irresistibly good!
Paleo Granola
Even if you're not Paleolithic and feeling reluctant about venturing away from your precious oats, (which believe me I fully understand!), you need to give this a try. It's the perfect balance of nuts and seeds mixed in coconut oil and lightly sweetened with honey.
The best part is it takes only 25 minutes in the oven and you get the satisfaction of knowing you're not eating any weird additives or hidden sugar like you find in many of the store bought kinds.
This is a great healthy granola snack to have on hand to sprinkle on yogurt, salads, smoothies or to snack on right out of the bag. This stuff is so good, I may start selling it myself!  I wonder what other good recipes I'll find missing?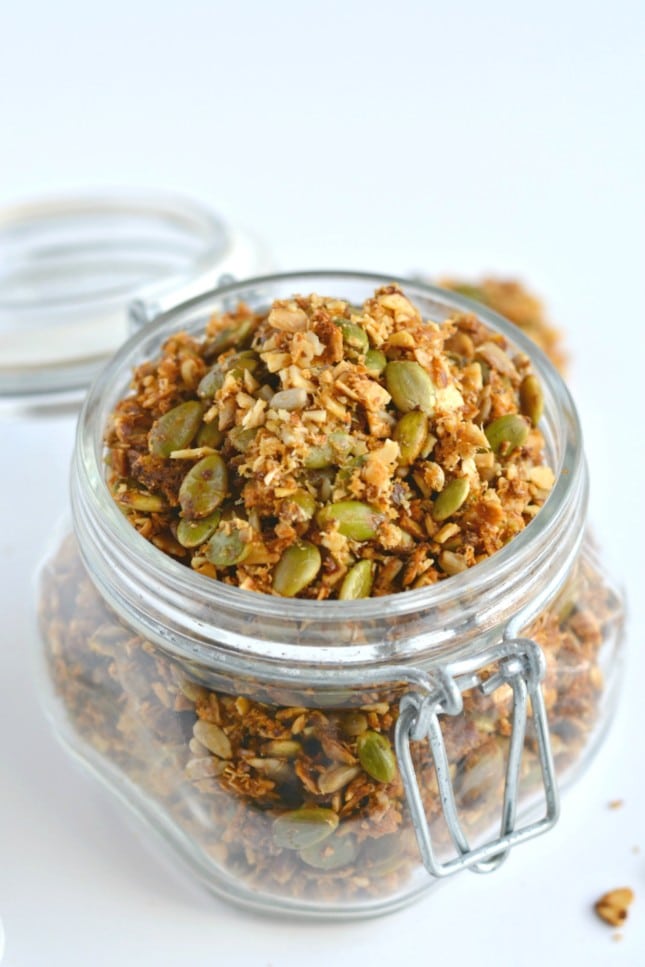 Paleo Granola
This super simple Paleo Granola made of almonds, seeds, shredded coconut and lathered in coconut oil and honey. A nutty and seedy snack that's irresistible and seriously addicting!
Instructions
Preheat oven 325 degrees F and prepare a baking sheet with parchment paper.

To a food processor, add slivered almonds & pulse until a granola like mixture appears this should only take a few seconds, do not over process.

In a large mixing bowl, add all nuts and seeds including pulsed almonds and shredded coconut.

In a small saucepan, heat coconut oil, vanilla & honey on low heat for 5 minutes. Pour the mixture over nuts and seeds to combine well.

Spread the mixture evenly onto the baking sheet and bake 20-25 minutes until slightly golden brown.

Remove from oven and cool 10-15 minutes, the granola will harden more as it cools.

Store in a container and enjoy for a few weeks.
Nutrition
Serving: 1tbspCalories: 135kcalCarbohydrates: 7gProtein: 4gFat: 11gSaturated Fat: 3gSodium: 1mgPotassium: 136mgFiber: 2gSugar: 4gVitamin C: 1mgCalcium: 35mgIron: 1mg
What I Used For The Recipe