Low Calorie Chocolate Hummus is a healthy snack or appetizer recipe made with real food ingredients designed to satisfy your sugar cravings in a healthy way! Gluten Fee + Low Calories + Vegan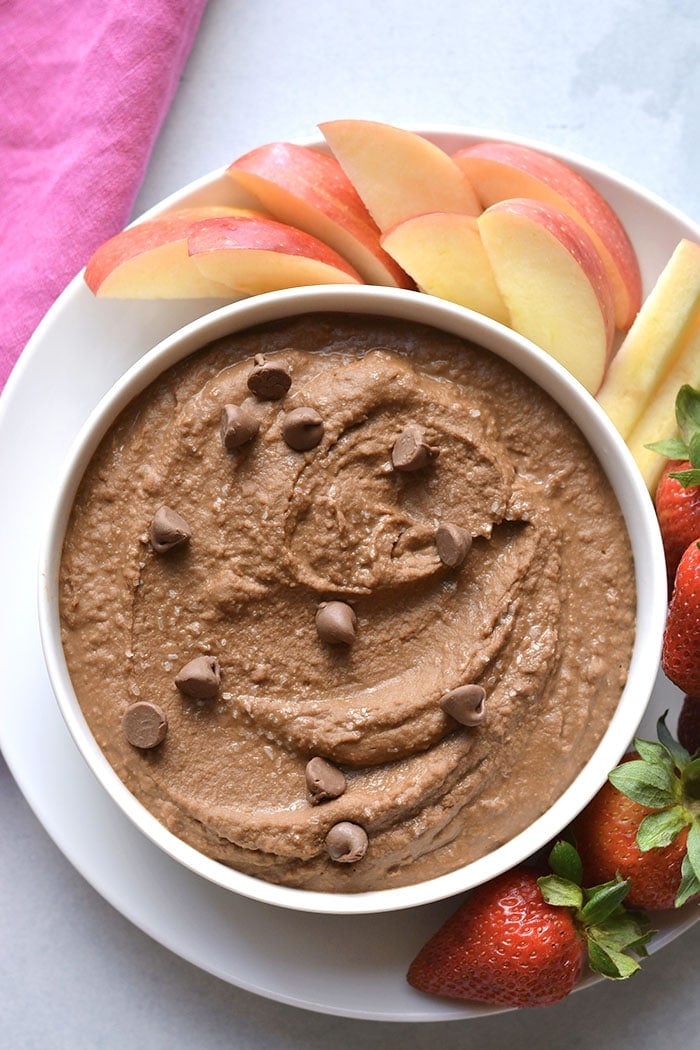 Craving chocolate? Oh do I ever have you covered with this yummy chocolate hummus made with healthy ingredients. You will love!
But first… let's chat about those pesky cravings. So where do cravings come from?
Too much low grade chronic-stress, not eating enough calories, exercising too much, eating too few carbs, not eating enough protein, restrictive mindset and eating foods that do not promote balanced blood sugar and balanced hunger hormones.
If you're battling cravings, consider these things and of course, if you need more help you can always schedule a breakthrough session with me.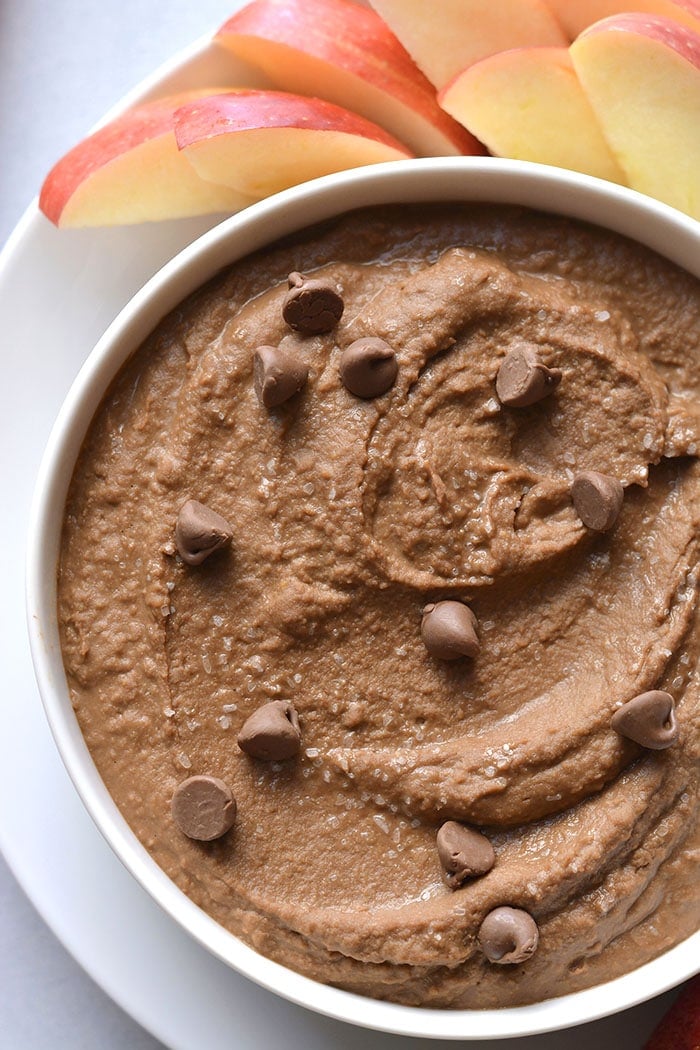 Healthy Chocolate Hummus
Well now that we got that out of the way dive into this chocolatey hummus recipe! Made with chickpeas, tahini, unsweetened cocoa powder, maple syrup and vanilla extract, it's an easy recipe to whip up in a food processor or blender when cravings strike!
Chickpeas are high fiber making them great for weight loss (I talk about this in my free training) and they're perfect for thickening this! Maple syrup boosts the immune system and lightly sweetens the deal. Tahini is a great source of healthy fat and makes the hummus creamy and delicious.
Unsweetened cocoa powder actually is a good source of minerals and antioxidants and gives this hummus its wonderful chocolatey flavor.
You'll never know this chocolate dip is made with healthy ingredients much less chickpeas. Great for picky eaters too!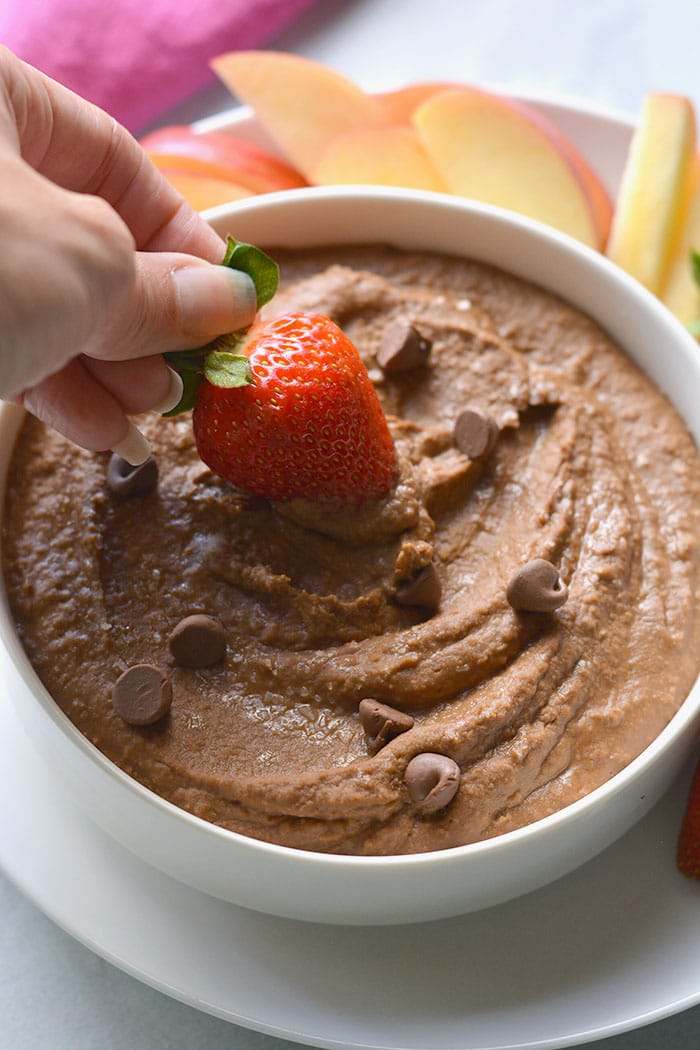 Ingredients for Chocolate Hummus
Garbanzo Beans
Unsweetened Cocoa Powder or cacao
Maple Syrup
Tahini
Vanilla Extract
Sea Salt
Water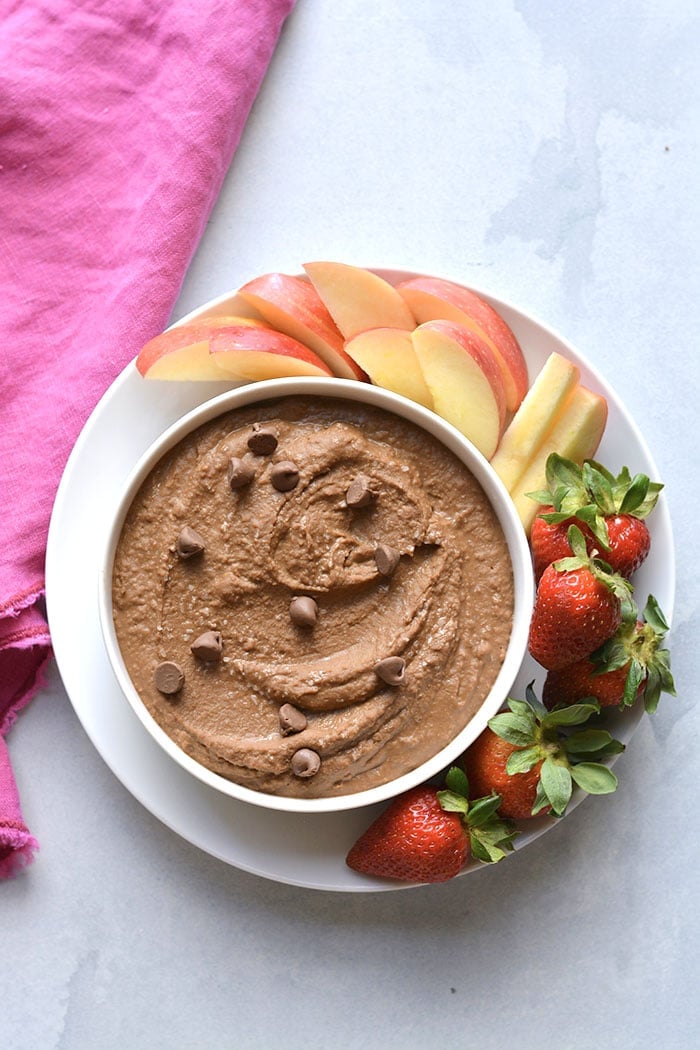 How to Make Chocolate Hummus Low Calorie
Controlling the fat and sugar content is key in making lower calorie chocolate hummus. We don't want to cut out all the fat because the body does need some fat for healthy hormones and weight management.
I swapped oil for water in this recipe to keep the calories lower while maintaining healthy fat with the tahini. You could of course, experiment with adding olive oil place of the tahini or swapping peanut butter for the tahini.
We also added a minimal amount of real maple syrup to sweeten the hummus. If you look at store bought chocolate hummus, it's loaded with added sugar. Too much added sugar increases cravings.
I never recommend using zero calorie maple syrups. The artificial sugars in them are designed to increase cravings more so than regular maple syrup. Remember, things that are free generally come at a cost.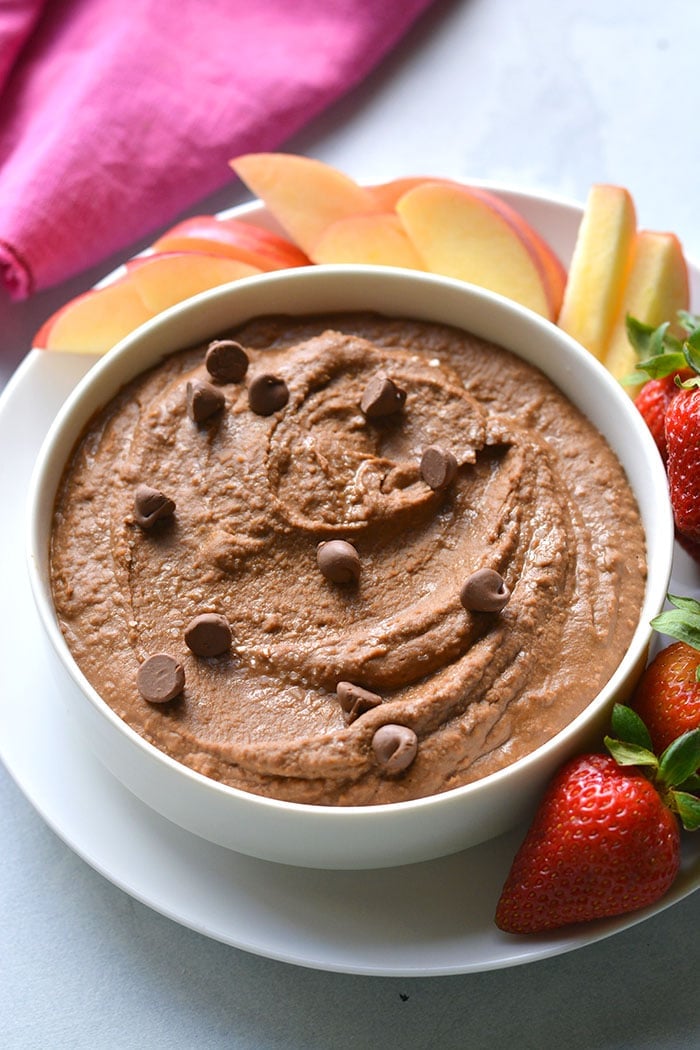 Feel free to add more or less maple syrup. The amount listed in the recipe is what works for me and everyone is different.
Serve your chocolate hummus with strawberries, sliced apples, gluten free pretzels or crackers. A great little snack that tastes more like dessert!
Low Calorie Chocolate Hummus
Low Calorie Chocolate Hummus is a healthy snack or appetizer recipe made with real food ingredients designed to satisfy your sugar cravings in a healthy way!
Prep Time 5 minutes
Total Time 5 minutes
Servings 12 servings
Calories 96 kcal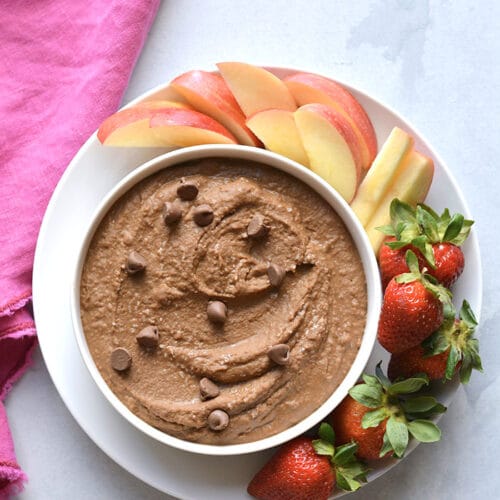 Instructions
Add all ingredients to a food processor or blender, blend on high until smooth. You can add more water than listed to get the consistency you like.

Transfer the hummus to a bowl and serve with fruit or whatever you like!

Store the hummus in the refrigerator up to 12 days.
Course Dessert, Snack
Cuisine American
Keyword chocolate, dairy free, dessert, gluten free, healthy, hummus, low calorie, snack, vegan
Nutrition facts per serving (1serving)
Calories 96 kcal
Fat 2 g
Saturated Fat 1 g
Cholesterol 0 mg
Sodium 101 mg
Potassium 157 mg
Carbohydrates 16 g
Fiber 3 g
Sugar 6 g
Protein 4 g
Vitamin A 10 %
Vitamin C 1 %
Calcium 30 %
Iron 1 %
Meal Plans
Get a meal plan designed to meet your weight loss goals.
Learn More
What I Used For The Recipe