This post contains affiliate links. As an Amazon associate I earn qualifying purchases. Click here for more about this policy.
Lemon Orange Poppyseed Muffins! Lightly sweetened, creamy and bursting with citrus flavor. These muffins are quick to make, super soft and are a healthier treat! Gluten Free + Low Calorie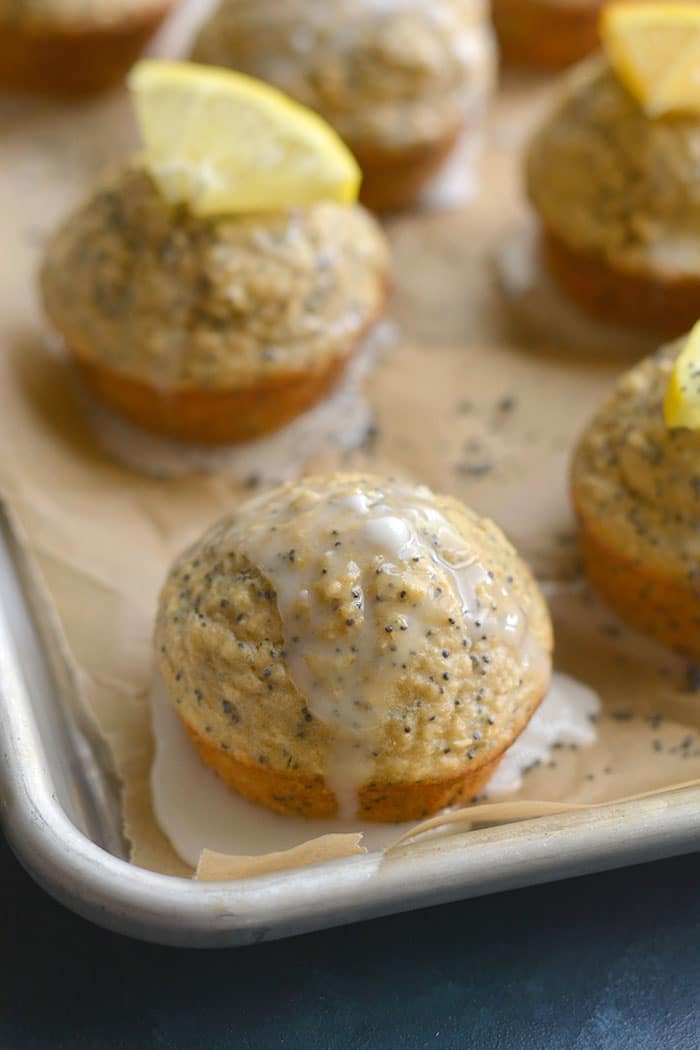 This Lemon Orange Poppyseed Muffins recipe was originally published April 2016 and has been retested. Hope you enjoy it!
Good news today! Actually, lots of good news. The first good news? I have a million lemons.
My aunt dropped them off last week from her lemon tree and my boyfriend brought more home from a patient. So...we got lemons!
We're all about lemon love, but the amount I have right now is insanely ridiculous.
Can you freeze lemons? If I could I would freeze every one of mine! You know what they say...when life gives you lemons, MAKE MUFFINS! 
I know you're gonna love this one! Okay, I say that about all the food I share but I wouldn't lie when it comes to a muffin.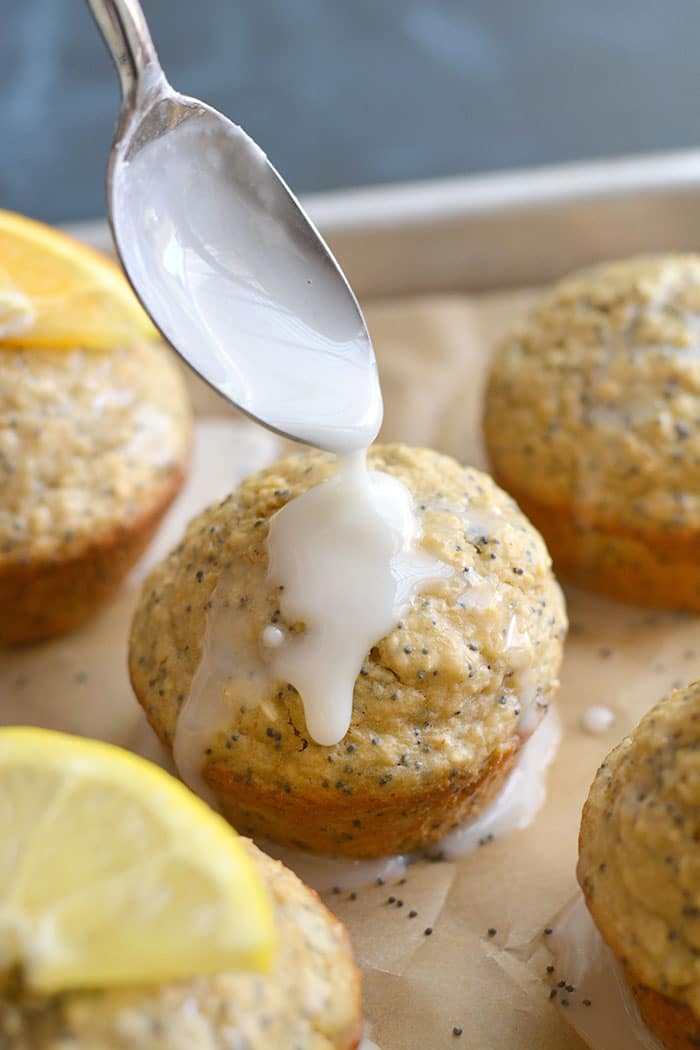 Lemon Orange Poppyseed Muffins
The other good news? If you wanted a muffin, you came to the right place today! Do I ever have a good one for you...Lemon Orange Poppyseed Muffins!
But the other really good news? These muffins were in a movie. YES! I said movie. When I read the email asking to include this recipe in the movie, I thought it must be spam until they kept pursuing me and I realized it was a REAL MOVIE.
I haven't watched the movie yet, but I knew I had to immediately update the pictures of this recipe. The originals were not so bueno.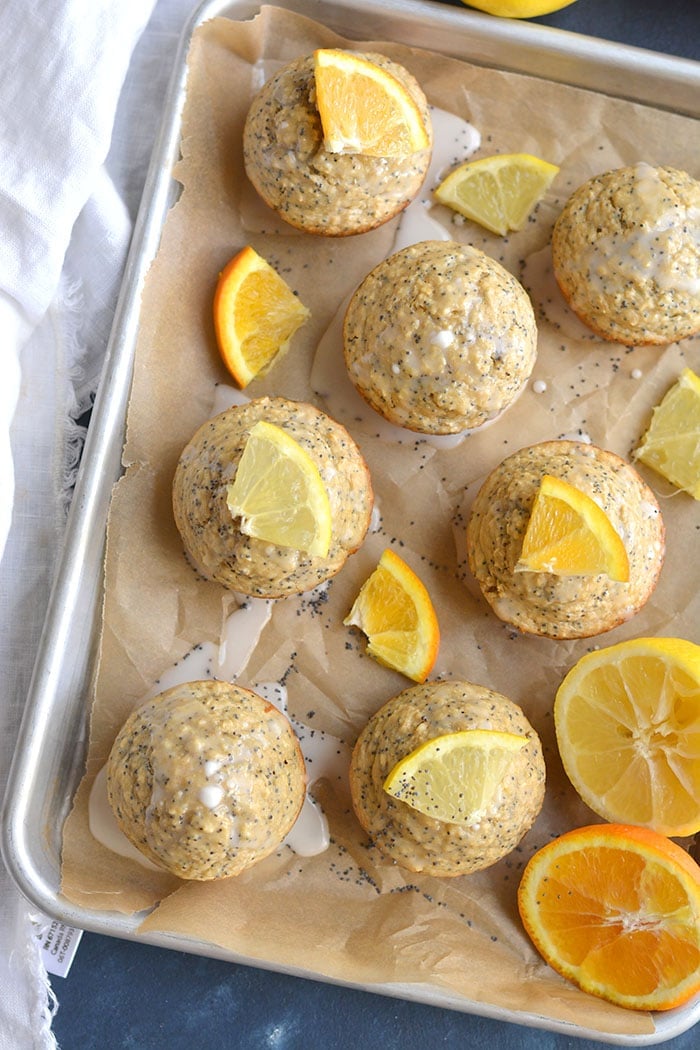 But these Lemon Orange Poppyseed Muffins. They're like the goddess of citrus-y, poppy seedy, Greek yogurt packed muffins! So creamy, filling and bursting with so much citrus.
I love the tart flavors of citrus and having one flavor didn't seem like enough which is why I married lemon and orange to make it more fresh and vibrant!
I swear every time I eat one of these they make me happy like spring. They're so light and fresh.
Oh and when I say light, I mean it every possible sense because they're only 124 calories. Oddly enough, I feel like I was meant to make them. Maybe you are too!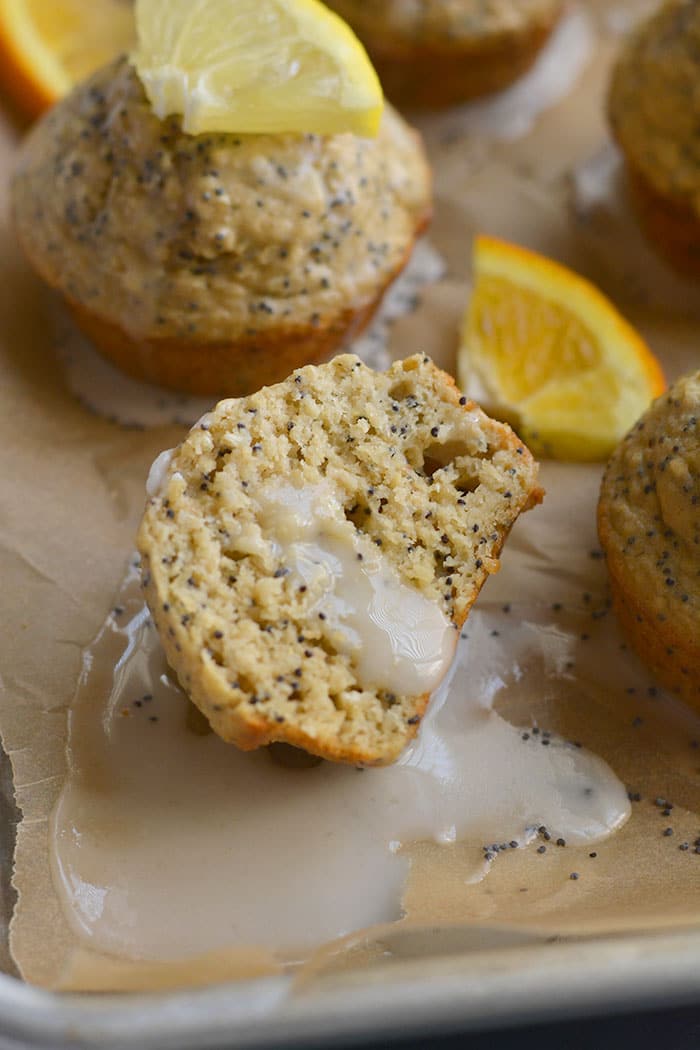 What You Need
Eggs
Lemons
Almond Milk
Gluten Free Oats
Baking Powder, Baking Soda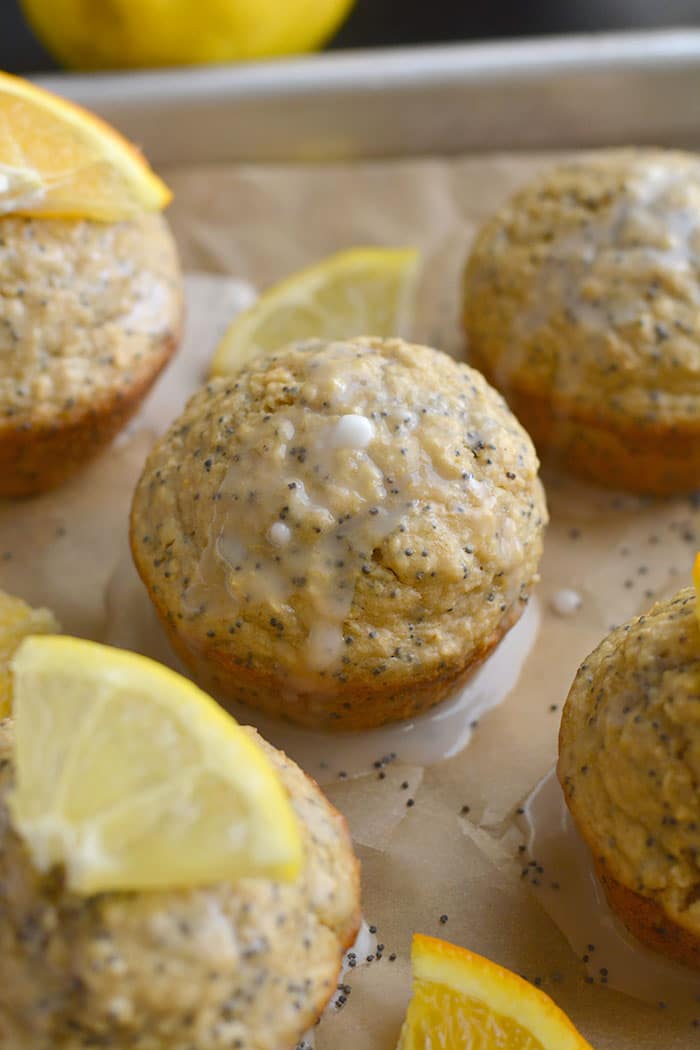 Helpful Tips
Make sure all the cold ingredients are at room temperature before blending them together. It seems like a simple thing, but it's so important to getting the right texture.
Test the sweetness of the batter too. People often complain things "aren't sweet enough." That's because most people are insulin resistant so their hormones expect sweeter things.
When people finish the challenge, they're always amazed by how quickly their taste buds change and they stop craving sugar. It really is crazy how much sugar is snuck everywhere!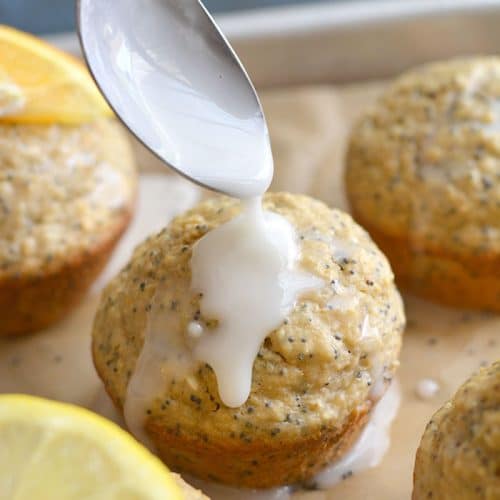 Lemon Orange Poppyseed Muffins
Lemon Orange Poppyseed Muffins! Lightly sweetened, creamy and bursting with citrus flavor. These muffins are quick to make, super soft and are a healthier treat! Gluten Free + Low Calorie
Ingredients
For the icing:
1/4 cup powdered sugar
1 tablespoon lemon juice
Instructions
Preheat oven to 375 degrees F. Prepare a muffin pan with muffin liners or spray cavities with nonstick cooking spray.

To a food processor or blender, add oats, Greek yogurt, eggs, milk, orange extract and lemon juice. Beat mixture on high for several minutes until smooth and creamy.

Add coconut sugar, poppy seeds, lemon, coconut oil, baking power, baking soda and salt. Blend until smooth.

Divide the muffin mixture evenly among 12 muffin cavities. Bake 20 minutes until slightly golden. Remove muffins from muffin pan and cool on a rack. Sprinkle the lemon and orange zest from

While the muffins cool, whisk together the ingredients for the optional icing in a bowl. Blend until the sugar has dissolved.

Once the muffins are cooled, drizzle them with the icing.
Nutrition
Serving: 1muffinCalories: 124kcalCarbohydrates: 15gProtein: 5gFat: 4gSaturated Fat: 2gCholesterol: 28mgSodium: 132mgPotassium: 147mgFiber: 2gSugar: 3gVitamin A: 40IUVitamin C: 2.3mgCalcium: 77mgIron: 1mg