This post contains affiliate links. As an Amazon associate I earn qualifying purchases. Click here for more about this policy.
Hemp Seed Energy Bites made with creamy nut butter, chocolate and oat flour. High in omega-3 and low in sugar, a healthy 125 calorie snack perfect for on the go! Gluten Free + Low Calorie + Vegan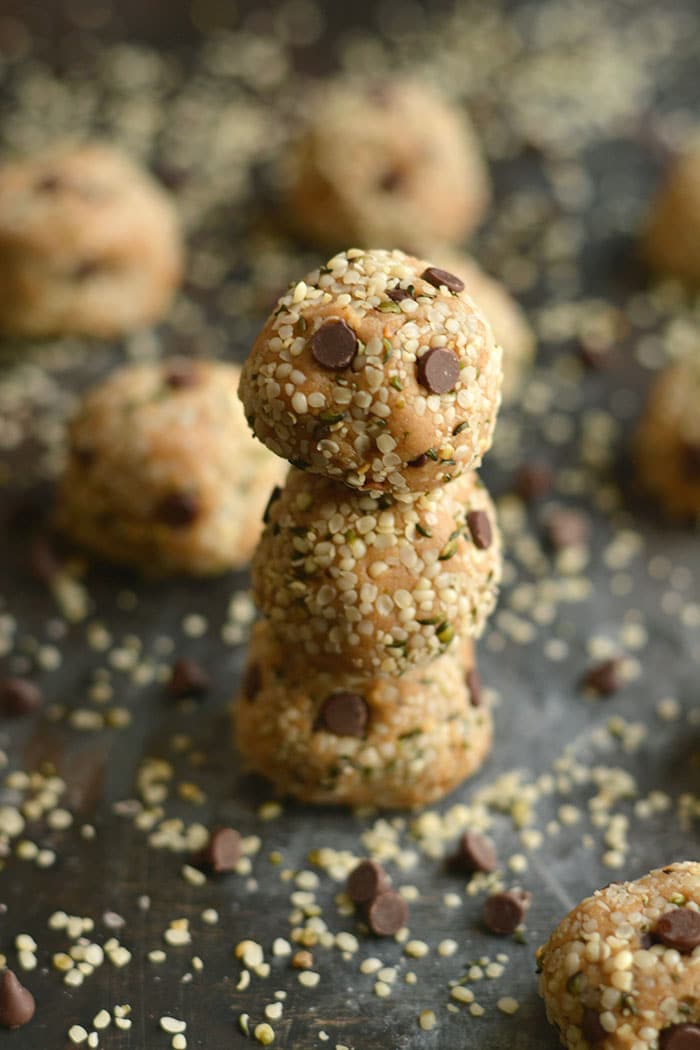 I find it ironic how everyone on the planet is doing a new "diet" right now and I'm over here posting muffins and energy bites. Any time I'm on Instagram or Facebook, someone's doing the latest detox, Paleo, Vegan, whatever diet thing.
Whole30 is a big one in January. I guess it makes sense because everyone's detoxing from the holiday sugar high and Whole30 is all about cutting out the sugar.
This is ironic to me because if everyone just enjoyed food in moderation and not in peaks and valleys then they wouldn't have to go to extremes of doing these type of diets. Think about it. What's going to happen when you get off Whole30? Most likely you're going to indulge in everything you've been restricting in your diet.
Exactly why I don't believe in dieting. It's too easy to end up on a rollercoaster of eating and restricting, which is much worse than just eating a little of everything you want in moderation all the time.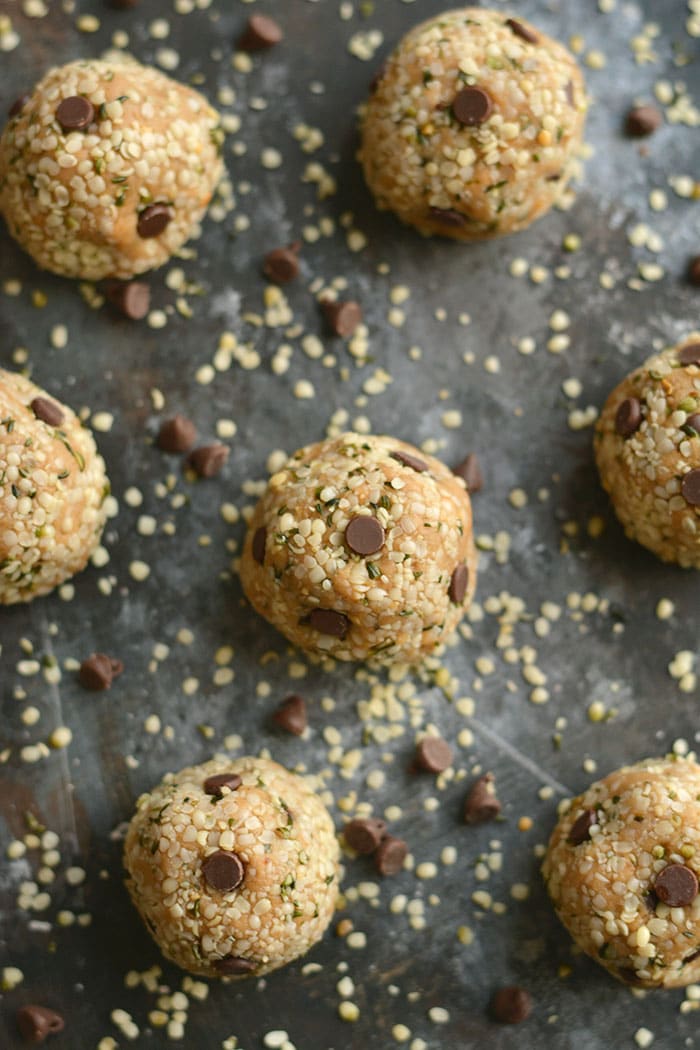 In fact, when I tell people the story of how I lost 80 pounds. I always stress to people how I ate a granola bar, Kashi chocolate chip cookie and single serve ice cream everyday. People's jaws literally drop when I tell them that because they don't associate weight loss with those things.
Don't get me wrong. I believe there can be incredible value in trying some of these diets. Primarily for those who've been eating a processed foods diet for a long time or having specific GI issues or food intolerances.
They can give you a lot of insight into what's causing you problems, and in the case of Whole30, it's a forced sugar detox (similar to a drug) so you don't crave it as strongly.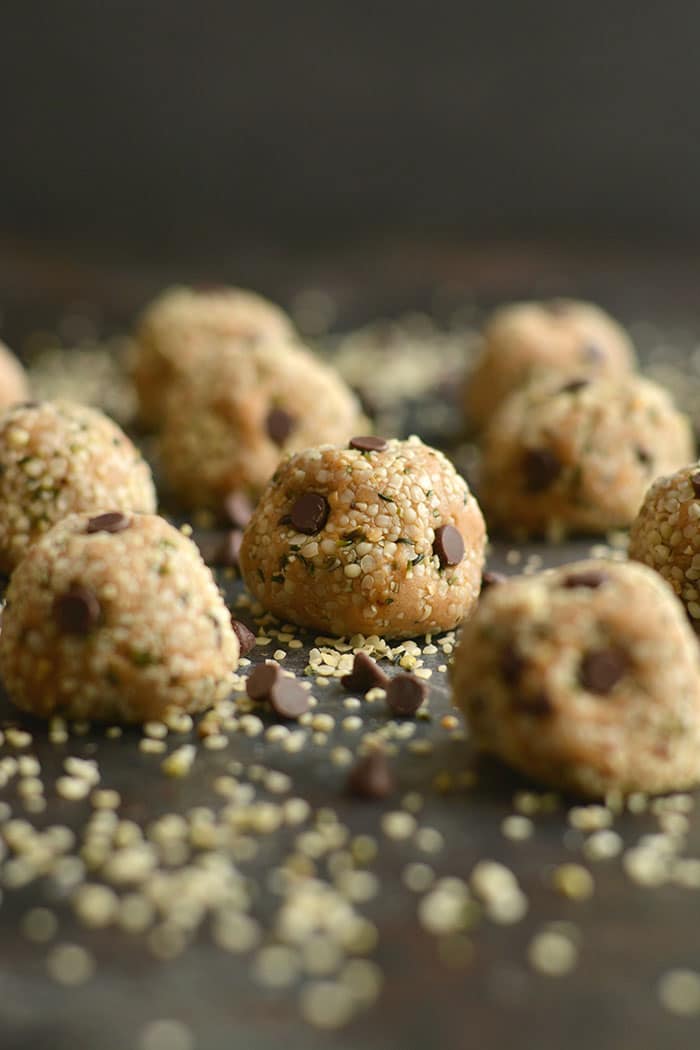 If people just ate healthy most of the time and worked out consistently they wouldn't need to go to these extremes. Unfortunately our society has become one of extremes and therefore, most people's lifestyles have fallen into this trap with their diet.
This is exactly why I created my coaching program so people can learn how to eat real food instead of doing these theme park experiments with their bodies. If you're interested in learning more, schedule a free consult to discuss your weight loss goals!
Some food for thought....speaking of food, let's chat about these hemp seed energy bites!
The recipe was originally published in 2015 and getting a much needed face lift! These healthy snacks are just too darn good to not share with good pictures. They're a regular staple in my meal rotations. I love having them on hand for a quick grab 'n' go snack.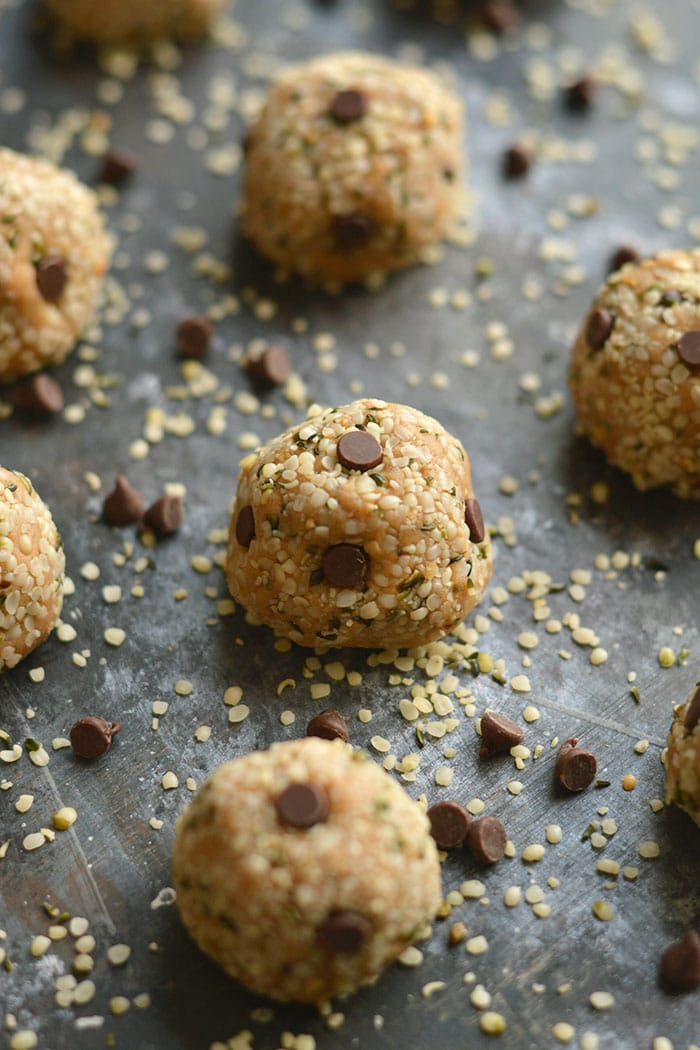 These Hemp Seed Energy Bites are nutritionally balanced too! Why is that important? To keep blood sugar from spiking when you eat treats, it's important to balance the sugar with protein, fiber and healthy fats. Lost? Here's what I mean.
Creamy nut butter (healthy fat & protein), oat flour (healthy carbs & fiber), crunchy hemp hearts (healthy omega-3's) and chocolatey goodness (antioxidants). Got it? Good! Now let's roll some bites and nourish our bodies with some real food instead of doing crazy roller coaster diets.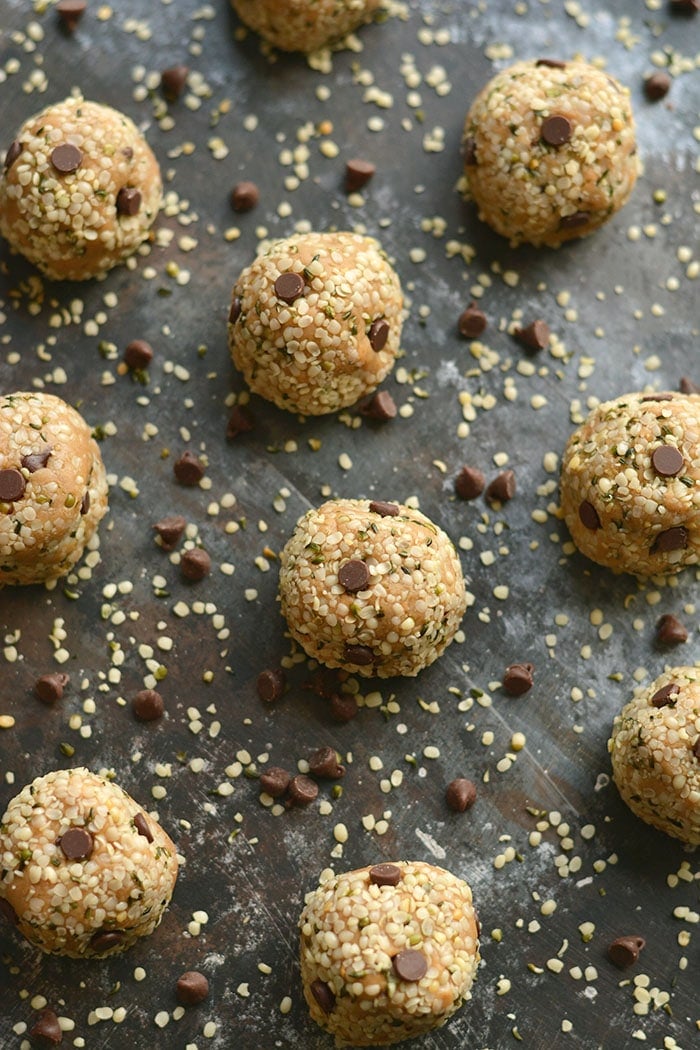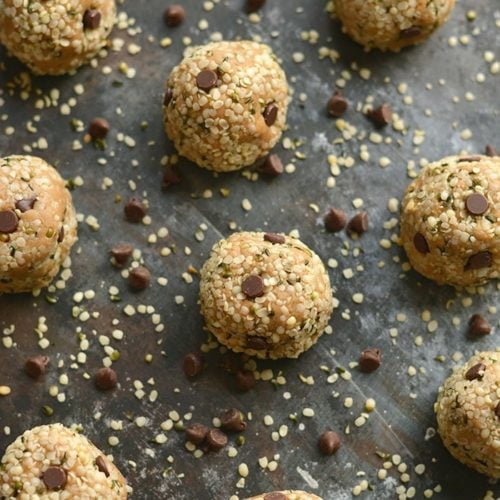 Hemp Seed Energy Bites
Hemp Seed Energy Bites made with creamy nut butter, chocolate and oat flour. High in omega-3 and low in sugar, a healthy 125 calorie snack perfect for on the go! Gluten Free + Low Calorie + Vegan
Instructions
To a mixing bowl, add nut butter, maple syrup, oat flour, salt and vanilla extract. Combine with a spoon until ingredients are fully combined. 

Divide the batter into 12 equal portions then roll each portion into bite-sized balls.

Place hemp seeds on a plate and roll balls over to coat.


Place bites on a plate lined with parchment paper then add mini chips to each bite be pressing 3-4 chips firmly into each one.

Refrigerate 2-3 hours to harden before enjoying. Refrigerate up to a 1 week or freeze up to 3 months.
Nutrition
Serving: 1biteCalories: 125kcalCarbohydrates: 10.6gProtein: 4.8gFat: 7.6gSaturated Fat: 1.2gSodium: 0.2mgFiber: 2.6gSugar: 2.2g