This post contains affiliate links. As an Amazon associate I earn qualifying purchases. Click here for more about this policy.
Healthy Hot Chocolate Smoothie is high protein, gluten free, dairy free and a great snack or meal for weight loss and hormones. Low Calorie + Gluten Free + Vegan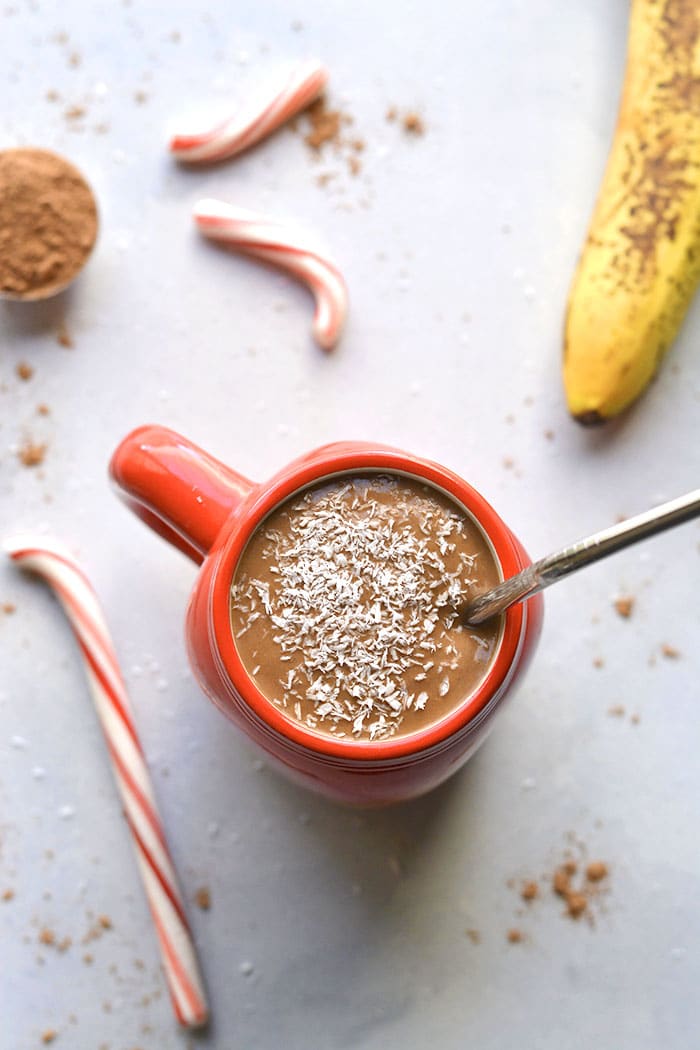 I'll be honest, I never used to love smoothies - but that's because I wasn't making them the right way. Now I love them for a quick breakfast, lunch or healthy snack.
If you're looking for a nutrient-dense, low calorie smoothie - look no further. This Healthy Hot Chocolate Smoothie is for you!
What Makes This Chocolate Smoothie Healthy
I'm secretly obsessed with this healthy chocolate smoothie. Between you and me, it's my FAVORITE recipe on the blog. I know you will love it too - here's why it's better for you!
Low Calorie - Most smoothies are either too many calories (>500) or too few calories (<200). A smoothie that keeps your metabolic hormones balanced for weight loss has enough calories and the right balance of protein, carbohydrates and fat to keep hunger and energy stable.
High Fiber - This recipe has 35 grams of carbohydrates, 14 of which come from fiber. Fiber is a critical ingredient for weight loss. Net carbohydrates are 21 for this hot chocolate smoothie which is lower and great for weight loss.
High Protein - Protein is king for stabilizing blood sugar and keeping weight loss hormones balanced so you're not craving more and more sweets or carbs.
Sugar Free - The recipe is naturally sweetened with half a banana and stevia. See substitutions notes below if you need them.
Healthy Fat - One serving of chia seeds add fiber and healthy fat to this smoothie recipe. Healthy fat is so important to weight loss and for satiety and fullness.
Ingredients For Hot Chocolate Smoothie
Banana
Cauliflower rice, frozen
Chocolate Protein Powder
Cocoa powder, unsweetened
Unsweetened cashew milk or milk of choice
You will also need a high-speed blender to make your smoothie thick and creamy!
How To Make A Hot Chocolate Smoothie
Making a hot chocolate smoothie for a healthy snack or breakfast couldn't be easier!
The first step is to decide if it's easier for you to measure the day you will eat the smoothie or if it's easier to have them pre-measured in advance. For some of my weight loss clients, they find it's easier to measure the ingredients in advance so they can simply blend and eat. You decide what's easiest for you!
The next step is to blend the ingredients for your smoothie. Blend until it's smooth and creamy then transfer to a glass and enjoy!
Can You Make A Smoothie Ahead Of Time
Yes! You can make a smoothie ahead of time. There are two ways to do it for this smoothie. Option one is to measure and blend the ingredients the night before and store in the refrigerator for a quick meal the next day. Option two is to measure and blend and store in the freezer then place in the refrigerator the night before you plan to drink it.
Substitutions For Hot Chocolate Smoothie
Here's a few substitutions for this healthy hot chocolate smoothie. Keep in mind that substitutions do change the nutritional values of the recipe.
Banana - You can omit the banana or substitute with unsweetened applesauce
Milk - Any milk will work with this recipe.
Stevia - Any sweetener can be added to the recipe. I do not recommend sugar free sweeteners, but choose what works best for you! Remember if you do add maple syrup or honey it will increase the calories of this recipe.
Protein Powder - Any protein powder will work with this recipe (I recommend one with 25-30 grams per serving), but please note that different brands may alter how your smoothie tastes. I do recommend a protein powder that has no added sugar or is only sweetened with stevia like Garden of Life.
Cocoa Powder - Cacao powder can be used instead or you can omit the cocoa powder.
Cauliflower Rice - I do not recommend using fresh cauliflower rice as it will give the smoothie a distinctive aftertaste. You cannot taste frozen cauliflower rice in the smoothie. Trust me!
Chia Seeds - Substitute with ground flax.
Add-Ins - Here's a few additions you can make - sprinkle coconut flakes on top, add spinach or kale for extra veggies or add collagen for more protein.
More Smoothie Recipes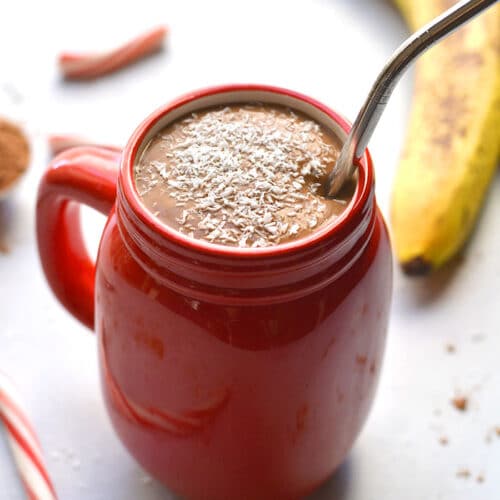 Healthy Hot Chocolate Smoothie
Healthy Hot Chocolate Smoothie is high protein protein, gluten free, dairy free and a great snack for weight loss and hormones. Low Calorie + Gluten Free + Vegan
Instructions
Add all the ingredients to a high-speed blender. Blend until thick and smooth. Transfer to a glass and enjoy!

If you want a wam version, warm the milk in a saucepan over medium heat for 5 minutes or in the microwave then blend and enjoy!
Nutrition
Serving: 1servingCalories: 285kcalCarbohydrates: 35gProtein: 26gFat: 9gSaturated Fat: 2gCholesterol: 42mgSodium: 336mgPotassium: 857mgFiber: 14gSugar: 10gVitamin C: 44mgCalcium: 337mgIron: 2mg
What I Used For The Recipe