This post contains affiliate links. As an Amazon associate I earn qualifying purchases. Click here for more about this policy.
Healthy High Protein Smoothie for weight loss will keep you full and prevent cravings so you can reach your weight loss goals. Made with protein, vegetables and fruit, this easy recipe is great for breakfast or a snack. Low Calorie + Gluten Free + Paleo + Vegan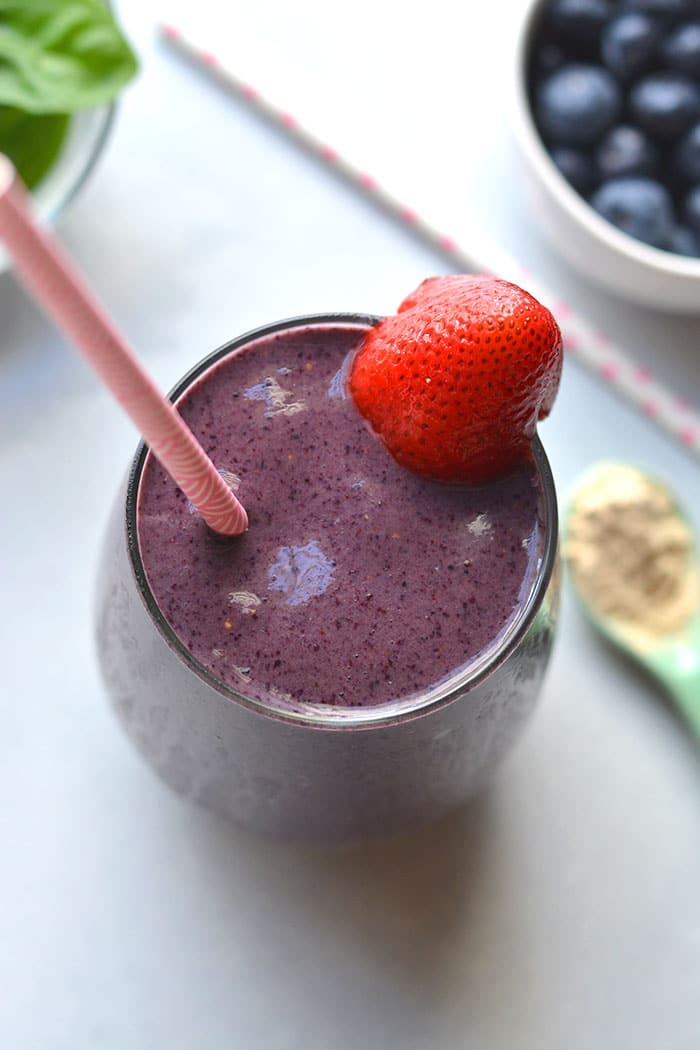 Are you making your smoothie the right way? Awhile back I wrote a post on how to lighten up your smoothie and make it better for you. It's one of my most popular posts!
A common mistake I see a lot of people make is omitting protein from their smoothies. Protein is king for stabilizing hormones and keeping you full so if you've ever had a smoothie and felt hungry shortly after, it's from not having having enough protein in the smoothie.
And I want to clarify that peanut butter is not a good source of protein. It has some protein, but it is a FAT.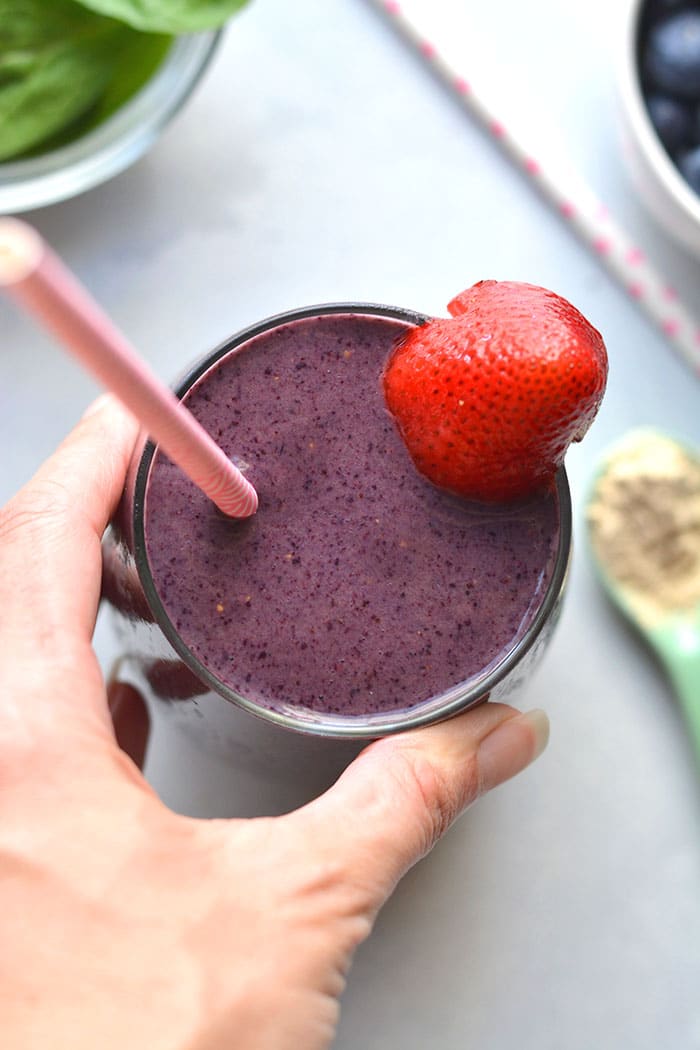 High Protein Smoothie
This high protein smoothie is balanced better for your metabolic hormones because it includes protein plus it has healthy carbs and a fiber focused healthy fat! Carbs like FIBER are scientifically proven to aid in weight loss.
Truthfully, I should have called this a weight loss powerhouse smoothie because it has the right ingredients for the perfect weight loss smoothie.
It's lower in calories yet, balanced in nutrition in a way that won't increase your hunger hormones causing you to crave more sugar. It's also easy to prep ahead of time and customize to your liking.
Don't understand this? Listen to this podcast episode on hormonal weight loss AND watch this [free] hormonal weight loss class.
What You Need
Dairy Free Milk or milk of choice
Strawberries and Blueberries, frozen
Cauliflower Rice, frozen
Spinach
Stevia (optional) or monk fruit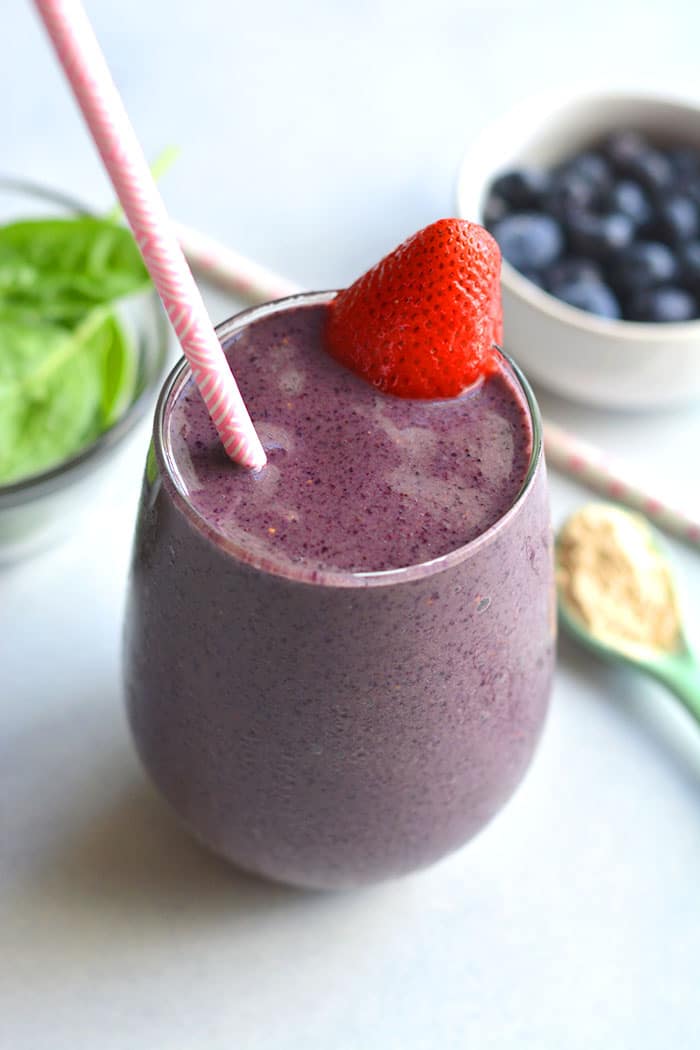 How to make a high protein smoothie
Making a protein smoothie is pretty simple. The important part of making a healthy protein smoothie is having a good, quality protein powder with minimal ingredients, no (or little) added sugar, but that has a great taste.
I like Garden of Life protein powder. It has no artificial colors or ingredients, no added sugar, it's dairy free and gluten free and tastes great!
To make your smoothie, you simply add the ingredients to a high-speed blender and combine until smooth. The result is the perfect drinkable meal!
Are high protein smoothies healthy
Smoothies are definitely healthy if you make them right! Here's a few tips to keep in mind to make your smoothie good for you.
Omit juices and coconut waters. These tend to have a ton of added sugar which can drastically increase your cravings and the calories. Milk or water are best as the base for a smoothie.
Add a healthy fat. I used chia seeds because it's also high fiber and fiber is filling and promotes weight loss. Other healthy fats are peanut butter, almond butter, tahini and avocado.
Add your greens! They add extra nutrients to smoothies and I particularly love cauliflower rice because it makes smoothies frothy and you can't even taste it!
I added a touch of stevia to my smoothie. If you don't like stevia, you could use cinnamon or 1 tablespoon of maple syrup or honey.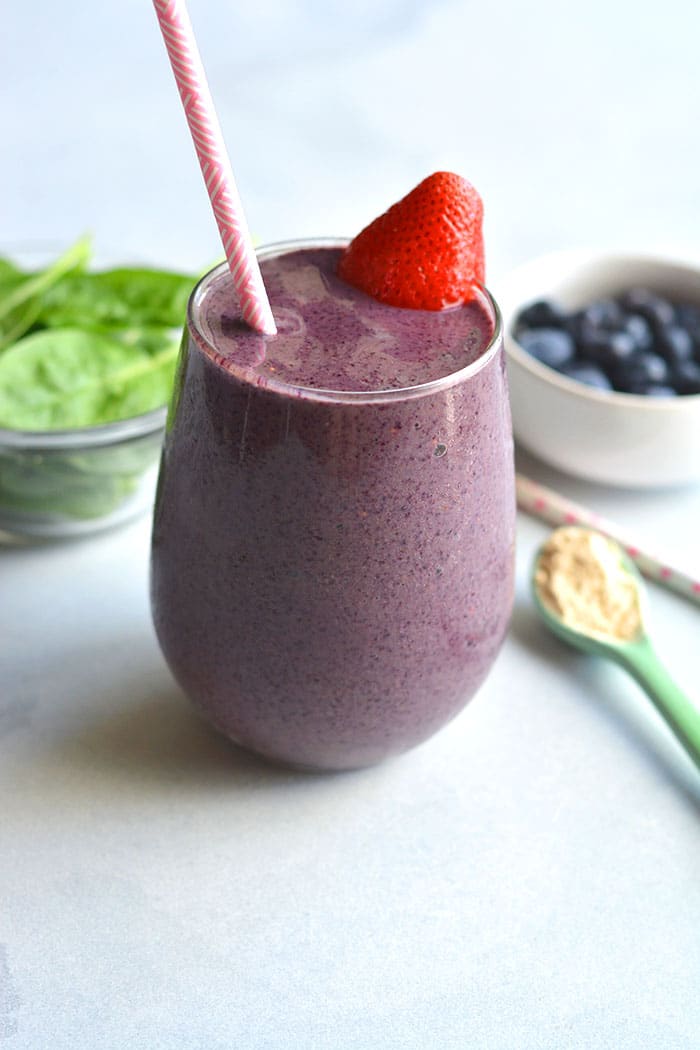 Best fruits for high protein smoothies
The good news about smoothies is that almost any fruit will work that you enjoy. However, if weight loss is your goal, you want to aim for the lower sugar fruits to control insulin and cravings.
Strawberries
Blueberries
Blackberries
Raspberries
Cherries
Pineapple
Melon
Banana
Oranges
What vegetables should I add to a smoothie
Vegetables are a must addition to smoothies and something a lot of people forget. Honestly, adding vegetables to a smoothie is a simple way to add nutrition, water and fiber to a smoothie. I promise you won't even know they're there!
Spinach
Kale
Cucumber
Zucchini
Cauliflower rice, frozen
Carrots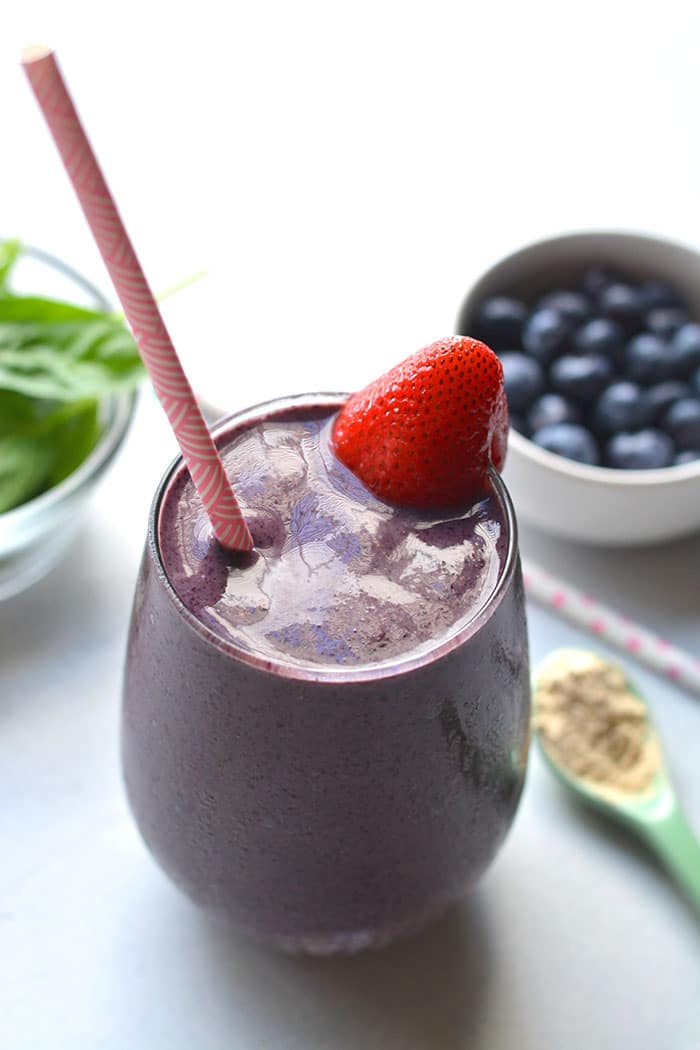 What protein powders are best for smoothies?
The best protein powders for smoothies are higher in protein (20 grams or more) and lower in carbohydrates and ideally, have no added sugar.
As I mentioned above, I like plant-based Garden of Life (gluten and dairy free) but any protein powder that agrees with you and that you like will work. Protein powder is very individual and you will have to try different brands and flavors to find one you enjoy!
Here are some of the protein powders I personally enjoy: Active Stacks Beef Protein, Legion Whey Protein, Legion Plant-Based, Orgain, 1st Phorm, Premier Protein
Can I use collagen instead of protein powder?
Collagen is not a complete protein and is missing the important amino acid leucine which aids in muscle protein synthesis. Collagen is great for hair, nails and joints, but it is not helpful when the goal is maintaining or building muscle mass and / or changing body composition.
What can I substitute for protein powder?
Plain Greek yogurt
Egg whites or egg white powder
Cottage cheese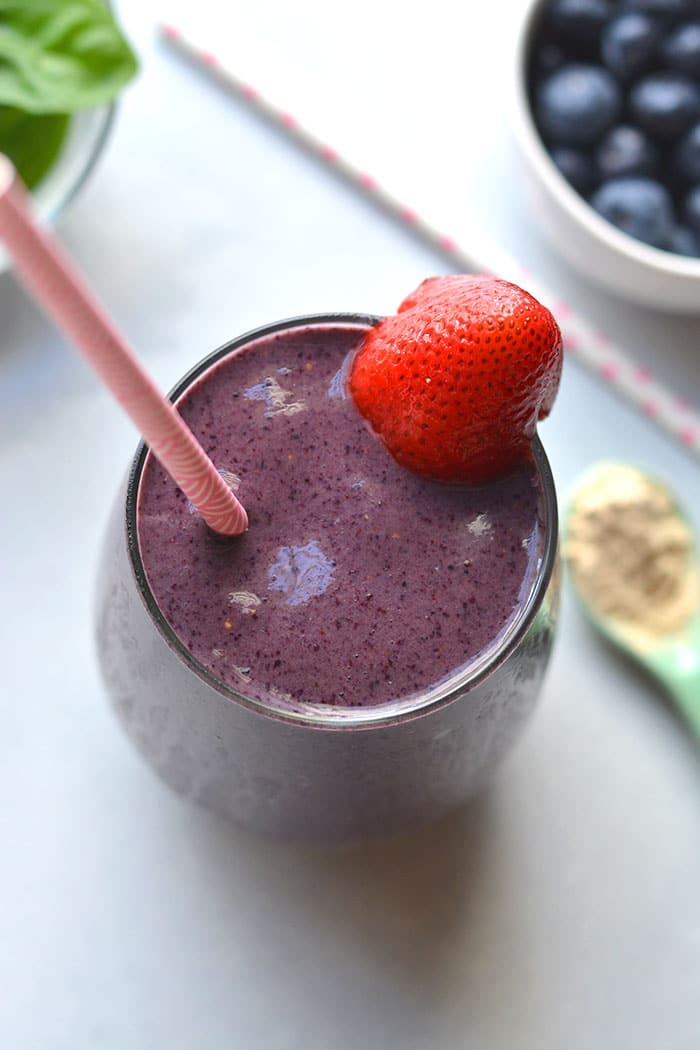 Can you make your smoothie ahead of time
Smoothies can be made ahead of time in one of two ways. First, you can meal prep it by measuring the ingredients, storing in a storage bag in the freezer then blending when you're ready to eat.
The second option is to measure, blend and freeze up to 3 months in individual mason jars. Pull them out of the freezer the night before and keep in the refrigerator for an easy breakfast or snack the next day!
Tips for making the BEST high protein smoothies
I love that smoothies are easy to make and packed with nutrition. To make the best high protein smoothies, here's a few tips to keep in mind:
Always add a source of protein. This keeps the sugar content balanced in the smoothie and helps to prevent cravings after drinking a smoothie.
Add a source of fiber to your smoothie. Fiber is critical to weight loss. Avocado, flax, chia seeds, beans and oats are a few examples of fiber.
Loading your blender in the following order works the best - liquid first, vegetables, fruit, protein and sweetener.
If your smoothie is too sweet, add a squeeze of lemon juice to it.
If your smoothie is not sweet enough, add a squeeze of orange to it.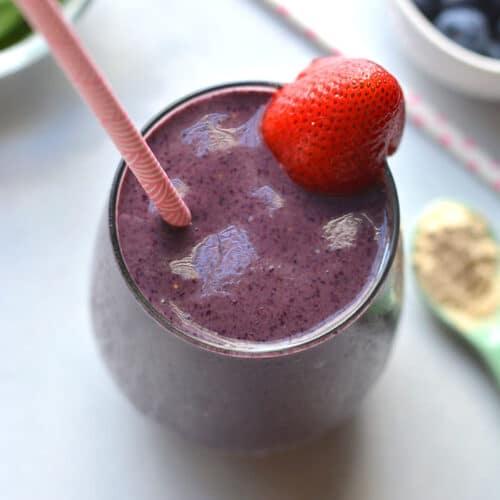 Healthy High Protein Smoothie
Healthy High Protein Smoothie for weight loss will keep you full and prevent cravings so you can reach your weight loss goals. Made with protein, vegetables and fruit, this easy recipe is great for breakfast or a snack. Low Calorie + Gluten Free + Paleo + Vegan
Instructions
To make your protein smoothie ahead of time, you have two options. First, you can measure the ingredients and place in a food storage bag in the freezer. Then blend when you're ready to eat. Second, you can blend everything together and store in a mason jar or protein shaker in the freezer up to 5 days.
Nutrition
Serving: 1smoothieCalories: 308kcalCarbohydrates: 26gProtein: 36gFat: 10gSaturated Fat: 1gCholesterol: 60mgSodium: 430mgPotassium: 674mgFiber: 9gSugar: 12gVitamin A: 2909IUVitamin C: 93mgCalcium: 552mgIron: 5mg
What I Used For The Recipe