This post contains affiliate links. As an Amazon associate I earn qualifying purchases. Click here for more about this policy.
Smoothies are a great snack or meal replacement, but can be tricky for those wanting to lose weight because they're highly nutrient dense. If weight loss is your goal, the probability of a smoothie sabotaging your weight loss is high if you're not paying attention to the amount of ingredients and calculating the appropriate serving size.
How is a Smoothie Sabotaging Your Weight Loss?
While smoothies are nutritious and are typically made with healthy good-for-you ingredients. Fruit, milk, yogurt, vegetables, peanut butter, oats, dried fruit and coconut to name a few.
So how could it sabotage your weight loss? To answer that, let's look at an example of one of my all-time favorite smoothies.
Banana Peanut Butter Smoothie
1 small banana - 90 calories
1 cup unsweetened almond milk - 30 calories
2 tablespoons rolled oats - 38 calories
2 tablespoons peanut butter - 200 calories
1 cup baby spinach - 7 calories
2 tablespoons dark chocolate - 140 calories
Regular Version Total Calories - 504
Trust me, this smoothie tastes like dessert.
But it has more calories than most people's average breakfast of 300-375 calories. Yikes! A smoothie like this should be eaten as a meal replacement unless your activity is high enough to expend the extra calories (and that doesn't mean you should workout extra just to eat it either) which leads me to...
What Science Tells Us About Weight Loss
You need to burn more energy than you consume in order to lose weight. In other words, you need to eat less calories than your body needs to perform basic functions - i.e. sleep, eat, think, breathe. This is you BMR, or basal metabolic rate which you can calculate here.
This, however, does not mean eating excessively below your BMR. That is dangerous and can lead to a multitude of problems that will inhibit weight loss. Eating a small bit under your BMR will stimulate weight loss, assuming no other medical conditions are working against that.
So how do you lose weight and eat a smoothie?
You can swap the ingredients or play with the quantity of ingredients to make it lighter in calorie count. Let's see how we can make a skinny version of the banana peanut butter smoothie.
Skinny Banana Peanut Butter Smoothie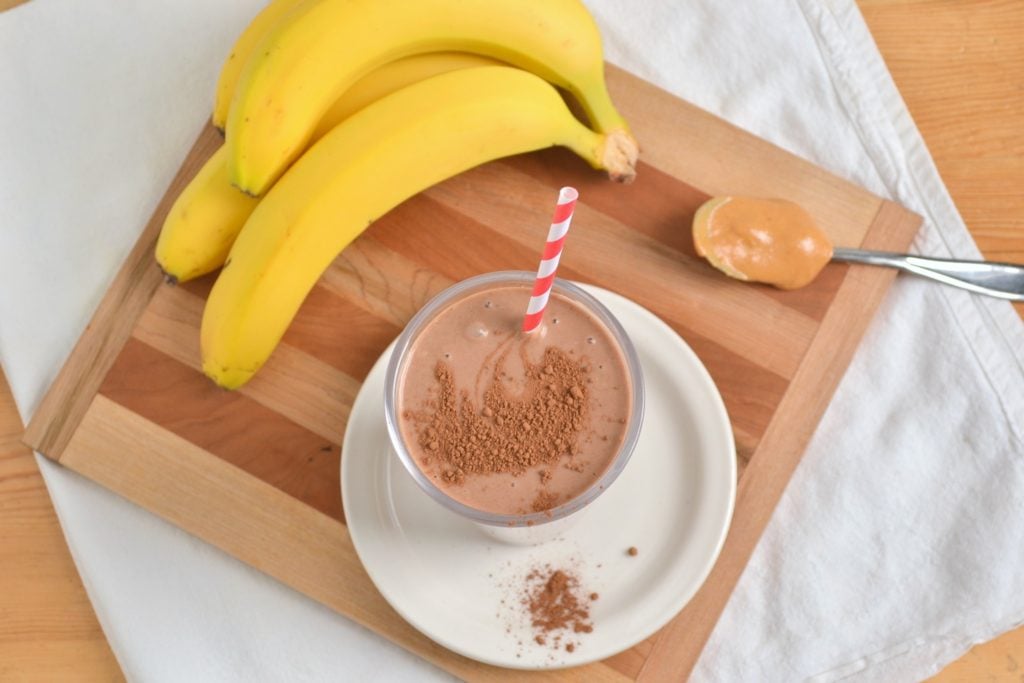 Swap 1 banana at 90 calories for 1/2 banana at 45 calories (freeze the other half for a future smoothie)
Add 1/4 cup unsweetened applesauce - 25 calories
Keep 1 cup unsweetened almond milk - 30 calories
Keep 2 tablespoons rolled oats - 38 calories
Swap 2 tablespoons of peanut butter at 200 calories for 2 tablespoons of powdered peanut butter at 45 calories (or reduce to 1 tablespoon of peanut butter bringing the total calories to 264)
Keep 1 cup baby spinach - 7 calories
Swap 2 tablespoons dark chocolate at 140 calories for 2 tablespoons of cocoa powder at 45 calories
Add 1-2 drops of stevia at 0 calories
Skinny Version Calorie Total - 209
By making these changes, we cut over 1/2 the calories while keeping the ingredients healthy and nutritious.
Pin the graphic above as a reminder of how to lighten up a smoothie!
What's Good for You May Not Always Be Good for Your Weight Loss
Even healthy food can lead to weight gain or inhibit weight loss if you're not mindful of how much energy is in the food you're eating.
Eating for weight loss does not mean eating foods that aren't nutritious or healthy. It means making intentional choices about the quantity of food we eat and being strategic about pairing the ingredients in a way that keeps you feeling full, healthy and nourished.