This post contains affiliate links. As an Amazon associate I earn qualifying purchases. Click here for more about this policy.
This Paleo Healthy Chocolate Cake is a healthier version of cake and easy to make with almond flour, maple syrup, cocoa, coconut cream & chocolate. The chocolate ganache center is truly irresistible. Guaranteed to be loved by the entire family! Gluten Free + Low Calorie + Paleo
So... I made a cake and not the kind from a box either! While I make a lot of recipes and delicious food, cake making is something I've always left to the experts. I swear you have to be a saint to make a cake. It takes a lot of time and patience. Hopefully, you're getting by now that if you make this healthy chocolate cake it will be a commitment. Just keeping it real!
This cake making thing came about after a couple of my clients mentioned they'd like to see a healthy, homemade cake recipe on the blog. Many of my clients are not only interested in weight loss, but also clean eating and learning to eat processed free.
At first, I was like me? Make a cake? Oh, hell no! But then I realized how many recipes I've said that to in the past only to take on the challenge of making them only to discover they weren't as bad as I made them out to be in my head. The mind is a crazy place.
After hearing the request for a healthy cake recipe from multiple clients, I finally caved. Healthy chocolate cake recipe coming right up! It was also the guy's birthday a few weeks ago which was perfect excuse to jump into cake making. And here we are today with a healthy chocolate cake recipe!
Now, keep in mind there are multiple steps involved with making this recipe. Truthfully though, it's not very hard to make. The hardest part is the frosting which I'll get to in a minute.
To make it easy, I broke it up into a 3 step process which I highly recommend you do too. The night before I baked the cake, I made the ganache. It takes 30 minutes to make and is best when it sits overnight.
Did I forget to mention there's a silky, chocolate ganache surprise waiting in the center of the cake? Oh, yes! My favorite part of this cake! So creamy, chocolaty and irresistible. It's absolutely what takes the cake from oh hey, I made a cake to OH HEY, YOU'RE ABOUT TO DEVOUR THE BEST CHOCOLATE CAKE EVER!!! And it's healthy too!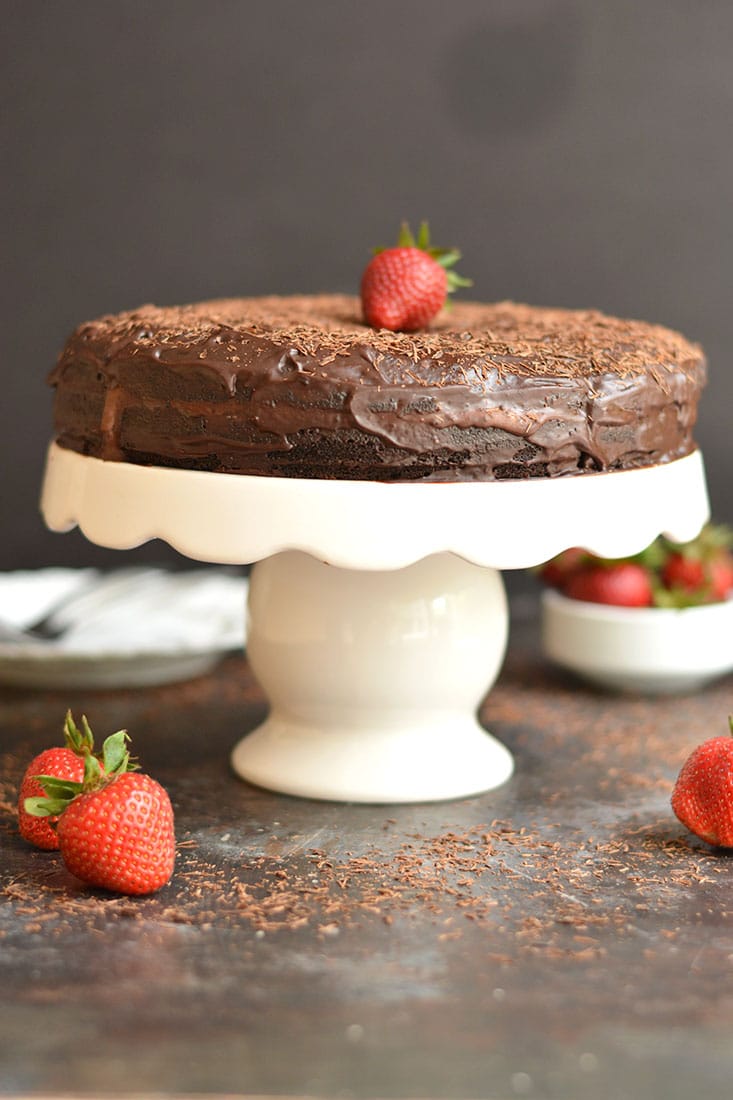 The next morning I baked the cake. This part was truly a breeze! The one critical piece of advice I have for you is using super fine almond flour. I don't recommend using thick almond flours like Bob's Red Mill. I found it didn't rise and had a weird texture. Also, I haven't tried other flours with but I suspect a super fine whole wheat or oat flour might work. If you experiment, let me know what works!
After the cake baked, I let it fully cool. Using a springform cake pan was a lifesaver because I was able to easily remove the cake from the pan so it could cool. Then I sliced it in half horizontally and removed the top. I won't lie, this was tricky and there were a few cracks. But not to worry! The frosting and ganache make everything stick together just fine. No one will ever notice!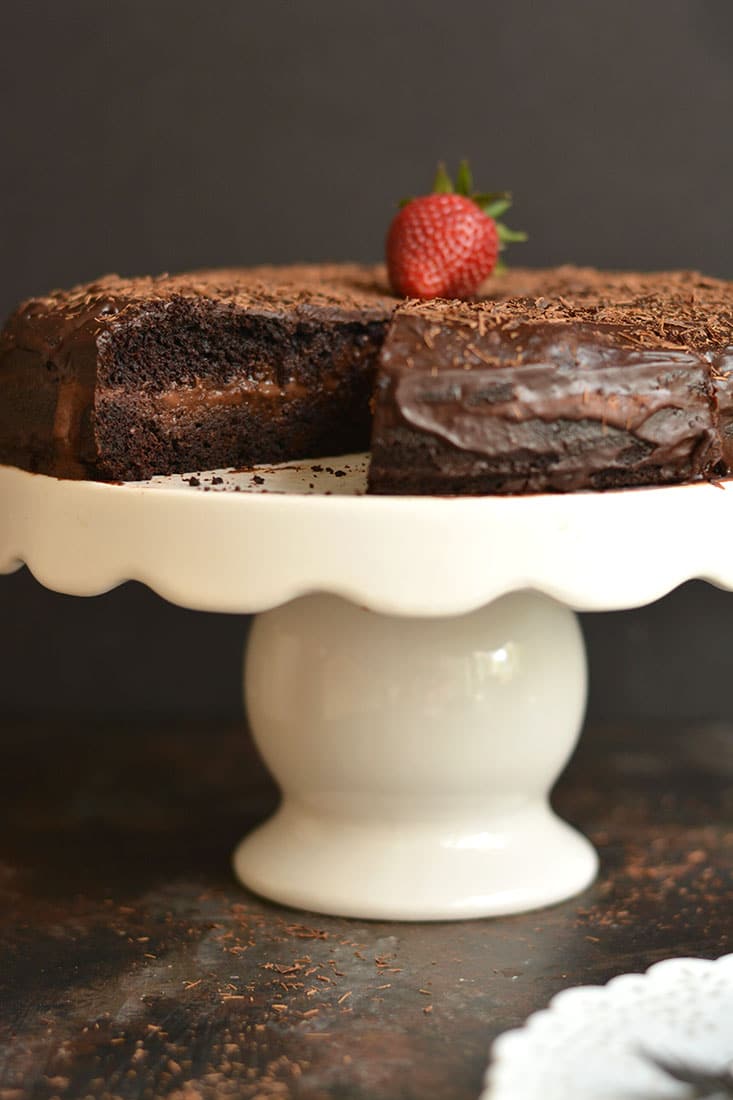 From there, I spread that luscious chocolate ganache on the bottom half, replaced the top half then made the frosting. Once the frosting was made, I thought I hit a home run because up to this point it seemed so easy.
Yeah, frosting a cake is no joke a lot of work. By far, the hardest part of making a cake! There was frosting on the floor, counter, ceiling, and even on me. It was messy, and it was in that moment I realized why I'm not a professional baker and never want to be one.
The good news is the hard work paid off because this healthy chocolate cake is one delightful dessert, and one you can feel good about eating too! And as for the guy? As soon as he saw it, he said "it's my zucchini birthday cake!" No zucchini in this cake mister, but I wouldn't put it past me to make one. 😉
3 Smart Strategies To Stop Cravings
Healthy Chocolate Cake
This Paleo Healthy Chocolate Cake is a healthier version of cake and easy to make with almond flour, maple syrup, cocoa, coconut cream & chocolate. The chocolate ganache center is truly irresistible. Guaranteed to be loved by the entire family! Gluten Free + Low Calorie + Paleo
Instructions
To Make The Cake:
Preheat oven 350 F. Prepare a

7-inch springform pan

with parchment paper and grease the bottom and sides with coconut oil. You need both to ensure the cake does not stick.

In a large mixing bowl, mix together the eggs, maple syrup, vanilla extract and almond milk.

In a separate large bowl, sift together the almond flour, coconut flour (measured properly), cocoa powder, baking soda and sea salt.

Slowly fold the dry ingredients into the wet to form a batter with the coconut oil. Do not over mix.

Transfer the batter to the prepared pan. Bake at 350 F 45 minutes or until a toothpick can be inserted in the middle clean.

Cool the cake completely then remove from the pan to a plate. Slice the cake in half horizontally through the middle. Slide the top half off the cake and set aside.

Spread the ganache over the bottom half of the cake then place the top back on. Refrigerate the cake while you melt the chocolate.

Remove the cake from the refrigerator then generously spread the frosting over the top and sides of the cake.

Using a peeler, shave chocolate sprinkles over the top of the cake for garnish.
To Make The Ganache (recommended you make this the night before):
In a small saucepan, bring the coconut cream and maple syrup to a light boil while whisking the ingredients together.

Reduce to a simmer for 30 minutes, stirring occasionally.

Mix in the cocoa powder until combined well.

Transfer to a bowl and refrigerate until the cake is prepared.
To Make The Frosting:
Place the chocolate chips and coconut oil in a bowl and microwave at 30 second intervals, stirring in between until melted. Alternatively, use a double broiler to melt the chocolate. This is my preferred method.
Nutrition
Serving: 1sliceCalories: 345kcalCarbohydrates: 23.3gProtein: 7gFat: 28.8gSaturated Fat: 9.9gCholesterol: 35mgSodium: 189.5mgFiber: 7.2gSugar: 11.4g
What I Used For The Recipe
If you have other recipes, you'd like me to create let me know. I'm always up for a recipe challenge!