Just letting you know, these Ginger Cacao Brownies are sponsored by Graze Super Foods!
These Sugar Free Ginger Cacao Brownies are a chocolate lover's dream! Naturally sweetened and made with whole food ingredients, these brownies make the perfect healthy treat. Gluten Free + Low Calorie + Paleo
I feel like winter is never going to get here. It's been 95 degrees F in Arizona the last two weeks and while we did have a few days of cooler weather teasing of fall, it was short lived.
I must admit I LOVE the heat, but I don't love it so much when I'm trying to bake and shoot recipes. I'm sweating, the food's sweating. It's almost like a workout!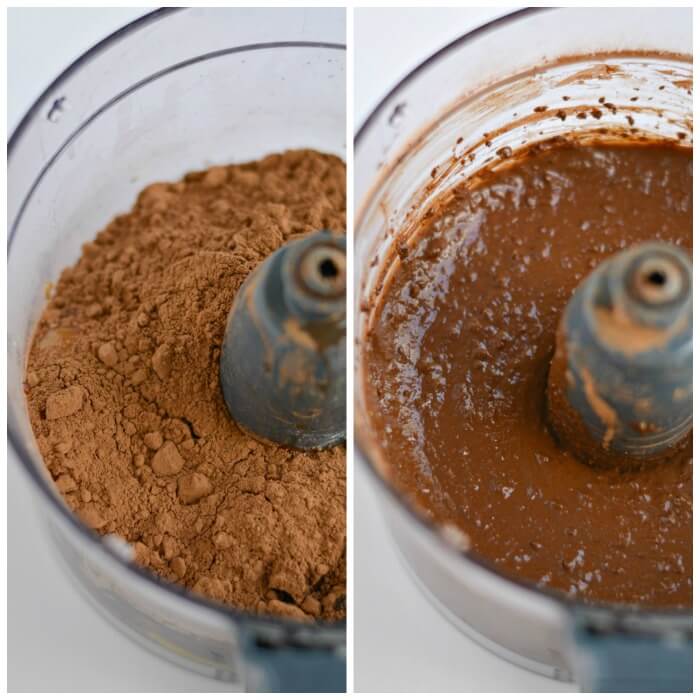 These days cooking and shooting feels like a workout as I hobble around the kitchen recovering from hip surgery. It seems I'm having to retrain my brain how to operate this leg after 18 years of avascular necrosis. That's tough when it's something you've been doing since you were two. It feels like it should be so easy, yet it is SO VERY HARD.
But I'm not letting a little heat or this wobbly leg get in the way of my good food making, and no amount of work is worth passing up baking EVER! Especially when it involves fudgy Ginger Cacao Brownies so ooey gooey that they melt in your mouth.
Even better, these brownies are sugar FREE. YEEAAASSSS! Everyone let me hear you scream!
Naturally sweetened with dates and Graze Super Foods raw cacao powder, you would never know these decadent and rich brownies were a healthy treat. I love Graze for their real food snacks that have no high fructose corn syrup, GMO ingredients, artificial flavorings, preservatives or colors.
You've probably noticed I've been on a reduced sugar kick this year with the Sugar Free Strawberry Grape Muffins, Sugar Free Pumpkin Zucchini Muffins and Sugar Free 100 Calorie Fudge Brownies.
I've discovered keeping my sugar intake low keeps my autoimmune disease in check which is why I've been on a mission to reduce hidden sugar in my diet, and I do that by substituting real food ingredients wherever I can. It's certainly a challenge, but it CAN be done and I feel amazing when I do it.
Raw cacao powder like that made by Graze Super Foods delivers just the right amount of natural sweetness while adding that ooey gooey, creamy, fudgey, rich brownie taste everyone craves. Oh yeah, and cacao powder is high in antioxidants which helps our bodies fight disease and build immunity. YEAH! That means you get a dessert your taste buds and body will LOVE. DOUBLE YEAH!!! How's that for healthy baking?
P.S. These would go so well with a cup of coffee with that Turmeric Pumpkin Spice Syrup.
Oh, and I almost forgot to mention the icing on the "brownie." Hehe!
To give them a fall flare, I added ginger. Not only a comforting fall spice that has an incredible tangy taste, but also known for reducing inflammation in the body.
Okay, but nerdy stuff aside. These Ginger Cacao Brownies are seriously addictive. They're truly a chocolate lover's dream! The perfect chocolate treat for anyone, anytime that you can feel good about eating. If you make them, post a picture on Instagram and tag Skinnyfitalicious and Graze Super Foods so we can repost your amazing work!
Sugar Free Ginger Cocoa Brownies
These Sugar Free Ginger Cocoa Brownies are a chocolate lover's dream! Naturally sweetened & made with whole food ingredients, these brownies make the perfect healthy treat. Gluten Free + Low Calorie + Paleo
Instructions
Place dates in a bowl filled with water, soak 1 hours, rinse and drain.

Preheat oven to 350 F and prepare a

square baking pan

by greasing with coconut oil or lining with parchment paper.

Add all ingredients to a blender or food processor. Process on high one minute then scrape down side and process on high another minute or two until all ingredients are broken down and the batter is creamy.

Transfer the batter the prepared baking dish, smoothing into an even layer.

Bake 18 minutes or until a toothpick can be inserted and removed clean.

Cool brownies in the pan 1 hour before slicing into 12 bars and devouring.

Dust the top of the brownies with extra ginger as desired.
Nutrition
Serving: 1brownieCalories: 145kcalCarbohydrates: 14gProtein: 3.3gFat: 9.8gSaturated Fat: 5.6gSodium: 28.8mgFiber: 3.8gSugar: 8.3g
What I Used For The Recipe