This post contains affiliate links. As an Amazon associate I earn qualifying purchases. Click here for more about this policy.
Silky 100 Calorie Fudge Brownies made healthy with rich dark chocolate and no added sugar or refined oil. The perfect chocolatey treat to satisfy a sweet tooth! Low Calorie + Gluten Free recipe!
Oh hey! Happy Labor Day! Hold the phone. How is it Labor Day already? I mean I must be getting old. I remember when I was a kid it felt like the days, weeks, months, years dragged on F-O-R-E-V-E-R. Now I blink and it's Christmas. I'm definitely not ready for Christmas.
In fact, I'm not sure I'm really ready for pumpkin. I've got some fun pumpkin recipes I've been working on, but I can't say I've been that into making them seeing as it's still a thousand degrees in Arizona. Age + heat + hormones. The struggle is real.
But I tell you what. Chocolate brownies loaded with antioxidants help. Like really help. Think silky, fudgy, melt-in-your-mouth brownies made with rich dark chocolate, and loaded with oat flour to make them dense and give them a boost of whole grains.
I like pairing gluten free oats with chocolate since they're a cholesterol shoveler (<- highly technical term). Oats are a good way to nutritionally balance sweets.
But I'm sure you could substitute Gluten Free baking flour, almond flour or even coconut flour to make these. If you use coconut flour, I recommend cutting the measurement to 1/2 cup though since it's ultra absorbent and this batter is already very thick and gooey. But oh yum! That's what makes it so good.
To make the fudge in these 100 Calorie Fudge Brownies, I added Greek yogurt in place of the oil which is what you would generally find in brownies. But not these babies! They're made healthy and have added protein thanks to that Greek yogurt. For my Paleo friends, try using coconut yogurt. I'm sure it would work as a replacement in these.
The best part is they're only 95 calories each and low fat! YEAH!!! Wait, what? YEAH! You heard that. Fudge Brownies less than 100 calories that are low in fat, decadent, gooey and irresistible tasting!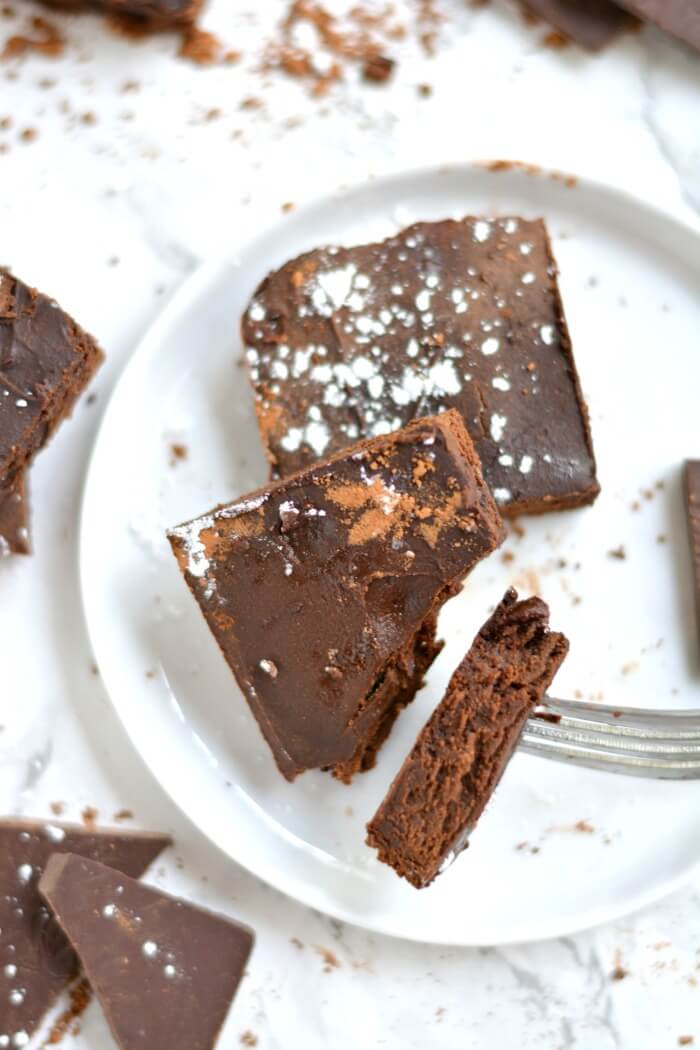 Now these 100 Calorie Fudge Brownies are small, but they're extremely rich and heavenly. They're not overly sweet where you'll want to eat the entire whole batch.
One is definitely enough! I don't know about you, but that's a plus for someone like me who has a tendency to overeat especially when something's really sweet. It's important to know your boundaries. But with these, there's not a problem whatsoever.
I am 100% positive you will love these little 100 Calorie Fudge Brownies! They're perfect as a low calorie, gluten free treat or healthy dessert that will have your guests oohing and ahhing over!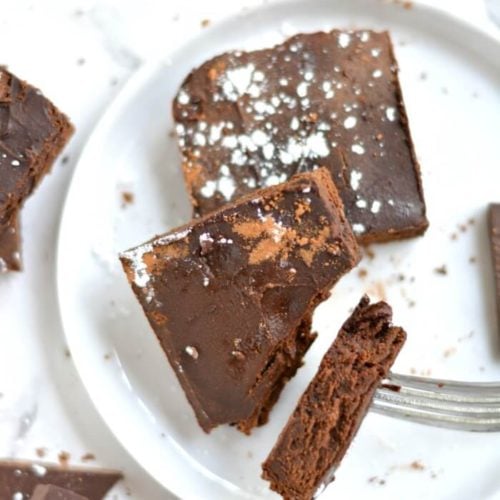 100 Calorie Fudge Brownies
Silky 100 Calorie Fudge Brownies made healthy with rich dark chocolate and no added sugar or refined oil. The perfect treat to satisfy a sweet tooth!
Instructions
Preheat oven 325 F. Prepare a square 8x8 baking pan with parchment paper, allowing for the ends to hang over the sides for easy removal.

In mixing bowl, whisk together egg whites with vanilla, Greek yogurt, coconut oil and maple syrup.

In a separate bowl, sift together the cocoa powder and Gluten Free oat flour with baking powder.

Add 1/4 of the dry mixture to the wet and fold into the batter. Continue doing this until all the dry mixture is folded into the wet batter. This will get thick and cake-y so be careful to not over mix.

Transfer the batter to the prepared baking sheet and spread into a thin, evenly layer.

Evenly disperse the chocolate chips to the top then push them into the batter.

Bake 12 minutes until the brownies have set up and a toothpick can be inserted clean from the center.

Remove from the oven and cool in pan 1 hour prior to removing and slicing into 12 bars.
Nutrition
Serving: 1gCalories: 95kcalCarbohydrates: 15.9gProtein: 3.1gFat: 3.1gSaturated Fat: 1.6gCholesterol: 0.4mgSodium: 33.8mgFiber: 2.9gSugar: 6.9g
What I Used For The Recipe