Is Calorie Counting A Good Way To Lose Weight? This is a question I get a lot. There's so much conflicting information out there, but here's the thing. There's no magical equation that works for everyone. If that were the case, no one would be overweight and I wouldn't have clients.
Different studies, different protocols, different people means different results, different opinions. This is why you see conflicting information. Calories are highly misunderstood. In order to understand if calorie counting's a good way to lose weight, you need to first, understand what a calorie is.
Definition Of A Calorie
A calorie is the amount of heat in food needed to raise the temperature of one gram of water by one degree Celsius. Calories in food provide energy in the form of heat so the body can function. The body stores and burns calories as fuel much like a car burns gas as it runs.
When the word "calorie" is used from a nutrition aspect, it's usually referred to casually as calories, but it's actually kilocalories we see on nutrition labels. The two terms are different.
Calorie is the amount of heat required to raise the temperature of one gram of water by one degree Celsius.
Kilocalorie is the amount of heat needed to raise the temperature of 1 kilogram of water by one degree Celsius. A kilocalorie is equal to 1000 small calories. Kilocalories are food calories, but people shorten it to "calories."
What Is A Calorie
A calorie is simply a unit of measurement of the amount of energy in food and beverages. Calories are not only important to dieters, they're important to everyone! It's the energy that fuels the basic functions of the body - brain, heart, lungs, etc. It's also the energy that supports day to day activity and working out.
Everyone needs a certain amount of calories to live and stay healthy. This is why eating too low calories can be damaging.
How Calories Are Calculated
Everyone has a basic amount of calories they need to survive. This is referred to as basal metabolic rate (BMR). Think of it this way, if you were to lay in bed all day and do nothing but watch tv your body would need a basic amount calories to keep your heart pumping, lungs breathing, brain functioning, etc. This is what keeps you alive.
Then there is total daily energy expenditure (TDEE). This is the amount of energy it takes for you to walk around all day, go to work, exercise, etc. It takes into account the intensity of your exercise and how active you are (desk job vs. physical job). How active you are in your day to day life requires calories.
Both BMR and TDEE must be used as the basis for calculating calories. There's 3 official models - Mifflin-St. Jeor, Katch-McArdle, Harris-Benedict. I use a combination of all 3 formulas when I calculate my clients calories.
How Online Apps Calculate Calories
Online apps like MyFitness Pal, LoseIt and Chronometer calculate calories in a very simplistic way (I DO NOT RECOMMEND THIS):
(Weight in pounds * 14) - (Weight Loss Factor 200-500) = Your Daily Calories
Example: (215*14) - 500 = 2510 <- this is too much for weight loss
Why This Formula Does Not Work
It's too generic. For someone 190 pounds or greater, it will calculate TOO MANY CALORIES and for someone closer to their weight loss goal, it will calculate too few calories.
The formulas food tracking apps use are not taking into account BMR or TDEE. They also don't consider important factors that influence weight loss.
How I Calculate Client Calories
I created a formula that calculates an average of the 3 models mentioned above for my clients. Then I adjust for hormones imbalances, stress level, intensity of workouts (endurance vs. yoga vs. no workouts) and MOST IMPORTANTLY I adjust for health conditions.
For example, if someone has been a chronic dieter or has has had trouble losing weight, I adjust their weight loss factor by a smaller number because I know they need more calories for their metabolism to come up to start losing again.
Remember the fewer calories you eat, the slower your metabolism is. That's the opposite of what you want to happen when you're losing weight. Eating enough of the right calories, keeps your metabolism running optimally.
How Calories Cause Weight Gain
When you consume too many calories, you store the excess as fat. Our bodies are really good at doing this because our cells are primitive and remember when food was scarce. Today food is everywhere so we need to be aware of how much food we eat.
In order to lose weight, you need to create a calorie deficit. One pound equals 3,500 calories so in order to lose weight you need to burn that amount or create a deficit. I recommend everyone track their food to understand how much they are eating.
But it's not just about calories...
Calories Are Not Created Equal
In a previous post, I shared how macronutrient composition is a key influencer in weight loss and maintaining satiety. Macronutrients are the three main foods groups - protein, carbohydrates and fat. I coach my clients to track macros NOT calories. Why? Because it helps them maintain the right balance of all three food groups.
People who are chronic dieters tend to eat too much of one food group (usually fat or carbs) and don't get enough of other food groups. This causes cravings and leads to nutritional deficiencies.
When you count calories (or WW points), you can fill those numbers with ANY food. But that doesn't mean your blood sugar will be stable and you'll stay full. Cravings are a sign you're deficient in something.
In that post, I also shared the diagram below comparing a donut to a salmon avocado salad. The macronutrient breakdown is NOT the same for each example. The donut has higher carbs and sugar with a lower amount of protein. The salad is lower in carbs, higher in protein, fat and fiber. The salad is better balanced with protein and fat to maintain fullness and stable blood sugar.
This is why an hour after eating the donut, you'll feel hungry. Because there's no fiber or protein to keep your blood sugar stable. Once blood sugar drops, you crave more food.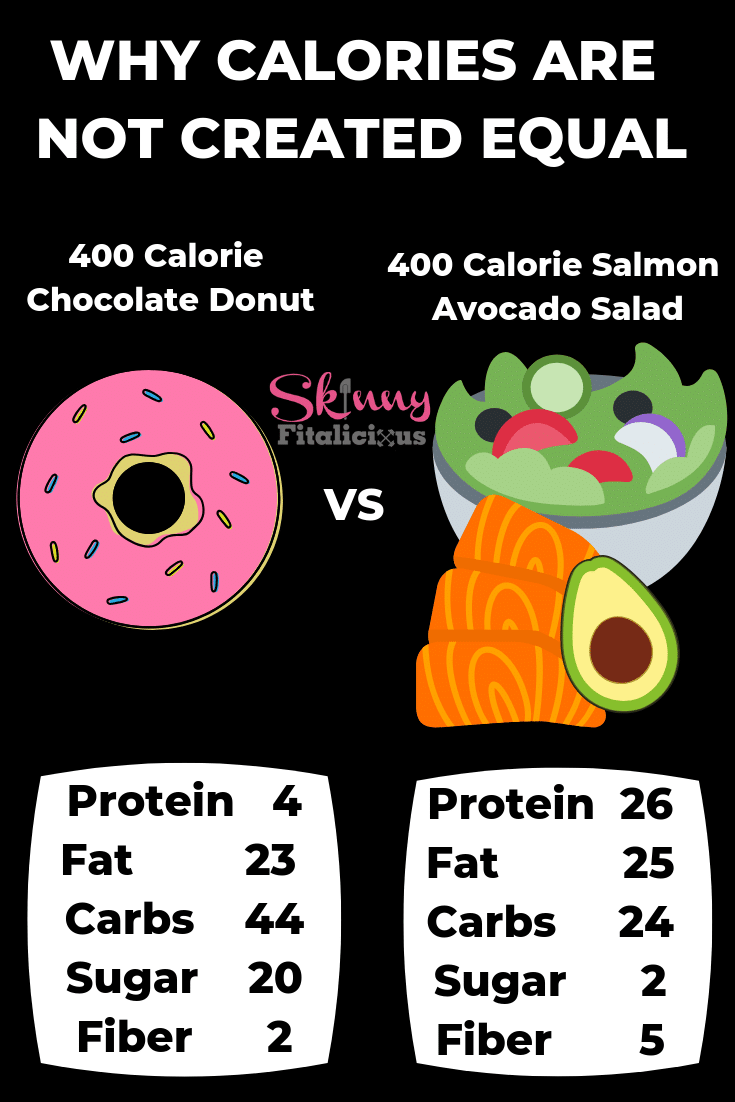 Calories Are Not The Only Factor That Influences Weight Loss
Hormones play a key role in weight loss. Thyroid function, insulin resistance, leptin resistance, reproductive hormones, cortisol and HPA axis HIGHLY INFLUENCE weight loss. If any of them are out of balance, weight loss is virtually impossible.
Vitamin and mineral deficiencies, use of hormonal birth control and antidepressants also contribute to your ability to lose weight.
Studies show more and more chemicals found in personal care products, cookware and drinking water are hormone disrupting. Being exposed to too many chemicals throughout the course of your life, can impact your ability to lose weight. One of the reasons why later in life many people struggle to lose weight.
Is Calorie Counting A Good Way To Lose Weight
If you've never dieted a day in your life and you started tracking your food and reduced calories you might lose weight. The more effective way to fat loss though is tracking macronutrients - protein, fat and carbohydrates. Macronutrients ensure you get the right amount of protein, fat and carbohydrates so your blood sugar is stable and you don't get cravings. This is how I coach the majority of my clients to lose weight.
As a reminder, weight loss is much more than the food you eat and exercise you do. Macros and calories are one piece of the complicated puzzle. Healthy hormones, healthy vitamin and mineral levels, a healthy lifestyle and reducing exposure to chemicals is just as important.
This advice is meant to be general nutrition advice. Consult a professional if you have specific questions.
Related Posts:
Why You Stop Losing Weight On Low Calorie Diets