This 4 Ways I'm Challenging My Health in 2017 post is sponsored by BabbleBoxx.com on behalf of Single Edition Media. All opinions of course, are my own. Thank you for your support!
I've been eating healthy and exercising for many years, but recently I've noticed I'm sort of stuck in rut when it comes to maintaining my health. I say this because many of the clients I coach come to me frustrated that they've been doing the right things for so a very long time, however, aren't seeing results. As with an habit, healthy or unhealthy, the body is highly adaptive to whatever that habit is. Chances are if you've been doing the same thing for a long time and not seeing change, then you need to change how you're doing things to make your body think again.
For me, I haven't wanted to change much since my hip surgery last year for fear of getting injured. Obviously, that didn't work, and since that plan tanked, I'm now taking this opportunity to challenge my healthy habits. That's why I'm partnering with Women's Health Checklist Babblebox to bring you 4 Ways I'm Challenging My Health in 2017, and I hope they inspire you to challenge your health too!
Eat Plant Based Once A Week
I've always known eating plants was good for you, but I never realized how really important it was until I studied about the cellular effects they have on the body in nutrition school, which have been shown to prevent the development of disease. It really opened my eyes to the importance of eating more plant-based. Now I'm challenging myself to add more plant-based foods into my diet. Notice I didn't say subtract, I said add!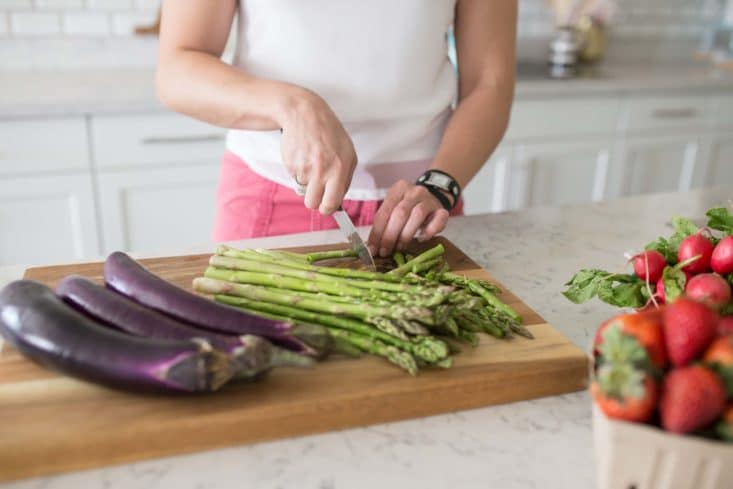 Healthy Choice Power Bowls are made with a combination of nutrient-dense vegetables, proteins and whole grains which are a great option for busy people on the go who want to increase their plant-based foods in their diets. Meals are inspired by Korean, Cuban and Latin cuisines and are made in new bowls made of plant-based fiber instead of plastic. There is over 16g of protein and 6-8g of fiber in every bowl. So if you're looking to increase protein and plants, this is a good option.
Swap Personal Care Items
I always focus on what I eat and what I do, but I rarely focus on the things I put on and around my body. One of my nutrition classes opened my eyes to how just like food, certain personal care products can contain ingredients that seep into the body causing damage. This year I'm challenging my health by swapping out a few personal care items for more natural products.
ARM & HAMMER™ Peroxicare™ toothpaste helps maintain healthy gums by cleaning deep between teeth and along the gum line with the gentle power of baking soda. I like using this after lunch because when my teeth are clean I don't snack as much.
Staying Active BUT Taking Breaks
Being active is important for many reasons. To maintain a healthy heart, promote mental health (seriously activity is so good for the brain) and to prevent injuries to muscles, bones and joints.
While I am active in some form every day and shoot at least one recipe on my day which means I'm on my feet, working from home means less natural activity. I find myself spending a lot of time on the computer either working with clients, freelance writing, or writing for the blog. Sometimes I'm sitting 6 or 8 hours before realizing it. One of my biggest ways I'm challenging my health is by TAKING A BREAK.
Mio SLICE featuring PAI is a Heart Rate Monitor + Activity Tracker in one. It's tracks steps, calories burned and tracks your heart rate all day. Unlike other fitness trackers, this one gives you a goal. The idea is to maintain a PAI score of 100 or more over a rolling 7 days, and you can do this with all types of activity, even those that don't involve steps like biking, rowing and fitness classes.
Your score is calculated based on age, gender, resting heart rate and maximum heart rate. For me, Mio SLICE ft. PAI has been great motivation for me to take a break and take a walk around the block. It's also a good excuse for me to get the mail, which I often forget to do. OOPS!
Understanding My Health History Better
Another way I'm challenging my health is by finding out more about my health history. I already know everyone on both my parents side of the family suffer from high cholesterol and heart disease, but since my Grandparents passed very early I would like to know more about where I came from and some of the potential health risks I may be predisposed to. One way I'm doing this is with 23andMe.
23andMe does DNA analysis from your saliva. The way it work is you receive an accessory kit which includes a vial. You fill it with your saliva, and mail to them. Then they tell you all about your DNA!
When you receive your results, they give you a percentage breakdown by region, so you know where you came from tracing your ancestry through generations. Pretty cool! I'm excited to see the results, promise I'll share them once I have them back. Now through May 14th you can get $20 off your  23andMe purchase using this link.
How are you challenging your health in 2017?
[Tweet "Challenge your healthy habits! #AD #healthyliving @23andme @healthy_choice @MioGlobal #BBWomensHealth"]
3 Smart Strategies To Stop Cravings