Moist and fluffy Raspberry Lemon Quinoa Muffins! These protein-packed muffins have summery flavors, are lightly sweet and packed with nourishment. Great for breakfast, brunch, or anytime! Gluten Free + Low Calorie
It's been awhile since muffin Monday's made an appearance here and I'm bring it back in a BIG way with these Raspberry Lemon Quinoa Muffins. I've already made two batches!
I've been craving raspberry muffins for a weeks, but just getting around to making them now. It's been over 100 in Phoenix the past couple weeks. It's so hot! For those of you not from here, that's totally not normal. That's like 20 degrees warmer than normal.
We went from winter to hello it's summer in one week! Of course, my meals are a reflection of the weather because when it's that hot, you eat lighter foods to stay cool.
These muffins gave me a good excuse to get back on the meal prepping train. I haven't fallen off per se, but have gotten disorganized. Between finishing school, taking on more nutrition clients and freelance work, there's been a lot of change.
Throw the guy in the mix, and I don't recognize my life. Don't get me wrong change is good, but it's an adjustment.
So about them Raspberry Lemon Quinoa Muffins. You will go bananas when you taste these! They're crazy creamy in the middle from the Greek yogurt and raspberries.
Then you get bursts of citrus-y lemon in your mouth and just a little crunch from the quinoa. Yes, quinoa! For added crunch, and protein. One of my favorite ways to add protein to my breakfast.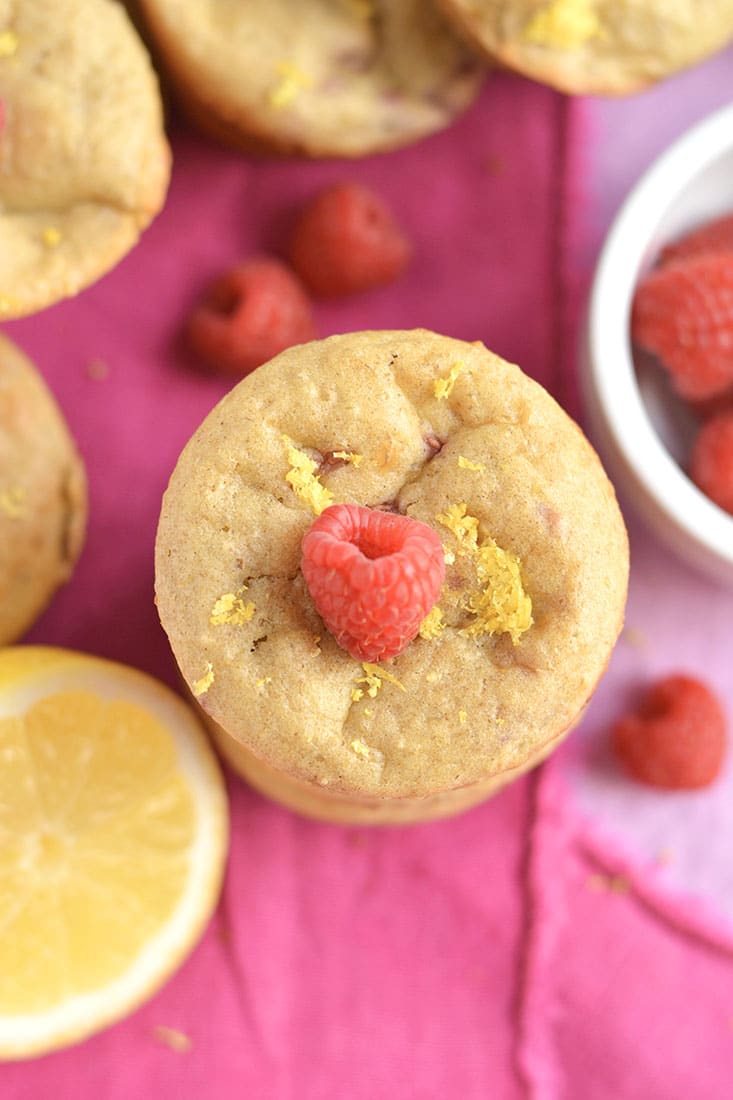 Many of my weight loss clients struggle with eating protein especially for breakfast. I recommend quinoa (pronounced KEEN-WAH) for them to add to their diets, but discovered no one knows what it is. Sometimes I take it for granted that you guys know what I'm talking about.
Here's the skinny. Quinoa is a plant (not a grain), we eat the seed which is naturally gluten free. The best part about quinoa though is it's a complete protein meaning it contain all 9 essential amino acids.
They're essential because the body cannot make them. They have to be obtained from food.
Quinoa is a rockstar when it comes to healthy foods! EAT MORE QUINOA! I still don't understand why Paleo-ans (is that a word?) don't eat it, but that's a topic for another day.
Now that you know all about quinoa, here's one I recommend you buy so you can whip up these muffins. Check it out!
This Raspberry Lemon Quinoa Muffins recipe makes 12 muffins so you get at least one for breakfast everyday with leftovers to share.
That is if you're willing to share. I didn't give any to the guy, but don't tell him that. He's always going through my food!
Raspberry Lemon Quinoa Muffins
Moist & fluffy Raspberry Lemon Quinoa Muffins! These protein-packed muffins have summery flavors, are lightly sweet & packed with nourishment. Great for breakfast, brunch, or anytime! Gluten Free + Low Calorie
Prep Time 10 minutes
Cook Time 22 minutes
Cool Time 5 minutes
Total Time 37 minutes
Servings 12 muffins
Calories 177 kcal
Instructions
In a large bowl, sift together cooked quinoa, oat flour, baking soda, baking powder and salt. Set aside.

In a separate medium mixing bowl or standing mixer, place eggs, oil, maple syrup, yogurt, lemon extract, lemon juice and stevia. Combine until creamy and smooth.

Slowly add the the flour mixture into the wet mixture. Do not over mix. Fold in the raspberries by hand.

Transfer the batter to the prepared muffin tin and fill the muffin cavities dividing it evenly among the 12 cavities.

Bake 22-24 minutes until a toothpick can be inserted into the center clean.

Cool in the pan 5 minutes before removing with a mini spatula and transferring to a wire baking rack.

Keep in the refrigerator 5 days or freezer up to 30 days.
Course Breakfast, Snack
Cuisine American
Keyword dairy free, gluten free, healthy, high protein, low calorie, low sugar, muffin, oat flour, quinoa, raspberry
Nutrition facts per serving (1muffin)
Calories 177 kcal
Fat 8.3 g
Saturated Fat 1.3 g
Cholesterol 32 mg
Sodium 74 mg
Potassium 0 mg
Carbohydrates 18.6 g
Fiber 2.7 g
Sugar 2.4 g
Protein 6.5 g
Vitamin A 0 %
Vitamin C 0 %
Calcium 0 %
Iron 0 %
Meal Plans
Get a meal plan designed to meet your weight loss goals.
Learn More
What I Used For The Recipe