This post contains affiliate links. As an Amazon associate I earn qualifying purchases. Click here for more about this policy.
Healthy Zucchini Apple Spice Muffins are a low calorie muffin recipe made flourless with more protein and lower carbs. An easy snack recipe with warm spices! Low Calorie + Paleo + Gluten Free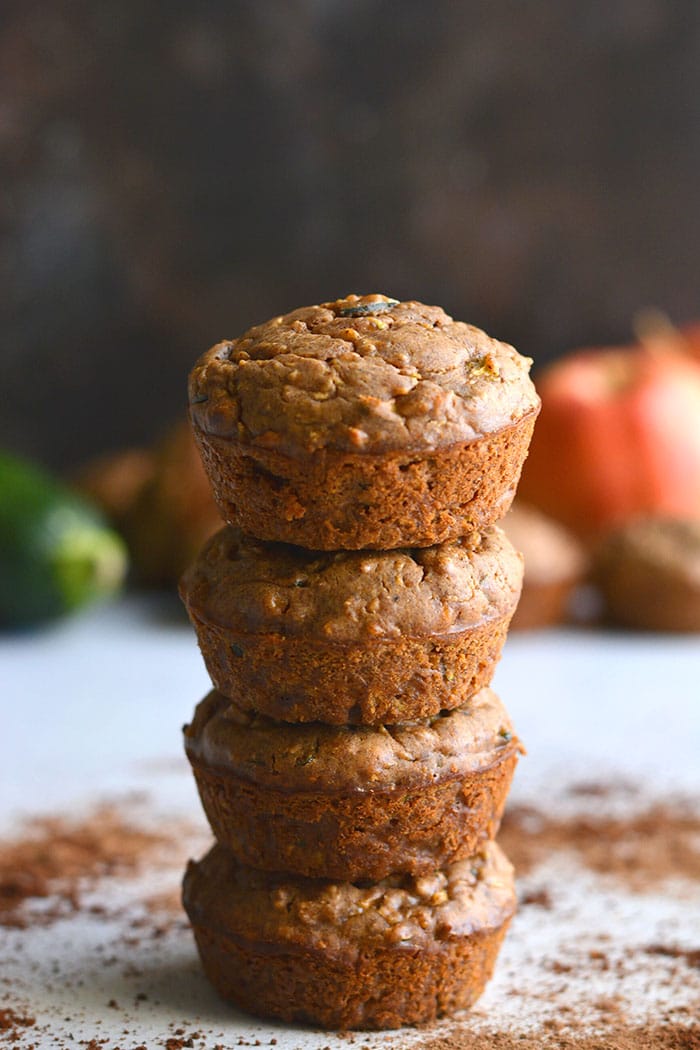 This is an old recipe from December 2014. Wow! That's about the time I started this website so this is one of the very first recipes that started this place, and it holds a dear place in my heart!
I love a good healthy muffin recipe, but this one just has so much warmth and coziness to it. It tastes like all the flavors of winter wrapped in a muffin!
It's a better for you muffin that's made flourless, gluten free, dairy free, low sugar and higher in protein and fiber.
What Makes These Zucchini Apple Muffins Healthier
What makes this particular muffin recipe healthy? Here's a few reasons why these are a better for you snack...
Fewer Calories - Most muffin recipes are 250 and up in calories. This muffin recipe is only 158 calories which is considered low calorie. Now, calories are definitely not everything. What makes up the calories is always what matters most the number!
Higher Protein - This recipe uses egg whites to increase the protein of the muffins. Any time you have a sweet treat, it's important to balance it with protein to prevent cravings and overeating.
Higher Fiber - Fiber is key to weight loss, hormone balance and keeping hunger and fullness in check. This recipe has 3 grams per muffin while most muffin recipes are very low.
Less Fat - This recipe only has 1 gram of saturated fat. The rest of the fat is good for you fat and the fat is replacing flour in this recipe.
Low Sugar - This healthy muffin recipe uses 1/4 cup of maple syrup for the entire recipe. That's very low sugar when spread across 12 muffins!
Ingredients For Low Calorie Zucchini Apple Muffins
Almond Butter, creamy with no sugar added
Egg Whites
Zucchini
Apple
Maple Syrup
Baking Powder
Cinnamon
Nutmeg
Ginger
Cloves
Allspice
How To Make Healthy Zucchini Apple Muffins
The first step is shredding the zucchini and apple. I recommend keeping the skin on both as this increases the fiber content. You can easily shred them by chopping them roughly and adding to a food processor or blender and pulsing them several times. By the way, this is one of my favorite tricks for dicing vegetables for meals to make it easier.
There should not be a ton of moisture from the zucchini and apple after you shred it. If there is, you may want to place it in a dishtowel and gently squeeze a bit out. I did not find that I needed to do this.
Once the zucchini and apple are shredded, whisk together the egg whites in a large mixing bowl then add the remaining ingredients and mix together.
Transfer the batter to the prepared muffin tin and fill each cavity 3/4 of the way full. Bake 18-20 minutes then remove from the oven and let the muffins hang out in the muffin tin a few minutes before removing and enjoying!
Can This Healthy Zucchini Apple Muffin Recipe Be Made Into Bread?
For the most part in baking, you can make muffins into breads and breads into muffins. I have not tried it myself with this particular recipe. If you do try it, I recommend baking 45-50 minutes at the same temperature then checking by inserting a toothpick in the center of the bread to see if it comes out clean to determine whether or not it is done baking.
Substitutions For Zucchini Apple Muffins
Here are substitutions you can make for your gluten free zucchini apple spice muffins. If you do make a substitution, please note that it can change the nutritional values of the recipe.
Almond Butter - Any nut butter (peanut, cashew etc.) can be substituted as well as sunflower butter. If you use sunflower butter, it may turn the muffins a funky color though due to the baking powder.
Egg Whites - one whole egg can be substituted for the two egg whites; however, this will increase the calories and reduce the protein.
Egg Free - You can substitute the eggs with two flax eggs. To make two flax eggs, you combine 4 tablespoons of flax meal with 2 tablespoons of water and let it sit in a bowl until it thickens. Bob's Red Mill also has an egg replacer which I have not tried with this recipe.
Spices - Any of the spices can be omitted or substituted in the recipe. The two that are most important are the cinnamon and nutmeg. The others will lift the flavor of the muffins, but are certainly not required.
Apple - A pear can be substituted for the apple. Applesauce cannot be used instead of the apple.
Zucchini - Summer squash or delicata squash can be substituted.
Maple Syrup - You can substitute honey for the maple syrup one-for-one. The amount of maple syrup in the recipe is very small - only 1/4 cup for the entire batch of 12 muffins. I have not tried using a zero calorie sweetener, but if I were to try it would be monk fruit or stevia.
Healthy Zucchini Apple Spice Muffins
Healthy Zucchini Apple Spice Muffins are a low calorie muffin recipe made flourless with more protein and lower carbs. An easy snack recipe with warm spices! Low Calorie + Paleo + Gluten Free
Instructions
Preheat oven to 350 F. Prepare a muffin tin with muffin liners or spray with cooking spray.

Shred the zucchini and apple (with skin on) in a food processor or blender by pulsing several times.

Add the egg whites to a large mixing bowl and whisk. Add the remaining ingredients including the shredded zucchini and apple. Mix together. Ensure the almond butter is fully mixed before adding it - the oil separates in jar. Mix this together before measuring and adding to the mixing bowl.

Fill 12 muffin cavities 3/4 of the way full.

Bake 18-20 minutes or until the a toothpick can be inserted clean in the center.

Remove from the oven and cool in the muffin tin before removing.

Store the healthy zucchini apple muffins in the refrigerator up to 7 days or in the freezer up to 60 days.
Nutrition
Serving: 1muffinCalories: 158kcalCarbohydrates: 10gProtein: 5gFat: 12gSaturated Fat: 1gSodium: 12mgPotassium: 235mgFiber: 3gSugar: 6gVitamin A: 25IUVitamin C: 2mgCalcium: 95mgIron: 1mg