If you're struggling to lose weight, then you know it is a frustrating process of ups and downs. It's not a linear process. Some weeks you lose, some weeks you gain, some weeks you maintain. Some weeks you drive yourself insane. Sound familiar?
When this happens, it's your body's way of telling you something needs to change which is a good time to step back and re-evaluate what you're doing.
Why You're Struggling To Lose Weight
Thinking exercise will get you there
The secret to losing weight is in what you eat, not what you do. You can workout like a maniac all day, but your weight will not shift dramatically. Even if you do lose weight, once you stop working out it will come back quickly (and with a vengeance) if you haven't changed your eating habits. Physical activity is important regardless of your weight loss goal, but don't use it to move the scale.
Not being honest with yourself
A few bites of chocolate here and a few extra scoops of peanut butter there and suddenly you're struggling to lose weight. It's easy to sneak in "extras" throughout the day, but those extras add up and the scale isn't forgiving.
Portioning food and planning what you eat is helpful because you can buffer for extras or even better, plan them into your day so you're not depriving yourself making it more likely for you to cave into those desires.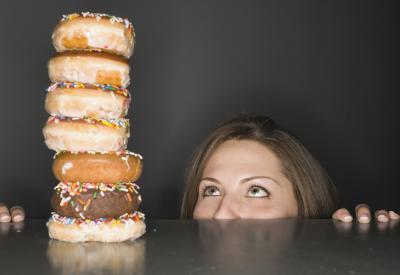 Having "the diet starts Monday" mentality
Because most people are creatures of habit, the weekends can negatively impact weight loss and become a license to binge. Unfortunately, this can easily turn into a vicious cycle of bingeing and restricting. The key is to not restrict your diet during weight loss. That way you won't have the desire to go crazy on the weekend satisfying your food cravings. Build food you enjoy into your meals plans all week long so you don't feel restricted or have the urge to binge.
You haven't planned
Since weight loss is primarily about changing eating habits, planning is critical. If you're not planning ahead, meal planning and organizing a grocery list from your meal plan chances are high you're going to revert back to old eating habits. This one critical step could be your answer to why you're struggling to lose weight. If you're struggling to meal plan or don't have time, reach out to a nutrition coach for help.
Thinking you're eating healthy
Think about what you're definition of healthy food is. Are you eating nonfat foods or packaged foods? While advertised healthy, most generally have the fat replaced by sugar. Sugar is a sneaky offender as it's hidden in many foods.
You may also be eating larger portions than you should. It's just as easy to over do it on healthy food as it is on the bad food. Measuring appropriate serving sizes will ensure you're not underestimating what you're really eating.
Not eating enough protein
Lean protein is needed to build lean muscle tissue and required for fat loss. Losing fat equals losing inches. Protein not only improves fitness performance, but is also takes more energy to break down. If you're eating a diet consisting primarily of carbohydrates, then you're not feeding your body the nutrition to lose weight, and potentially, storing the extra sugar from carbs as fat.
The average active adult should have 0.8-1 gram of protein per body weight. So, if you weigh 140 pounds, then 112-140 grams of protein per day. You can easily track this using apps like My Fitness Pal or Lose It. A good rule of thumb is to include lean protein with every meal and snack.
Not being disciplined
You may have the ultimate willpower when it comes to food, but if you're not disciplined in your behaviors it will catch up with you. People who sustain weight loss do so because they've created healthy habits. Those habits include (but are not limited to) working out regularly, meal planning weekly, eating three balanced meals a day, drinking A LOT of water, having healthy snacks on hand and keeping tempting foods out of the house.
A final thought
People can be a powerful influence in your life. Ask yourself if the reason you're struggling to lose weight has to do with the people you surround yourself with. Are you not getting the support you need? If not, ask them for support or distance yourself from those who are unsupportive of your goals and keep the positive ones close.Want
Having a nutritionist at your side gives you the moral support, motivation and accountability that you're lacking internally to motivate yourself. I had a client last week tell me the moral support she got from me was exactly what she needed to reach her weight loss goals. Do you know how much weight she's lost so far? 60 pounds! Having someone else hold you accountable rewards you big!