This post contains affiliate links. As an Amazon associate I earn qualifying purchases. Click here for more about this policy.
Raspberry Chocolate Oatmeal Cookies! An easy recipe for soft baked oatmeal cookies made with wholesome ingredients. Healthy enough for breakfast and sweet enough for a snack! Gluten Free + Low Calorie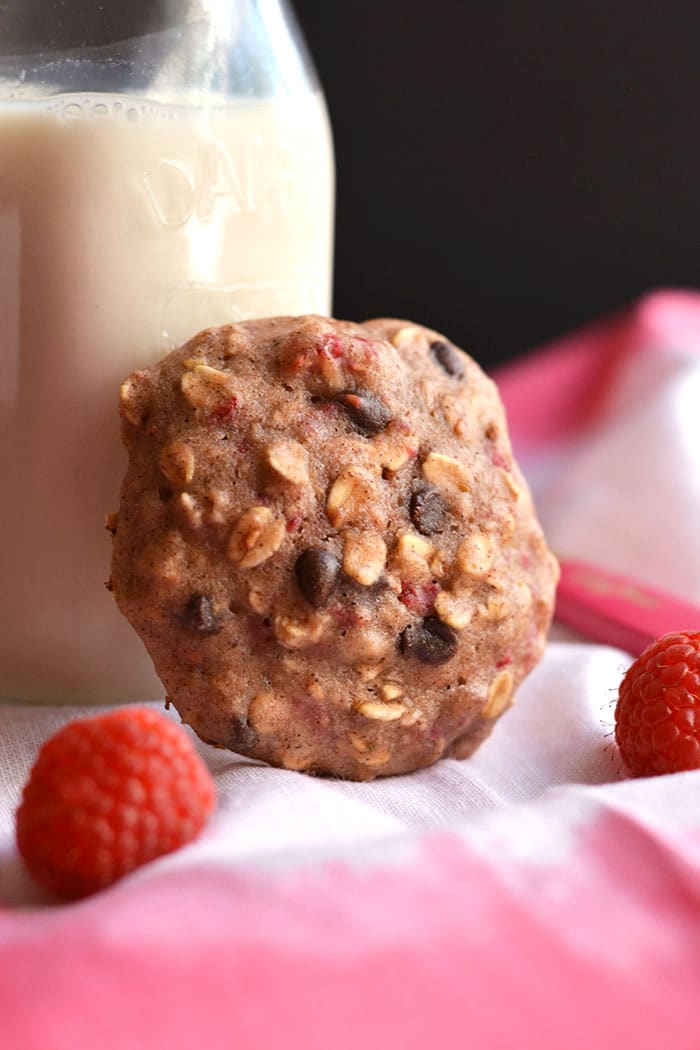 It's time to bust out the cookie sheets for some Raspberry Chocolate Oatmeal Cookies because it's February 1st and everyone's off their diets. Kidding! Well, kind of. I'm actually glad it's February because I'm really tired of seeing people on Facebook and Instagram talking about their diets (particularly Whole30).
My issue isn't that they're trying to get healthy. I'm all for that! My issue is how everyone says "I can't wait until the end of January to eat cookies again." WHOA. Isn't the whole point of doing a diet to break up with sweets, especially Whole30?
You see this is where I differ from many others in the healthy living community because I believe you can be healthy and eat cookies too. In fact when I was losing 80 pounds, I ate a cookie at lunch everyday and had a single serving of ice cream every night. It blows my mind when people eliminate treats because I guarantee the second they're off Whole30 they're gonna binge on everything. What's the point of doing the diet then?
I believe if you eat everything in moderation, food is less attractive. It's just food, and not some crazy science experiment of will power. When you restrict, you're just putting yourself in an unhealthy mental pattern of obsessing over food which leads to over eating.
That's not to say I don't think Whole30 isn't a great way to detox your body from processed foods and sugar, and to build better habits. I actually think it is. But when the intention is to go right back to those old habits after those 30 days are done then I say what's the point. It's just another temporary fix. Exactly why I wrote an entire book on why you should Ditch The Diet.
While many people were dieting in January, I've been over here eating Raspberry Chocolate Oatmeal Cookies and burning fat. I've been tracking my measurements which is why I know I've lost inches. It's great to finally be getting back to my pre-surgery self. Not easy to do at my age, but cookies help!
That is healthy, whole grain cookies made with oatmeal, raspberries and chocolate chips that taste like pancakes in cookie form. I eat one a day and that's enough to keep my sugar cravings in check. Healthy enough for breakfast, yet sweet enough for a snack!
So next time you think about going on a diet, I want you to think about how allowing yourself to eat the foods you think are off limits and how it may change your outcome.
P.S. I HIGHLY recommend adding a scoop of collagen to these goodies. Collagen improves skin, hair, nails and joints. I've been using it for over a year and have noticed a huge improvements in my nails particularly which used to be really frail.
Collagen is very important as we age! As someone who had a joint replacement at a young age, I plan to do anything I can to keep the rest of my joints strong. Collagen is a great way to do that. It's a supplement I recommend to all my 1:1 clients!
3 Smart Strategies To Stop Cravings
Raspberry Chocolate Oatmeal Cookies
Raspberry Chocolate Oatmeal Cookies! An easy recipe for soft baked oatmeal cookies made with wholesome ingredients. Healthy enough for breakfast & sweet enough for a snack! Gluten Free + Low Calorie
Instructions
Preheat oven to 325 degree F. Prepare a baking sheet with parchment paper or a slip mat.

Using a standing mixer or hand mixer, combine egg white, maple syrup, salt, cinnamon, vanilla and mix fully. To the mixture add oats, flour and baking powder. Then melted coconut oil stirring to incorporate.

Fold the raspberries to the batter, breaking them up a bit. Then fold in the chocolate chips.

Divide the batter by 10 and scoop onto your prepared baking sheet to make 10 cookies.

Bake 13-15 minutes until a bit brown. Remove from the oven and cool 2-3 minutes on the baking sheet before removing and cooling fully on a wire rack and devouring!
Nutrition
Serving: 1cookieCalories: 103kcalCarbohydrates: 16.8gProtein: 2.2gFat: 3gSaturated Fat: 1.9gSodium: 6.6mgFiber: 1.2gSugar: 4.1g
What I Used For The Recipe