Healthy Protein Gingersnaps only 100 calories! Made low in sugar and big on taste, these doughy cookies are winter baking must haves. Gluten Free + Low Calorie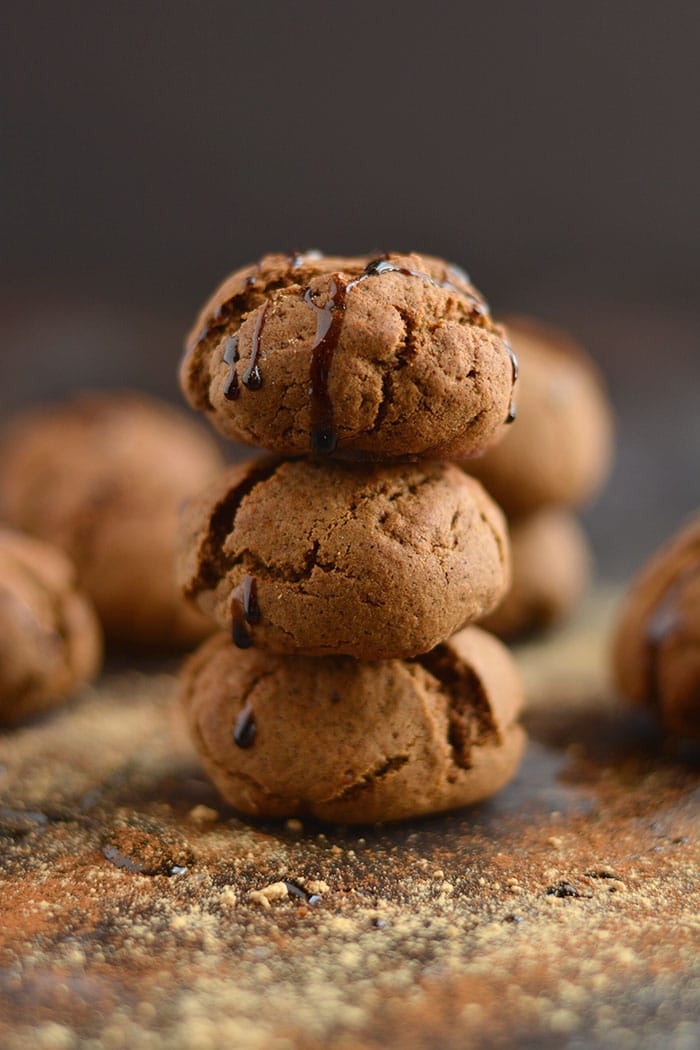 Just look at that molasses porn… Oh, hi! I'm just drooling over these Healthy Protein Gingersnaps. It's Monday and a holiday week, and I just can't seem to pull myself together. School break started week and I got the least amount of work done ever in a week. My rhythm is just completely off.
All the doctor appointments last week didn't help either as well as an emergency visit to the OB. For those who've followed me for awhile, you may remember I had amenorrhea for 5 years (2010-2015) then was put on high dose estrogen to spark my periods last year which I promptly took myself off because it did insane things to my body.
Things had been sort of fine in that department until recently when I started having OMG I wanna die cramping. I told the doctor I wanted my uterus removed. It was that bad. As it turns out, I have a polyp but they're not sure if it needs to be removed yet. More tests and possibly surgery….my battle with estrogen continues.
But I'm not going to rain on your cookie parade anymore because we have Healthy Protein Gingersnaps to get too, and that's way more fun to talk about.
I mean just look at that molasses drizzle? I must admit it was a last minute splurge and I worried it would make the cookies tart, sour or something. However, it did the opposite. It tied everything together making the flavors really pop.
The REALLY good news is these gingersnaps are ones you can feel good about eating. YEAH for HEALTHY holiday baking! These little gems are only 100 calories and I made them healthier by reducing the sugar and balancing the carbs with protein powder.
Did I mention they're only 100 calories? Just making sure you didn't miss that!
Thick, chewy and bursting with warm molasses and comforting winter spices, these Healthy Protein Gingersnaps are holiday must haves.
Perfect for baking on this festive week. Remember, healthy food can be just as delicious as the real deal, and these lovely Healthy Protein Gingersnaps are sure to be treasured by all!
Healthy Protein Gingersnaps
Healthy Protein Gingersnaps only 100 calories! Made low in sugar and big on taste, these doughy cookies are winter baking must haves. Gluten Free + Low Calorie
Prep Time 5 minutes
Cook Time 8 minutes
Resting Time 5 minutes
Total Time 18 minutes
Servings 12 cookies
Calories 107 kcal
Instructions
Preheat oven to 350 F. Prepare a baking sheet with parchment paper.

In a large mixing bowl, combine coconut sugar, egg, molasses and vanilla extract.

In a separate bowl, mix together the flour, protein powder, ginger, cinnamon, baking soda and sea salt.

Add two tablespoons of the dry ingredients to the wet and fold to combine. Then add melted coconut oil and the rest of the flour mixture and fold to combine. Do not over stir.

To form the gingersnaps, take 1 heaping tablespoon of the batter and roll into a ball and place on the baking sheet until you have 12 balls.

Bake at 350 F for 8 minutes.

Remove from the oven and transfer to a wire baking rack to cool a few minutes.

While cooling drizzle a little extra molasses with a spoon. This is optional, but makes the flavors really pop!
Course Cookies
Cuisine American
Keyword 100 calorie, cookie, dairy free, ginger, gingersnap, gluten free, healthy, low calorie, molasses, protein
Nutrition facts per serving (1cookie)
Calories 107 kcal
Fat 5.9 g
Saturated Fat 4.9 g
Cholesterol 0 mg
Sodium 108.9 mg
Potassium 0 mg
Carbohydrates 11.8 g
Fiber 0.4 g
Sugar 5.7 g
Protein 2.7 g
Vitamin A 0 %
Vitamin C 0 %
Calcium 0 %
Iron 0 %
What I Used For The Recipe