When making decisions or faced with challenge, I ask myself does it give you a better life? This question is one I ask myself to get through hard times and clarify what's most important in my life. Coming to terms with having a hip replacement was one of those things.
The weeks leading up to my surgery were some of the worst of my life. I was in a lot of pain, but even then I questioned whether or not I truly needed surgery at that moment or if I could wait a few more years.
Truthfully, I was looking for any excuse to get out of it because I was scared. If it hadn't been for the crippling pain during those weeks, I'm not sure I would have gone through with it. As a side note, the doctor told me after surgery it was the worst hip he had ever seen. He didn't know how I was able to walk given the destruction. #determined
[AdSense-A]
With the surgery now behind me, I couldn't be happier. I have no joint pain. I can move my body the way it was meant to move, and I'm not in pain. I'm not sure I know what life without pain even looks like.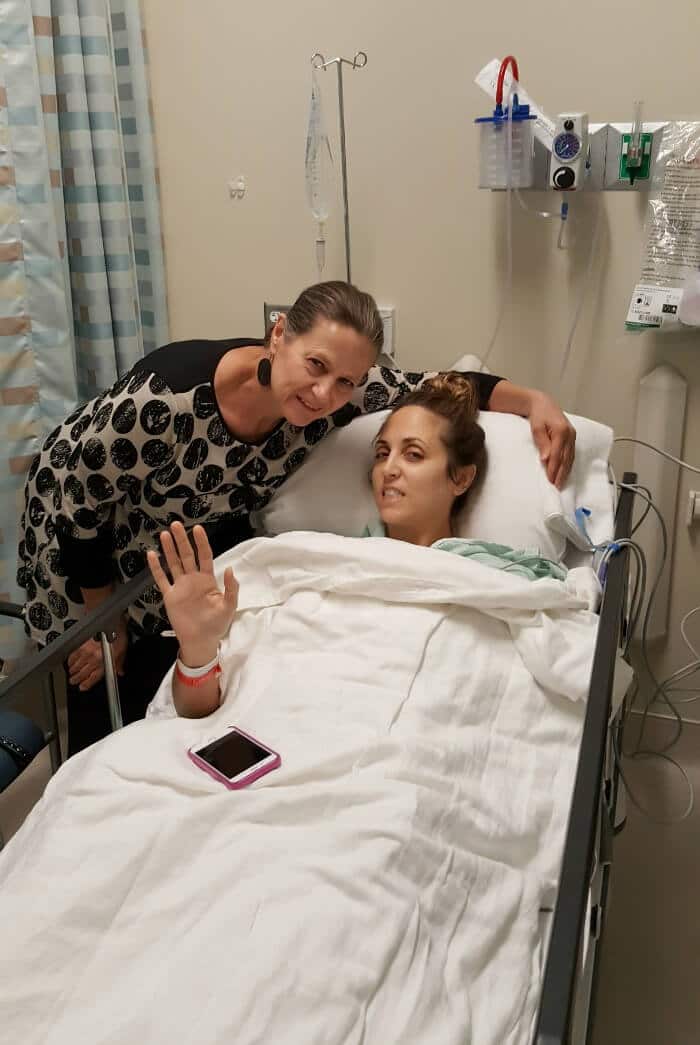 Yes, I'm frustrated as hell that I'm still walking with a crutch and have bouts of swelling. Swelling that interrupts my day and forces me to elevate and ice frequently. Sure, I'm bored of resting and not working out the way I want to. But those are short term things and there's so much to be gained in the long run. So I remind myself once I get beyond this healing, it will give me a better life.
As I struggled to take a few steps, I told myself this for the 1000th time and thought about how it applies to those of you battling a health alignment, wanting to lose weight or make a healthy living change. No matter what your goal is, ask yourself.
"Does it give you a better life?"
The beauty of this question is that it forces you to focus on the big picture and not the immediate challenge at hand. Take my hip surgery as an example. I knew in the long term, it would give me a bigger, better life. But what I was really scared of was the surgery.
What is your real barrier?
Asking yourself does it give you a better life forces you to evaluate what's really holding you back from making a change.
[AdSense-A]
It could be fear of the unknown, not wanting to give up your favorite food, not wanting to commit to a regular workout, not believing in yourself, or any number of things. My point is you want something, but something else is holding you back.
Say you want to lose weight, what's really stopping you from doing it? Only you can answer to that question.
How do you use the question?
The question "does it give you a better life" can be applied to any situation. It can help you decide if you're going to the gym today, what you'll have for lunch, if you'll binge on three boxes of cookies.
Doing this will allow you to discover your version of balance. Often we box ourselves into rules that don't allow the freedom to choose. Consistency, routine, self awareness are what enables you to achieve a goal. Not rules that you follow like a soldier. My point is having one ice cream a week won't destroy your goals.
If you ask yourself "does it give me a better life" and your answer is YES, then doing the things you need to do become easier. You'll feel less pressure to be perfect and good about doing the things you choose because you know in the long run they'll make you happier. The beauty is your answer, no matter what it is, will always be the right one for you.
What do you ask yourself when faced challenge? Are you able to see the true barriers stopping you from your reaching your goals?
[Tweet "When faced with challenge ask yourself this, does it give you a better life? #selfcare"]