This post contains affiliate links. As an Amazon associate I earn qualifying purchases. Click here for more about this policy.
This Foods To Balance Your Gut For Weight Loss post is for Skinny Fitalicious members. Sign up for Skinny Fitalicious Membership to get exclusive posts, webinars & to receive special discounts toward nutrition coaching and meal plans!
In the post Why You Need To Improve Gut Health To Lose Weight, I mentioned if you're someone who's been struggling to lose weight that you need to focus you efforts on improving gut health first. In that post I describe why gut health impacts your weight and overall health. In this post, I'll describe how certain foods change your gut micro-biome and foods to balance your gut for weight loss.
How Certain Foods Change Your Gut
Foods we eat can have a major impact on the landscape of your gut and consequently, your overall health.
The gut is the center of total health. Not only is it physically in the center of the body, but it has connections to every bodily system. Cells throughout the body can't be nourished if food isn't properly digested and absorbed.
The bacteria in the gut plays a huge role in digestion and absorption, as well as in mood and immunity. The enteric nervous system is a part of the nervous system that actually shares space with the gut, so the bacteria within the gut has a direct line of messaging that goes straight to the brain. (1)
While certain foods boost good bacteria function, others can suppress it and cause bad bacteria to thrive. For example, artificial sweeteners and added sugars, change the way the body responds to glucose because they disrupt the balance of gut bacteria, increasing bad bacteria. (2)
Antibiotics change the landscape of gut bacteria immediately, and it takes significant time to return to balance from one single dose of antibiotics. (3)
Generally, the gut can bounce back quickly with dietary changes alone, and sometimes it needs additional support in terms of supplementation.
When we understand that the foods we eat affect our gut health on a daily and even hourly basis, this can give us clear indication of how to approach health and weight loss.  The foods we eat can upset the bacterial balance, give the good guys a leg up, and impact our health long-term – in both positive and negative ways.
Improve Your Gut Health To Lose Weight
While there are numerous approaches to weight loss, balancing the gut to give the good bacteria an advantage is one that not only produces sustainable results, but positively impacts the entire body in greater ways than just a number on the scale.
Certain foods will improve or harm gut health. But, if you want to lose weight, you need to know the foods to fill your plate with and those to avoid.
Worst Foods For Your Gut
Refined Sugar
Refined sugar (white sugar, white bread, white flour) isn't good for you and it can be especially damaging to your gut, because it feeds the bad bacteria, increases inflammation and causes leaky gut. Leaky gut is when the lining of the GI track becomes damaged from inflammation and toxins that should be exposed of through the GI track are "leaked" into the body.
This can lead to further bacteria imbalance. The greater the sugar intake, the more potential for long-term gut problems or chronic conditions. Not only can sugar lead to gut problems and weight gain but more importantly, the immune system can begin to attack itself, leading to autoimmunity and permanent health conditions that are irreversible. (4)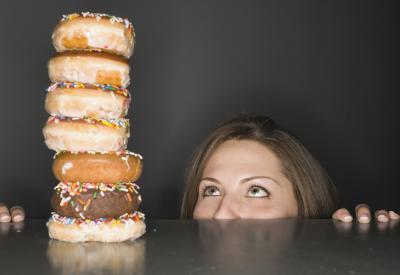 Trans Fats
Trans fats are processed and hydrogenated. They are not fats that would naturally be found in nature. These fats are found in refined and junk foods like chips, cookies, crackers. Basically, anything packaged is suspect. Regular consumption of trans fats can lead to increased inflammation within the gut, and growth of bad bacteria. (5)
Artificial Sweeteners
Artificial sweeteners are fake. They're not whole foods made of real foods. To the digestive system, they are a foreign enemy. This disrupts the gut and leads to changes in the gut bacteria that reside there. It can lead to metabolic disorders (increased sugar craving, pre-diabetes and diabetes). (6)
Alcohol
Alcohol consumption on a regular basis can change gut bacteria, which can lead to increased inflammation. It suppresses good bacteria, and can help bad bacteria become stronger in the gut. Moderate alcohol consumption won't cause the same results, but it's important to recognize that if you are predisposition to inflammatory disease that it should be avoided.
Foods To Balance Your Gut For Weight Loss
Fibrous Vegetables
Fiber is found in carbohydrates and it is indigestible. It feeds good bacteria in the gut and helps it multiply. Artichoke, asparagus, garlic, and onions are non-starchy foods referred to as prebiotics. They feed good gut bacteria. Eating these foods regularly will help the gut stay balanced. Cruciferous vegetables like cauliflower and broccoli are low in starch and high in nutrients that support natural digestion and also feed good gut bacteria.
Eating more fibrous foods and vegetables not only improves gut health, but also is shown to promote weight loss. Fiber clings to cholesterol and fat and removes it from the body. Any healthy diet should include a large amount of fiber unless certain GI conditions prevent you from eating it.
Almonds
Not all nuts are created equal, but there are two kinds of nuts that can have beneficial effects on good gut bacteria. The specific types of fiber that almonds and pistachios have are preferred by certain strains of good bacteria and can promote balance.
Fermented Foods
Fermented foods, like sauerkraut, kimchi, and miso, also kombucha are natural sources of probiotics, which is another name for the beneficial bacteria that live within the gut. While a balanced diet and lifestyle can support good bacteria, they need to be regularly replenished because they don't live forever. Fermented foods replace good bacteria.
While good bacteria can't live forever, bad bacteria can last longer on its own, and can proliferate easily without constantly being nourished. That's why taking probiotic supplements and probiotic-rich foods are essential for a healthy gut.
Dark Chocolate
Dark chocolate not only tames a sweet tooth, but can boost good gut bacteria and reduce stress hormones. When eaten in moderation, dark chocolate can balance gut health and promote weight loss. One study found that 40 grams daily of dark chocolate produced positive benefits for stress and anxiety, and led to improved mood and reduced stress hormone production. (7)
Omega-3 Foods
Omega-3 fats are best known for protecting against inflammatory conditions, but they also protect the gut from inflammation and damage from too much bad bacteria. Eating omega-3 rich foods and taking a fish oil supplement can be therapeutic for gut health. Good sources of omega-3 foods include wild-caught salmon, cod liver oil, walnuts, and chia seeds.
Antioxidant Rich Fruits
Certain fruits, like antioxidant rich berries, contain beneficial fibers that feed good bacteria in the gut. Not only does this lead to a balanced gut, but it can also protect against cardiovascular disease and other chronic health conditions.
To Wrap It Up
Diet and lifestyle are major influences on gut health and weight, and without a healthy gut, weight loss will be hard to sustain long-term. The benefits of having a healthy gut go far beyond the weight on the scale, but reducing body fat by feeding the right bacteria in the gut can be a place to start.