Help me. It's my body. Why won't you listen?
It's shocking with the amount of technology at our fingertips today and access to information that our access to health care remains out of reach in this country. When someone is in pain and needs immediate care, there's no way to get it. Unless you're having a heart attack or stroke, the emergency room is useless. Urgent care is only good for minor illness such as the cold or flu. No where does immediate care exist for conditions that put your life on full stop like when you can't walk and are in excruciating pain. These are conditions that should warrant immediate and quality care and the longer they're left untreated the greater risk for further harm or irreversible damage.
As an athlete, I've experienced this first hand. In January 2014, I suffered a calcaneus stress fracture in my right foot. The injury was immediate and over a weekend. I was unable to walk when it happened and in gut wrenching pain. I went to the ER where I was given a boot and told to follow-up with an orthopedic which I was unable to see until 6 days post injury. Meanwhile I was left in pain, my life on hold while I waited for care.
After recovering from the stress fracture, I endured pain in my right calf for months where a knot of tightness exists to this day. My podiatrist sent me to a specialist for compartment syndrome. The specialist ordered an MRI of my feet and calves. The MRI confirmed the stress fracture as well as identified a small stress fracture in my big toe that I was unaware of. The specialist referred me to his colleague a foot doctor to review the MRI results because my own podiatrist couldn't read the scans in his system. It's a big problem when doctors don't have the technology to serve their patients forcing their patients to see a new medical professional who is not familiar with their history.
The new foot doctor examined me and told me I was healed, which I already knew. But he had no clue what was causing my calf pain. Finally I saw a chiropractor who suggested my pelvis had been tilted from wearing an air cast for many months. After one adjustment and acupuncture, the pain in my calf disappeared. Scary an MD couldn't figure that out.
Two months later, the ankle of the same foot began to hurt and swell badly. I returned to the new foot doctor because he was had access to the MRI. He examined me and was stumped about the pain. I told him about my back at which he theorized my ankle pain was a pinched nerve. Wow. Did you even try to use your brain? He scheduled me to see a nerve specialist, but I couldn't get in for 2 months.
The following week the pain was excruciating. It was so bad I sat in my car at work and cried every day. The pain to walk into the office from the car was too much to bear. I couldn't walk and going to work was nearly impossible. I returned to the new foot doctor crying in his office, begging for him to do a CT scan, another MRI, something to identify the cause of the pain. He told me "it was unnecessary and the insurance wouldn't pay for it either." I told him I had new insurance because I just switched companies. He told me I had no injury to warrant it and suggested I have blood work done to test for arthritis. I pleaded with him to help me explaining I couldn't walk and was in awful pain. He said "I can't help you." He left me in the room. He left me in tears. He left me in pain and as I limped and sobbed out of the office, none of the health care professionals in the office bothered to notice.
A few days later, his nurse called stating my sedimentation rate was high and that she would forward me my results to follow-up with my primary care physician. Further she stated they were canceling the nerve specialist test. When I received her email, she had mis-read my results. All my results were within range. I responded to the email to confirm my interpretations, but never received a response. I was left with no answers, no follow-ups and in so much pain. How do you leave a patient in limbo with no answers or resolve?
For two weeks, I worked from home. I was in too much pain to go to the office. After this time, the pain went away. The swelling never fully went away, but I was able to walk and live my life somewhat normally again. The swelling became severe in the afternoon and at night. It haunted me. I was desperate. I saw my original foot doctor. He told me it was a sprain and it would need to be scoped, but something told me that wasn't right.
That's when I scheduled an appointment with Mayo Clinic for another opinion. When I saw the MC orthopedic, my symptoms were mild. The swelling was there, which I explained had been there 8 wks already. He told me it would eventually go away and that I needed physical therapy to strengthen my injured leg. He scheduled me with Mayo PT and told me I was fine.
2 weeks later, the swelling returned on a Friday. It was horrendous. I knew something was really wrong. I called Mayo. My orthopedic's colleague returned my call telling me I had complex regional pain syndrome. A rare condition that occurs after injury and that he would speak to my physician on Monday. I told him I was in severe pain to which he advised me to go to the ER. I responded "do you know what the ER does with orthopedic cases? They do not help them. They tell you to see an orthopedic." But he told me that was all they could do.
That Sunday morning when I woke up I couldn't walk. I was in tear jerking pain. I can't even begin to explain how awful it felt. I went to urgent care. The woman who examined me asked "what would you like for me to do?" Apparently we're not only the patient now but the medical professional as well. She gave me steroids for the swelling and released me. They didn't even bother to x-ray it. Urgent care did nothing except cost oodles of money.
The next day I called Mayo 5 times before speaking to the PA. She told me they think it is CRPS, the rare disease. Of course you do because someone else gave you the idea not because you solutioned it on your own. I argued I didn't believe that. After reviewing my symptoms, she advised me to go to the ER for a blood clot test. She insisted even though I knew that wasn't it.
So I went to Mayo ER where I was put on a stretcher in the hall because no rooms were available. I was left there alone for hours. The pain was immense and they gave me nothing to help, not that I was there for pain meds. I wanted answers. I sobbed on the stretcher, alone and scared. When a nurse walked by, I asked her if they forgot about me. I lost it. I sobbed harder, repeating out loud "why won't anyone help me? Why do the doctors keep forgetting me? I need help. Help me. Please help me! Someone help me!"
Finally the ER doctor came and ordered the test. The test returned negative and the nurse released me. The ER doctor never returned to give me the results or follow-ups. I asked the nurse how they could release me in so much pain and unable to walk without explanation. I pleaded with her to do something. She explained the ER doesn't deal with this "kind of stuff."
I sobbed on the drive home. I felt crazy. Like I was imagining the pain and swelling. I knew something was terribly wrong with my ankle, but no one would listen. No one cared. No one would help.
That night I couldn't sleep. At 2am, I drove back to Mayo ER. I was desperate, in pain and needed answers. I was the only patient and had all the staff's attention. ER doctor #2 ordered an x-ray and blood work. He initially told me he felt it was septic arthritis and suggested a rheumatologist. After I returned from x-ray, he stated he reviewed my orthopedic's notes (at Mayo any doctor has access to your files in the system which is why I went there). He said he thought I had the rare disease CRPS and to follow up with a pain management doctor like my orthopedic advised. The ER doctor took the easy way out. Last I checked, you fail when you cheat. You failed ER doctor.
I went home. Exhausted. Defeated. Emotionally Wrecked.
Hours later Mayo ER called. The radiologist compared my x-ray to one of my previous scans and identified an ankle stress fracture. I called my orthopedic at Mayo. The orthopedic didn't see it on the scan until he had the radiologist point it out to him. He agreed with & confirmed the prognosis. I knew this was the right diagnosis. I finally had my answer. Thank goodness for that radiologist.
But why did it take months to get a diagnosis? Months of suffering and pain. Months of lost quality of life. Months of lost health & risking further injury. Months of an emotional roller coaster questioning my sanity. Months of worrying I'd be this way the rest of my life.
Why did it take so long for someone to listen to me? I'm the patient. I'm an athlete. I know my body. Not you. Listen to me. Why didn't you doctors listen?
Why don't doctors think anymore? Cheating isn't the way to diagnose patients. Ignoring isn't either. Medical schools costs a fortune yet problems aren't solved.
I'm appalled by every medical professional involved in my case and how they mis-treated me. I'm appalled that no one cares about the well being of the patient. I'm appalled by the lack of access to care when it's critically needed. I'm appalled by doctors who refuse care. I'm appalled by doctors who don't try. I'm appalled.
Navigating the health care system is impossible and finding a doctor who cares about your well being no longer exists. When you suffer an illness or injury, doctors pass you around like a Thanksgiving turkey. Doctor to doctor. With no follow through. I'm not a turkey. I'm a patient. I'm a person.
Meanwhile the patient suffers. Their life is put on hold. The physical pain leaving them emotionally wrecked and depressed. The hardest part is the lost time in getting a diagnosis which can result in the patient getting worst, further injuring themselves or not getting treatment soon enough enduring irreversible long-term effects from not receiving immediate care.
I'm ashamed to be a citizen of a free country where access to health care is suffocated and the quality of care is that of a 3rd world country. Health care should be about getting timely and quality care. So what I wanna know is…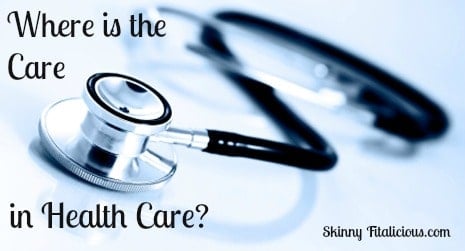 What do you think?
Linking up today with Amanada @ Running with Spoons for Thinking Out Loud
Find me in these places!
E-mail — skinnyfitalicious@hotmail.com
Twitter — Skinny Fitalicious
Facebook — Skinny Fitalicious
Pinterest — Skinny Fitalicious
Instagram —Skinny Fitalicious
[Tweet "Where Is The Care in Health Care? #fitfluential #healthcare"]