Now that 2014 is behind us, I've been reflecting on the last twelve months. What things happened to me last year and what I can take with me into 2015. I started last year broken hearted, with a chip on my shoulder and in a very unhealthy place. I ended a bad relationship, was under weight, under nourished and a stressed mess. Looking back, this has been a big year in overcoming challenges. Today I'm sharing five things that changed me in 2014.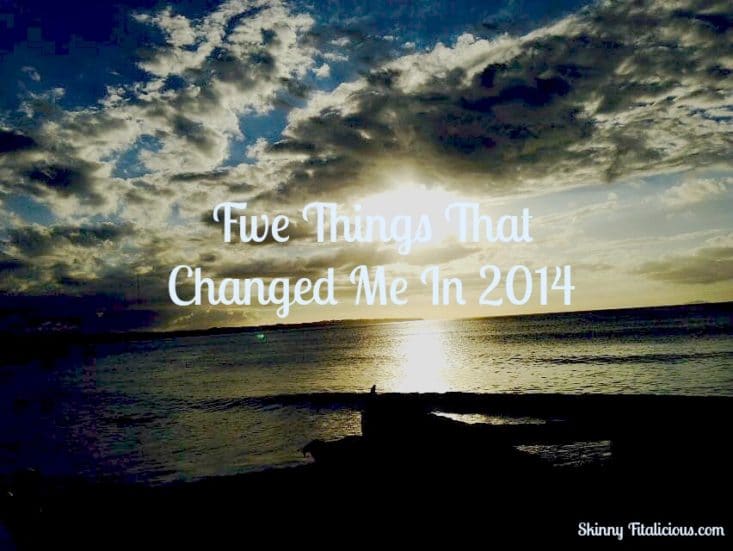 My Mom's heart surgery. I still can't believe this happened. One day my Mom was in Arizona with me helping me get through my foot injury, a few days later she was having emergency surgery. Then she became critically ill post surgery from a bacteria in her blood. Suddenly I was responsible for her care and making decisions. My Dad was there, but overwhelmed by the number of doctors and information. It was hard for him to keep everything straight. From this, I learned that sometimes people need me. That's a responsibility I'm not used to. Being single and having no kids, I'm not accustomed to someone else needing me. I'm not good at being open to people organically either unless I'm at the gym where I can bench press them if needed. But is event made me realize that although I may not need people, they need me. Life is precious and I'm thankful someone was watching out for her because I wasn't ready for her to go yet. Not sure I ever will be either.
Breaking free of a high-stress job. Leaving my old job, was the best decision for me. I won't discuss details of my profession on the blog, but I will say the performance expectations were unreasonable and that's putting it mild. I'm lucky to have found a company with amazing co-workers and friends. The previous experience changed my view on work-life balance and my entire career outlook too. Do what you love, not what you hate.
Blogging. When I started blogging in 2013, I never imagined how hard blogging would be nor did I anticipate the growth spurt my blog would have. It took me by surprise and suddenly I felt I had this expectation to live up to. I've realized no one's placing those expectations on me except myself. The biggest most unexpected thing that wow'd my world last year was the blogging community. The friendships and connections I've made span the world. I've met some truly incredible and inspriational people. This and the relationships I've built with my readers have made the hard work very rewarding. This has made me see that relationships aren't a scary thing. They fuel your success and desire to be your best.
My foot injury and ankle injury. The first stress fracture was mentally difficult for me to accept. I was freaked out not being able to workout the way I wanted to & having so many new obstacles in life. I'm a control freak. It felt like death to not be in control of my life or body anymore. I was convinced I'd gain a zillion pounds, reverse my weight loss and lose all my fitness. I put stress on my body cycling every day. Looking back, I wish I'd given my body the time-out it craved. I'm not sure what that high impact workout did for me besides grow my booty, which thankfully has now returned to it pre-injury size.
With all the physical and emotional struggles from being injured last year, I learned some amazing things. First, I'm not going to gain a zillion pounds resting. My eating habits are so good it's impossible for that to happen which is why with my ankle injury I'm gladly accepting down time. That brings me to lesson number two. I can't lose weight when I do start training again. In 2013, I was under immense stress & my weight plummeted. Third, I don't have to worry about losing my fitness. It's really good and comes back within 2-3 wks post injury. Honestly I have no idea why I ever worried about this. I'm into fitness for life so I don't need to be in a rush. Last but not least. I'm a swimmer. Say what??? Yes, I love swimming and am grateful my injuries forced me to get in the pool, teach myself to swim again and get over my fear of putting my head in the water. Just keeping swimming….
Becoming a foodie & photographer. I've always loved cooking, but never in my wildest dreams did I dream I'd be creating recipes for brands or this blog. I never thought readers would email me asking for recipes, asking for weight loss meal plans or when I would have a cookbook out (who's life am I living?). I definitely never thought I'd be a food photographer either. Creativity is not a gene I knew I possessed, but I absolutely love it. This has been by far the most exciting change for me this past year and I cannot wait to see where it leads me in 2015.
What changed your life in 2015 and what will you take with you in 2015?
[Tweet "Five Things That Changed Me in 2014 #fitfluential #goals"]

Facebook | Twitter | Pinterest |Instagram
Disclaimer -Affiliate links are included, which enable me to earn a small kickback and do not affect purchase price. The money earned goes back into this blog to bring you more delicious recipes!
[AdSense-A]